Podcasts for Women are my recent jam. I have my list of podcasts for women that I tune into all the time. I love to listen to other women support, inspire and motivate each other. There's something really powerful and beautiful about seeing women being there for other women. When a woman shares a story or an experience or her expertise in something that she loves for others, something amazing happens.
Podcasts for Women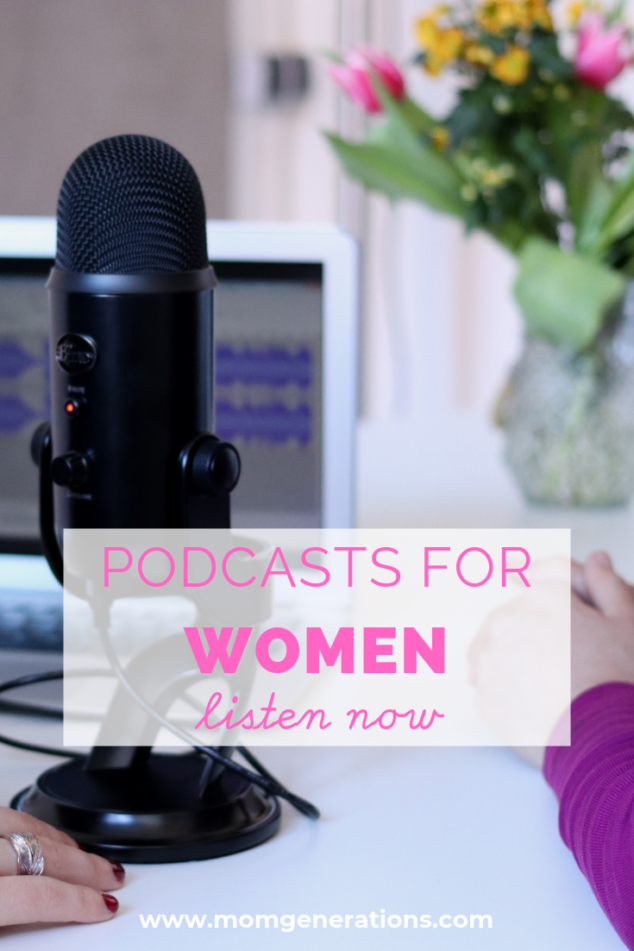 I always feel like it's a chain reaction. She has in some way shape or form helped someone else. That within itself is very powerful. As women – especially working women and mothers – we have very limited time in our lives, but I love podcasts because I can listen as I drive or when I'm just working around the house. I'm thrilled to share with you a master list of all Podcasts for Women out there.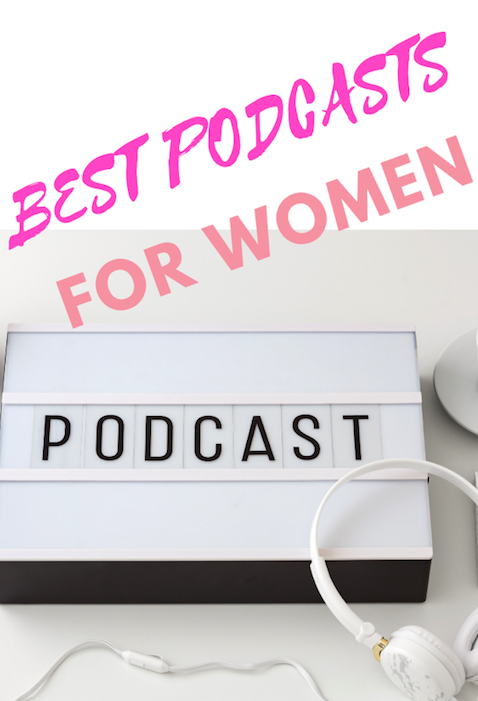 To find the best podcasts for women (besides the ones that I love), I asked WOMEN!! What better way to find out what's resonating with other women than to ask some of my favorite ladies. I posted in my Permission to Hustle FB group asking women to share their fave podcasts. I was thrilled to see what people responded with because I hadn't heard of so many of these!! It was awesome to really get a great list going and then bookmarking them all on my laptop.
Podcasts for Women – LIST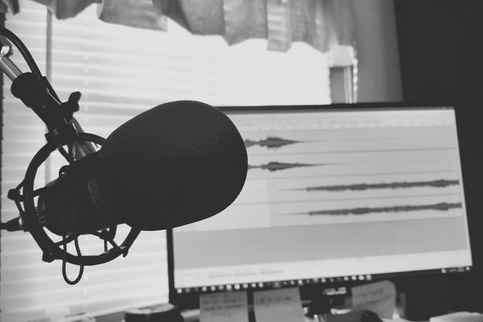 Permission to Hustle Podcast by Audrey McClelland and Vera Sweeney – OK… shameless plug for this Podcasts for Women list – but we created this podcast to help other women become inspired, motivated and driven to go after their dreams! Give yourself the Permission to Hustle. Tune out the background noise and follow your dreams and your passions in life.
Myleik Teele's Podcast | Free Podcasts | Podomatic (shared by my friend Clarissa Laskey) Podcast Summary: I am an entrepreneur and currently running curlBOX.com. I share my insights, things I've learned along the way in hopes to teach you the things I had to learn the HARD way!
For The Love! with Jen Hatmaker Podcast (shared by my friend Jessica Turner) Podcast Summary: For the love of … People. Home. Stories. Shoes. Family. Jesus. Community. TV. Accessories. Food. Culture. The New York Times best-selling author and star of HGTV's "My Big Family Renovation," invites you to drop by and catch up with her friends as they laugh and share about all the things we love.
Sorta Awesome with Meg Tietz (shared by Jessica, too!) Podcast Summary: Meg Tietz served as the soothing voice and spirited pen behind SortaCrunchy – blog hub for all things faith, family, and natural living from 2006-2014. She is also co-author of Spirit-Led Parenting: From Fear to Freedom in Baby's First Year. Meg was born to host a podcast, having that unique creative chemistry that thrives on in-depth analysis of pop culture, all things intentional living, and the next big thing you didn't know you couldn't live without.
Vacation Mavens Podcast (shared by my friend Tamra Gruber) Podcast Summary: Vacation Mavens is a family travel podcast offering destination guides, family travel tips, and ideas for parenting on the go. Co-hosted by Kimberly Tate from Stuffed Suitcase and Tamara Gruber from We3Travel, Vacation Mavens provides inspiration to jumpstart family vacation planning and tips to get you out the door.
WSJ Secrets of Wealthy Women (shared by my friend Heather who loves Podcasts for Women) Podcast Summary: Empower yourself financially. Successful women executives, workplace pioneers, self-made entrepreneurs, industry trendsetters and money-savvy experts reveal insights on how to get ahead, reach your goals, and achieve professional success. They join host Veronica Dagher every Tuesday.
Conscious Chatter by Kestrel Jenkins (shared by Cait) Podcast Summary: A podcast where what we wear matters.
Rise Together Podcast with Rachel Hollis (shared by Jamie) Podcast Summary: Hosted By rachel Hollis and dave hollis the rise together podcast is more than just a conversation about their relationship. Each episode is filled with tangible advice that will get you and your partner to be the best versions of yourselves.
She Did It Her Way (shared by Jamie) Podcast Summary: Online resource to help women launch their own business by Amanda Boleyn.
Boss Up! Podcast (shared by my friend Hillary) Podcast Summary: An original, authentic, experienced, and no BS business podcast for momtrepreneurs by Lindsay Teague Moreno. Around here, we stick to the 3 F's rule: No Fake, No Fluff, No Fairytales.
Marie Forleo (shared by my friend Hillary) Podcast Summary: Named by Oprah as a thought leader for the next generation and one of Inc.'s 500 fastest growing companies, Marie Forleo's goal is to help you become the person you most want to be. In this show, Marie and her guests share actionable strategies for greater happiness, success, motivation, creativity, productivity, love, health, contribution and fulfillment — often with a lot of laughs. From business, marketing and career advice, to tackling failure, disappointment and fear, to philanthropy and doing our part to make the world a more loving, just and equitable place — we cover it all. Get inspired, grow stronger, more confident and create a business and life you genuinely love..
Goal Digger Podcast (shared by my friend Hillary) Podcast Summary: The live-workshop style business podcast that is helping thousands redefine success and chase bolder dreams. You can train from the experts how to dig in, do the work, and tackle your biggest goals along the way.
Sunrise in Your Pocket by my friend Elena Sonnino (shared by my friend Hillary) Podcast Summary: What would it feel like to stop creating self-imposed obstacles and live your wild, audacious dreams in the NOW? Sunrise in your Pocket is a weekly podcast where you'll find playful, easy to implement guidance for reconnecting to the inner strength and wisdom that is always with you. Elena Sonnino is the go-to life coach for people who are ready to get out of their own way and start saying yes to themselves.
Raise Your Hand and say YES! by Tiffany Han (shared by our friend Corinne) Podcast Summary: Ditching all those things that aren't working for you? Takes time.
Bravely stepping towards what you really want for yourself? Is uncomfortable.
Taking bold risks toward that business you've only up-until-now imagined for yourself? Is hard as hell.
Oh. And it's also worth it AF. Shall we get going?
Table Manners with Jessie Ware (shared by our friend Paula) Podcast Summary: Jessie Ware hosts a podcast about food, family, and the beautiful art of having a chat, direct from her very own dinner table. With a little bit of help from her chef extraordinaire mum Lennie, each week guests from the worlds of music, culture and politics drop by for a bite and a bit of a natter. Oversharing guaranteed.
Single Mom Nation by our friend Jessica Ashley – Podcast Summary: Jessica Ashley, single mamas, and experts talk mothering solo.
Happier Podcast by Gretchen Rubin (shared by our friend Abby) Podcast Summary: Gretchen Rubin is one of today's most influential and thought-provoking observers of happiness and human nature. She's known for her ability to distill and convey complex ideas with humor and clarity, in a way that's accessible to a wide audience.
Lady Gang Podcast (shared by my friend Katrina) Podcast Summary: "LadyGang" is a celebrity driven podcast from the minds and mouths of Keltie Knight, Jac Vanek, and Becca Tobin where no subject is off limits. Inspired by their bottomless mimosa brunches, each week, a celebrity guest joins the girls for a raw, honest, and hilarious look at what life is really like under the bright lights of Hollywood.
Forever35 Podcast (shared by my friend Katrina) Podcast Summary: Kate and Doree are two friends who love to text each other about serums. On Forever35, they talk about sheet masks, serums, exercise, nutrition, meditation, anxiety and stress, Kate's favorite drugstore mascara, Doree's addiction to restorative yoga, and much more. And explore how it all takes on new meaning as they age. Plus, each episode features an amazing guest talking about their own self-care routines, plus tips, product recommendations, advice, experiments, and most importantly: LOLS!
UNF*CK YOUR BRAIN Podcast (shared by my friend Heather) Whatever You Want to Change in Your Life:
Whether it's getting a new job,
finding love,
making peace with your mother,
or just getting to the gym consistently
—it all starts in your mind. And it can all start right now.
Edit Your Life Podcast from our friends Christine Koh and Asha Dornfest (they have always been so amazing about sharing the best Podcasts for Women – and they are one) Podcast Summary: EDIT YOUR LIFE is a podcast about simplifying, decluttering, and making room for the awesome in your life. Each week, co-hosts Christine Koh and Asha Dornfest offer thoughts and practical tips on a range of family and lifestyle topics.
WHOA That's Good Podcast by Sadie Robertson (shared by my friend Donna) Podcast Summary: The "WHOA That's Good" podcast, welcomes you into meaningful conversations with authors, athletes, musicians, speakers and stars of film and television in search of the answer to just one question. What is the best advice you have ever been given? Hosted by Sadie Robertson, best selling author, founder of Live Original, and star of A & E's Duck Dynasty & Season 19 of ABC's Dancing with the Stars, this fun and lighthearted podcast is sure to leave you saying, "Whoa That's Good!"
Strong Opinions Loosely Held By Refinery29 (shared by my friend Allie)
Podcast Summary: Refinery 29's award-winning podcast is back for season 4! In this five-part capsule collection, host Elisa Kreisinger dives into the world of the professional female athlete to explore how they've survived and thrived in a sports-loving country that doesn't alway love them back. Did you know that the highest grossing sport for women is tennis? Or that the US exports many of our best female athletes to China and Russia because they pay them a livable wage? This season we talk with soccer legend Abby Wambach, WNBA superstar Swin Cash, world renowned ballerina Isabella Boylston and sports journalists from around the country to unpack what it means to be a female athlete representing a country that doesn't support women.
Oprah's SuperSoul Conversations (shared by my friend Jaclyn) Podcast Summary: Awaken, discover and connect to the deeper meaning of the world around you with SuperSoul. Hear Oprah's personal selection of her interviews with thought-leaders, best-selling authors, spiritual luminaries, as well as health and wellness experts. All designed to light you up, guide you through life's big questions and help bring you one step closer to your best self.
NPR's Nerdette Podcast (shared by my friend Julie) Podcast Summary: A safe space for nerding out about all the things you're watching, reading, listening to and encountering in real life. Hosts Tricia Bobeda and Greta Johnsen talk to people about their obsessions: from science to science fiction, great lady nerds of history to Beyoncé. Because what the world needs now is not another superhero, but for the glasses-clad alter ego to make you a podcast.
The Shameless Mom Academy (shared by my friend Esti) Podcast Summary: Motherhood is a challenge. Daily. Being shameless is required if you want to build a life and a legacy you love. The Shameless Mom Academy is here to give you the tools to bridge the gap between motherhood and living the life of your dreams.
GIRL'S GIRLS PODCAST (shared by my friend Dusty) Podcast Summary: The flagship podcast from Curvy Girl Media brings together Brittany Gibbons and friends to talk about fashion, relationships, sex, parenting, and our bodies. Cool? As long as you're here, pull out your wine glass and stay a while.
Losing 100 Pounds with Phit-n-Phat: Real diet talk from someone who defeated a lifetime of obesity and now teaches you. By Corinne Crabtree (shared by my friend Christine) Grab your earbuds or pull up a seat in your car. Master Weight Loss Coach, Corinne, helps you cut through your BS excuses that keep you from losing weight. What makes her an expert? She lost 100lbs after a lifetime of obesity. You'll love her straight talk and how she relates to the REAL struggles like food pushers and what it's like to walk in that gym the first time. Just saying', she has a southern potty mouth full of crazy funny s***. And, if you are done with BS diet advice…this is YOUR podcast. To learn more about the show, visit PNPTribeShow.com.
Being Boss Podcast (shared by my friend Lauren) Podcast Summary: Being Boss is a podcast for creative entrepreneurs, freelancers, and side-hustlers. Join Emily Thompson and Kathleen Shannon as they dig into the mindset, habits, routines, and boundaries that help you make money doing what you love.
Girlboss Radio with Sophia Amoruso By Girlboss Media (shared by my friend Crystal) Podcast Summary: On each episode of the Girlboss Radio, Sophia interviews boundary-pushing women who've made their mark—eschewing polite conversation and extracting solid advice from the lessons they've learned along the way. Expect hilarious co-hosts and vulnerable, honest conversations you won't hear anywhere else. Conversations that humanize the known, champion the unknown, and laugh a little at the absurdity of life.
Two Beautiful Disasters by our friends Ash and Meg!! Podcast Summary: We're Ash and Meg, two moms who became INSTANT friends on their first mom-date.Our friendship is built on laughing champagne, red wine and sushi. We share a love for all things pretty and simple –and NEVER take ourselves too seriously. To be honest, we aren't experts in anything (just call us the "non-experts") –but we love sharing what inspires us in our daily lives –like fashion, style, home decor, healthy living and travel. BUT most importantly, we know the value of togetherness and friendship and embrace life's imperfections. Two Beautiful Disasters is a creative and fun outlet where we strive to make everyone feel validated and understood. We share our stories because we know you can relate. The ups, the downs, the imperfections and true beauty — the journey of life. Sometimes it's messy. Sometimes it's raw. Sometimes it's beautiful…and sometimes it's a beautiful disaster.
Boss Girl Creative Podcast (shared by our friend Melissa) Podcast Summary: It's to show you that no matter what your lot is in life, you can make things happen. You can BE an Epic Boss Girl. It will take time and effort and a lot of sacrifice, but you can make your life be what you want it to be.
5 Reasons Why Podcasts For Women should be added into your Life:
1. They're inspirational
2. There's something for everyone out there
3. Hearing stories allows you to see you're not alone
4. They're motivating
5. They can be listened to anytime – anywhere
If I'm missing any podcasts for women that you love – can you comment so I can add them onto this list!!??