We're big breakfast people in our house, especially on the weekends. I always joke with the kids that cereal is NOT allowed on the weekends. One of my husband's favorite breakfast recipes is his Easy Egg Casserole. I say EASY because it's actually the easiest casserole to make (even I can make it!). I hope this Easy Egg Casserole inspires you to make this for your family. It's all about being together for us – that's the most important.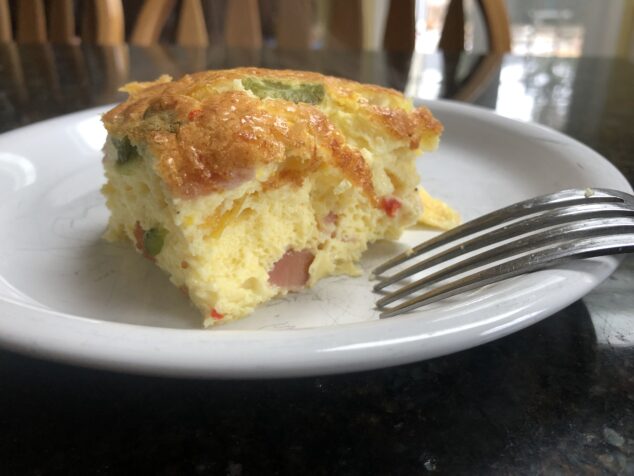 Easy Egg Casserole
Let me start from the beginning with this Easy Egg Casserole Recipe. You can toss in whatever it is that you want to toss in, that's why this one is so easy and so amazing. This is actually than making scrambled eggs! Since we have 5 kids – we always make (2) Easy Egg Casserole Recipes – both filled with different things. My kids are pretty set with just egg and cheese, but my husband and I love some yummy additional toppings. So when you're making this recipe – keep in mind that you can toss ANYTHING in that you want inside of it!
Ingredients for Easy Egg Casserole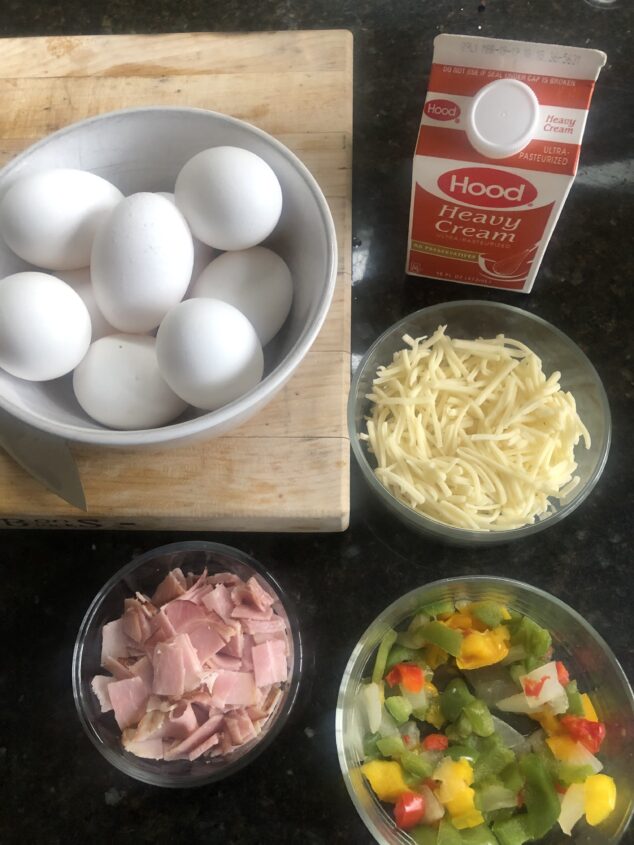 – 12 Eggs
– 1 1/2 cup of ham (we use deli ham because it's easier to cut up for us)
– 1 cup of peppers and onions (we buy the frozen package and just thaw them out because it's super quick and easy
– 1 1/2 cup of cheddar cheese (I always add more than less!)
– 1/2 cup of cream (when we've been out of cream, we've used milk)
– salt and pepper (use what you think – I never go overboard)
Step by Step Easy Egg Casserole
Ready for how easy this one is? I always joke with my husband that we should make this for dinner once a week too because it's so mindless! We're NOT food bloggers, so for me – when I share a recipe – I really want it to be one that moms can use and love. I also want it to be something that's easy because I know I can't handle (or have time) for tons of ingredients and steps.
#1 Step – Add the eggs and the cream into a bowl and beat them up! Make sure the mixture is a nice clean egg mixture. Also PREHEAT your oven to 400 at this point.
#2 Step – Add in all of your toppings. This is where you have full creative control! For this Easy Egg Casserole – we are adding ham, peppers and onion and cheese. We mix it all on in! I've added JUST cheese for my kids. I've added sausage and cheese. I've added ham and sausage and cheese. I'm just all about adding in whatever you want! I know my mom would love spinach and cheese! You can just have some fun with this step! Make your Easy Egg Casserole whatever it is that you want!
Just mix it all together!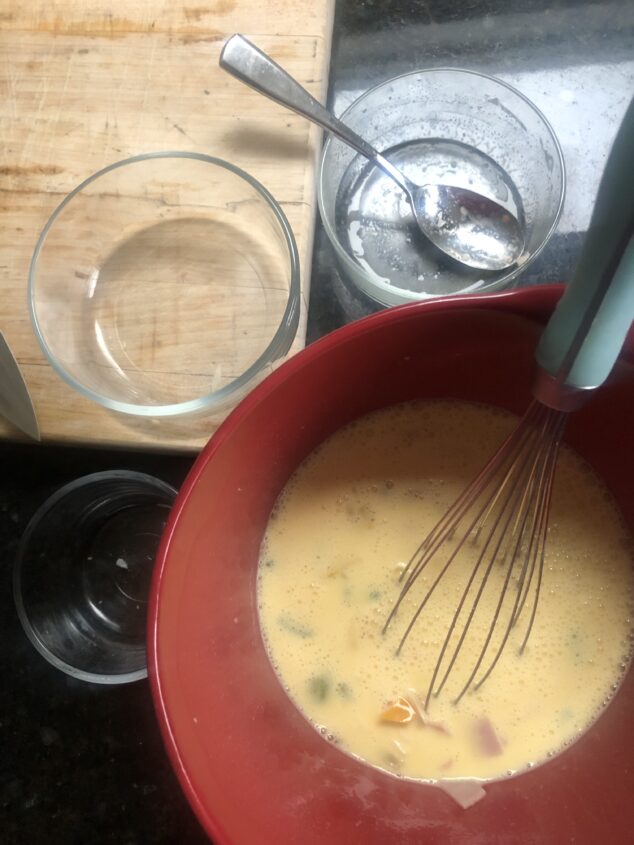 Usually the kids help us out with this one, too!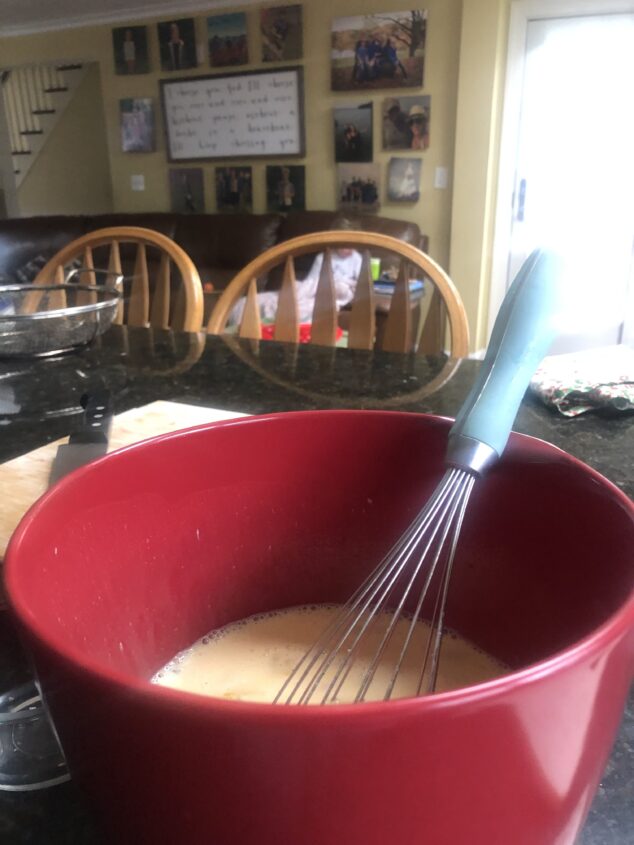 #3 Take a casserole dish (I use 9 x 9) and make sure you grease it!! I've made the mistake before where I haven't and it comes out (well – horrible!). My husband greases a pan super quick – which is awesome!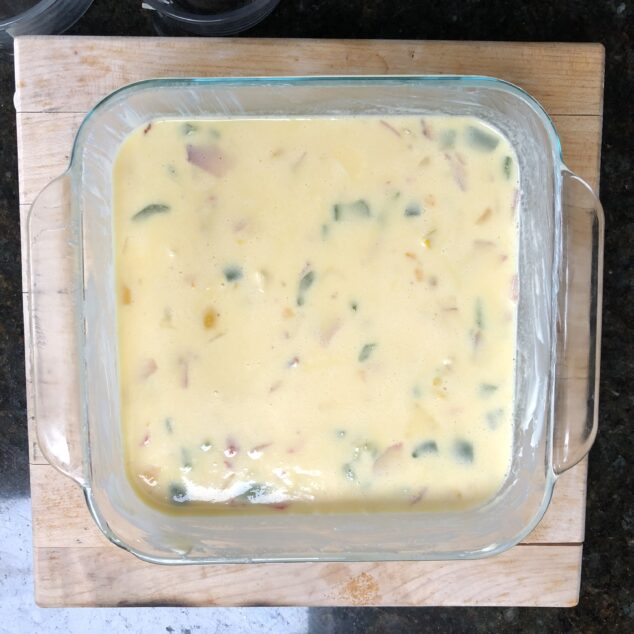 #4 Put the Easy Egg Casserole right in the oven for 30 minutes. I like it to be a little brown on top! Since we make this so often – I know exactly how I want it! 🙂
#5 Let it cool for 10 minutes and then dig on in!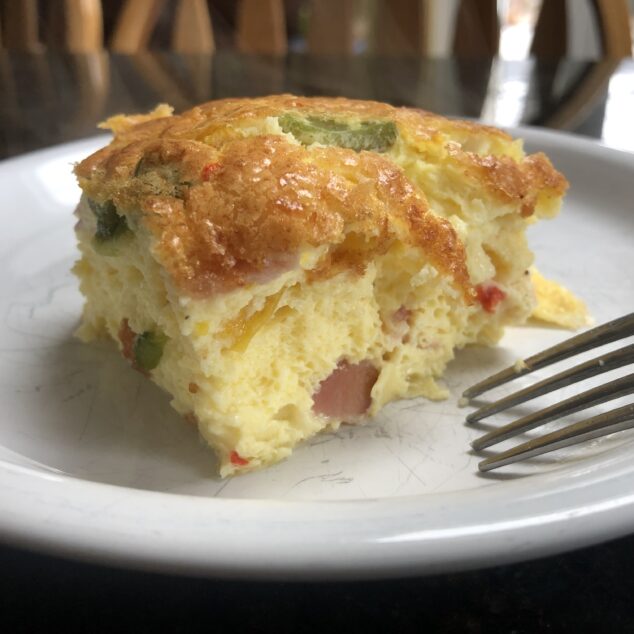 I'm telling you – add this into your weekend (or week) breakfast routine! It's just the best and heartiest breakfast and it's so simple to make!
How to Reheat Easy Egg Casserole
We always have leftovers. I'll be honest with you – my husband will usually double this recipes and make 2 full casseroles. What we love to popping one in the fridge and letting the kids snack on it throughout the weekend. I usually have the kids grab a slice and pop it in the microwave for about 45 seconds. It's still fluffy and yummy!
Any substitutions for this Easy Egg Casserole?
I noted above that if you don't have cream, use milk. Other than that – there's really no other substitutions. You can easily just take the cream component out if you prefer. I know now everyone loves it, but if you want it out – you can take it out.
What are other Easy Egg Casserole Ideas?
Here's 10 additional ideas:
Sausage and Cheddar Cheese
Tomato and Bacon and Cheddar Cheese
Spinach and Tomatoes and Cheddar Cheese
Ham and Bacon
Peppers and Broccoli and Spinach and Cheddar Cheese
Olives and Spinach and Cheddar Cheese
American Cheese, Cheddar Cheese and Gouda Cheese
Spinach, Feta and Olives
Try and Egg White Version
All Kinds of Yummy VEGGIES
Thank you for checking out this Easy Egg Casserole Recipe!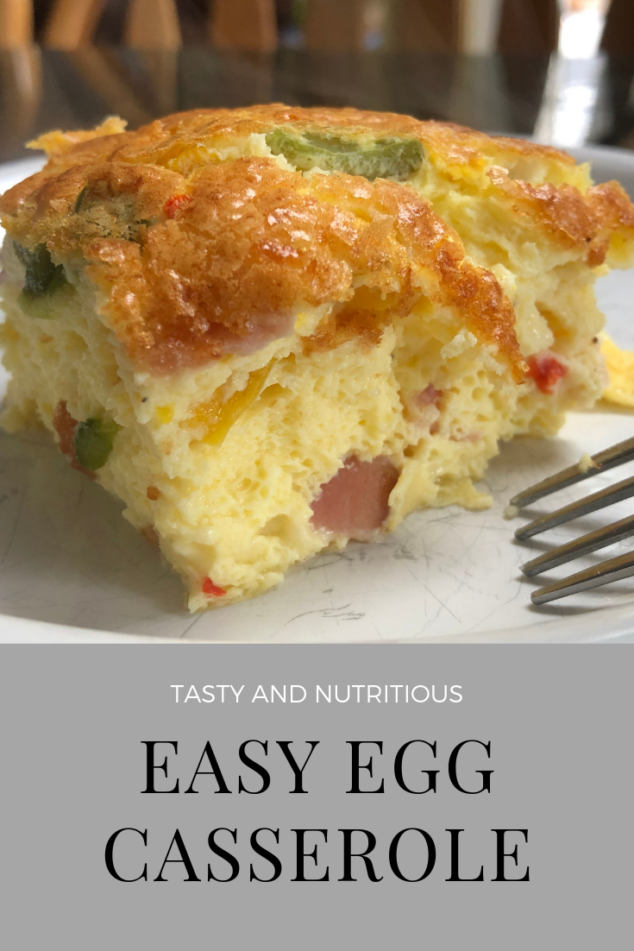 Try this other BREAKFAST recipe from us here, too! Check out this Banana Scone recipe!