Ever since having Victoria on July 9, 2013 I've loved to play the matching game with her. I'll never forget finding out Victoria was a girl and then just going cra-zy buying clothes for the two of us that matched. After having 4 sons I felt it was finally my time to have some fun with the new little girl in my life. I was just so excited to do Mom and Daughter Matching Outfits. I bought things that totally matched and then clothing that complemented each other. It really became (for me) a passion because when I was a little girl I would do Mom and Daughter Matching Outfits with my mom, too. It felt like a beautiful full circle moment for me.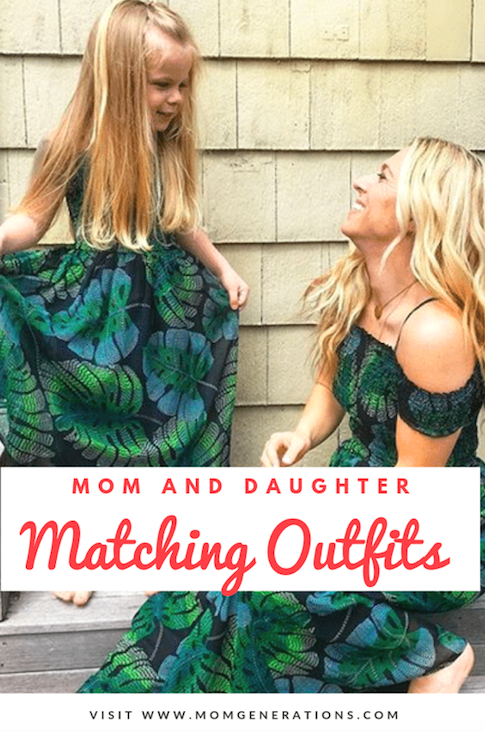 Mom and Daughter Matching Outfits
If you follow me on my personal Instagram page (@AudreyMcClellan) you've probably noticed that I post a ton of outfit shots with the 2 of us!  We're just all about the fun twinning and then we went on overload when Victoria started asking me to twin with her!  In all honesty – this made my life! She'll see what I'm wearing in the morning and then go in her drawers to see how she can twin with me, it's adorable. I 10000% give into the Mom and Daughter Matching Outfits because I know it will not always be this way. There will come a time when she wants to stop (please hold me and I pray it's not soon!). She's my little sidekick and I'm just in love with doing things with her and dressing like her!

When it comes to finding the perfect Mom and Daughter Matching Outfits – I have a few fashion rules:
I don't want to spend a ton of money. Victoria is growing like a little weed, so I don't want to invest in full wardrobes every season.
I love to find exact twin looks when I can find them (I do scour the internet weekly).
I work with what I have to make matching outfits – which is probably the most popular thing I do because it's fun and allows me to be creative.
Sports-Inspired Mom and Daughter Matching Outfits
We're BIG athletic fans – Celtics, Red Sox, Patriots and Bruins. We also love collegiate athletics, so we have some fun with that kind of theme, too. Sports stuff can be expensive, so what I love to do is find colors like (red, white and blue for New England fans) and play with those! I also love to turn items that I have into items for Victoria. This is the cutest and it's so easy to do!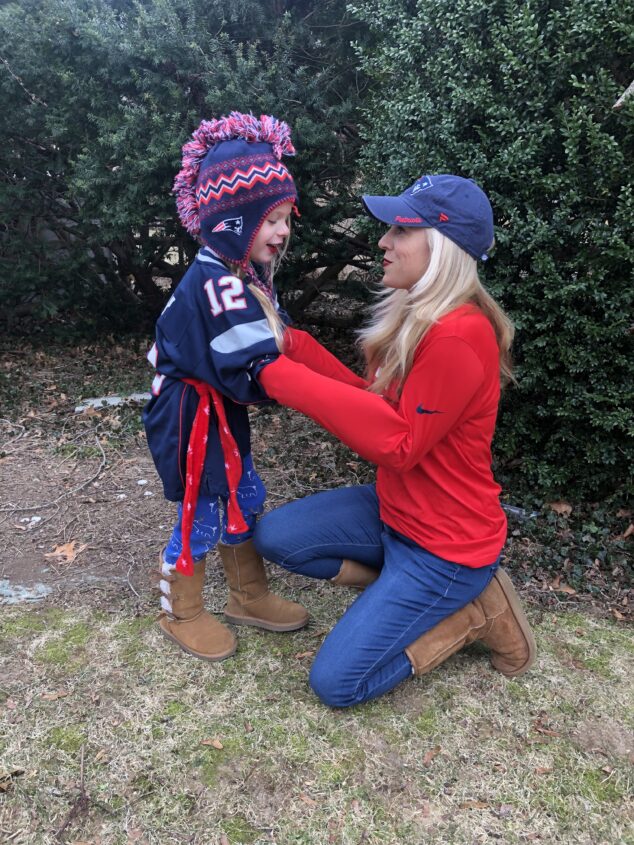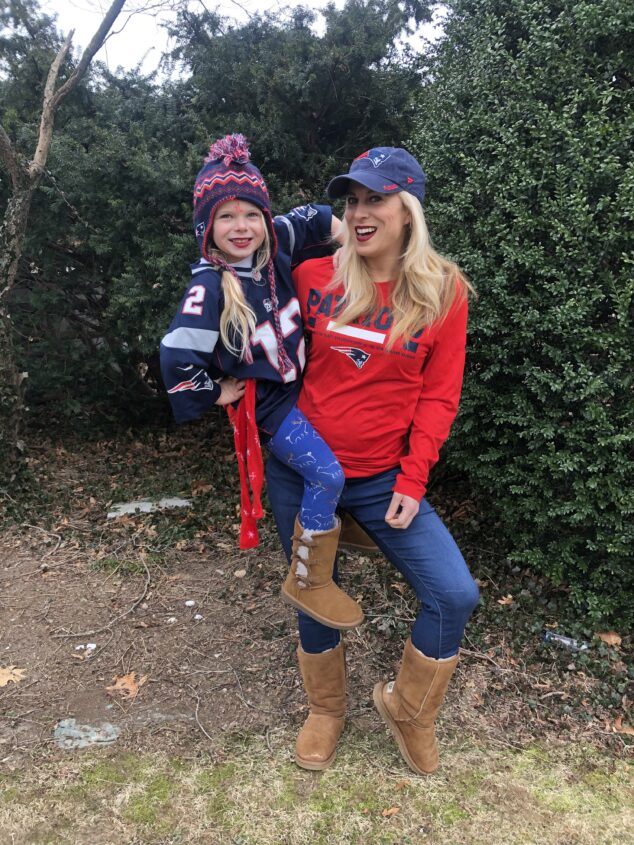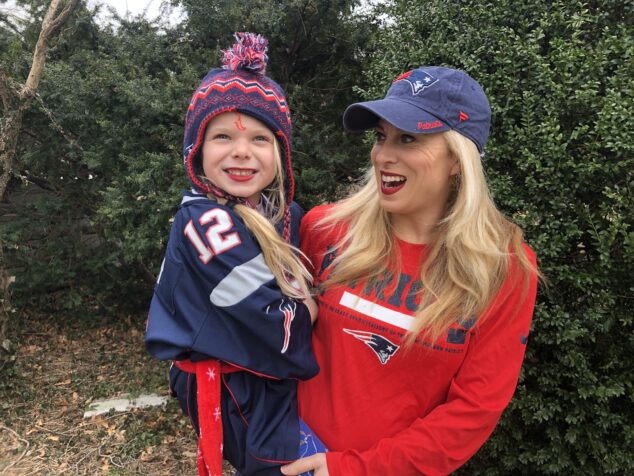 Mom and Daughter Matching Outfits
If you can find matching-matching dresses, BUY THEM! The Children's Place has a Mommy and Me Collection – which is where I found these dresses. I think we've worn these 20+ times together! Victoria loves these because she feels like a princess. If you check out boutiques online looking for Mommy and Me Collections, you'll find a bunch of them! I did some heavy lifting for you already, so check out this link for boutiques online.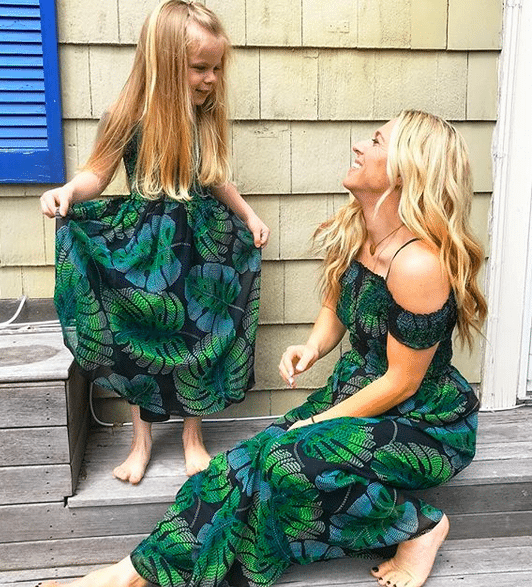 Matching Tees for  Mom and Daughter Matching Outfits
You can make your own! Oh yes – you heard me correctly! I made these for the 2 of us on amazon merch! You can also make them on etsy or even on a custom graphic tee destination online. Whatever you want to make, you can make! I love these because we are besties and I love that we can wear these and smile. I think these are just too cute! I'm going to save this one forever!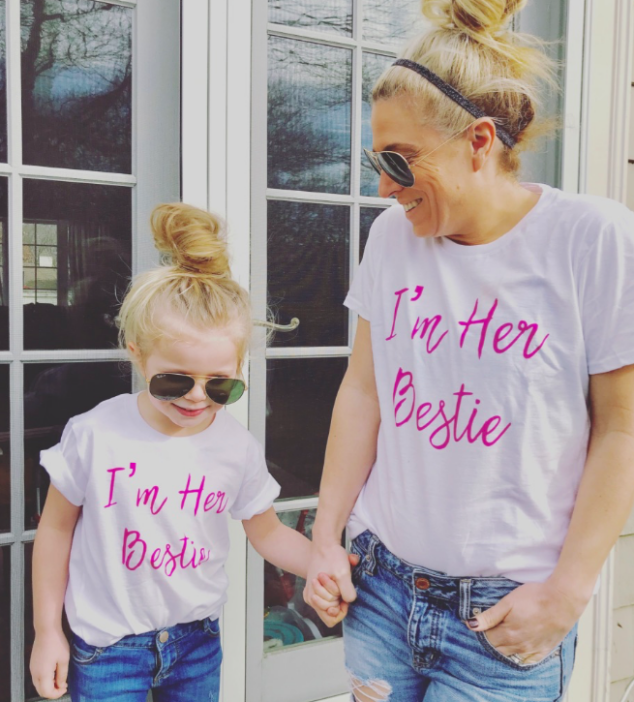 Pattern Matching Mom and Daughter Matching Outfits
If you can't find perfect matches, do what you can to match prints. I'm a BIG black and white checkered girl, so I found a top that matched it to mine. I know it's not perfect, but it does match and it is adorable. The best part is the jeans… every mama and every little girl has a paid of jeans! This is an easy way to match it up!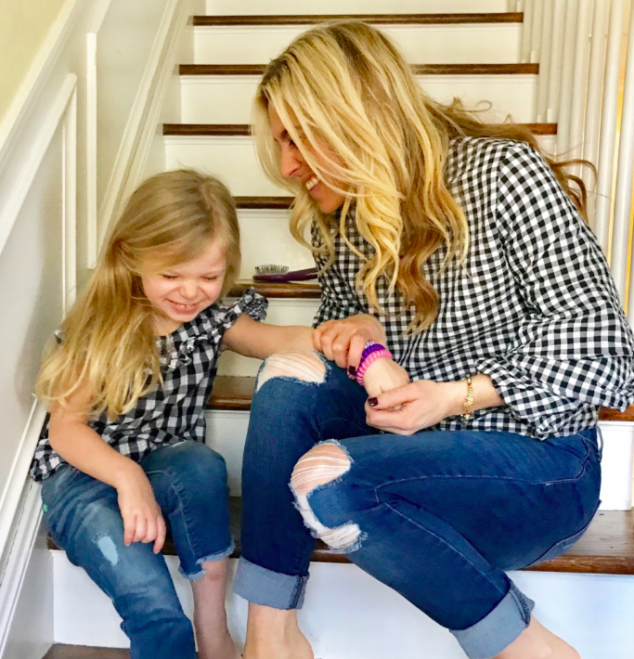 Etsy-inspired Mom and Daughter Matching Outfits
This was a tiny fail, but still – it worked! I bought these on etsy. I thought they were both dresses – as you can tell – mine is OBVIOUSLY a tunic! But these are super cute! I will say, we had a bunch of complements in these! I love the classic and timeless look about them. If you're trying to find some matching – look on etsy!!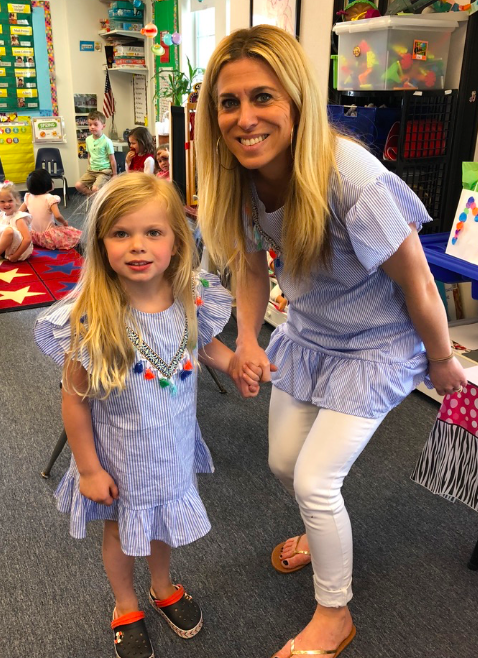 Mix and Match Mom and Daughter Matching Outfits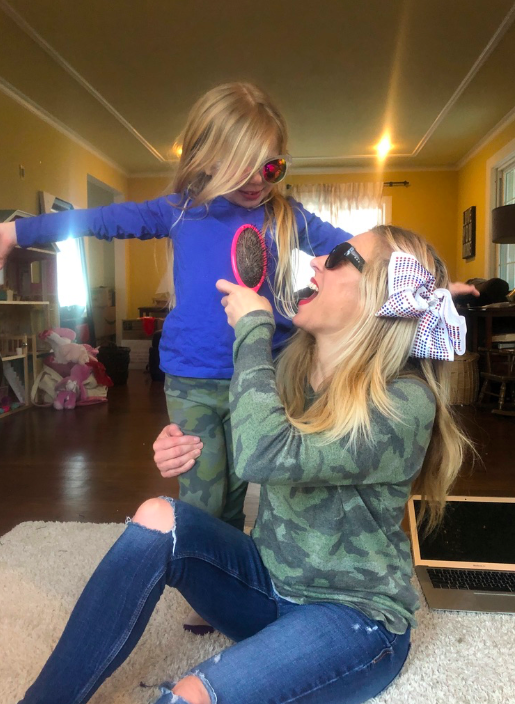 This is the easiest way to make Mom and Daughter Matching Outfits work. Find items in your closet that match up. I'm obsessed with camo print. Victoria doesn't have a camp top and I don't have a camo pant… so we just mixed and matched it up! I bragged a blue top for her and blue bottom for me! Look at how perfect it works! This look was easy as can be!
Make sure you check out some of my other FAVORITE Mom and Daughter Matching Outfits styles: