We crossed off a HUGE bucket list this past weekend – we went SKIING! That's right Mount Snow Vermont was our first experience on skis and it was absolutely incredible. I mean – INCREDIBLE. I've always wanted to ski with my kids, but I always let the thoughts … too much to pack… too many kids… everyone will needs lessons… impact my decision. I can say now looking back, I was wrong and should've jumped into the world of family skiing years and years ago! I started skiing at 5 years old with my family.This time? With my daughter who is 5 at Mount Snow Vermont.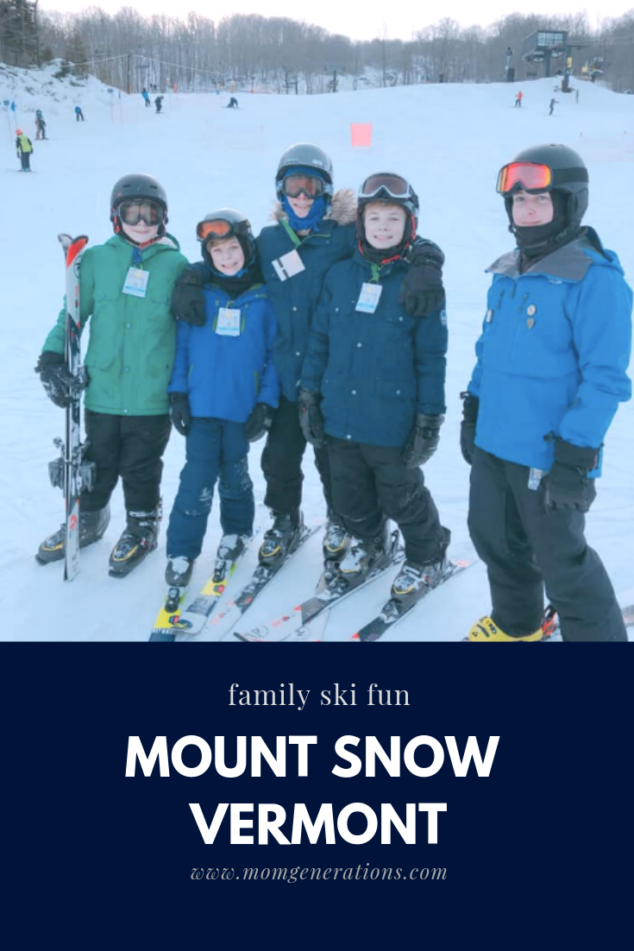 Mount Snow Vermont
Living in Rhode Island it's always been just a hop, skip and a jump to different ski mountains throughout New England. Some of my favorite and fondest memories from my childhood involve our family ski trips. My mom and my dad always brought 3 huge red mesh bags filled with ski gear on our trips – we had everything you needed and then some!  And then when I was in high school my parents surprised me with my own skis, which was the best gift ever! I simply can't believe that after college I just stopped skiing. When the team at Momtrends reached out about the Mount Snow Vermont Ski Trip, I knew it was a sign from the universe to go… do something different… explore the world of skiing and get my family on the slopes!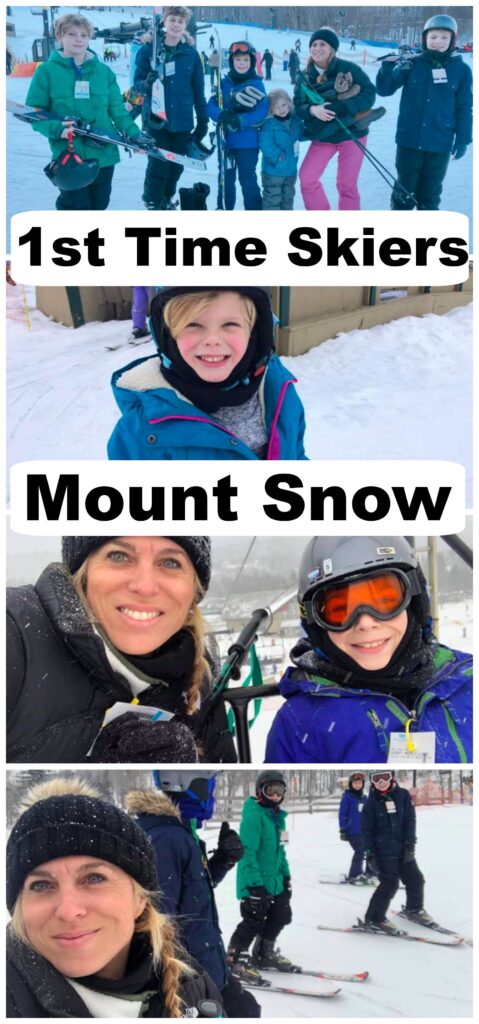 Let me share a little about Mount Snow Vermont because it's an exceptional place to bring your family if you're a first time skier or a seasoned skier. I was so impressed by the facility, by the trails, by the staff and by the cleanliness of it all! Mount Snow will be a mountain we always remember because it's where the kids first learned to ski. It wasn't so big where the kids felt lost or overwhelmed, it truly was just the perfect size for a family.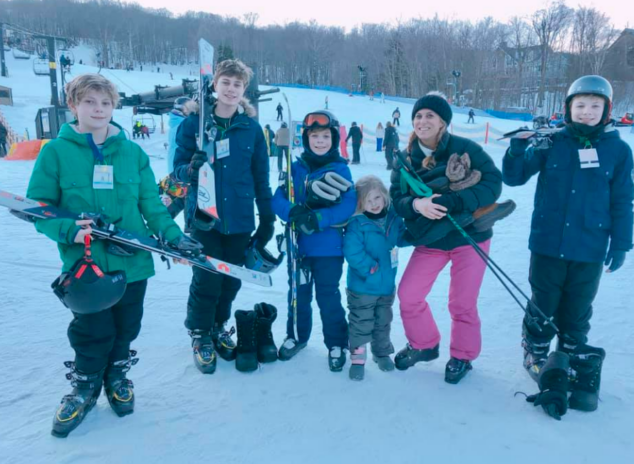 About Mount Snow Vermont
It was about a 3 hour drive for us from Rhode Island. The trip was spectacular along the way, you really get a beautiful peek at New England. I took so much video footage of the drive up just because it was so beautiful! When we first saw the mountain come into view, it was crystal clear and just an amazing sight to see!
Mount Snow is a premier four season resort located in the Green Mountains of Southern Vermont featuring four mountain faces of downhill skiing and snowboarding – including one of the East's best terrain parks, Carinthia – slopeside lodging, golf at the acclaimed Mount Snow Golf Club as well as flexible wedding and conference facilities. Other activities include snow tubing, ski & snowboard lessons, downhill mountain biking and a full schedule of festivals and events. Mount Snow is a member of the Peak Resorts family.
1st Timer Skiers at Mount Snow Vermont
I'm going to be honest with you here, I was VERY nervous about the kids skiing. I know that they're all good athletes, but skiing at SKIING. I was worried about them getting discouraged quickly and really not getting the basic fundamentals of the sport down. The first thing I needed to do was make sure the kids were outfitted for SKIING!
I packed for each one of the kids:
Thermals (top and bottom)
Sweatshirt
Sweatpants
Snowpants
Winter Jacket
Helmet (which you can rent)
Neck Warmer
Ski Gloves
The Momtrends team were amazing and set up lessons for anyone who wanted them on Saturday and I jumped at the opportunity for all 5 kids. I knew the kids needed one on one lessons for the day. I also knew they really needed a professional, someone who knew what they were doing and what they were teaching.
Ski School First Timers at Mount Snow Vermont
I was extremely impressed with the Ski School options at Mount Snow. There is (literally) a class and instructor for every level. Since my 4 guys have never, ever been on skis, they were in the beginner lessons. We asked for them to all stay together and that's exactly what Mount Snow did. They were placed with a great instructor by the name of Max. He was kind and patient and took the boys at 9:30AM from not even knowing how to put on skis to picking them up at 3:30PM and watching them go down a small mountain. I simply was shocked. I couldn't believe how quickly they all picked it up and how incredible Max was as an instructor for them.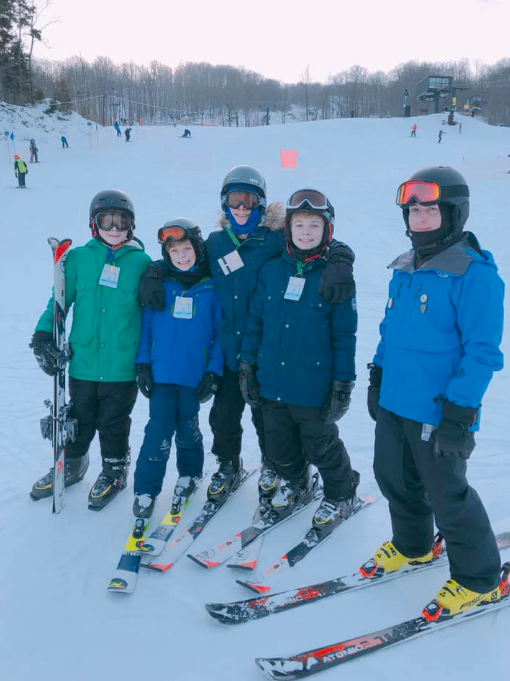 Breaking Down the Lessons:
The Discovery Center – This modern facility is the dedicated home to The Mount Snow Ski and Snowboard School and is located at the base of Launch Pad, our dedicated learning terrain. The Discovery Center is where you check in, get your rental equipment and meet your instructor. Adults check in on the main floor, kids programs check in on the first floor. Convenient, comprehensive and efficient.
Dedicated Learning Terrain – When learning to ski or ride, you want to be able to start on terrain you can handle and progress at your own pace with people that are on your same level. The Launch Pad learning area is set aside from the main part of the mountain and features mellow slopes serviced by easy to load/unload surface lifts progressing up to the Discovery Shuttle triple chair. Since everyone that is on this terrain is learning, you're all in the same boat. Your confidence will soar as you get more comfortable sliding on snow.
Learn From the Best – Mount Snow Ski and Snowboard School has more than 400 professional instructors that have been trained with the latest teaching techniques aimed at getting you comfortable and on the snow faster.
The Latest Rental Equipment – Technology is an amazing thing, and the Mount Snow Ski and Snowboard School is equipped with the most technologically advanced skis and snowboards available. Designed to make turning, and learning easier.
What really made the weekend shine for me was being together on the mountain. I loved watching the kids going from being apprehensive to feeling confident that that could do it! My sons really fell in love with skiing and didn't want to leave the mountain! On Saturday we stayed until 4PM (when they shit the lifts down for the night) and the kids still wanted to stay and just practice anything they could!
Benefits of Skiing as a Family
There are tons of benefits of skiing as a family. It's great exercise for everyone to do together! It's a wonderful way to do something together. Even if you're at different levels – you can easily wait for each other on the mountain or pair off for the day. And most important – it's the moments.
It's seeing Victoria rock her very 1st chair lift ride!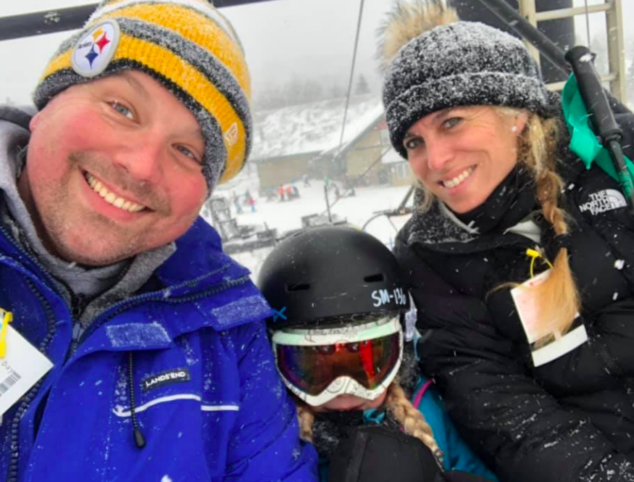 It's seeing Henry take to skiing like a fish to water!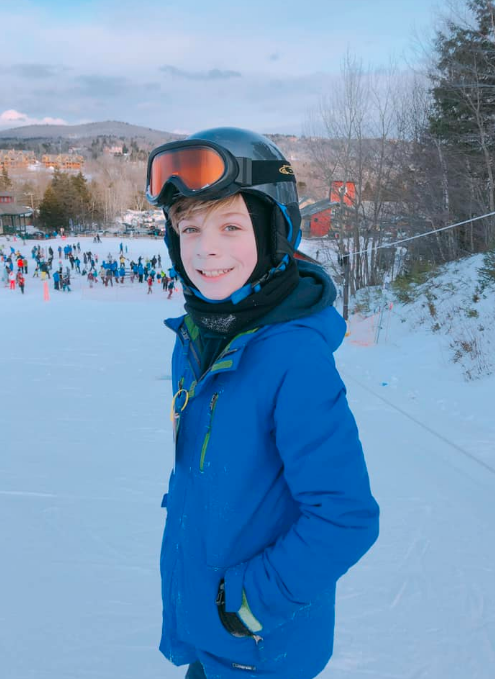 It's watching Alex master the rope lift!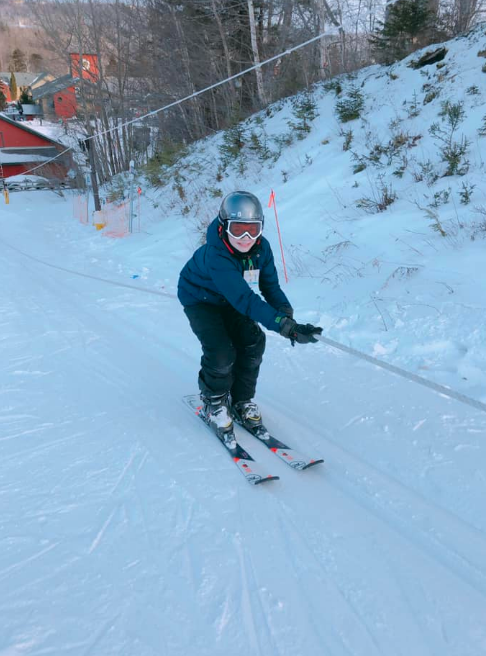 It's talking on the chair lift as you ride up the mountain!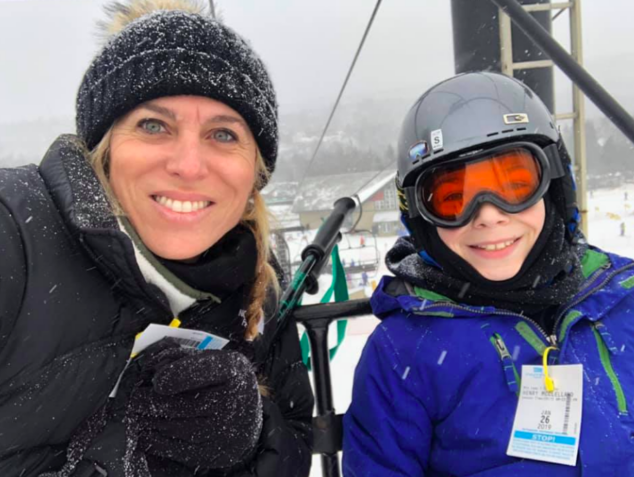 It's seeing Victoria (literally) rock the ski trails! She was (dare I say it) better than the boys! Shhh… !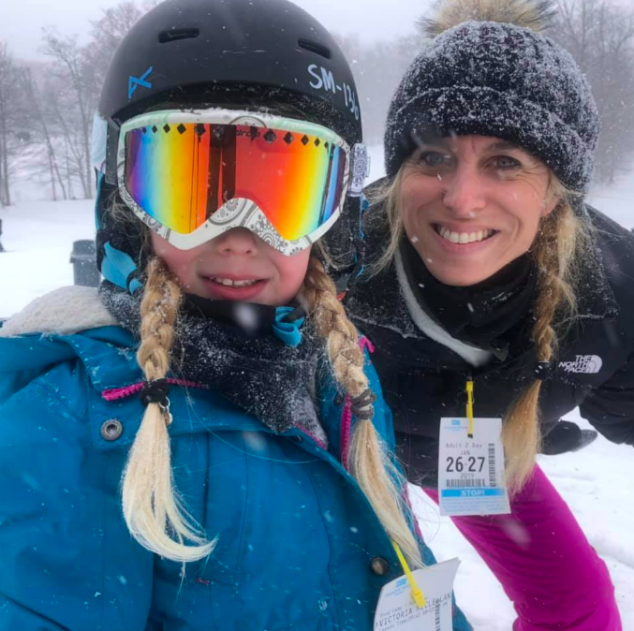 It's watching my sons go up and down the mountain TOGETHER! No fighting. Just laughing and having a good time!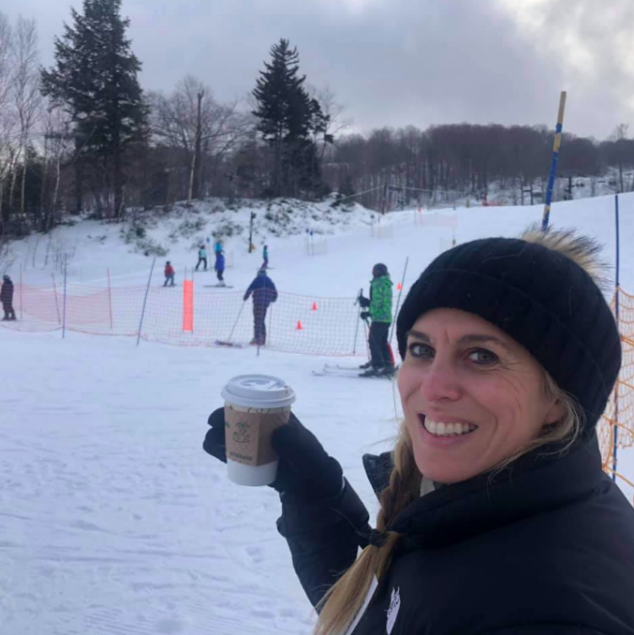 It's the SMILES on everyone's faces! THAT IS THE PRICELESS part of skiing!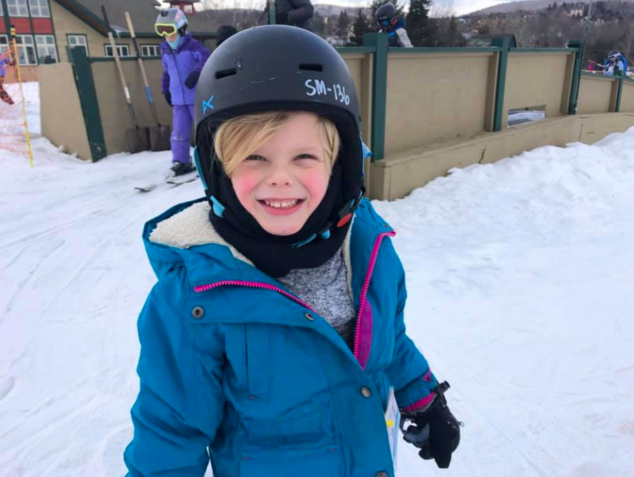 It's all of it together and Mount Snow Vermont did this for us as a family. They brought this family into the world of skiing seamlessly!
Mount Snow Vermont Child Care
I had a few people ask me what to do if they have little ones that can't ski yet! I was in this EXACT boat for years and why I didn't try skiing! Most ski mountains have a child care service, as does Mount Snow. It's a wonderful facility. I peeked in because I wasn't sure if we were going to have to use it for Victoria (we didn't), but I was still interested to find out. This is a wonderful option for families with little ones.
Whether they're just crawling or ready to run, jump and climb, kids ages 6 weeks to 5 years will have an adventure packed day through hands-on learning and outdoor adventure. Centrally located in the Clocktower Building in the Main Base Area, Mount Snow Child Care is a welcoming, state-licensed facility that provides individual classrooms full of enriching age appropriate activities.
Mount Snow Vermont Tubing
Mount Snow also offers SNOW TUBING! Which was fabulous! It's right at the mountain and set aside for tubers to really have some fun!
Thank you to the team at Momtrends for the exceptional weekend! Check out the amazing Momtrends Ski Guide below for more information!!
Happy skiing everyone!
Check out some additional winter activities (101 of them) for YOU to do with your kids!
Disclosure: This was a hosted Momtrends trip. All opinions are 100% my own.