Winter Family Activities. It's about that time, am I right? It's cold. It's not fun to be inside doing nothing! I'm thrilled to share with you 101 Winter Family Activities!
Winter Family Activities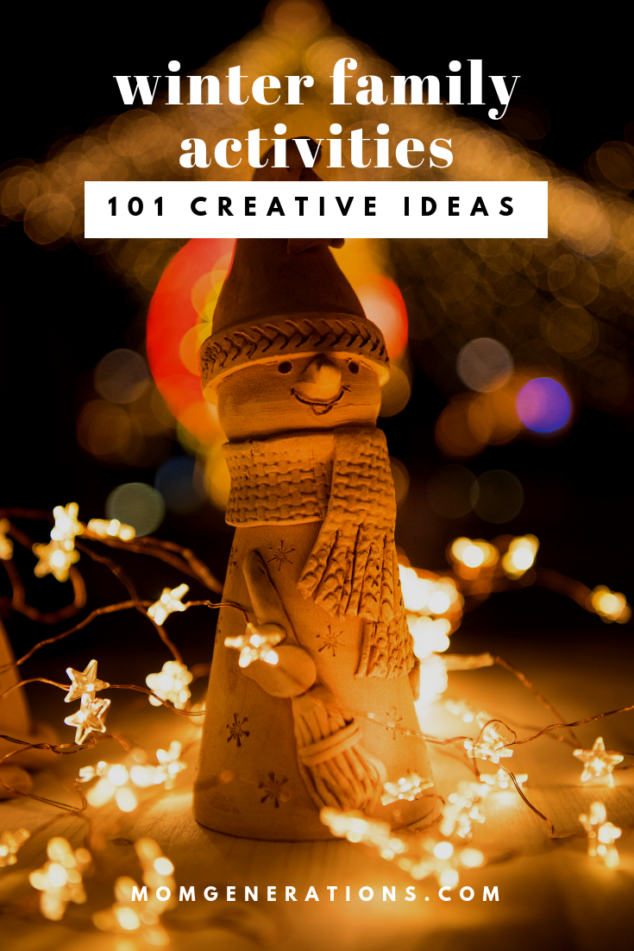 It's OFFICIALLY WINTER!! You know what that means, right? It's cold. It's cold. And it's COLD! My kids are definitely New England kids, they love the winter and even though the temps are low as can be, they STILL want to be outside playing! My son Alex even asked if he could wear shorts to school yesterday (I said NO!). As I've gotten older – I'm going to be honest here – I miss the warmth of the summer. I'm just not a lover of cold and snow and freezing temps! As much as I love a good fashion layer-up, it's not my favorite cup of tea!
Winter Family Activities – Stay Moving
With all that being said, I DO live in New England and I DO need to prepare and always get ready for the winter with my family. We're actually expecting 14 inches of snow TOMORROW, so this should be interesting! Not to mention – on top of that – we're expecting BELOW freezing temps. As you can imagine, my kids are over the moon thrilled with the cold and the snow coming!
Since we are officially in the winter season, I thought it would be fun to share some things that you can do with your family in the winter! Not everything is outdoors, I need my indoor activities, too! With 5 kids – we're ALWAYS – looking for different things to do and I love being able to have a list on hand to draw from with them. We try to get through as many as we can each season! It's not always easy… but it's a family winter goal! We love doing winter family activities because it keeps us banded and together.
101 Winter Family Activities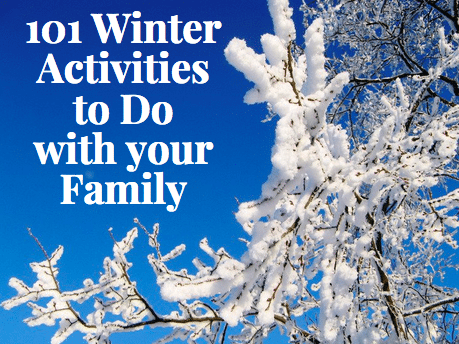 Ready for the Master List of Winter Family Activities
101 Winter Activities to Do with your Family:
Sledding
Skiing

Creating a Hot Cocoa bar in the Kitchen
Ice Skating
Arts & Crafts Night
Movie Nights on the Couch
Snowball Fights
Game Night Home
Build Snow Forts
Cross Country Skiing
Make a Snowman
Make Pillow Forts
Breakfast in Bed on the Weekends
Indoor Swimming
Create a Reading Nook
Make Cookies for your Family/Neighbors
Make your own Inspiration Board
Shovel Driveway and HELP Neighbors, too
Visit the Zoo in the Winter (many times it's free!)
Snowboarding Lessons as a Family
Tube Sledding
Indoor Waterparks
Toboggan Sledding
Read Stories Together or Listen to Books Online
Ice Fishing

Send a Handwritten letter to someone you love
Make Slime
Pajama Day
Video Game Marathon
Watch Old Family Movies
Send cards to a local nursing home
Scrapbooking
Indoor Obstacle Course
Walk your Neighborhood
Go to a Hockey Game (local team)
Visit a Local Light-Night Extravaganza
Train Rides
Head to the Movie Theatre
Dance Party at Home
Family Yoga
Go to a Basketball Game (local team)
Theatre Productions
Fancy Dinner out with the Family
Play "House" or "Restaurant" at home
Indoor Laser Tag
Hibachi NIght
Go Shopping at the Mall
Bowling Night
Put Together Puzzles
Make a Music Video
Roller Skating
Dave & Buster's Time
Take a Knitting Class
Try out some of the Wood Shop Classes at Home Depot (free)
Have an Indoor NERF Battle
Indoor Trampoline Park
Sleepover (everyone) in the Living Room
No Technology Weekend (can you do it?)
Create Snow Forts
Snow Angels
Make Wishes on the Winter Stars
Make Paper Snowflakes
Make your Own Wrapping Paper for next year
Travel to NYC to see the SIGHTS (if you're close)
Visit the Beach while it's COLD!
Donate Clothes/Diapers/Socks to Local Shelters
Make Snow Cones
Design T-Shirts as a Fun Activity
Host a Winter Party for your Child's Class
Send Holiday Cards to the Military
Make Homemade Presents for Grandparents
Update a 2017 Calendar
Frame Old Photos
Make a GINGERBREAD House
Visit the Library
Tour a Museum
Make Cookies for your local Fire Station/Police Station
Bring Donations to your Local Hospitals (see what they might need)
Make Homemade Soup
Be Part of a Coat Drive
Create an Outdoor Picnic
Set up a Winter Shop at home (pop stuff online to sell, too!)
Mannequin Challenge Video
Pottery Class
Make a Bird Feeder
Help Put Away the Holiday Decorations
Winter Scavenger Hunt throughout the Neighborhood
Make Your Own Fudge
Visit Chuckie Cheese
LEGO Building
Leave Food out for local Deer
Watch Hacks You Can Do for your Family with the Kids
Indoor Mini-Golf
Tie-Dye Items
Watch Hair Tutorials and Learn some new Hairdos
Haircut Day with the Family
Host a Football Homegating Party
Start a Journal
Day of Science Experiments at Home
Set-up a Family Facebook/Twitter/Instagram/YouTube Account
Family Cooking Lessons
Start a Family Blog
Hope you loved these Winter Family Activities! What did I forget?????
If you like this, you'll love Spring Activities to Do with your Family!!