Spring is here! Let me rephrase that – Spring is FINALLY here! This winter was brutal in New England. It was cold, cold and cold around the clock. I know living in New England you set yourself up for the cold weather, but you often forget just how frigid it does really get December thru March! When April sprang into view, it was like a brand new mindset came to life for me! I'm reading for spring activities for kids to get them outside and moving!
101 Spring Activities for Kids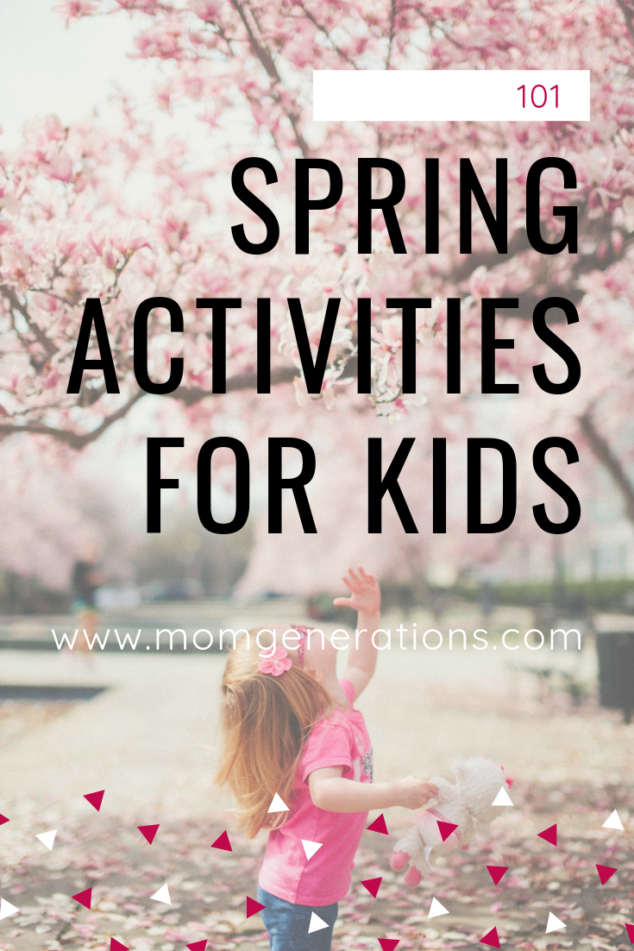 I love being able to get outside with my kids in the spring. There's nothing like fresh air, sun on your face and flowers blooming all around you. My kids are definitely outdoor kids. They love to play, so getting them outside is not a hard task to do. As a matter of fact, they would be outside all winter long if I let them! With the temps being so low, I just get worried about them catching colds… so I have them stay inside way more than they want to! Spring is just such a beautiful time of year because everything is coming alive. Everyone has been cooped up for so long all winter, so it's just the best time ever to come out and have some SPRINGTIME fun!
I love sharing lists for parents. I know when the boys were little I used to scour the internet for ideas and I a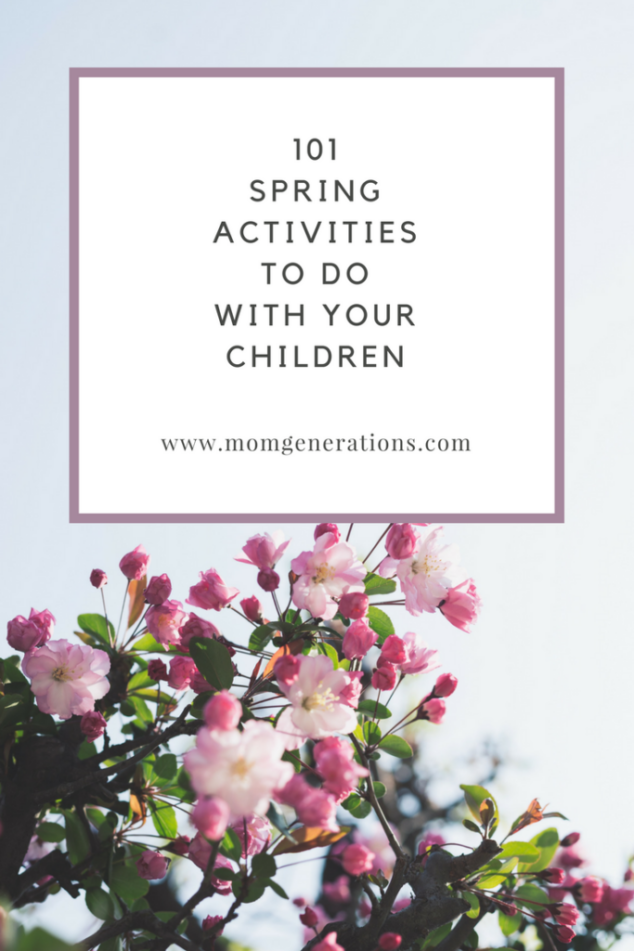 lways loved seeing other moms share lists of things. I could print them out, which was awesome and keep myself busy. I'm sharing today 101 Spring Activities for Kids. I hope this helps some parents out there looking for some fun things to do this springtime!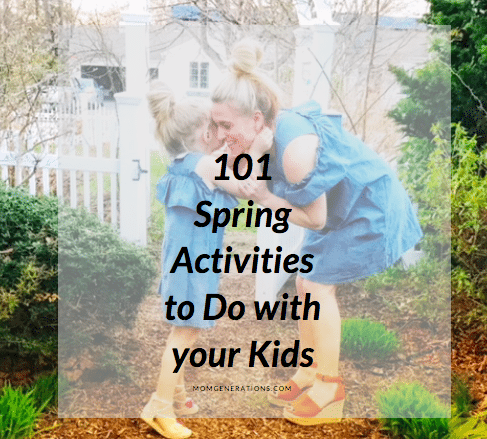 Here's my full list of spring activities for kids, I'm thrilled to share!
Plant a garden
Bike ride
Hike in the woods
Neighborhood scavenger hunt
Lemonade sale
Find ladybugs
Create a Wind Chime
Family yard sale
Fly a kite
Build a fort outside
Play on a swingset – who can swing the highest?
Play a game of croquet
Go fishing
Build a sandbox
Play baseball
Play soccer
Take swimming lessons
Walk on the beach
Have a cookout
Massive game of tag
Hunt for 4-Leaf Clovers
Frisbee
S'mores on the deck
Blow bubbles
Decorate your driveway with sidewalk chalk
Hang a birdhouse
Make gardening stones
Enjoy a picnic
Tug-of-War game with neighbors
Make your own ice cream
Roller skate
Play hopscotch
Visit a local zoo
Find a nature preserve
Yard work together outside
Painting project
Visit a Botanical Garden
Go flea market shopping
Visit a local nursery
Make a wind chime
Outside yoga
Make your own bird food
Paint your driveway
Water fight
Egg toss
Water balloon toss
Go frog hunting
Build a rock wall
Plant a vegetable garden
Play Pokemon Go! with your Kids
Stargazing at Night in your Backyard
Children's theater
Walk down your Main Street
Have a Tea Party
Head to a Butterfly Garden
Pogo stick
Jump rope
Decorate flower pots
"I Spy" Bingo around your neighborhood
Dance party outside
Puppet show outside
Bouncy house fun
Make beautiful flower arrangements
Hunt for Rainbows
Tie-Dye a shirt
Build a playhouse
Movie night outside
Street hockey
Basketball
Red Rover
Make a Sandbox
Evening Bonfire with Kids
Sprinkler time
Decorating cupcakes
Water Park Time – Indoor or Outdoor (depending where you are!)
Family 5K
Bocce ball
Wiffle ball game
Jewelry making afternoon
Dodgeball
Kickball Game
T-Ball Time
Roller Skating
Play Tennis
Making slushies
Pizza making night
Smoothie night
Hide and go seek
Play Soccer
Visit a Rope Challenge
Plant a tree
Head to a professional Baseball Game
Try Science Experiments Outside
Maple Tree Tapping
Magic Show Outside
Try Rock Climbing
Spring Party Celebration at HOME
Hopscotch Time
Collect shells on the beach
Mini Golfing
Feed the Ducks at a Park
If you love these ideas, you will love 101 Things To Do in the Fall!
One thing you can add to your activities with kids is Mini Pie Making Kit from Table Talk Pies. It's so much fun for kids to do with you.
And if you're looking for some extra fun, love for you to check out our YouTube Channel! We share lots of what we do over there, too! Love for you to subscribe and be part of our YouTube community.