GIVEAWAY: $100 Kohl's Gift Card
I love a GIVEAWAY, especially a really GOOD one! As a thank you to my readers, I'm giving away a $100 Kohl's Gift Card this week! That's right, $100! Do you need new clothes for spring? New shoes? New items for the kitchen? Living room? Bathroom? Toys for the kids? Books? Jewelry? Whatever you need, you have a chance to win $100 to have some extra fun with on me!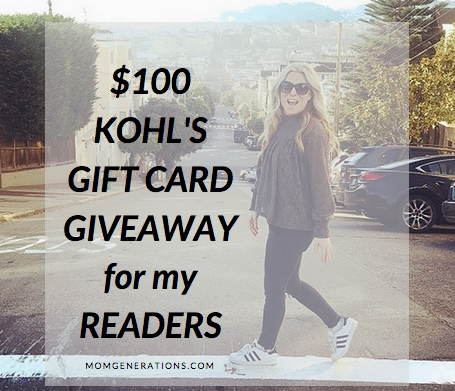 I really just wanted to do this for all of YOU, me readers! I've been blogging for over 10 years and I just love being able to share bits and pieces of my life online. There's never a dull moment and I really appreciate the fact that I have an outlet to share on. I know moms don't always have the time and stop and read blogs, which is great because people can find me on social media, too – but I just really am thankful for anyone who heads over to read a blog post or support me anywhere else online, too!
So how can you enter?
I'm giving you a BUNCH OF CHANCES!!