As much as I love my daughter's hair being super (duper) long, I knew it was time for her to get a little chop chop. Little girl haircuts are not something that I actually look forward to because I know my daughter sometimes gets scared. I was worried we'd go and she couldn't want to sit still in the chair OR stand still during the actual cutting part of the haircut.
Little Girl Haircuts
I've always loved going to the hairdresser, even when I was a little girl Victoria's age. I loved getting pampered and washed and my hair done. It was always such a fun perk to me! Now as a mom to a little girl, I'm all about finding some cute little girl haircuts that work for my Victoria. She LOVES long hair, so I knew that she wanted a style that was going to be long. Her hair had gotten very long and raggy, which was becoming difficult to brush.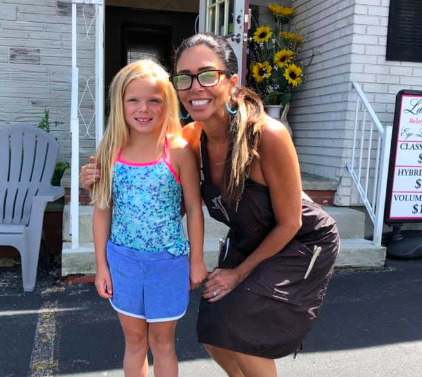 When it came to figuring out what some little girl haircuts, we looked online at some Pinterest photos. I swear Pinterest is the best search engine on the planet! They have great ideas there for you to work off of for yourself. I love it so much! Since Victoria didn't want to go short, we looked at long styles. I was for her getting bangs, but she didn't want bangs. I don't understand at 6 how you know that, but she "knew" that!
Here was our adventure at ReJoyce Salon & Spa in North Providence, RI on Friday! As you can tell, it's silly that I was worried about Victoria NOT wanting to get her hair done. She took to it like a fish to water! Joyce is amazing and has been the only one to cut her hair, so she made it super easy and enjoyable for Victoria. It's not always easy getting her to sit still, Joyce managed a miracle!
When it comes to tips for Little Girl Haircuts, I wanted to give you some of my mama tips:
1. Bring technology or activities for them to do that will keep them still. I know Victoria loves playing games on my phone, so I let her. It keeps her still so that she's not bopping around here, there and everywhere.
2. Have your stylist walk through each step. What I love about Joyce is that she literally walks through each step with Victoria. She makes she she's letting her know what she's going to do next and I appreciate that, as done Victoria too! She knows what to expect.
3. Keep it FUN! I know Victoria loves to get pink extensions put in her hair! Joyce clipped them in this time around, but last time we actually had them beaded in. It makes it extra fun for her to get it done.
4. Make sure your child can see themselves in the mirror. Once a child knows that they HAVE to be still and that they can see themselves getting their haircut, it helps. I've noticed that with little girl haircuts especially, they love to see what's going on and they ask lots of questions!
5. Reward at the end! OK, don't laugh and don't judge. We all do what we can, right? I love to reward Victoria with a lollipop or a little treat afterwards. It's not easy being a little girl and having to sit still for a haircut. Victoria knew that if she sat still she would get munchkins on the way home. It worked!
6. If there happens to be other people in salon before you, let your little one see what's going on with them, too. It's great for them to have a gauge and really see what they can do and get done. It's also fun for them to see someone sitting and enjoying!
7. Talk to your little girl throughout the haircut. It's fun for them to know that you're there, too. I took a ton of photos and videos (obviously). I liked chronicling it and Victoria asked to see everything the second we got in the car on the way home!
8. Make sure you're going to a hairstylist who has done kids before. I went to a hairstylist years ago for my son William who had never really worked with little kids. It was a crash and burn. She was super nice, but wasn't patient with him and it just made the experience for him and me horrible. I knew from that day on to always find someone who works well with kids cuts.
9. Never underestimate someone washing your hair, even when you're 5 years old! There's just something about being at a salon and enjoying a fabulous wash! Victoria's face in the video cracks me up! She's so content and just in her happy place. I know that face, I love that face! It made me laugh!
I hope you have some fun with your little one for their little girl haircuts. All in all Victoria ended up cutting about 5-6 inches. It's crazy because you almost can't tell it was cut! There was a huge amount that needed to be chopped and I love that it's gone and that hopefully she'll want to continue to keep it long.
She left happy and smiling and brushing it has been amazing for the last few days! It's easy, peasy and I love it so much! I thought little girl haircuts would be a lot more difficult at this age and I'm thrilled that they're not!
I'm sharing some of my favorite posts about cutting hair and keeping it real and easy for you:
How to Make Sure Haircuts are Fun for Kids
Also – love for you to share with me how you make hair cutting fun!! We share all of our hair cutting videos over on YouTube! Love to have you join us there, too! I'm all about trying to figure out the best ways to make life for moms and dads easier, so love for you to share with me any tips!! Thanks for trading and have a fabulous day with your little ones!