I'm all about sharing some casual summer outfits this season. I'm going to be rounding everything up in August! I think it helps to have outfit starters each season. I know I'm always inspired by other outfits I see, they always gives me a jump start to get my fashion brain rolling. I'm talking some casual, everyday outfits today for the summer. It's important to have these go-to looks on hand for anything!
Casual Summer Outfits: Summer Whites
I'm someone who wears jeans year round. I don't care if the weather is 90 degrees, I'll still wear me some jeans. In the summer I'm all about white jeans, they really are a perfect summer look. This is probably one of my most favorite casual summer outfits. I actually would think of this specific look as my summer uniform, summer whites. You can wear monochromatic styles all the time, but this specific white one I love for the summer.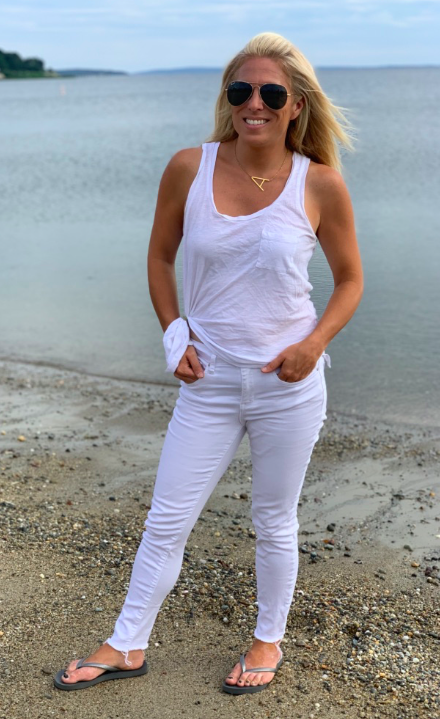 Let me start from the beginning with sharing casual summer outfits. You need to make sure you find pieces that 1) are comfy 2) fit you well 3) you feel good in. I actually only wear my summer whites in the summer because I have a little glistening glow from the sun. I love being able to find lightweight items, too for the summer. I hate wearing anything that's too heavy. Even though these are (indeed!) jeans, they're also super lightweight.
Casual summer outfits require breathable tanks. I found this tank at Madewell and fell in love with it immediately. I love how it was lightweight and truly a tank that I could dress up or dress down. It has a very basic cut that really does feel comfortable. It's true to size (I'm a size small) and I love that it even has a little bit of give, too. I can tuck it in very easily. I adore the pocket on the front, too.
Here are some of my fave summer whites options on the tank top front:
I'm all about a fab piece of jewelry, too. When you're trying to determine casual summer outfits, you don't want to go crazy on the accessories front. You want simple and classic and elegant. I love my letter necklace because it's so perfect for any look. I found this one at Anthropologie for $38! You can't beat that price. I'm linking a few different options below, but I found the exact one I have on, too! You don't want to miss it – goes perfect with my summer whites!
I just in love with the simple touches for the summer! I really do think that less is more in the summer. You don't want to layer accessories like crazy because you'll get too hot (#1!) and truly it's just not needed in the summer. You will appreciate being able to just have items that are totally chill worthy for the summer. You want casual, not dress up.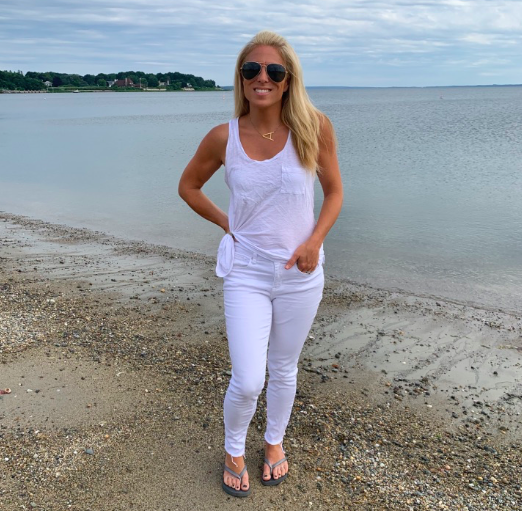 I always have about 2 or 3 pairs of NEW white jeans in my closet for the summer. I don't know what it is (because I'm actually pretty neat), but at the end of every summer my white jeans always have some sort of stain on them. I take the time to invest in some new summer whites every season. I promise you, if you find some awesome deals – it's worth it! Since I'm all about the casual summer outfits, I know investing is well worth my time!
These summer white jeans I bought at Old Navy when they had a crazy sale! I think I paid (no joke) $19.99. I'm going to link up some affordable options below. Since I don't ever spend a ton of money on denim because I just don't think it's worth it, I love being able to share some of my fave picks. People never believe me when I tell them I buy jeans that are at GAP, American Eagle, Old Navy or JCPenney, but I'll tell you – WHITE JEANS LOOK ALIKE!
Here are some of my all time fave pairs when it comes to style and price. Let's face it, you don't need to spend $100 on jeans to look good, especially in the summer. You just need a pair that fits you and you think you look fab in! Do not let anyone tell you to spend a ton of money! There's no point! My top options are here (and let it be known, all under $50!):

In the summer I do without belts. I don't know why, I just hate them in the summer. When I want my shirt to be "tucked" and stay in place, I end up using a hair tie. I just grab an elastic and knot the side of my shirt and viola! It's perfect! I like this because it's easy for me to make it work and it's also a cute style. I'm all about adding in a little trend for my casual summer outfits.
I hope this look inspires you! You can also take the monochromatic look and create some casual summer outfits. You don't have to just do it with summer whites. Try a fun color like pink or yellow or blue. It's all about making a statement with your clothing, but making it work for you. I love taking pieces that I have in my closet and creating summer looks, easy ones that I can wear over and over again.
I love sharing some of my looks over on our YouTube channel, too! Love for you to come on over and subscribe!
If you're looking for additional fashion inspiration, I have a bunch more posts on the topic! I love me some fashion and I adore talking about it with people, too. Fashion is such a fun way to express yourself! I have a What to Wear Series that I love adding on, too!