We're a big swimming family and know all about swim meet snacks. All of my kids are officially on a swim team and are competitive swimmers. Thankfully they absolutely love it! There's something about the summer swim team and how laid back and fun it is for kids. Even though our summer swim team isn't as intense as our winter club team, I'm still on top of packing healthy swim meet snacks for everyone. I need to make sure my kids are fueled and ready to GO with the right food.
Swim Meet Snacks
If you're a swimming family, you know that when it comes to swim meets it's really long days on the pool deck. The difference between summer swim and winter swim is the length of the meets. Winter meets can literally last all day long and they can drain the heck of a little swimmer if they're not eating and drinking from their water bottle enough. Summer meets are quick and easy, usually only lasting about 2-3 hours in the morning.
Simple snacks for kids for swimming
I swam when I was a little girl, so fortunately I went swimming with my kids with my eyes wide open. I knew (and know) when I was a kid that it takes good food to keep you moving. I don't claim to be a sports dietitian, but I've learned from the best. My mom was fantastic helping me and my sister get prepped and prepared for swim meets with delicious swim meet snacks and drinks. My mom would even wake up extra early and make us baked potatoes! It was all about carbo loads, she really knew what to do and it showed.
If you're a swim team mom or dad, I wanted to share some of the best swim meet snacks because it's not always easy to know what would be good options (or bad) for your kids to eat on the pool deck. Many times your child goes off with their team and you don't see them or even talk to them again until after the swim meet! In all honesty – this drives me crazy! There's no way to get to my kids, so you just need to make sure you've packed the best snacks for them with complex carbohydrates, simple sugars, and lean protein.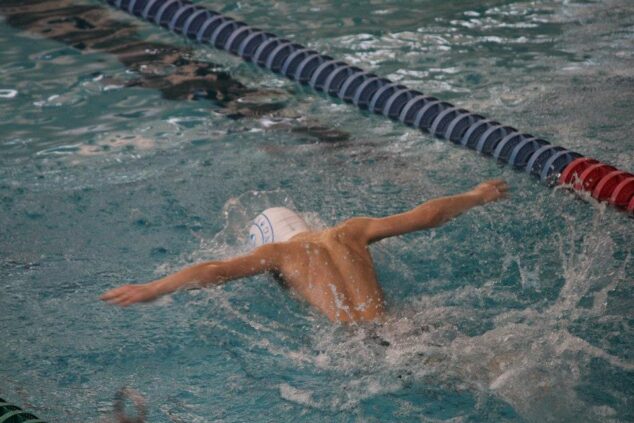 Here is a full list of swim meet healthy snacks that are a good choice for your kids that they can pop in their swim bag. This will keep their energy levels up and ready. Keep this post bookmarked for yourself and your swimmer. Also important to add these into your swim meet snack bar, too:
Pepperidge Farm Goldfish
CLIFF Bars
KIND Bars energy bar
Peanut Butter and Jelly Sandwich
Peanut Butter Crackers
Strawberries
Apple Slices
Banana
Oranges
Noodles
Pirates Booty Popcorn
Cheese Stick or String Cheese
Instant Oatmeal
Greek Yogurt
English Muffins
Granola Bars
Muffins
Bagels
Yogurt
Dried Fruit
Grapes
Tuna Sandwich
Turkey Sandwich (meat roll-ups)
Rice Cakes
Celery Sticks (add hummus or peanut butter)
Carrots Veggie Sticks
Applesauce
Pretzels
Trail Mix Nuts
Plain Crackers
Hardboiled Eggs
Beef Jerky
Whole Grain Waffle
Graham Crackers
Cereal Bars
Cold Cereal in Bags (whole grain cereal)
Whole Grain Toast
Cucumber Slices
Almond Butter
Whole Wheat Spaghetti with a low-fat meat sauce
Pepper Slices
Cottage Cheese
Lean Turkey
Slice of low-fat Cheese
Lean piece of Chicken
*Any Fresh Fruit
*Any Favorite Vegetable
*Use Whole Grain Bread
I wanted to make sure you had a solid list of ideas for swim meet snacks. I know with my 5 kids they all like different things and it's important to add in some of their favorite foods. It's always crazy because none of them all really want the same thing, at the same time. I'm fine with packing a bunch of different things, but I do not want them consuming foods that aren't good for swimming. It's always funny because swim meet snack bars always have brownies, candies, donuts and other high fat foods. It never ceases to amaze me!
What to Drink at a Swim Meet
One of the best things for your child to drink at a swim meet is chocolate milk. You don't need to make sure it's low-fat milk, any milk will do. Chocolate milk is great to drink because it's helpful for athletes who need high levels of calories, carbohydrates, and proteins to maintain their level of energy. This is also great to drink after a training session, basic swim practice, or a high-intensity work out. Another drink you might want to add in is fruit juice (with not much sugar) or a sport drink. My go-to as a swimmer was always a glass of water.
I just want my kids to understand that it's necessary for them to keep themselves fueled up on good foods and drinks that will keep their energy up and not drain their energy tank. As much as I'm sure they want the donut, or french fries it's not what you want in your stomach when you're swimming. You don't want to get sick mid-race, so you need to stay away from high-fat snacks. I always used to want to eat the worst foods and then I did, I never swam well. Sometimes it's just about learning the hard way, but heating healthy makes a huge difference.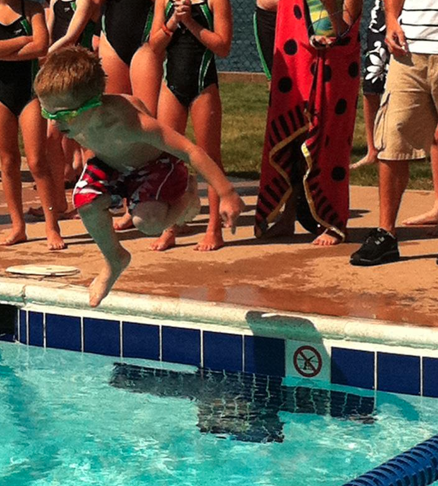 My advice in the morning for breakfast on your way to a big meet or big race is to make sure they don't overeat. Pack small portion sizes or small quantities. I like to have my kids eat a bagel in the morning with a light layer of cream cheese right on it. I don't want them to be stuffed with heavy foods. I also feel that it's extremely important for them to be hydrated with water and some good sports drinks. I always make sure my kids have liquids on them, ALWAYS.
If you have any questions about swim meet snacks, race meals, or meal ideas, please feel free to reach out to me. I'm all about making sure I help spread the word because swimming is one of my fave sports and it's essential to make sure you're prepared for them. I always think of it like this, you train so hard and so long for swimming. You spend hours in the pool y yourself swimming up and down the lane. You really put in so much of yourself, always. When it's swim meet time, you want to excel and really use your training!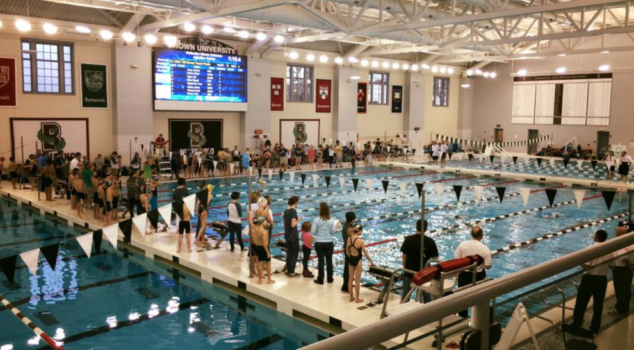 With the help of training comes doing your part on the food and drink front, so it's important to make sure you're doing just that! I love being able to share what I know because I know how important it is for swimmers. If I see my kids not drinking or eating from the stands, I always try to signal to them to EAT and DRINK! It's so funny – me and every single other parent in the stands!
Make sure you take some time to read about the beauty of choosing swimming as a sport for your family. It's a sport that we love and I adore the fact that it's a life sport. It's the kind of sport you can literally do your entire life. It's also a safety thing, too. I wanted all of my kids to learn how to swim. It was something that I was very serious about just for water safety.
Swim Team for the Summer – Why it's the BEST Decision
6 Reasons Why Your Child Should Learn to Swim
Make sure you take the time to head over to our personal YouTube Channel to check out our family. We chronicle our life over there, too. It's a great way to get to know us and there's lots of swimming and swim team content over there, too!