When we moved into our new home 2 years ago I was head over heels excited when I realized we (now) had a Bosch dishwasher. I'd always wanted one and was just so excited to finally be getting my wish granted in our new home! If you have a Bosch dishwasher you already know how amazing they are, if you don't… believe me, you want to add one into your home pronto! They are – in a word – INCREDIBLE.
AutoAir™ BOSCH 500 Series Dishwasher
The Bosch that has me eye right now? It's the AutoAir™ BOSCH 500 Series Dishwasher. It's a dishwasher that (honestly) works like a charm and is just extraordinary! It marries together what you're looking for in a premium brand because its design, engineering and reliability is just spot on every single time.
Let me start from the beginning. With 5 kids I need a dishwasher that's going to stand up to lots of dishes, multiple times a day. My kids also don't rinse their plates well enough (like I ask them to) before popping anything into the dishwasher. They rinse, but they don't get all the food off their plates. It drives me crazy – but I love that I have a dishwasher that cuts through it all anyway! I also want a dishwasher that's on and nobody knows it's on. One that's as quiet as a mouse! Is that too much to ask?
But this particular AutoAir™ Bosch 500 Series dishwasher? It's absolutely incredible!
Tackle a full load of dinner dishes effortlessly with this Bosch 500 stainless steel dishwasher. AutoAir Dry automatically opens the door to dry dishes quickly, and the flexible third rack makes it easy to clean more items in a single load. This Bosche 500 stainless steel dishwasher projects a red light onto the floor when the wash cycle is on.
These are the features that the AutoAir™ BOSCH 500 Series Dishwasher offers, which are pretty amazing:
There's room for up to 16 place settings. Plus, 5 wash cycles including five-level wash, 5 options like Extra Dry, and a concealed heating element.
Flexible 3rd rack
Accommodate the odd one out. Adding the 3rd rack with its adjustable tines can create the right fit for deep, tall, or uniquely-shaped items.
EasyGlide™ rack
Load and unload smoothly. It's easy to adjust and move the racks, even while they're full of dishes.
RackMatic®
Fit it all, every time. With 3 different height levels and up to 9 possible rack positions, you can customize each load for your needs.
24/7 Aquastop®
Protect your floors. This 4-part leak prevention system uses sensors to detect and stop leaks, and can even turn on by itself.
44-dBA noise level rating
Wash dishes in peace. Bosch dishwashers are so quiet, you have to check the exterior Infolight® to know they're on.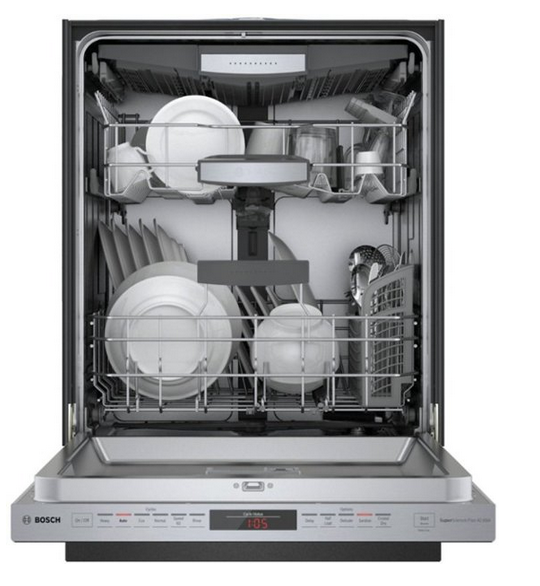 A little extra about the AutoAir™ BOSCH 500 Series Dishwasher Best Buy, too:
• A little fresh air equals a lot more dry. 
• Claim: AutoAir™ automatically opens the door at the end of the drying cycle to let moisture escape and fresh air circulate for better drying results.*Compared to Bosch Dishwashers with PureDry.
•The Bosch 500 Series dishwasher delivers a sparkling clean and dry with advanced PrecisionWash technology and AutoAir.
• With PrecisionWash, intelligent sensors continually scan and check the progress of dishes throughout the cycle, and powerful spray arms target every item of every load, for the ultimate clean. 
•The all-new AutoAir option automatically releases the door at the end of the cycle to let moisture escape and fresh air in for drier dishes*Compared to Bosch Dishwashers with PureDry.
•Quiet operation (44 dBA)- incorporates 18 unique sound-reducing technologies such as multiple insulation layers, grindless food filtration, and a sound absorbing base.
•Large interior provides loading flexibility necessary to easily accommodate 16 place settings, and the Flexible 3rd rack adds space for cooking utensils and ramekins.
•Every Bosch dishwasher is ENERGY STAR qualified and meets or exceeds federal guidelines, for year-round energy savings.
•Sanitize Option reduces 99.9% of bacteria with a hot-wash rinse for sparkling clean and sanitized dishes.
•FlexSpace™ Tines on the lower rack- fold down every other tine in one simple step to make room for larger, bulkier items while optimizing the rack space.
If you're looking to upgrade or change it up at home, make sure you check out this amazing Dishwasher. You will be so glad that you did and it will certainly change the life of your kitchen. You want appliances that are going to work with your family to the best of their ability, this is one of those items.
You will love it. Again and again. And again.
Check out: Why You Need a Bosch.
Disclosure: Sponsored post with Best Buy.