Fall Flavors at Dunkin' are here and I'm thrilled about it! I wait for this time of year all year long! Dunkin' Fall Flavors are all about the PUMPKIN! I mean ALL ABOUT THE PUMPKIN. My mornings are centered around my after-morning-school-dropoff relaxing Dunkin' runs where I my medium hot pumpkin with cream. I literally live for these runs. If you haven't tried the Dunkin' Fall Flavors yet – YOU NEED TO TRY THEM!
Dunkin' Fall Flavors
Let's talk FALL FLAVORS at Dunkin'! What can you expect? What is brewing right now? What treats will feast your fall fancy?
Hot/Iced pumpkin flavored coffee
NEW Cinnamon Sugar Pumpkin Signature Late
Apple Cider Donut & munchkins
Pumpkin Donut & munchkins
Like I said above, I always go for the pumpkin coffee in the mornings. It's a small joy that I love to add to my life during the fall season. It's such a fun time of year to be able to bring in something so iconic to the fall season and nothing screams FALL like pumpkin. It's such a yummy treat!
Now – my afternoons are a little different. I'm all about the apple cider. I love, love, love a delicious cup of apple cider in the afternoons. It's such a tasty treat that fills me up and keeps me warm and cozy. It's a great afternoon and evening delight for everyone! My kids even love apple cider!
We celebrated the delicious FALL FLAVORS this weekend with Dunkin' at the Misquamicut Fall Fest. Dunkin' served as a branding sponsor at Misquamicut Business Association's Fall Fest- ushering in Fall at the beach! I've never been to this festival before with my kids. I've heard about it, but never been able to get there. Thrilled to have finally have gotten there because the day was AMAZING and so much FUN!
The festival is a family-focused three-day event, featuring carnival rides, food and live music that draws thousands of people across the region to bid farewell to Rhode Island's beaches and look ahead to fall. Dunkin' had a sampling truck there to sample fall flavors!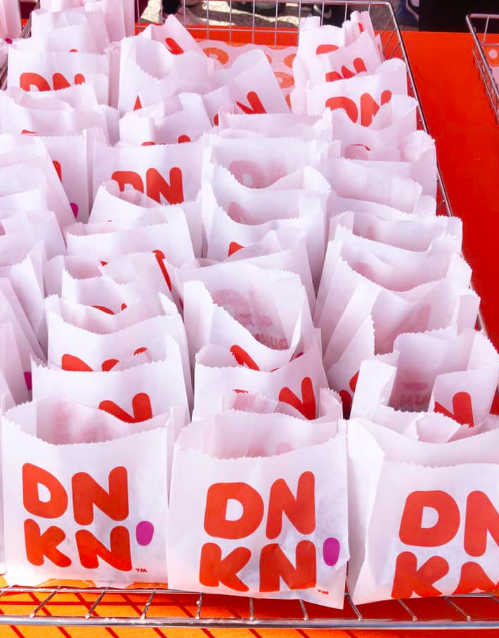 After indulging on all the Dunkin' fall coffee and munchkin flavors, we went off to the FAIR!! The kids looked so cute heading in!! They are the best to hang out with on the weekends! I cherish these moments with the 5 of them! The older they get, the more I know this time is so extra extra precious!
The rides were out of this world amazing! I was a little scared to go on the Ferris Wheel, but Victoria was dying to go up on it! After I got up to the top, the view was extraordinary! It was just amazing to be up on the top of the world!
I got to see my friend Sheri from When The Kids Go To Bed there with her family, too! She's always so much fun to chat with and walk around with! Between the 2 of us we have 7 boys!
Don't forget to take Dunkin's fall flavors with you for your back-to-school drops-offs, pumpkin patch visits, apple picking excursions, fall festivals!!
Disclosure: Partnership with Dunkin'