Water Safety for Kids: 8 Pool Safety Tips for Parents As you know, we're water people. We live in the Ocean State (RI) and we're on pool decks almost 7 days a week. My oldest son started on a swim team when he was 5 years old which meant his little brothers (who were 2, 3 and 4 at the time) needed to be with us. I was always so worried having them around the different pools we traveled to because I knew they couldn't swim.
As they got older and stronger and I saw them get comfortable in the water, I started to feel more and more at ease. But then we had our Victoria – who is almost 5 years old – and my concerns came rushing back. She's also a curious and fast-paced little girl, she doesn't like to sit still… so whenever we're at the beach or on a pool deck, I always try to have a hawk-eye on her. Literally, I call it Hawk-Eye to my husband. Water safety for kids is just so important.
Water Safety for Kids
Seeing the news about Bode Miller's daughter broke my heart. Honestly it hasn't left my mind and I have such a sick feeling in my stomach for them. Accidents happen in a split second and this tragic one has left me hollow. I wanted to write a blog post today about water safety for kids and share some tips for parents.
These situations leave me just wanting and needing to share whatever we can when it comes to water safety. It's something I STILL worry about with my sons, too! Even when we're at the beach with the tow coming in and out, I always get worried about them being out there. That mom worry never goes away.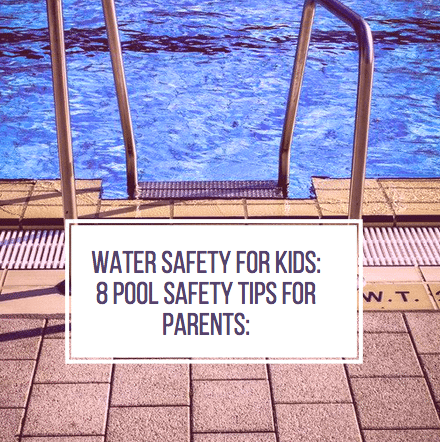 We've been HUGE proponents of our local YMCA here in Rhode Island, we are Bayside branch members and love it so much. I joke that we actually "live" on the pool deck there now. They offer the best swim lessons for kids and it's something that I truly recommend for each family.
I was taught to swim at our local YMCA right here where I live with my own family right now and I think it's imperative that parents take advantage of the wonderful resources that the local YMCA's offer. There are classes for all levels and it's something – as we're heading into the winter – that you should start doing for your little ones for the summer months ahead. Get them prepped now with swim skills.
The YMCA is BIG on water safety, too. I'm happy to be able to share these tips that have been recommended and that I've learned from being on the pool deck for so long throughout the years.
Water Safety for Kids – 8 Pool Safety Tips for Parents – these are tips that hopefully you will print out or make sure you bookmark this for yourself, too. It's essential to make sure you keep yourself informed and updated on everything that you need to know about pool and water safety.
GATE AROUND THE POOL – If you have a pool at home, make sure you have a gate around it. This is essential for little kids because it's a safe way to keep them out. The gate is only open when parents are there or a supervised adult. Whenever we go to a pool party and we see a gate around the pool I always feel at ease.
LIFEGUARD – Make sure there's a lifeguard on duty. When you're at the beach or a public pool, always make sure that there's a lifeguard on duty. They watch the pool and keep an eye on all potential dangers. If there's not a lifeguard on duty, do not go in.
SWIM LESSONS – As soon as you can, sign your kids up for swim lessons! Swimming is a skill that every child should know. It's essential. I have been big on swim lessons since the kids were babies. Start them as soon as you can on the water safety. I'm telling you right now, head to your local YMCA and sign up TODAY!! This is a life skill and it's never too early to learn
SAFETY TURTLE – I'm loving the different safety measures that are out there for kids right now.  Keep tabs on your little one in the water with the Safety Turtle 2.0 Wristband. Featuring a black locking band with a a green turtle buckle and key, this safety wristband will send a signal to the Safety Turtle 2.0 Pool Alarm base when it is submerged in water, alerting you to check the pool.
LIFE JACKET – Life Jackets are a MUST have for water safety. Super Soft Children's Life Jacket that includes a leg strap for added security and is for children under 50 lbs.
BE ON THE LOOKOUT – Accidents happen in a matter of seconds! Always be on the lookout. Don't walk away. Don't grab the phone. Don't be on your phone!
FOLLOWING THE RULES – I always tell my kids that accidents can be prevented by following the beach and/or pool rules. Whenever they're at someone's house or at a public pool or at the beach, we always tell them to check out the rules and abide by them. They're there for a reason.
DON'T SWIM ALONE – I'm a big proponent of the buddy system – swim with a friend. I always feel it's safer because there's a lookout. Even with older kids that are strong swimmers, I don't like them in the ocean water without a buddy with them or a parent on the shore watching.
Water safety for kids needs to be top of mind for all of us year-round. It's something that is vital and essential to teach kids as they grow, too. My heart and my prayers go out to the Miller family. Please make sure you save these Water Safety for Kids tips because they could truly save a life.
Also, the YMCA offers a lifeguard training course if this is something you want to look into. They teach CPR and life saving skills that would help you anywhere. I'm all about trying to pass on resources and advice and tips when it comes to water safety and taking classes is a great way to do this. When I was in high school I took a class to become a lifeguard and I felt very prepared when there were little kids around. As an adult I haven't taken a class like this in years and years. It's also a good idea to make sure you stay on top of this for safety for your kids and others kids, too.
For some continued reading – We're big proponents of learning to swim at MomGenerations.com. The most important is water safety for kids because you need them to be safe, #1. I feel it's a life skill that every child should know and learn in their lifetime. You don't want to be an adult and still not ready with this skill. I've talked about it before on the blog, but also wanted to share a post I wrote about it, explaining my reasons – READ ABOUT WHY YOUR KIDS SHOULD LEARN TO SWIM!
*Partnership with the YMCA Greater Providence Branch.