I'm all about wearing cute black dresses throughout the fall and winter. As a matter of fact, I always have my standby, go-to little black dresses isolated in my closet for any occasion. If I'm heading on a work trip, I bring one. If I'm going away for the weekend with my family, I bring one. It's also the one item I know I can turn to to wear just about anywhere. Those (oh, yes) are my favorite types of outfits to have on hand.
10 Cute Black Dresses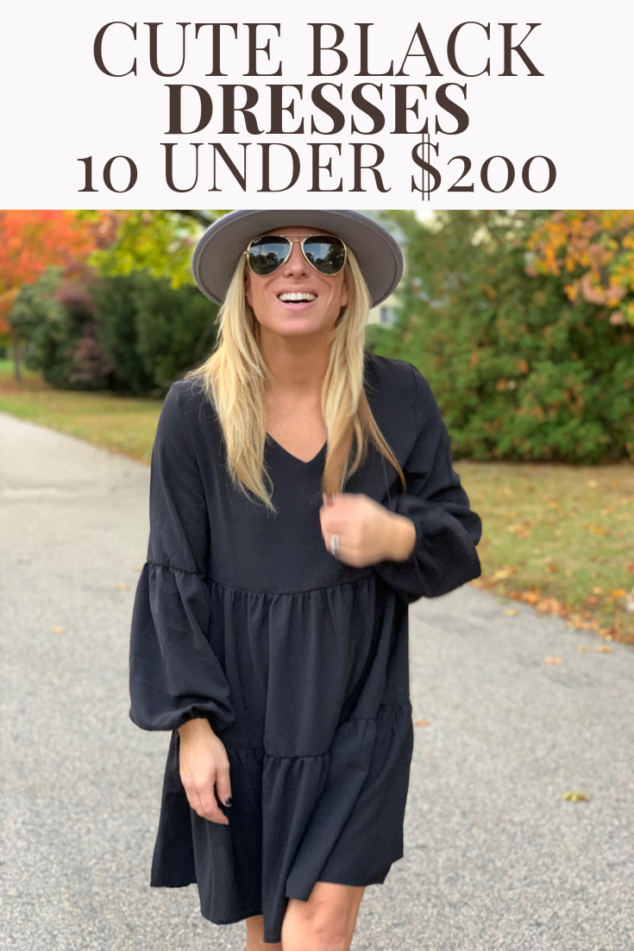 Ever since I started amp'ing up my fashion content, I've had women reaching out with some fashion questions. One of the most common questions I get asked is about finding the perfect little black dress. Since I'm all about having cute black dresses in my closet, I love this question because I can suggest and recommend some great options. I'm all about making sure I find black dresses that work for every kind of body type. With fashion – one size and one style does not fit all.
I wanted to highlight 10 cute black dresses today on the blog because I was hoping one of them would pop out to you as the ONE! I'm a big believer in sharing is caring and I prefer to be able to share black dresses that are versatile and can work for different kinds of occasions. Since cute black dresses can be worn to work and out to play, I wanted to highlight dresses that encompass everything and in between.
I'm going to kick off with a cute little black dress that I just bought a couple of weeks ago and fell instantly in love with when I saw it. I wasn't sure how it was going to fit and if I was going to like it, but I loved the style and it just looked Free People-esque to me… I'm a lover of Free People, but hate the prices. This pleated tunic dress was just adorable and I couldn't wait for it to arrive to my door!
When my little black dress arrived, I LOVED IT! I saw it was absolutely perfect for work and for play!
Here's my #1 top Little Black Dress PICK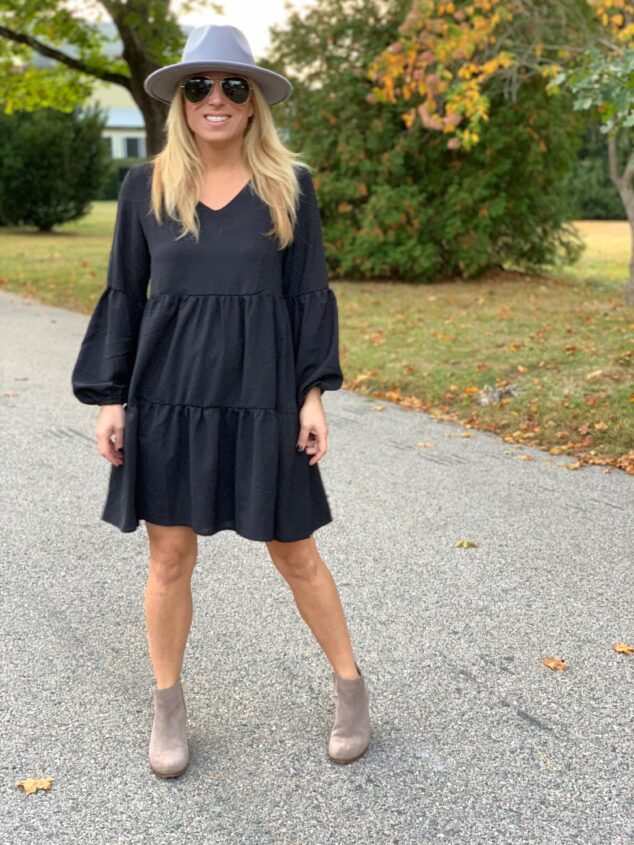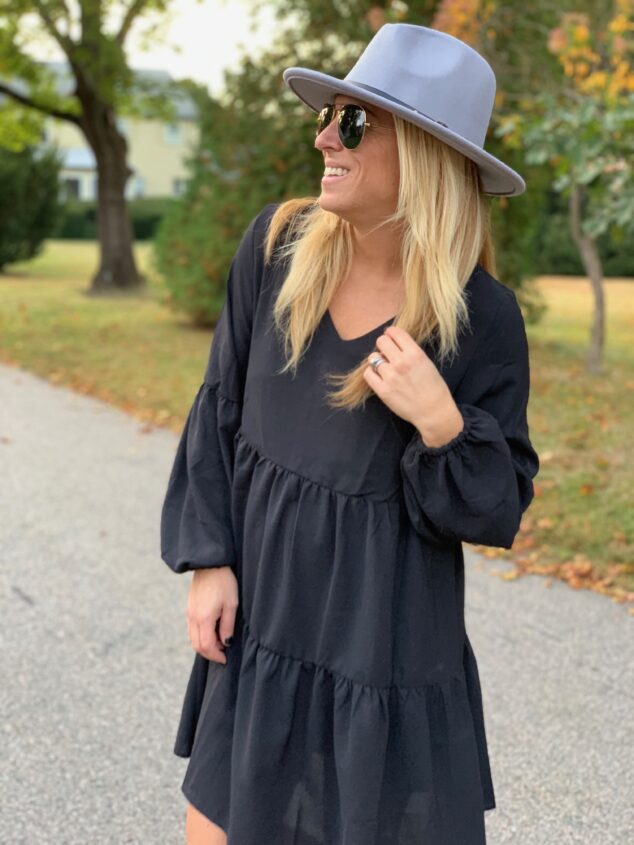 Details:
100% dacron, stretch, soft and comfortable.

Deep v neckline with lantern long sleeve/short sleeve/sleevelesss, super sexy, fashionable and elegant.

Pleated loose swing dress with tunic length, solid color, ruffle, simple and plain, tiered dress, can be easily dress up and dress down.

Above the knee length dress perfect for casual daily wear, party, club, work, office, business, vacation, beach, etc.

Perfect tunic dress for leggings, tights, or laying with coat, jackets, sweaters in spring, autumn and winter.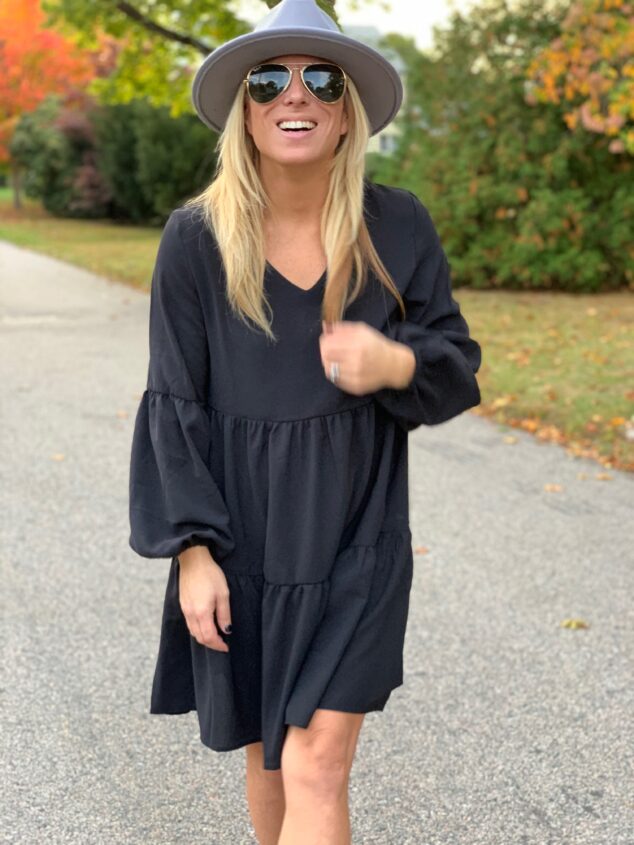 How perfect is this cute black dress, right? I wore it to a blogging conference last week and wore it while I spoke. It was comfortable and stylish and I just loved it! I also know I could wear this with flip flops to dress it down a bit, too. I just love a dress that can be worn a few different ways. It's one of those dresses that really has true fashion longevity to it!
The best part? The dress is only $24.98!
I'm going to share with you some additional black dresses below that I just love to pieces. These are the kinds of dresses that you can wear to just about anything. Here are some of my favorite black dresses:
I'm all about sharing my fave picks, so make sure you keep checking in on my blog! I just wrote about my fave
leopard print scarf
this week, too. Another HUGE fall trend that works for anyone!
I also have a Fashion Over 40 group that I would LOVE for you to join! I share trends and styles every single day in there, along with the best sales online for fashion. I fully believe that you can and should be able to look your best without breaking the bank. You want to feel confident and beautiful and you CAN! I hope my info helps! We have a ton of fashion fun in there!
Head on over to join here.