Everyone needs a boyfriend tee in their closet this season! I know we're all so keen to grab boyfriend short sleeve tees in the spring and summer, but you need them in the fall and winter, too (with long sleeves!). I think that there are just certain pieces that we all have in our closets that we will wear year after year – a boyfriend tee is one of them. Cents of Style has an amazing deal right now on their Joanna Boyfriend Tee that I just need (and want) to share today!
Boyfriend Tee – 5 Ways to Style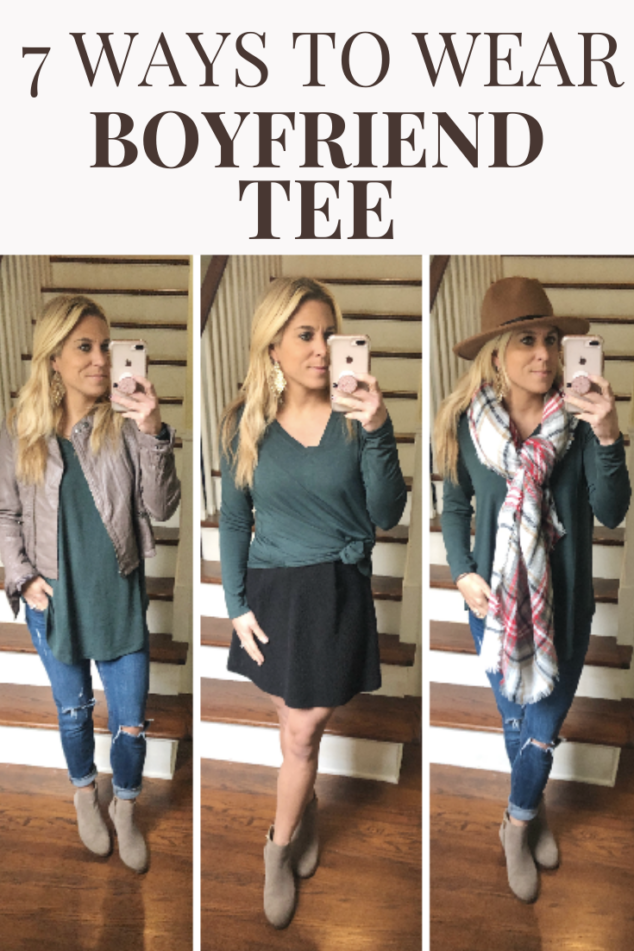 I'm all about sharing 5 Ways to Style certain pieces on the blog and now it's all about the boyfriend tee today! I just got this tee yesterday and I'm already loving it from top to bottom! It's a pretty amazing deal right now and I need to spread the word, but also show how you can style this so many different ways! I even went beyond the 5 ways, I gave 7 of them.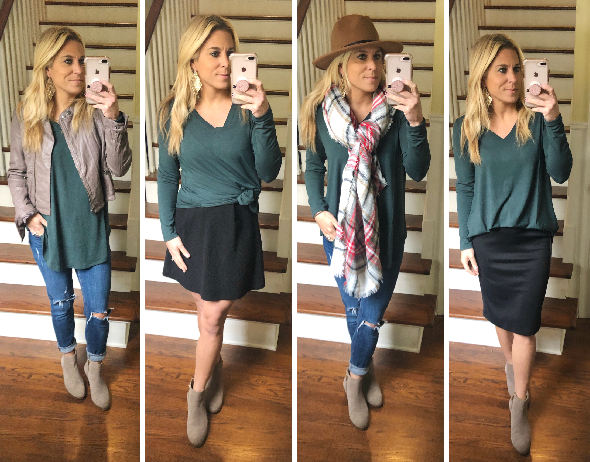 First… let me share about the incredible deal!
JOANNA BOYFRIEND TEE from Cents of Style – You have totally earned this moment of relaxation! You managed to have a day full of smiles and everyone got along. It was exhausting! Sit down and kick up your feet up. As you make it through your day and relish in the joy, let Joanna help you. This perfect v-neck stripe t-shirt is perfection with your jeans or leggings. Now all you need to do is enjoy some much needed time with your latest TV binging pleasure.
V-neck long sleeve round hem perfect tee. 
15 Colors: Black, Charcoal, Coffee, Fired Brink, Hunter Green, Mustard, Navy, Olive, Plum, Wine, Marigold, Grape, Lilac Gray, Blue Shadow, Dusty Rose, Teal
Available in sizes: Small – 3XL
Price point – Originally $24.95, NOW $10.95 (which includes shipping)
How to Style a Boyfriend Tee
Style #1: Wear it as is, you don't need to do much with this tee. You can wear it long and not worry about doing anything with it. It's a simple way to wear it, but so easy to just toss on and go!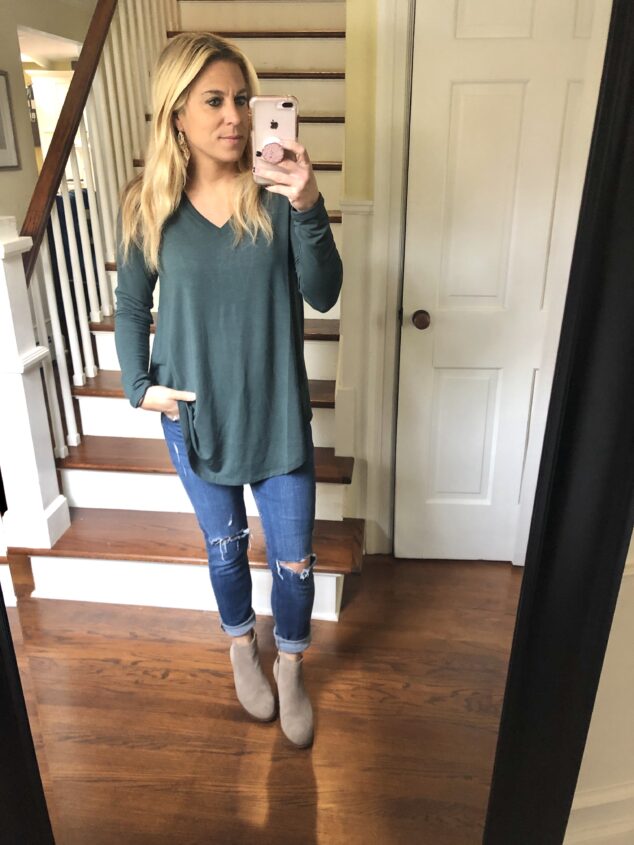 Style #2: Fashion hack for you! Take an elastic band and take the fabric and band it on the side. See how easy this is for you to do? I love that this is a great way to wear your tee without worrying about it coming undone or anything. This is probably one of the fave fashion hacks!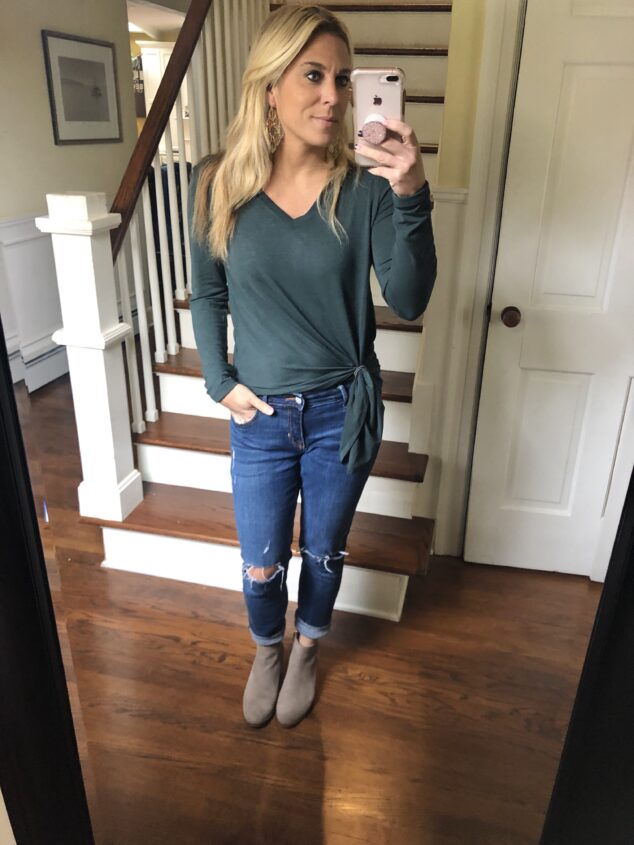 Style #3: I wanted to show how you could easily dress this tee up, too! I grabbed a basic pencil skirt and tucked it right into the front. I love this look because it's a great style to wear to work or wear to a function, just amp up the jewelry! I also think it's a stunning way for you to get some extra use out of your tee by thinking of ways on how to dress it up! Don't just wear it with jeans or leggings!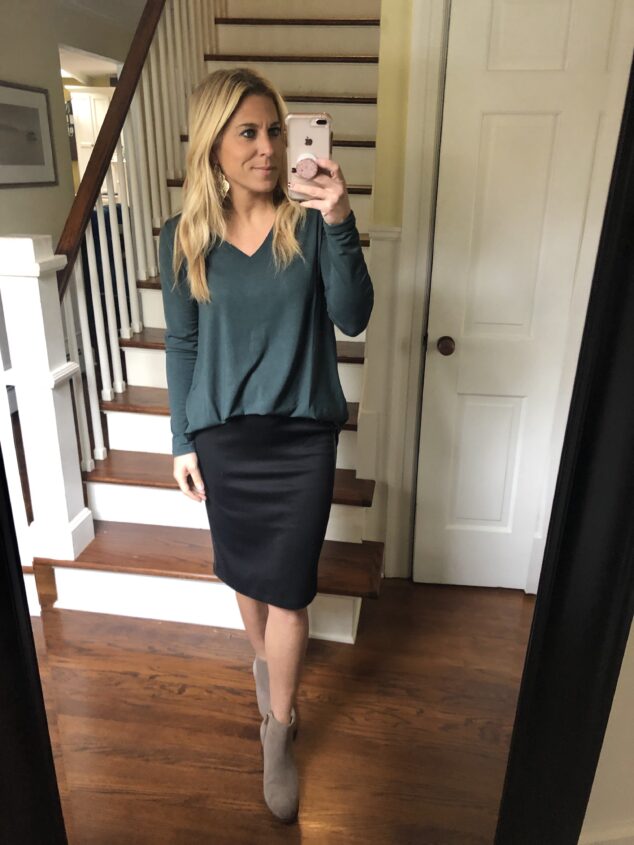 Style #4: OK, take out those accessories! You know I love a good scarf and fedora! This is what I love about this style. I am just wearing the boyfriend tee as is, all I did was add these 2 accessories. It completely changed the look and feel of the style without going crazy. I appreciate that it's an easy and quick fix to do! I just love that it's a fashion DO! I love chic and trendy!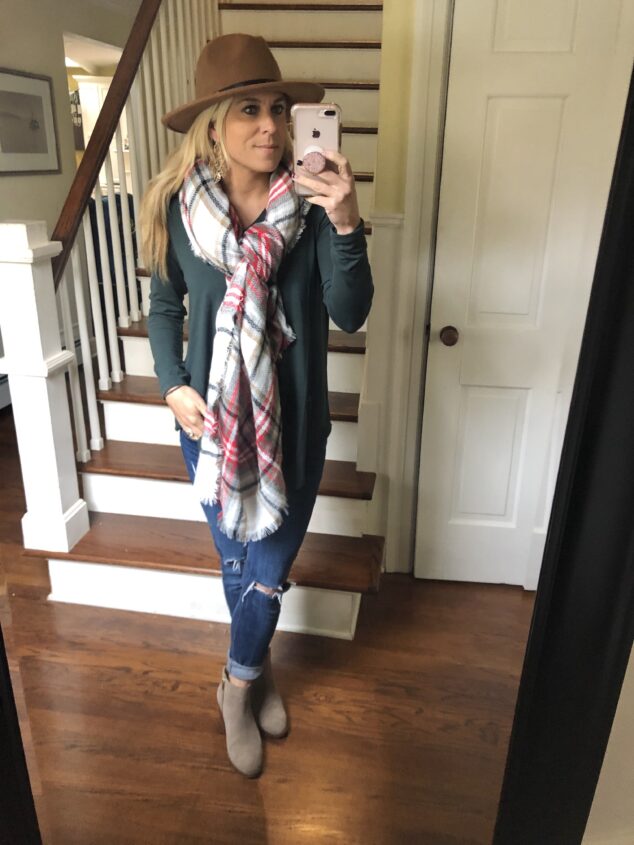 Style #5: Tie it up! This boyfriend tee is great because it's long enough for you to get a hold of the fabric and get a good tie right in the front. You don't want to make it too tight or too loose, go with what works the best for you. I think it's such a simple way for you to get away with a trendy look without going too crazy on it. I think it's also an easy way to wear it!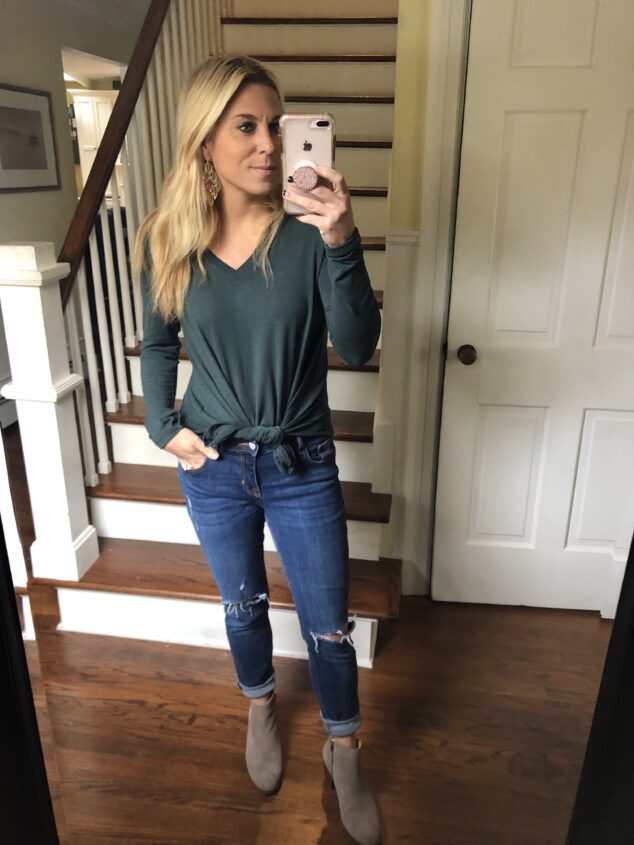 Style #6: This was a style I kinda went out a fashion limb with! I took a little black dress that I have at home and tossed the boyfriend tee right over the top of it! I thought it was a fun way to make it work and do something a little differently. I'm all about mixing and matching and really trying hard to make things work in my closet. I tied the side and thought – you know what, this is cute!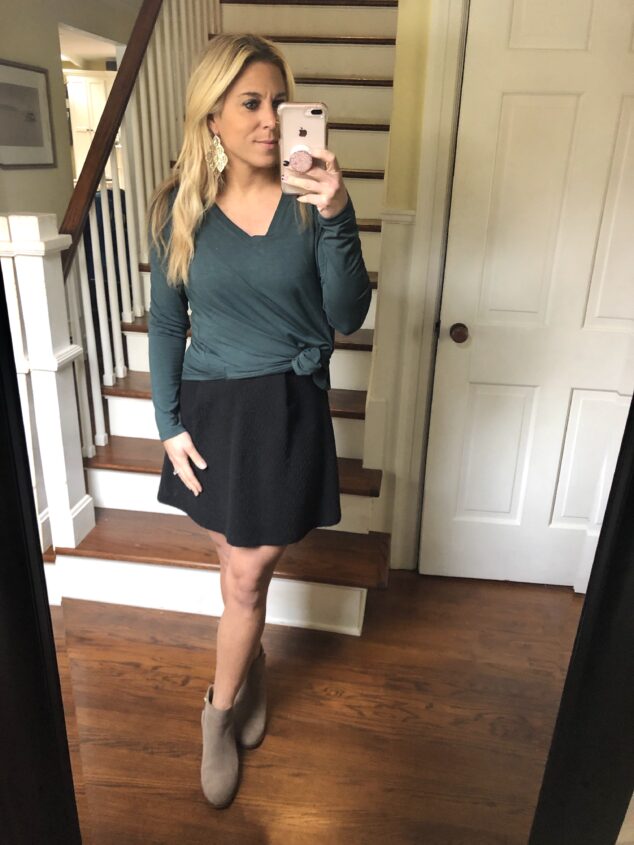 Style #7: I love a good blazer and/or moto jacket, so I paired it with my brown moto option! This is what I love about this moto look, it's super easy to wear. My fashion tip here, always go with a cropped later on top if you're wearing something long. You don't want to wear something as long or longer because it will look too boxy. Keep it cropped right on top! Loving this look!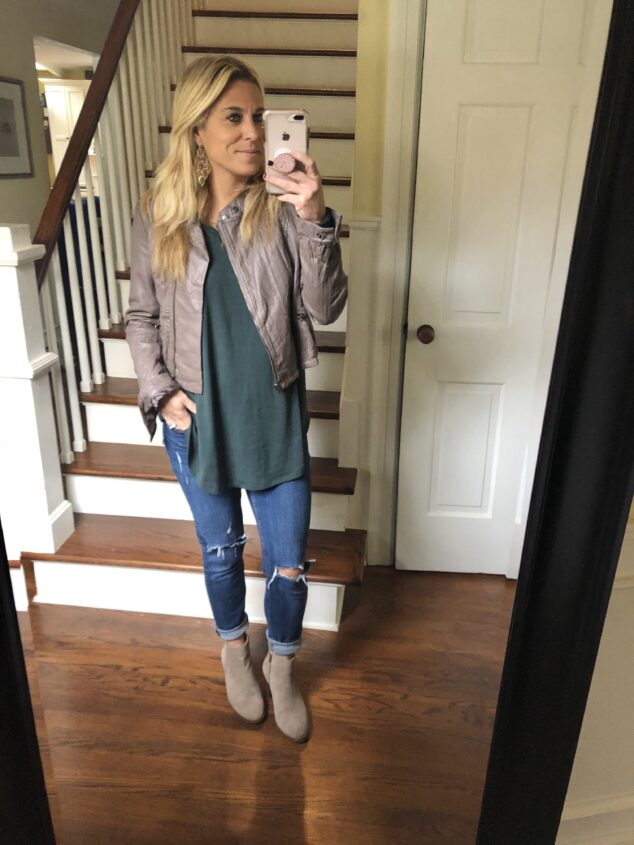 Here are my fave ways to style a boyfriend tee! I love how easy it is to style and how much fashion fun you can have with it! I think it's such an adorable way to rock a boyfriend tee and make it your own style. Find a style that works best for you and go with it!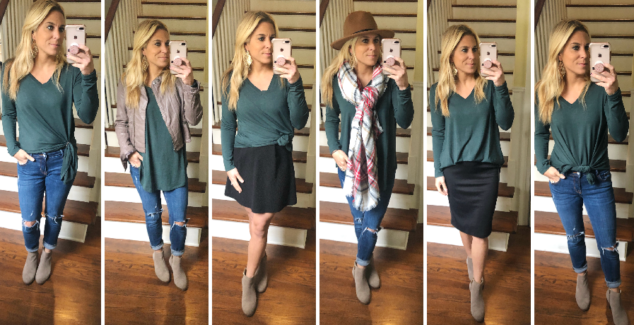 Again, don't forget to snag this tee TODAY! The sale goes through Nov 3rd and it's (again) ONLY $10.95 (shipping included) for this tee! I think it's just such a great deal and dying to share it with you today!
Grab the DEAL HERE!!!!!!!
*Affiliates included
And for all of my mama friends! I also have a Fashion Over 40 group that I would LOVE for you to join! I share trends and styles every single day in there, along with the best sales online for fashion. I fully believe that you can and should be able to look your best without breaking the bank. You want to feel confident and beautiful and you CAN! I hope my info helps! We have a ton of fashion fun in there! And you don't need to be 40 years old!!!!!!!

HEAD ON OVER AND JOIN US HERE!!!
I also talked Sherpa Fleece Pullovers yesterday, come on over and see!