I found the most comfortable Sherpa Fleece Pullover this weekend while shopping with my mother and haven't taken it off in 2 full days! It's (literally) as soft as my robe, no joke! It's so cozy and so warm and so toasty – it's just perfect for the winter months ahead! It's the type of pullover that I will wear over and over again, so much so that I needed to spend some time figuring out how to change the look up a bit! I hope this post inspires and excites you!
Sherpa Fleece Pullover – 5 Ways to Style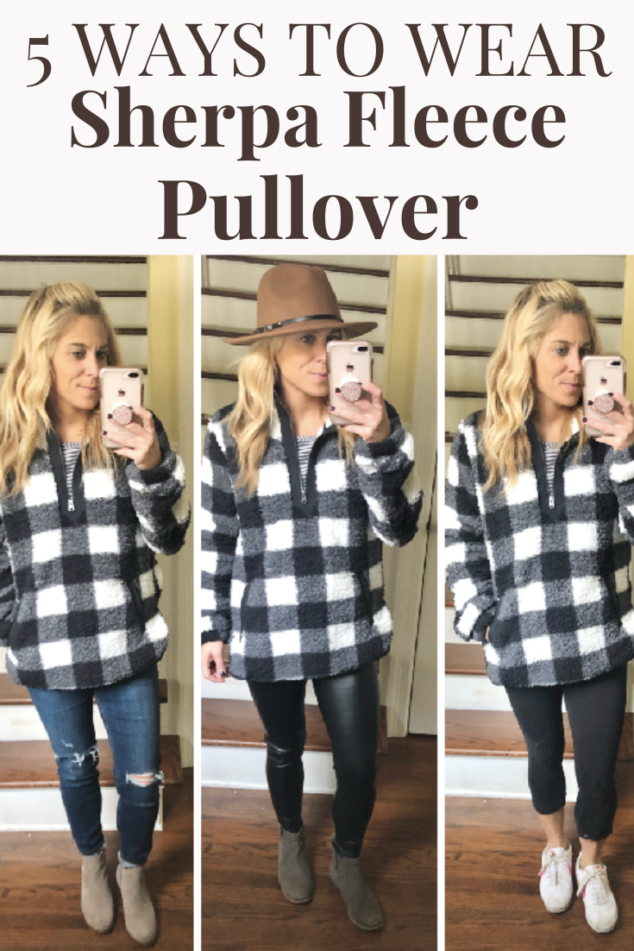 I've said this before and I'll say it again, whenever I find an item that I just love, I want to make sure I have the ability to wear it a variety of different ways. I don't want to be "stuck" wearing it just one way. I want to wear it a few different ways. One of my fave things to do is go into my closet and find items that I already have that I can mix and match it up with! I live for finding items in my own wardrobe already that can be worn again and again and again!
So… this Sherpa Fleece Pullover, it's my everything right now. I found this one at Abercrombie & Fitch for $37 this past weekend! It's available in a bunch of different colors, too! They're on SUPER SALE and I love easy they are to toss on and go! I wanted to show how to wear this style 5 different ways. I think when everyone sees this Sherpa Fleece Pullover, they just see casual. I'm all about seeing more than just this paired with sweats. I wanted to make sure I showcased this fave new winter item of mine in 5 distinct, fun ways!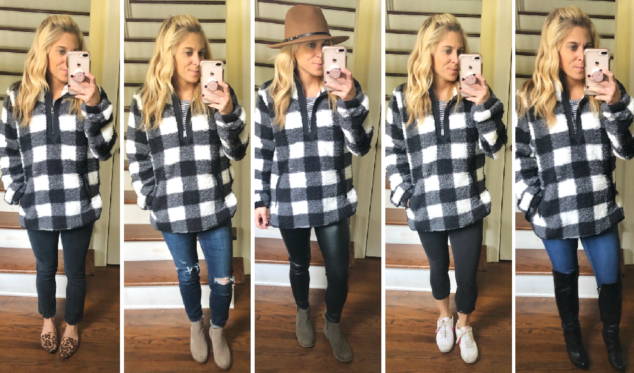 Let me walk you through each style! I kept thinking about where I would wear something like this and I thought – weekend games for the kids, running chores, school meetings and (maybe) even to a girl's night out! I thought it would be fun to challenge myself a bit as I embarked on this fashion match up! I hope all of these OR one of these styles gives you some fashion inspiration!
Style #1: Sherpa Fleece Pullover for a girl's night out OR date night out. I grabbed some super skinny jeans and my tall black leather boots. I thought it would be fun to pair these pieces together. You might not think it would "work" with high black boots, but I went out on a limb and decided to give it a shot! I loved how easy this look was to accomplish. Super stylish and super comfy!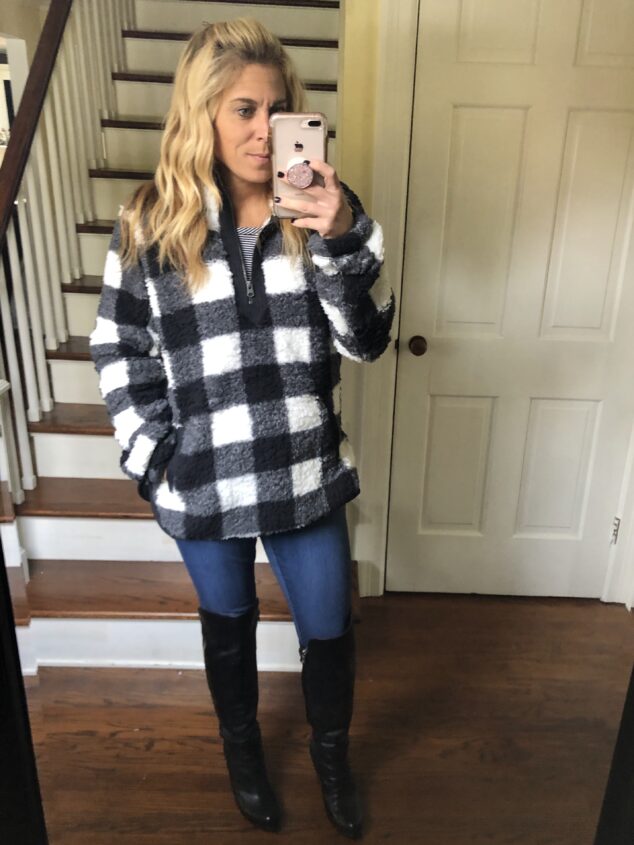 Style #2: I wanted to create a look for work. I think this look works because it's elegant and chic. I grabbed a pair of black jeans with a bootcut style and my leopard flats These are the flats I've been raving about from Target for $22! I'm all about these! I just love this easy and business casual look for the winter. It's perfection!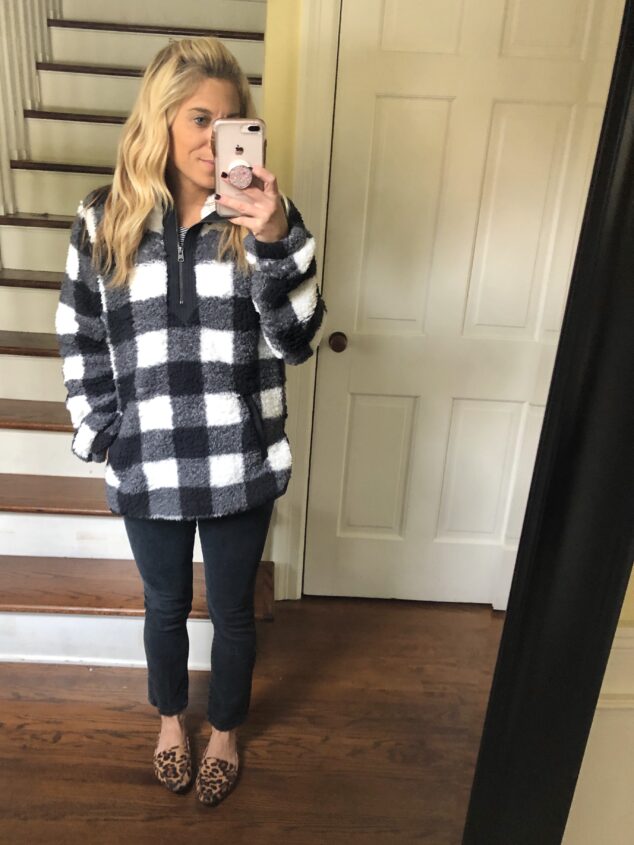 Style #3: I wanted to go totally chic and trendy here! I wasn't sure how I was going to do it with my Sherpa Fleece Pullover, but I think I did it! I grabbed my fave LOFT Faux Leather Leggings, my wool fedora and my little suede booties. The second I saw it in the mirror, I loved it! I felt like it just worked perfectly for the winter season ahead. It's just a simple and fun fashion look and I love being able to dress my Sherpa UP! Fab for a girl's night out!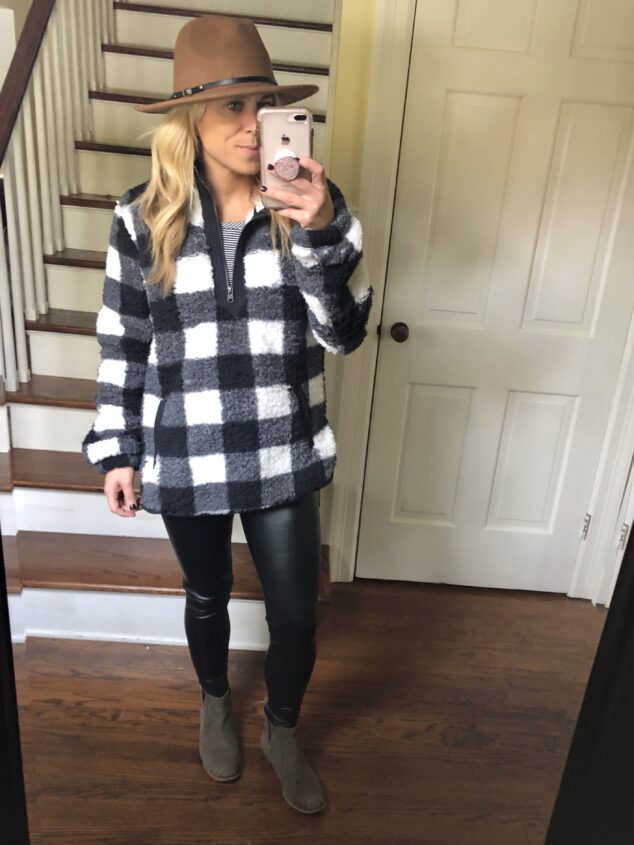 Style #4: This is the easiest of looks for a Sherpe Fleece Pullover, grab a pair of jeans and booties. This look can go just about anywhere! I love how this look would work for any woman – regardless of her age. I'm always keeping my age (ahem… 41) in mind when I'm putting together my looks. I love how simple it is to have some fun with this look and I love that anyone CAN pull it off!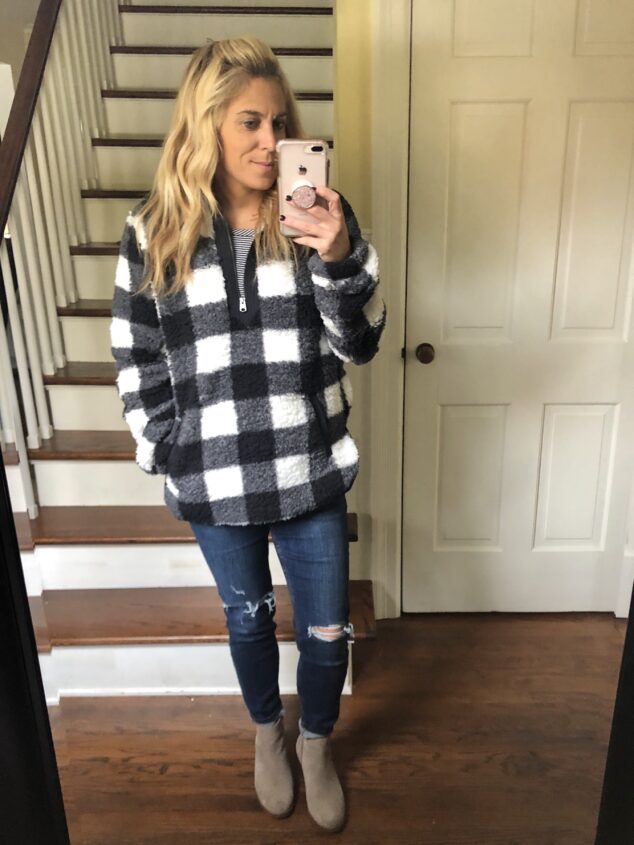 Style #5: This might be where your mind went first when thinking about putting together a look for the winter with a Sherpa. I'm all about grabbing some leggings and sneakers and wearing it off! You could workout in this look or just tool around town in this look. It all depends on what it is that you want. I think this is a great relaxed weekend look and I love how comfy it is to wear! We ALL need a look like this that is effortless.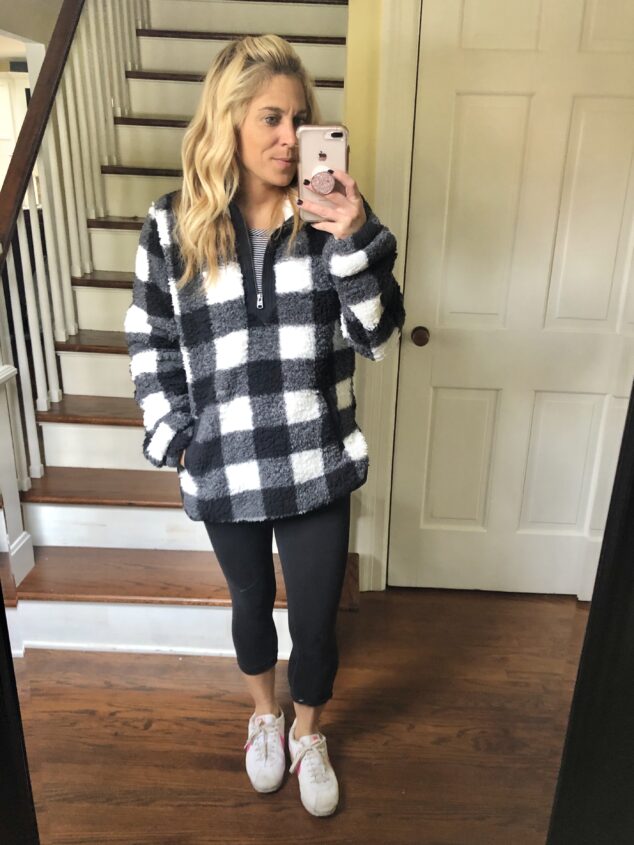 I hope these looks get you in the spirit to buy a Sherpa Fleece Pullover! I think it's such a fun item to add to your wardrobe this season. If you're looking for one, I'm including below 5 of my FAVE Sherpa Finds, hope you like one:
And if you're interested in any clothing that was in this post, please see the slide widget below to help you find the items! I linked to them in each style section by clicking on the bold words, but I thought it would be easier to have a slide show below there, too! If you have any questions about anything, let me know!
And for all of my mama friends! I also have a Fashion Over 40 group that I would LOVE for you to join! I share trends and styles every single day in there, along with the best sales online for fashion. I fully believe that you can and should be able to look your best without breaking the bank. You want to feel confident and beautiful and you CAN! I hope my info helps! We have a ton of fashion fun in there!
Check it out here!!!! YOU DON'T NEED TO BE 40+ TO JOIN!!!!! I would love to have you! I think it's so much fun to share some trends and styles and sales! Especially with the holidays around the corner it's so fun to have an outlet to be able to share within that covers all the latest deals and sales out there!