Welcome to my 1st blog in my Hallmark Christmas Movie Review Series! I'm reviewing the 1st Christmas Movie of the SEASON – Christmas Wishes & Mistletoe Kisses starring (my fave) Jill Wagner, Matthew Davis, and Donna Mills. I had October 26th circled on my calendar since Hallmark announced their 2019 schedule. In my house the Christmas season officially kicked off last night! That's right 🙂
Christmas Wishes & Mistletoe Kisses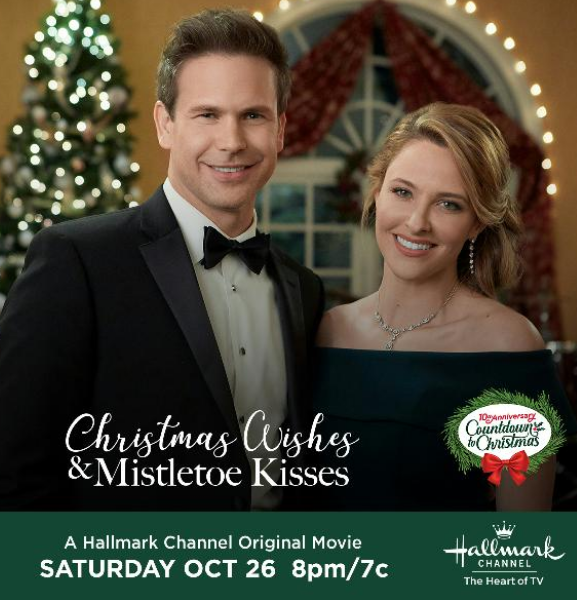 Let me give you a quick summary of who I am as a person when it comes to my relationship with Hallmark. I'm a Hallmark Channel FANATIC, I mean… FANATIC! If you know me in real life, you know that I'm watching Hallmark year round. I'm a romantic to the core and even writing my 1st romance novel, inspired by Hallmark. But Hallmark is my jam… so much so that I even watch the Golden Girls every night heading to bed throughout the year (ask my husband!). And… to add to my obsession, I work from home a lot, so whenever I do – you can bet your bottom dollar that the Hallmark channel on!
Last night Christmas Wishes & Mistletoe Kisses aired and it was INCREDIBLE! Throughout the next few months of the new movies premiering, I'm going to be writing my reviews of each one. I know that sometimes it's hard for people to tune in live, so many times you record it for later. Or – what happens sometimes with me, I'm out of town and I miss it live, so I catch it later. Every single time I watch one, I always want to get my feelings out on paper (or screen!).
I was lucky enough to be a guest on "the Bubbly Sesh" a few months ago before they partnered with Hallmark and became one of their set podcasts, but we connected because we would all be on Twitter talking about the movies while it aired. I loved getting the opinions of my fellow "Hallmarkies" because it's such a rich and full and fun community. We all love love! And for me? That's just about the best thing of all!
Here's how I'm going to be reviewing the movies throughout the next few months:
1. Cry Factor – Did I CRY?
2. Chemistry Factor – How "hot" was the chemistry?
3. Any "left turns?" – Did anything happen I didn't expect?
4. Where are they now? – I love a good Epilogue in a story, so I always like to "pretend" I know where they are a year from now after a movie ends!
5. Do I Follow Them on Social – Come on… fess up!
The story behind Christmas Wishes & Mistletoe Kisses is pretty simple: Weeks before Christmas, Abbey is hired to decorate the estate of businessman Nick. She must break down the wall between her and Nick, all while keeping the holiday spirit alive.
Let's talk the cast first!
What I love the most about the beginning of a Hallmark Christmas Movie is that they bring you right into the world immediately. You are (literally) in the middle of the action as it kicks off and they do a phenomenal job at making you feel like you "know" the characters before the story even begins. As soon as the movie started, I felt connected to the character Abbey… now I will say, Jill Wagner is one of my fave Hallmark actresses, she's someone who you really feel a connection with immediately and every character she plays, you feel like it's an actual "real" person. There's something special about that, especially when you're connecting with an audience who has seen her play various characters throughout the years. She's just SO GOOD!
This was my first time seeing Matthew Davis (Nick) in a Hallmark Movie and I thought he was great. I don't know if you remember this, but he played the character Warner Huntington III in Legally Blonde with Reese Witherspoon years ago! I couldn't get his face out of my head, so I googled him during the movie last night and made that connection. Nick is a very wealthy guy in his movie and Matthew played him well. The good thing is that Hallmark set it up where you want to like him, even though you know he's different than Abbey at the beginning. Matthew played the character of Nick very well and was very believable.
Donna Mills… ALL HAIL! I love her! She's a true TV icon and I thought it was fabulous that she played Nick's mom in the movie. I also loved that she was "cupid" between Nick and Abbey, too. Donna Mills (I swear) doesn't age and she looks as fabulous now as she did years ago.
OK… so DID I CRY?
I did cry, at one point during the movie. I cried when Nick and Abbey were in the office together towards the end of the movie and Nick was trying to reconcile with the fact that he was falling in love, but that falling in love was distracting him from his job. Abbey could see the "switch" in Nick and you felt for her, but (in all honesty) you also felt for him, too. You knew this was the moment where they both knew they were in love, but they didn't know how to get past the roadblock in front of them. Whenever I cry during a Hallmark movie, it's because I believe the story, it's "real" to me when I'm watching it and it's also major props to the characters for bringing in their audience that way.
So, yes. I did cry. And every single time I cry my husband laughs! He always teases me, "You know they're going to get together!" But that's the beauty of a really good Hallmark Movie… you know it, but you have to wait for it.
Chemistry Factor – Was it HOT or NOT?
The chemistry on screen between Jill Wagner and Matthew Davis was HOT! I definitely vote hot. They were great together and I would be willing to bet they had good chemistry off screen, too. I feel like when you see two characters that really connect and have great chemistry, the story is just that much more believable. Of course… I know and you know it's just a movie, but it's meant to entertain and allow you to believe in the power of love. You're not going to believe it of the characters don't possess it on screen.
So… yes! HOT chemistry and I hope Matthew is back in more movies because he's adorable (and this is from a happily married mama of 5!).
Any left turns? Anything surprising?
I feel like I'm so good at Hallmark movies now that not much surprises me anymore. I can pretty much predict the movie from beginning to end, but that's just me. I can't say there was anything over the top surprising to me, no HUGE left turns that left me saying, "I didn't see that coming!" Nothing is wrong with being predictable at ALL, I love a good movie where I feel like I know what's going to happen and then watching it layout that way! I will say, the ONE thing I thought was that Nick's business partner Kate… I felt like there *might* have been a love angle there between the two of them, but nothing ignited there, so that was the only "surprise" I had within the movie.
Where are they NOW? What's a YEAR from now look like?
OK… so this is my fave part to play with in my head! Let me know what you think!
1. Abbey and Matthew are VERY much together and engaged to be married. They are living in the house that Abbey decorated and her father has moved in with them, too.
2. I have a feeling that the doctor Abbey was interested in dating (Matthew) will end of with Kate. They seemed to hit it off at the end during the gala. You really feel for these characters because you want them to have love, too. So it would be nice to have them end up with each other.
3. Nick will take more time off of work and start doing more family things, embracing Abbey's son as his own. We didn't get much of a story behind where his father was, so it would only make sense for Nick to step in.
Follow on SOCIAL? Do I?
Twitter:
Instagram:
OK… I follow @JillWagner on Instagram, YES! She's so adorable and I love seeing the "behind the scenes" on Instagram. If you don't follow her, head over there now!! I don't follow Matthew Davis (yet), but off to do that right now!
If you want to see where this movie came from, read the book by Jenny Hale! Buy it here.