I'm all about wearing dresses in the fall and winter. I'm usually a denim girl, so this is something new for me and I'm excited about it.  feel like fashion needs to be fun year round and dresses are the most fun way to mix it up! I don't know about you, but I can't believe that winter is right around the corner. I just packed away my summer swimsuits and now I'm all about finding the best winter dresses and styling them different ways.
Winter Dresses – 5 Different Ways to Style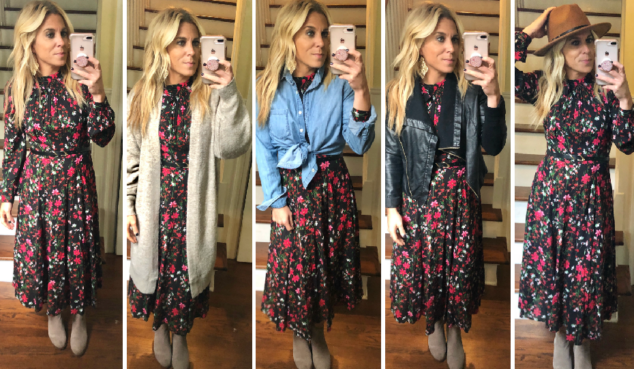 When it comes to finding winter dresses, you need to make sure you find one that will 1) keep you warm 2) comfortable for the winter months ahead. I found this gem at Macy's this week from Calvin Klein. The second I saw it, I loved it. It checked off all of my boxes. Long sleeves – check. Length is past my knees – check. Appropriate for winter – check. Say hello to my new love, Calvin Klein – Belted Floral Tie-Neck Dress.
My big thing with a dress (or really any winter item) is that I want to make sure I can wear it a million different ways. It's a waste of money for me if I can't wear something a few different ways. I like to have fashion longevity, ladies. I love fashion longevity. It's my thing. When I saw this dress, I knew I could get fashion longevity out of it immediately.
Calvin Klein – Belted Floral Tie-Neck Dress – Vintage-inspired romance is in the air when you wear this Calvin Klein tie-neck dress covered in bright flowers and cinched with a skinny belt for a modern touch.
Approx. model height is 5'10" and she is wearing a size 4
Approx. 47-1/4″ long from center back neck to hem. Length is based on size 6 and varies 1/4″ between sizes
High neckline with self tie
Hidden back zipper with hook-and-eye closure
Belt at waist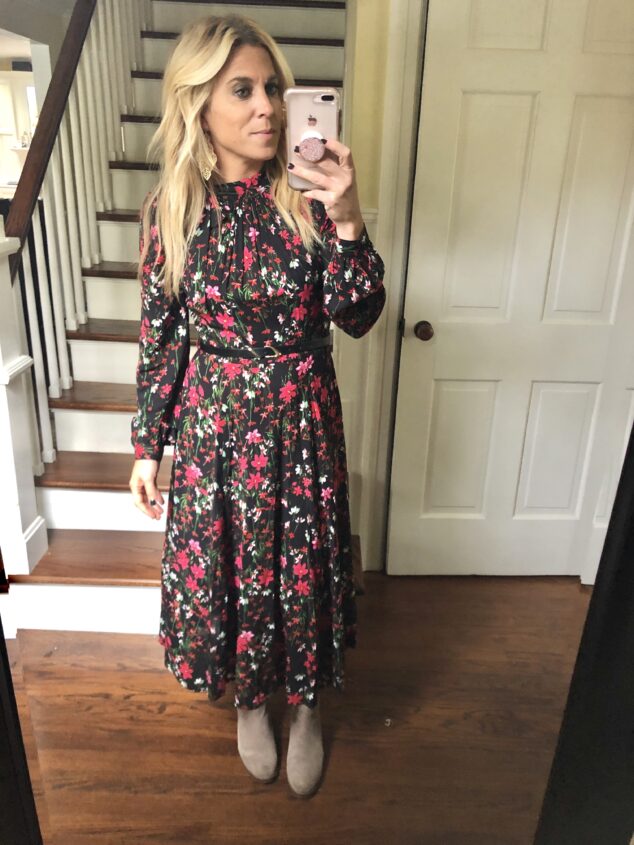 OK, so how do I style this dress?
Let me bring you through some of the ways you can change the look up! I literally walked into my closet and grabbed items, so I'm hoping you have some items like these in your closet to make it work – OR – I'm sharing some links where you can go find these items. I'm trying to find the most reasonable items I can, but also… if you find something to splurge on – go for it! Like this dress – it was $139, but I know I will wear it a million different ways!
Scroll to the bottom of this post for ALL of the items to buy, OR you can click on the bolded items, they will bring you right there, too!
Style #1: H&M Long Cardigan, which is $19.99 by the way… is my new fave go to long cardi for the fall and winter months ahead. I love this cardigan because it's super duper soft. I wanted to wear something a little different than a go to blazer, so I opted for this one! I love how easy it is to toss on and go!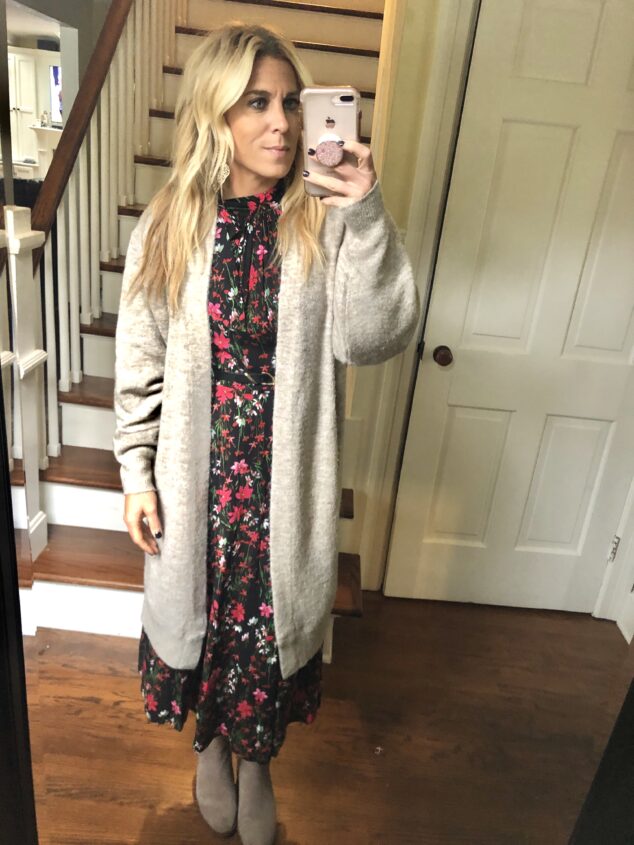 Style #2: Wrap it UP! This Vineyard Vines wrap is fabulous! I'm obsessed with the buffalo check and really think it's fun to mix prints. This wrap is a little on the expensive side, but it's worth it through the roof! Don't be afraid to wrap yourself up. Grab some of these wraps, solids and patterns and wear them with your winter dresses.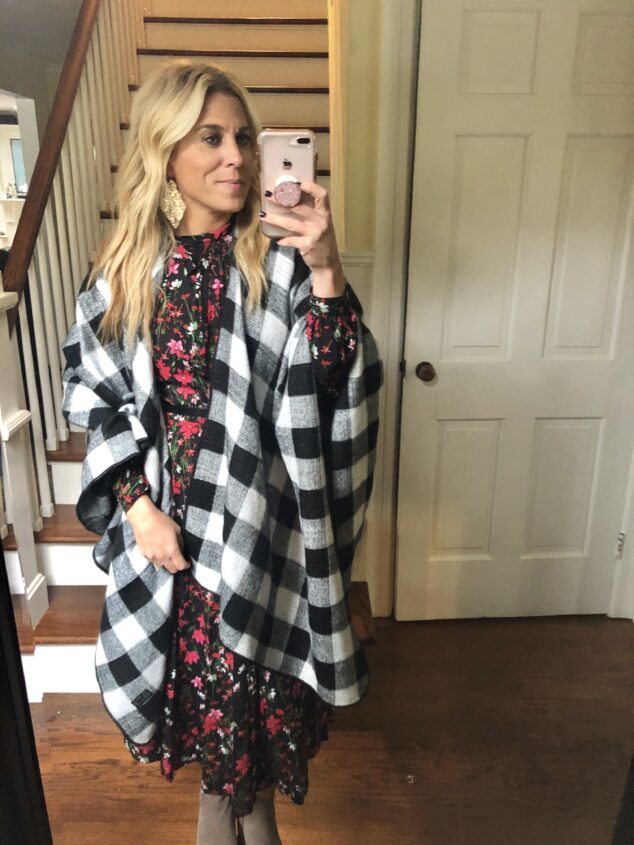 Style #3: We all need a Denim Shirt in our life. It's an essential and it's fabulous. I could literally do a post on a million Ways to Wear a Denim Shirt (and I might!), so make sure you're on the lookout for that to come! I love this top because it's just easy and it just works really well. I decided to tie this blouse and make it look like my dress is actually a skirt! Easy as can be!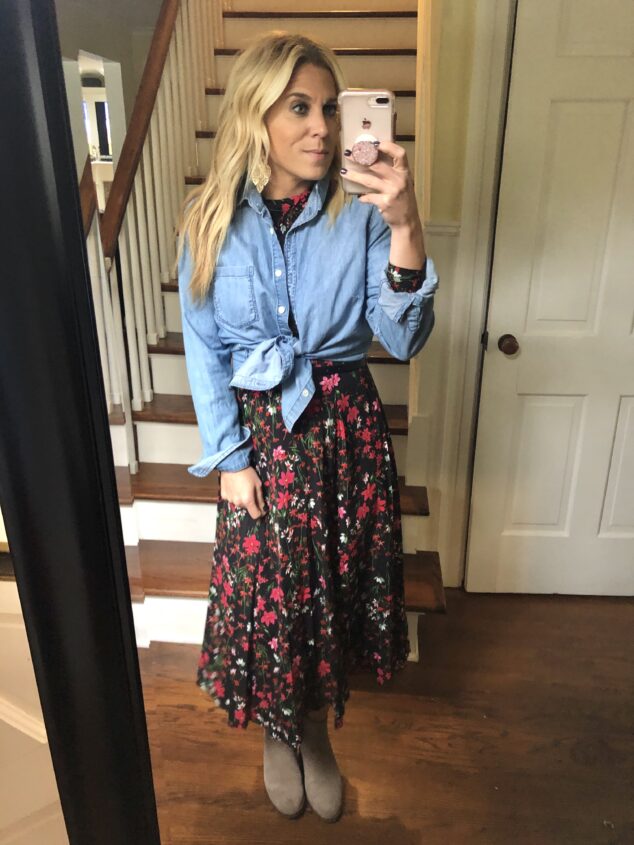 Style 4: Moto Jacket for the win! I found this one years ago and have worn in a hundred and ten times. I just love this one to pieces. It's gorgeous and just perfect with just about anything. I found an option for $30 that you don't want to miss! It's all faux leather and faux suede and they are so easy to toss on over winter dresses.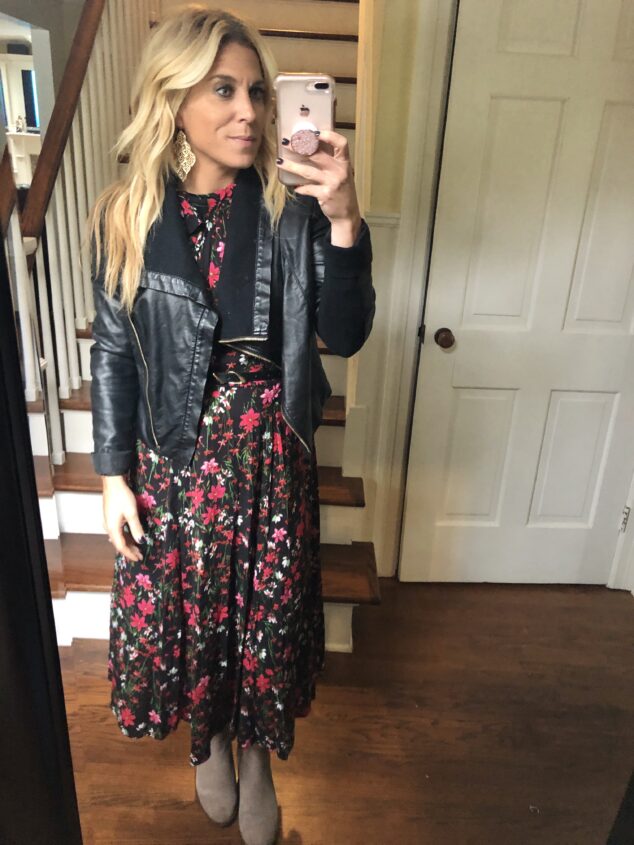 Style #5: Grab that Fedora HAT ladies! Don't be afraid of your age or your style, hats are hats and always in style! This fedora is only $17 and I've worn it so much this fall season. It's the best accessory and so easy to toss on and go! I love how it's just a staple now in my wardrobe and really easy for me to pair with things on the fly! It's also super chic right now and it's fun to have on hand! And you know what? They go GREAT with winter dresses!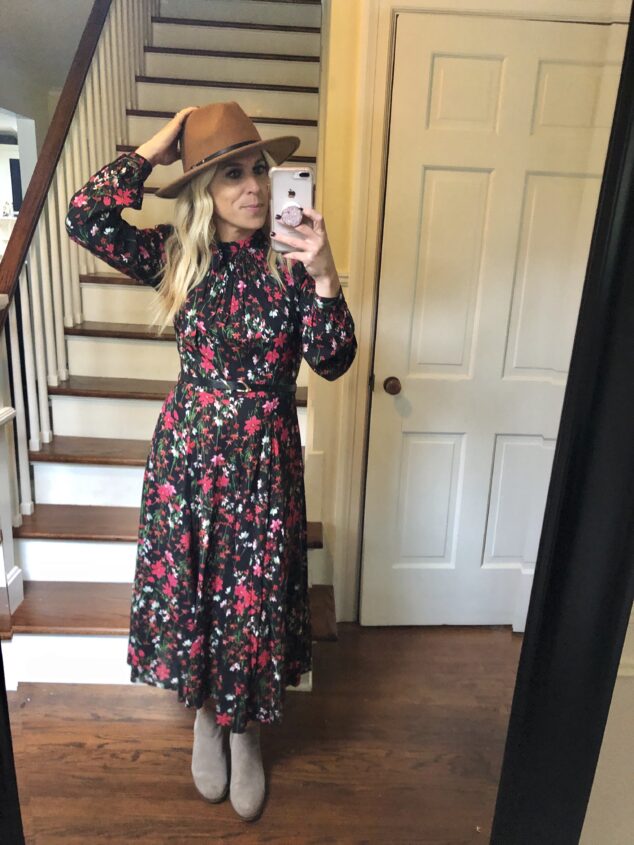 Hoping you loved all of these quick and easy styles that you can wear with winter dresses! It's not always easy trying to figure out what to wear with a dress, so I really want this to help you out! Remember, I'm linking everything up below this so you can find out where to buy everything! I feel like it's easier to see and click than it is to click while you're reading – I hope that makes sense!
Winter Dresses – How to Style a Dress
I also have a Fashion Over 40 group that I would LOVE for you to join! I share trends and styles every single day in there, along with the best sales online for fashion. I fully believe that you can and should be able to look your best without breaking the bank. You want to feel confident and beautiful and you CAN! I hope my info helps! We have a ton of fashion fun in there!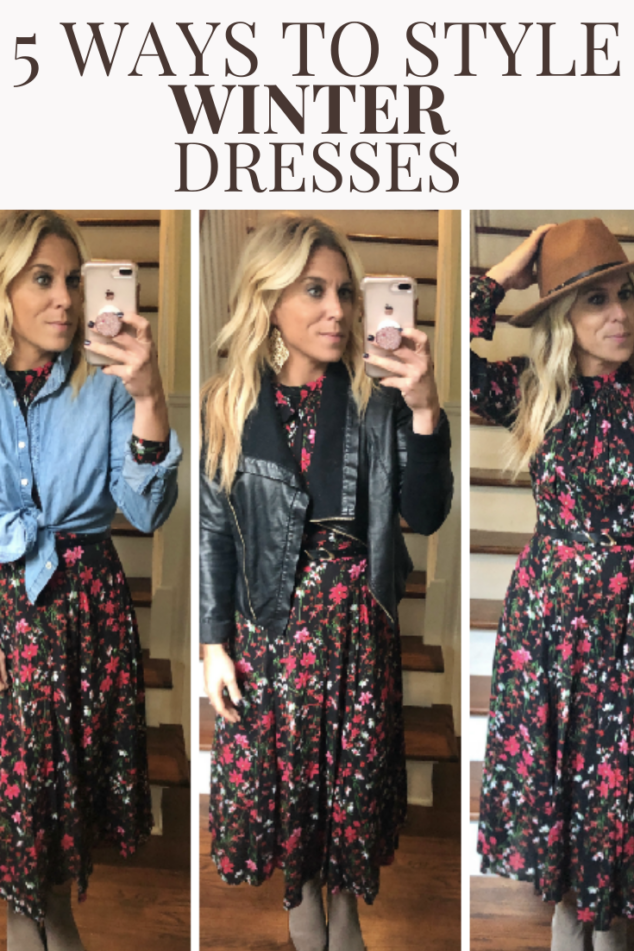 Head on over to join here. Thanks so much and let me know what else you would like to see on the blog! I have so much fun sharing content and would love to know what else you'd like to see!