Ann Taylor is one of my favorite shopping destinations because they have elegant, chic and classic clothing. Every fall and winter season Ann Taylor just seems to knock it out of the park! They have the most gorgeous selections and it's tough to pick what I want to buy! I went in yesterday for an Ann Taylor Try On session on their Winter Arrivals!
Ann Taylor Try On – Winter Arrivals
I chose 4 items in my Ann Taylor Try On that I wanted to share with you today! I went for 1 coat, 2 tops and a skirt. I couldn't help but want to try a million more items, but with time being a restriction for me yesterday – I just had time to find 4 items that I thought I would get the most use out of on my own. These ALL had me at hello! And the best part? If you're reading this today (November 25th) Ann Taylor is having a MAJOR SALE! 50% OFF!
These items aren't in any particular order! I just love them all and hope that they give you some inspiration to head out and check the Ann Taylor collection right now. It's just beautiful and you will (absolutely) fall in love with at least one item there!
Blackwatch Plaid Funnel Neck Coat – Topped with a modern funnel neck, our wool-infused plaid coat is a perfect check mate for the season. Button funnel neck. Long sleeves. Hidden double breasted snap front. Vertical on-seam pockets. Back vent. Lined. • Softly fitted • 38″ long – Available in: Blue
I've been eyeing this coat for weeks now. I keep going back to it, just to gaze at it. Plaid is such a HUGE trend this holiday season and I love it so much. It's so classic and so elegant. I feel like this would easily work year after year. I also love the funnel neck style. It's just sweet as can be and perfect to wear to just about anything – casual morning breakfast, work and out for the night! I'm in love with it and fits true to size.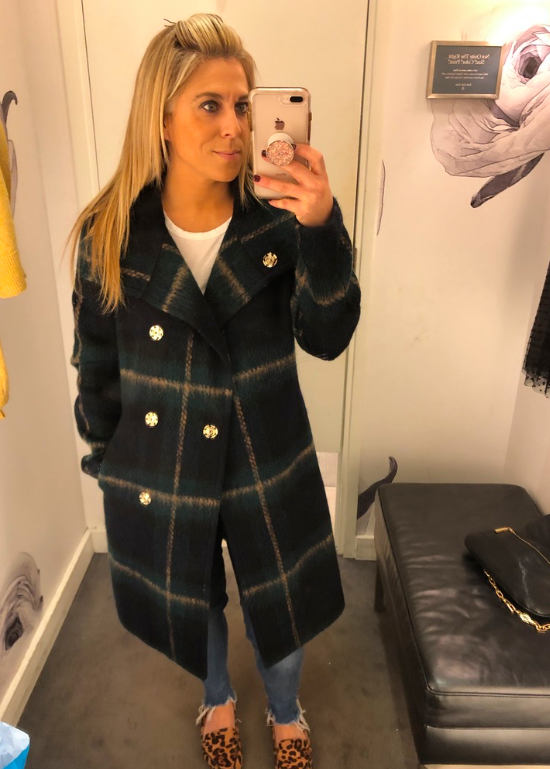 Pearlized Sweater – Pearlized beading at the sleeves and neck transforms this crew neck sweater into a day-to-night gem. Crew neck. Long sleeves. Ribbed neckline, cuffs and hem. • Tailored fit • Hits at hip • 22″ long Available in: Black, White
I saw this sweater in the store and loved it at first sight. It has the most delicate touches with the pearls along the neck and sleeves. It's just truly a showpiece. I feel like this could be worn with not only jeans, but trouser pants, skirts and leggings. It's just so stunning and really leaves a fashion impression. If you're worried about cleaning it… you could dry clean and/or wash on delicate inside out.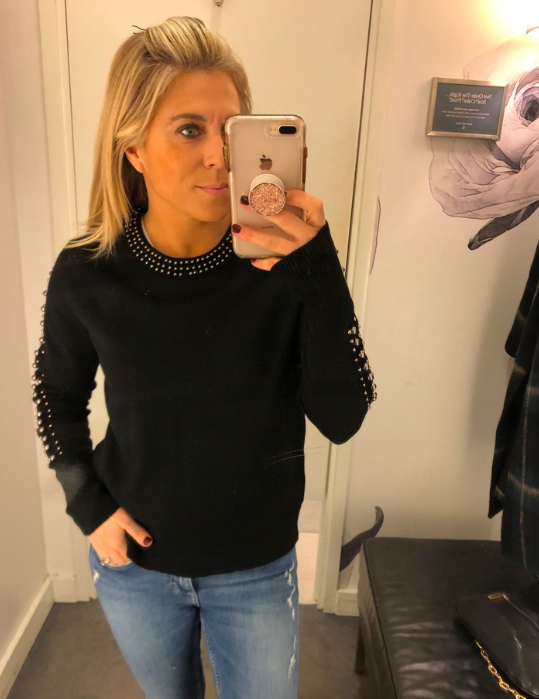 I tried to show off the sleeves in this photo! Not so easy without help, but you can see how stunning it is on the arm. The more I keep looking at it, the more I'm loving it. It's just a cool and edgy looking top!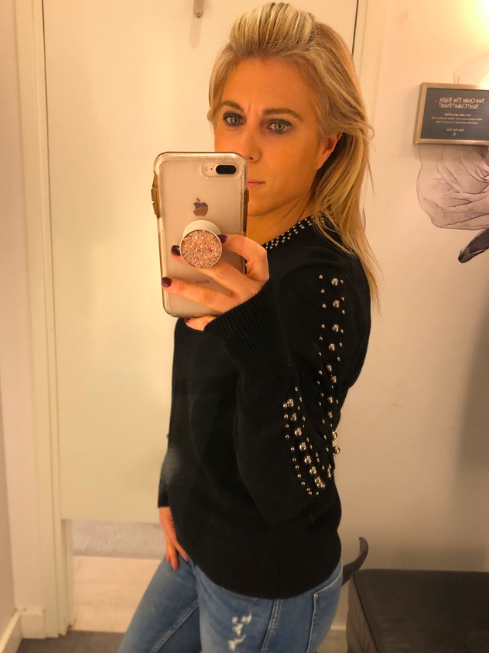 Polka Dot Ann Cardigan – Meet our instant wardrobe icon, the Ann Cardigan. Tailored in a soft knit, our signature favorite comes in an array of rich colors and patterns. Crew neck. Long sleeves. Button front. Ribbed neckline, cuffs and hem. • Tailored fit • Hits at hip • 23″ long
This is the most perfect and classic cardigan ever. The black and white polka dot pattern is perfection. This is the kind of style that you wear year round, it's just amazing. What I love about this cardigan in particular is that the quality is perfection. I love that it can be worn a variety of ways and I showed it off with the different ways to style it here. I found this gorgeous Velvet Dot Tulle Skirt at Ann Taylor and thought it looked great with it. Then I took it and paired with my jeans, once buttoned up and once unbuttoned. Different feel on both styles. This is a must have and if you can score this on a sale day, you're golden.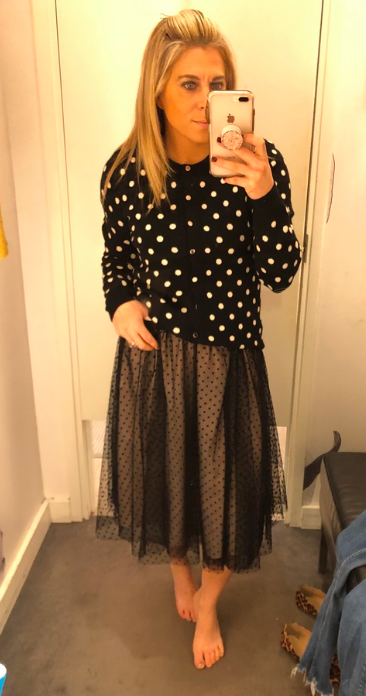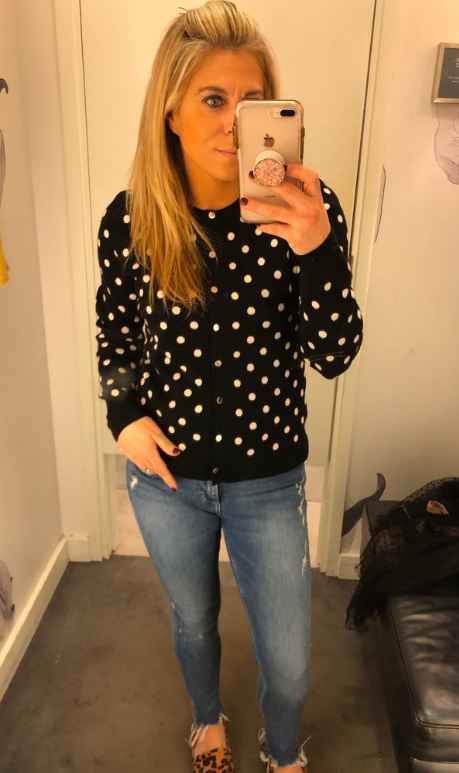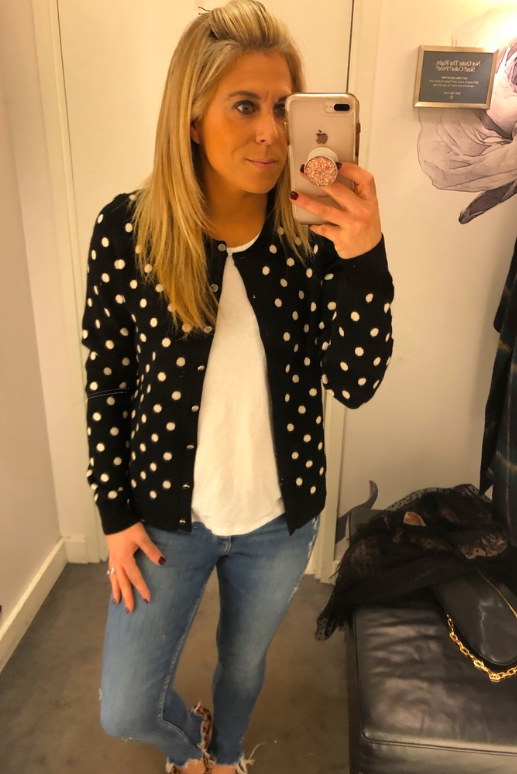 Houndstooth Shawl Collar Poncho – Topped with a cozy shawl collar, our houndstooth poncho is the perfect way to wrap things up. Shawl collar. Available in: White
I'm in love with winter ponchos. There's nothing better than tossing on a top layer and heading out the door! I've bought a couple this season and this one is so pretty! I love the colors and I adore the tie in front. It's just a perfect winter layer to wear anywhere! I also love that you could easily dress this up, too! Make sure you snag this while it's in store and online right now! Length wise, keep it in mind that I'm 5 feet tall!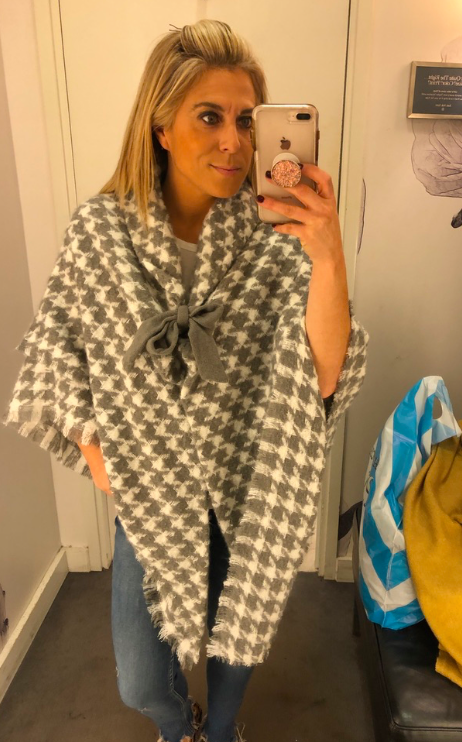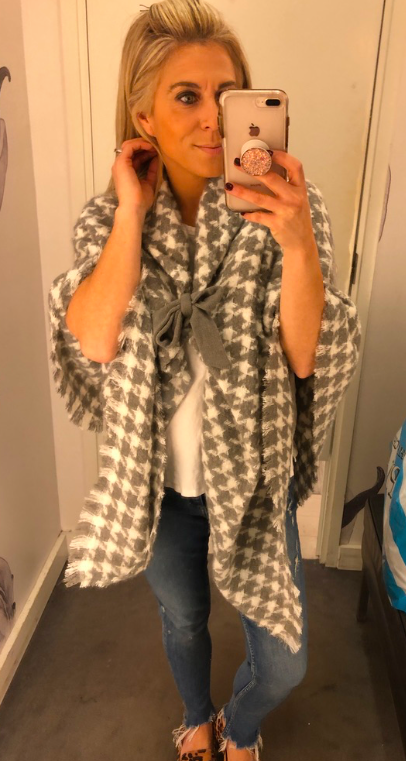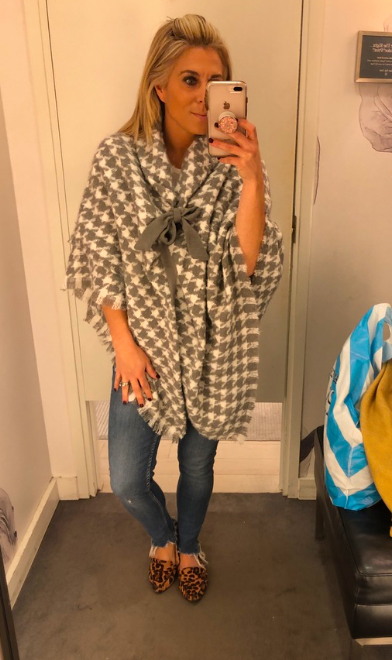 These are my 4 Ann Taylor pieces that I'm crushing on right now! I think that these are just perfect for your winter style. I'm all about finding items that can go a long way and these items are those kinds of pieces. You will continually fall in love with them and also in realizing how many different ways you can rock them this season!
Please don't forget to join my Daily Dose of Style FACEBOOK GROUP!
And for all of my mama friends! I also have a Fashion Over 40 group that I would LOVE for you to join! I share trends and styles every single day in there, along with the best sales online for fashion. I fully believe that you can and should be able to look your best without breaking the bank. You want to feel confident and beautiful and you CAN! I hope my info helps! We have a ton of fashion fun in there! And you don't need to be 40 years old!!!!!!!

HEAD ON OVER AND JOIN US HERE!!!
Make sure you keep sending me what kinds of fashion and styles you'd like to see me share! It makes it so much more fun to create content when I know people are looking for certain things. I've been getting lots of requests for winter holiday dresses and jackets!