Looking for some holiday winter style? I've got 5 looks for you that you're going to LOVE for the holiday. I love creating looks around one item, it makes it really simple and easy to build around.
5 Ways to Style a Black Pleated Skirt
I'm taking my black pleated skirt from LOFT and showcasing it a variety of ways. I tried to find items that most women have in their closets OR could easily buy/borrow. Hoping that one of these styles jumps out at you PR maybe they all do!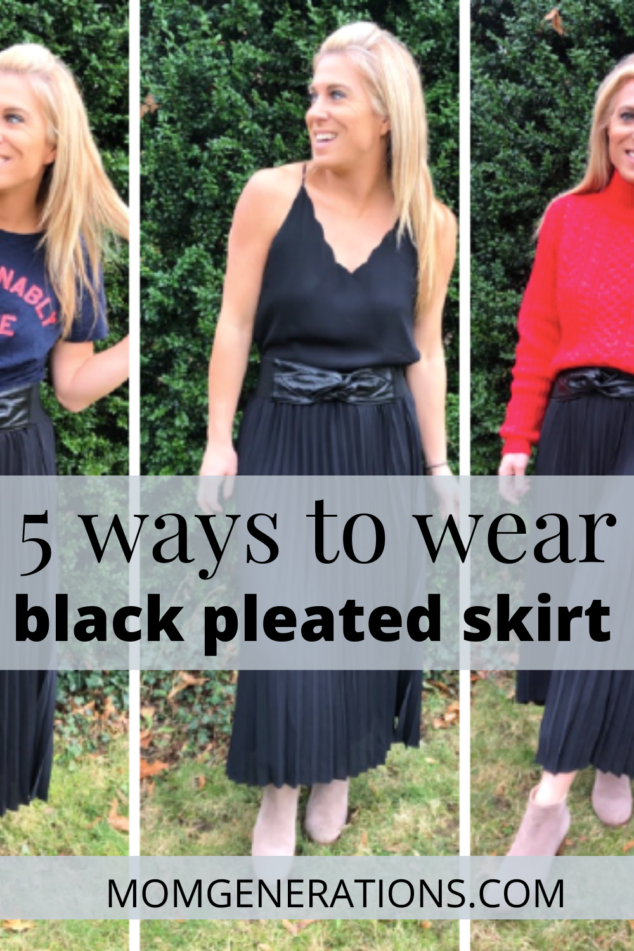 Let's kick this off with the centerpiece – the black pleated skirt. It's one of the most versatile skirts you can own. When people ask me what are must have skirts, I always say – pencil skirt and a pleated skirt.
Hands down, must haves. I fell in love with this skirt from the LOFT because it was the perfect length for me (I'm 5 feet) and it's also lightweight and airy! It's definitely the kind of skirt you can wear throughout the spring and summer months, too!
LOFT – Black Pleated Skirt – Flirty femme doesn't come easier — or more flattering — than this flowy pleated skirt with a pull-on waist. Elasticized waist. Lined. • Fitted waist & flared skirt • Fluid woven • Hits below the knee • 32″ long Available in: Black. Buy it here.

#1 How to Style a Black Pleated Skirt:
Everyone is pairing sweaters with skirts this season and I think it's such a gorgeous look. I've never paired some of my winter sweaters with my skirts before. I've always gone for blouses and tees. I saw this gorgeous RED sweater at LOFT, too and I thought it would look perfect with the skirt.
The second I put the outfit on, I loved it so much. It's a fun winter look and it's one that I will wear often now this season!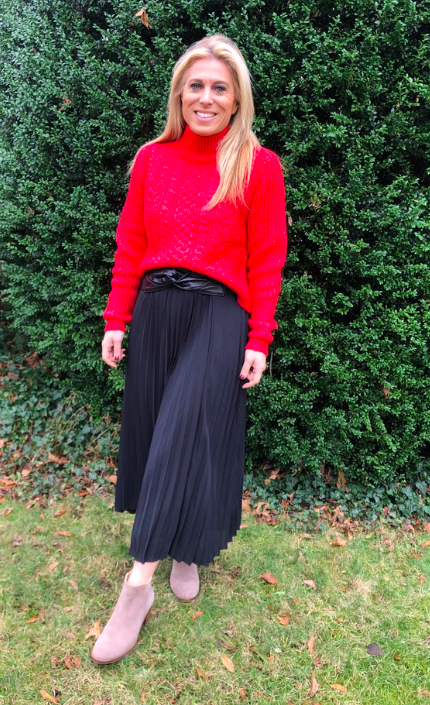 Also remember this – my point with showing certain styles is that even if you don't have a red sweater – you can wear any of your winter sweaters with this skirt, too. Don't just worry that you don't have the exact look. You can wear whatever sweaters you have with it! I have a bunch I will pair with it!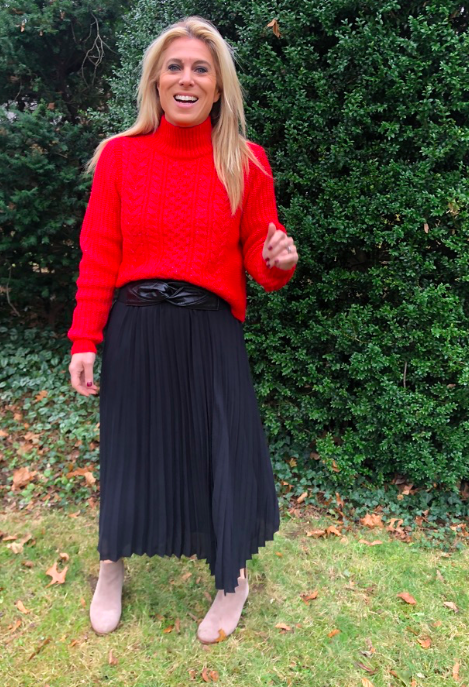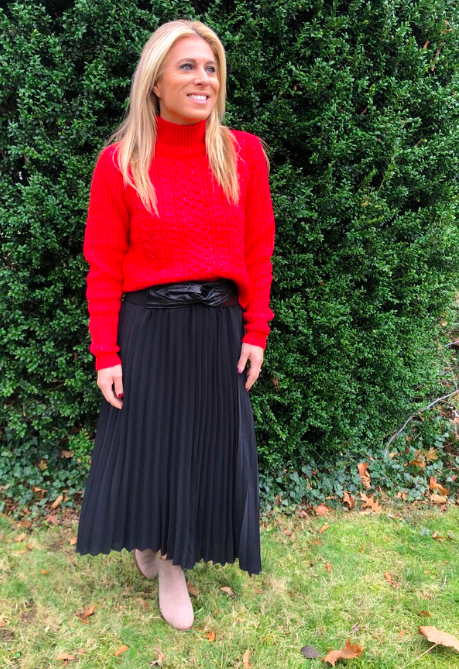 #2 How to Style Black Pleated Skirt:
Graphic tee it up! You know all those graphic tees that you have from the spring and summer? Take them out and wear them, too! I took this funny one and paired it with my skirt. I also decided to tie it in the front.
I think it's just a chic and fun way to make it work. I think it's also a great way to get extra use out of those tees! If you live where it's super duper chilly – toss on a blazer, moto jacket or cardigan!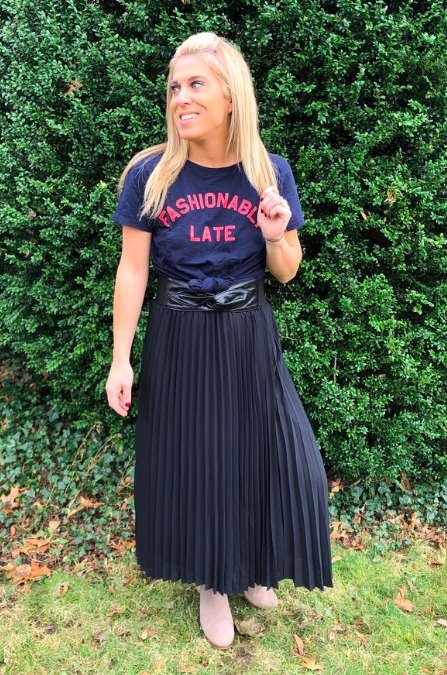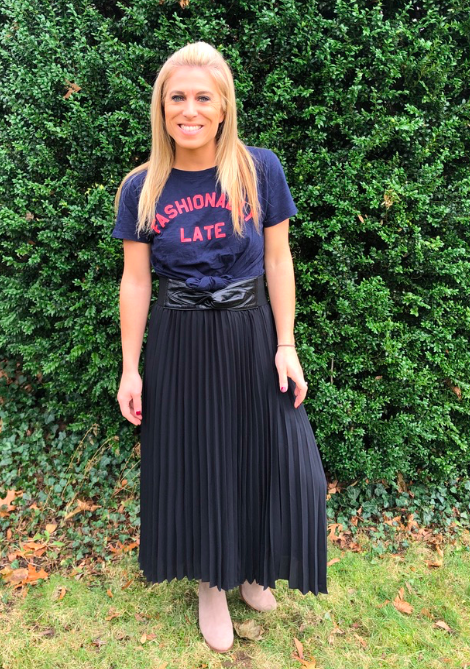 I also grabbed a big chunky belt to pair with all my looks because I love accessories. If you have a belt that you know will work with this look, grab it and wear it too! It's a simple, yet FUN look to rock for the winter season. This is a faux leather belt that I'm just obsessed with this season.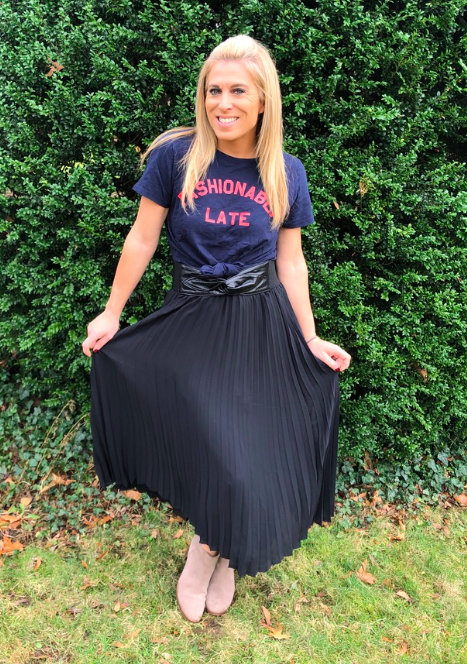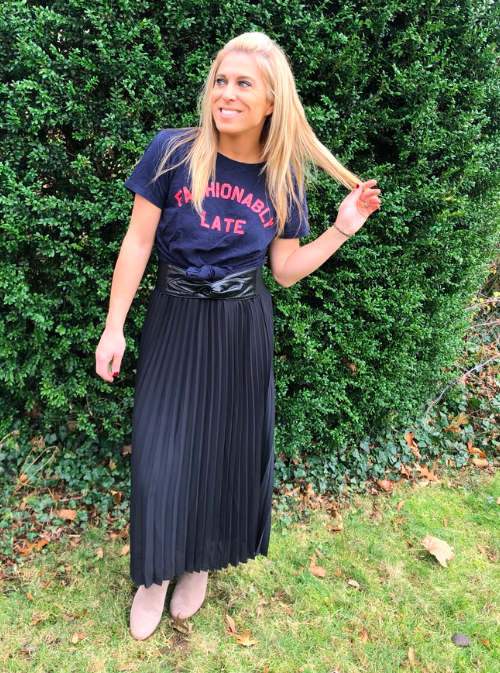 #3 How to Style Black Pleated Skirt:
I wanted to showcase a dressier option for this black pleated skirt, too. I'm all about monochromatic looks because I feel like it's a look everyone looks good in. If you're not sure what a monochromatic look is, it's one outfit – all of the same color.
I think it's just a elegant and classic and easy way to go on the fashion front. This is a black cami I bought last summer at LOFT. Grab ANY black tee or tank or sweater or blouse you have and pair away!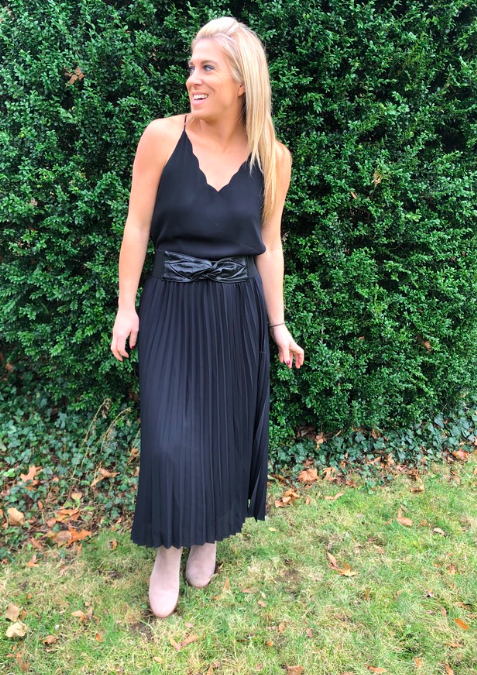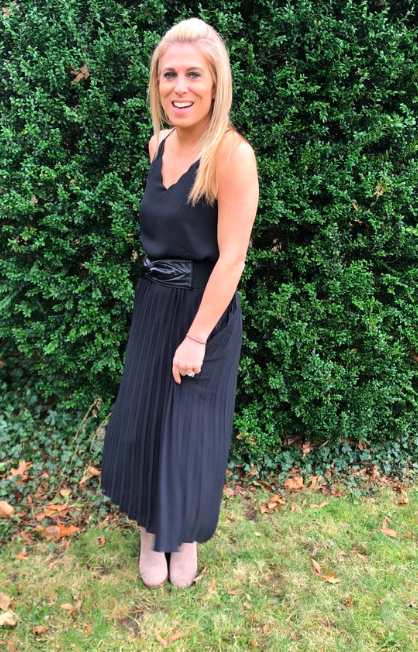 #4 How to Style Black Pleated Skirt:
You know I love a denim shirt! Here's the thing – denim goes with just about anything! I wanted to show you another way to make it work effortlessly. Fashion is fun, I don't want it to be difficult for anyone!
I want you to love what you have on and I want you to see how you can wear certain pieces SO many different ways! This is what I love my DENIM shirt!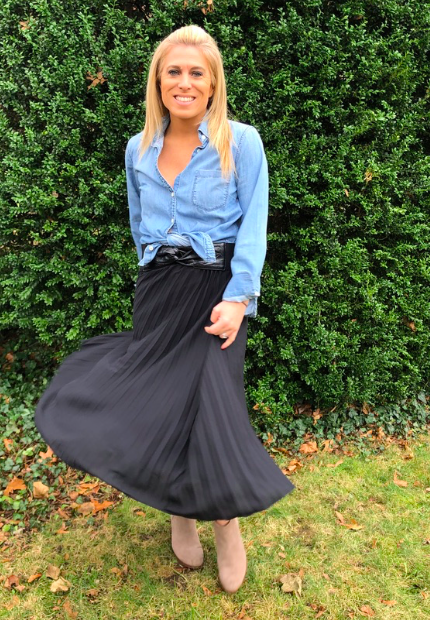 I just tied it in the front and then belted it up with my skirt! You don't have to tie it, you can easily just tuck it in and GO! Easy as can be! I also love this look because you could wear this to work and out to "play!" These are the kinds of looks I love because they are so great for so many different fashion scenarios!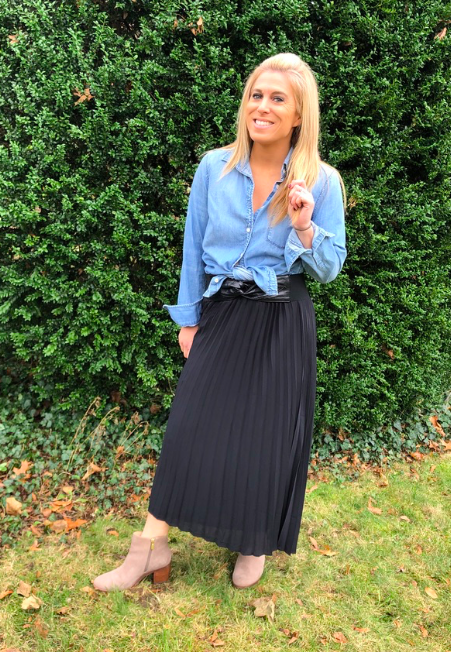 If you need a denim shirt – my favorite is this J.Crew option – although you can buy them just about anywhere!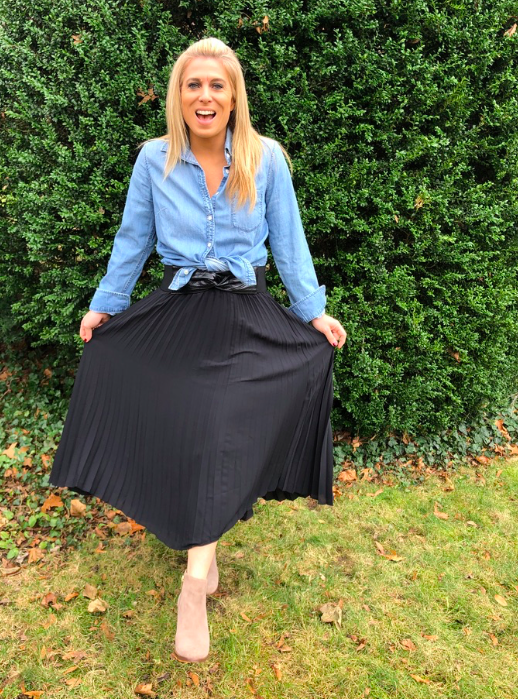 #5 How to Style Black Pleated Skirt:
You know I love PLAID! I needed to make sure I showcased a plaid option! This plaid shirt is at LOFT right now, too! I love it because it has a cute puff to the sleeve and it's shimmery! It's a dressier option on the plaid front.
Not to mention – if you want something a little less fancy, American Eagle has flannel plaid shirts that I'm OBSESSED with, too! I just showed on IGTV how to wear a plaid shirt 5 different ways, too! You need a plaid shirt in your life and it pairs GREAT with this skirt!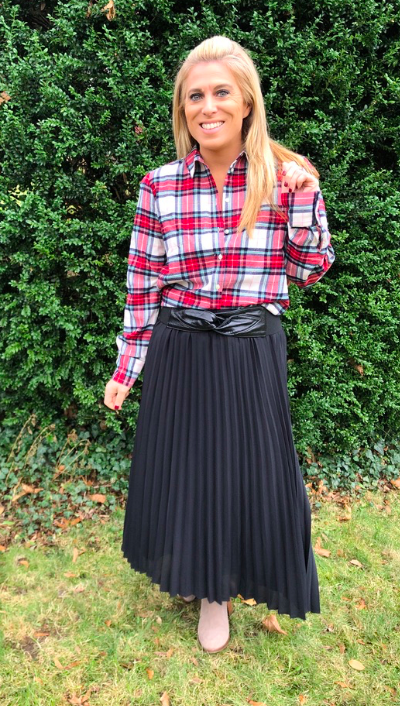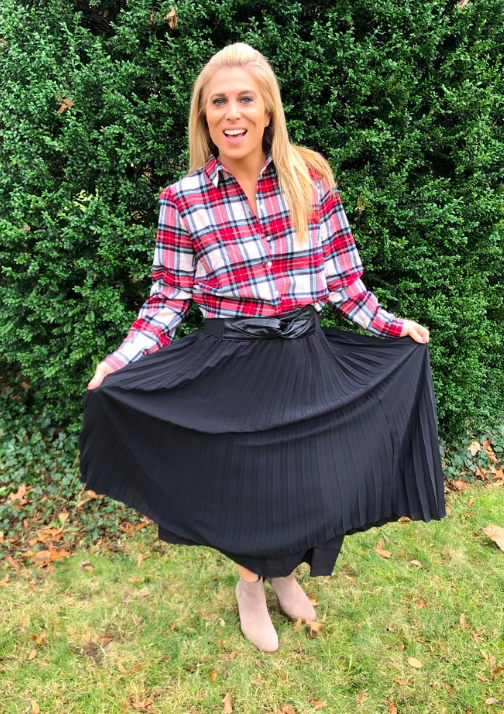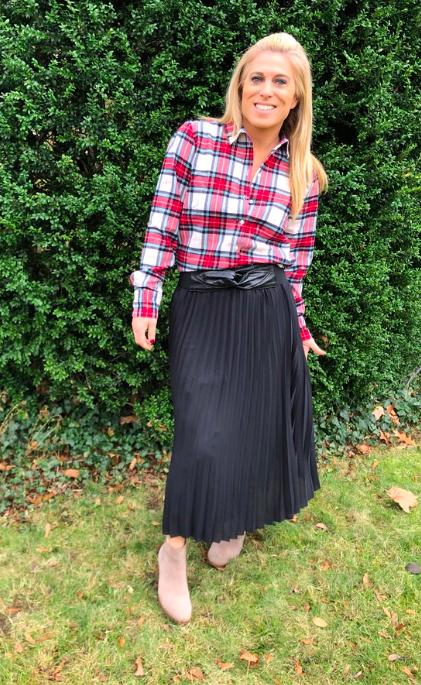 Hope you love all these ways to wear a black pleated skirt! Now go grab one and wear it for the holidays!!! I also love doing TRY ONs at various stores! Here are some fun winter arrivals from my Ann Taylor Try On!
Please don't forget to join my Daily Dose of Style FACEBOOK GROUP!
And for all of my mama friends! I also have a Fashion Over 40 – Daily Does of Style Facebook Group that I would LOVE for you to join! I share trends and styles every single day in there, along with the best sales online for fashion.
I fully believe that you can and should be able to look your best without breaking the bank. You want to feel confident and beautiful and you CAN! I hope my info helps! We have a ton of fashion fun in there! And you don't need to be 40 years old!!!!!!!

HEAD ON OVER AND JOIN US HERE!!!
Make sure you keep sending me what kinds of fashion and styles you'd like to see me share! It makes it so much more fun to create content when I know people are looking for certain things. I've been getting lots of requests for winter holiday dresses and jackets!