Where are my Hallmark lovers? This is really a wish list for myself really. If you know someone who is a Hallmark love-love-lover, this is a major rundown of the best gifts for the Hallmark lover. Essentially this list is geared towards me to a "T!"
Gifts for the Hallmark lover
I'm all about watching every single Hallmark movie I can during the holiday season. I start recording them the second they start and I even created a Hallmark Christmas Movies 2019 Checklist to follow along with during the season. When it comes to finding other people like me, I know we're all hard core Hallmark peeps. So gifts for the Hallmark lover in your life are for the people like us. It's a small, but very exclusive and fun crowd! 🙂

I wanted to put together a collection of the cutest and the most creative Hallmark-inspired items I could find! I wanted to find 10 items that were all different, but all equally as fun and as creative! I think it's adorable to find items that you can bring into your house that reflect pieces of who you are! When it comes to the fun side of Gifts for the Hallmark Lover, you'll see that everyone of these would be welcomed with open arms!
I went through dozens of items that reflect Hallmark Christmas Movies and selected these as my top picks for the holiday season. I do want to say that none of them are affiliated wit Hallmark. These are all products that I found on etsy. I wanted to support some small businesses, too during the holiday season!
Hallmark Gift Ideas
Hallmark Funny Socks – The cutest little socks ever! What I love about these are that everyone needs a pair of cozy socks in the winter! Toss them on and let your feet get nice and warm and toasty!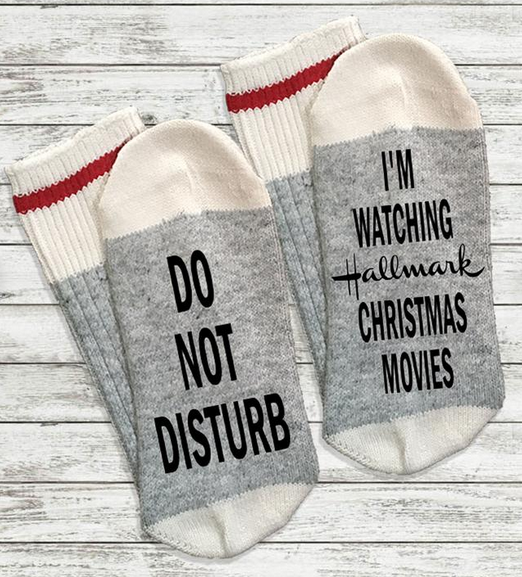 Laptop Decal – I'm in love with this little laptop decal because it's so simple, yet so cute! It's on the super cheap side (less than $5) so you can really not break the bank, but make a Hallmark lover SMILE!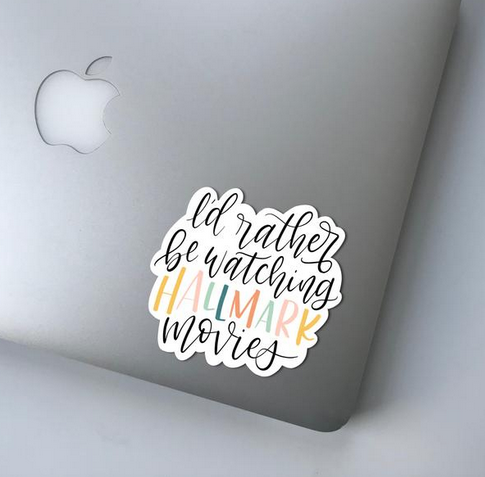 Outdoor Mat – OK, I need this. And I need this NOW. I love this one so much! This is such a great addition to ANY home during the running of Hallmark Christmas Movies.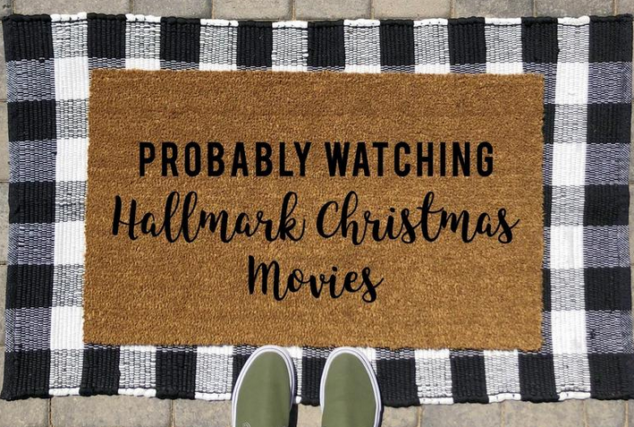 Hallmark Mug – We all love a good mug for hot cocoa or coffee or tea. I love this one. It's simple.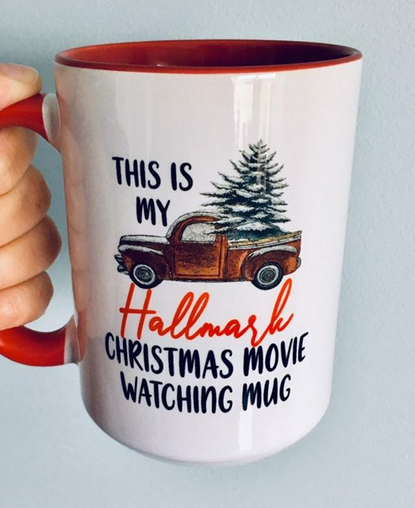 Hallmark Tee – I love a good tee shirt! I'm all about wearing my Hallmark love and letting the world see it, too I thought this tee was super cute and chic for the holiday season! Also – VERY well priced!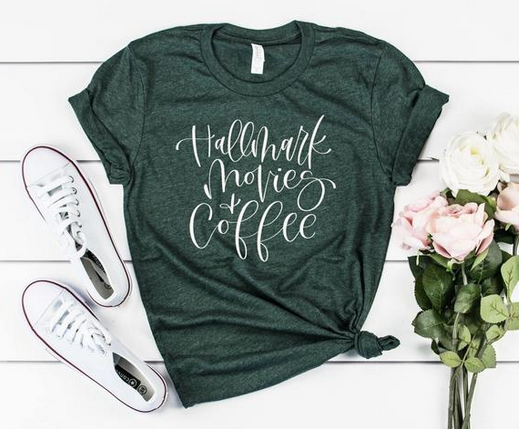 Hallmark Blanket – Everyone likes to be warm and cozy watching a Hallmark movie. This is the kind of blanket you just sink into and love forever and ever and ever. I love the red plaid, too! A MUST have for the Christmas season.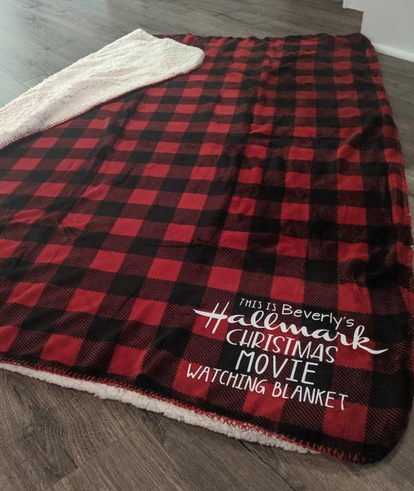 Hallmark Wine Glass – Yes, we all need one of these, too! I love to indulge in a yummy glass of wine while I'm watching my Hallmark movies. It's just a time when I can relax and not worry about everything else going on in the world. I love being able to just sit back and watch my people and just know that I have 2 hours of pure Hallmark BLISS!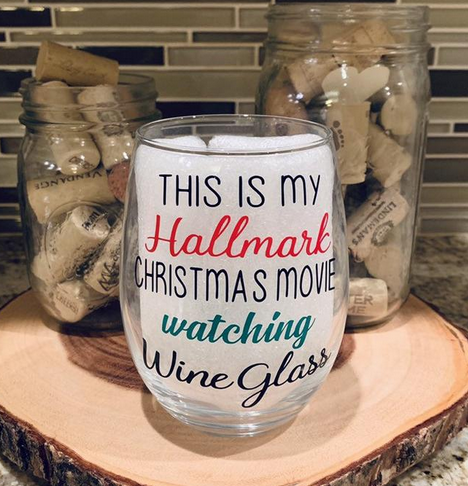 Hallmark Tee – I needed to show another option, too! This one is a cute one, too. I love the tree right in front. It just exudes CHRISTMAS! It's just a perfect shirt for the perfect time of year. I love it so much! Make sure you wear this one or layer it over a long sleeve tee! Great for chilling and just hanging out!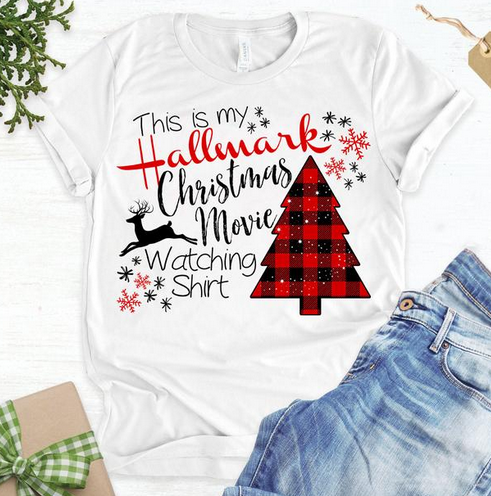 Raglan Tee – Here's another option, too! This one is a great one for wearing with jeans or cute leggings to a holiday party! Let people know that this is your Hallmark tee shirt that you wear. I love the colors of this one, they're just the perfect combo! I'm all about showing everyone that I meet that I love love love me some Hallmark! Again – perfect Gifts for the Hallmark Lover.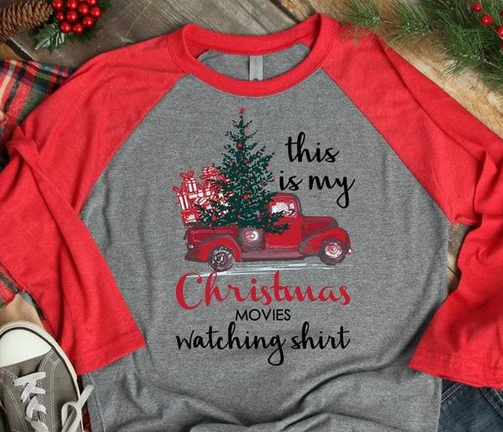 Popcorn Bowl – Every Hallmark movie night needs a delicious bowl of popcorn! FRESH popped where it's warm and buttery and just yummy! I love this bowl because it's marked for Hallmark Christmas Movies! You can't miss this one at all, can you!!?? Love it so much!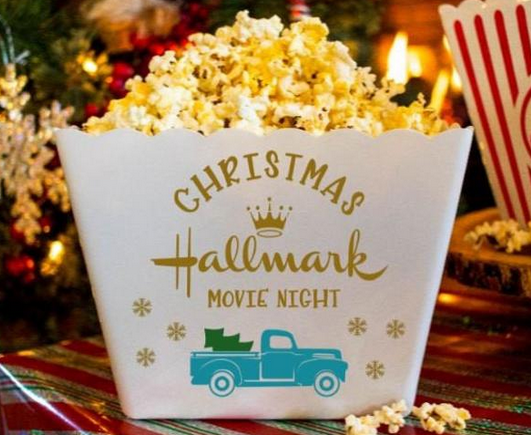 If you missed anything above, here's a slide show where everything is, too! I love being able to show exactly what I've got picked out and where you can exactly get it for the Hallmark lover in your life. Make sure you take the time to find something for them, I promise you will get some HUGE smiles on some faces!! I'm kinda hoping the people in my life pick up on this HINT! 🙂
Here are all the products I featured above:
Happy Holidays everyone! Here's to the 2019 Hallmark Christmas Movies LINEUP!