One of my favorite fashion trends has always been plaid. Ask anyone that knows me, I'm all about a fabulous women's plaid shirt. It's who I am as a fashion person, I'm a plaid girl. I've always felt it's just the perfect kind of trend that you can dress up or down and really know that it will "fit" in wherever it is that you're going. Plaid is just classic. It's elegant. It's chic. It's on-trend. It's beautiful.
Best Women's Plaid Shirt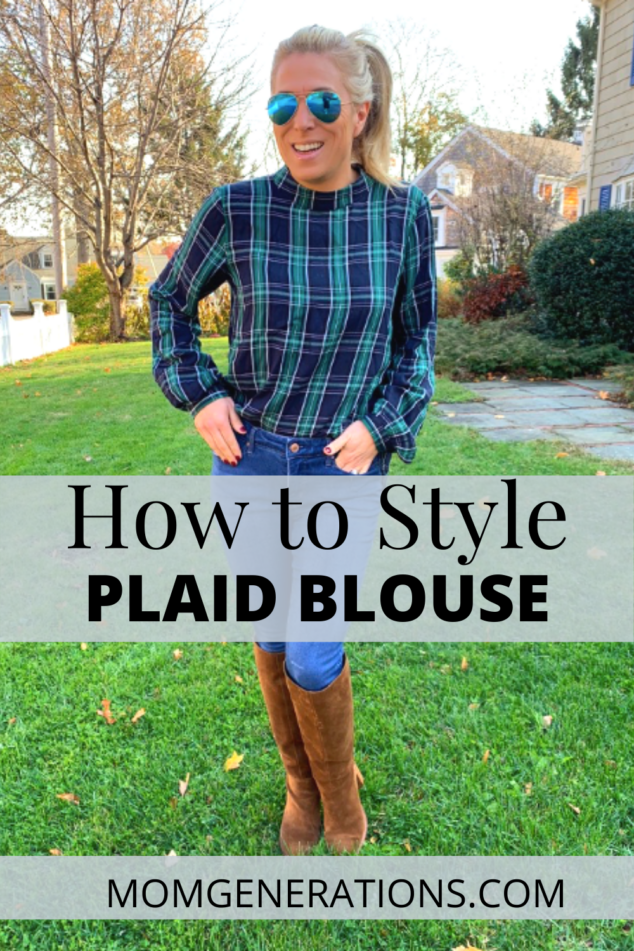 I thought I'd have some fun showing off my favorite new plaid top of the season. I'm all about flannel plaid, but when I saw this rayon plaid option at LOFT – I jumped at it. Here's the thing with plaid, it's just about everywhere right now. EVERYWHERE. You can find it reflected through dresses, headbands, skirts, dresses, sweaters, scarves, shoes, etc! It's just such a great winter holiday trend, too. It's the kind of print you can wear to work and to play in!
Since I do love a good blouse that I can mix and match with jeans, skirts and leggings, I knew I needed this one pronto. This women's plaid shirt called my name the second I saw that it was a mock neck, too. I knew I'd be able to get a lot of wear out of it for the next few months!
We love the silhouette of this fluid and flowy blouse, framed with a flattering mock neck and romantic draped sleeves. Mock neck. Long sleeves with button cuffs. Shirttail hem. Back button placket. • Fluid woven • Hits at hip • 26 1/2″ long Available in: Blue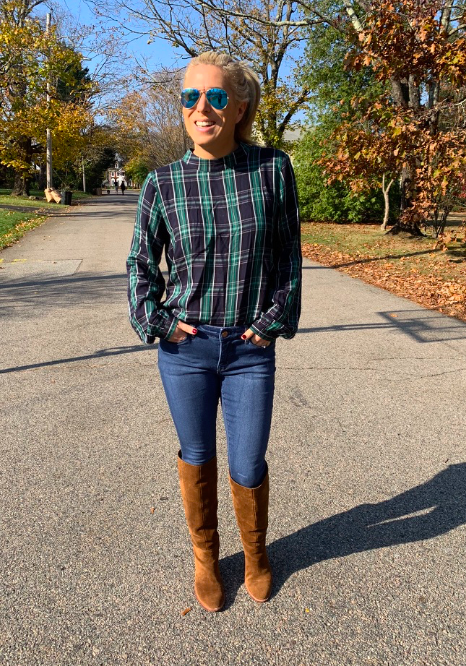 To keep it simple, I paired this option with skinny jeans and brown tall boots. I wanted to show how simple you could make this look work for yourself. This is an easy look to wear to the office (if dress code allows) or on a date or out to dinner with the girls! I love how chic and trendy it is, but also at the same time – still classic and appropriate.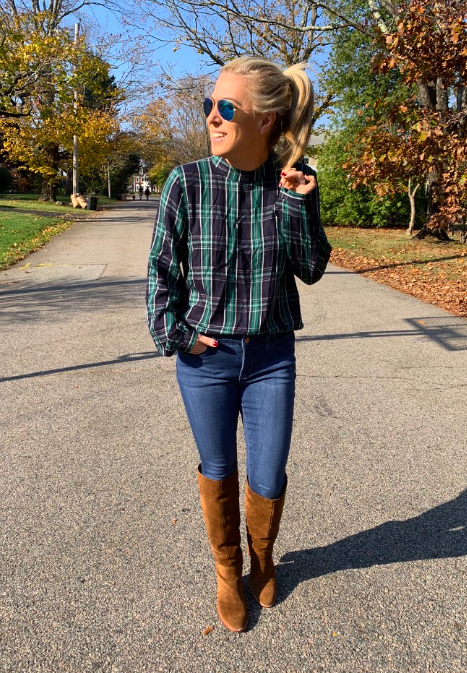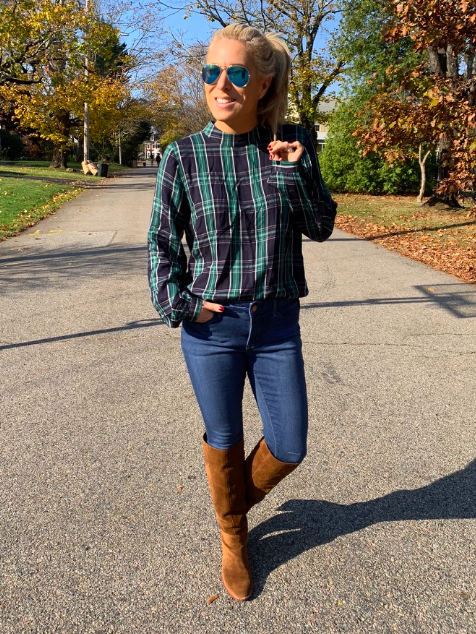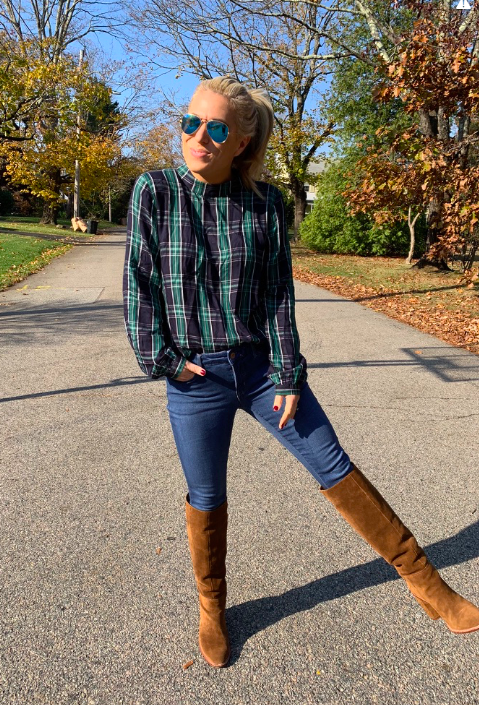 When it comes to a women's plaid shirt, it's an item that you should and can add into your closet this season because it will serve as a true staple. A staple for you to wear ALL winter long and into the warmer months. It's also a great top (since it's rayon) that you can wear into the spring months without hesitation because the material isn't heavy. It's lightweight and it works well.
I wanted to showcase some of my other faves when it comes to finding a great women's plaid shirt for yourself. These were my requirements:
I didn't want the price point to be crazy.
I wanted to make sure I isolated tops that could be worn after December!
I wanted to make sure I found versatile looking plaid shirts.
Here's my FULL widget list of 10 of them:
I added in a couple extras for you, too!
I also want to share with you some extras from LOFT, too! If you happen to love the blouse that I'm wearing above, you'll most likely like some of these tops and blouses, too! I'm a huge LOFT fan because they really just have the best items for working women. They know how to style and create pieces that work for your life. I appreciate and love that about them.
And for all of my mama friends! I also have a Fashion Over 40 group that I would LOVE for you to join! I share trends and styles every single day in there, along with the best sales online for fashion. I fully believe that you can and should be able to look your best without breaking the bank. You want to feel confident and beautiful and you CAN! I hope my info helps! We have a ton of fashion fun in there! And you don't need to be 40 years old!!!!!!!

HEAD ON OVER AND JOIN US HERE!!!