Who else has a sister? I'm excited to share some holiday gift ideas for sisters! My sister is my best friend! It's one thing in life that I've always felt blessed with… my sister! We're 2 1/2 years apart, but throughout our lives everyone always thought we were twins. We used to do everything together and it's something I cherish. Now that we're older, it's a little more difficult to spend tons of time together (we've got 8 kids between us!), but we do celebrate moments and holidays. Every Christmas we always get each other a special holiday gift. We've done this our entire lives and it's always a fun gift to plan out and gift to her!
Holiday Gift Ideas for Sisters
When it comes to your sister, there's nobody else that knows you better! You can get away with some super fun gift ideas or splurge on each other, it's up to YOU! When it comes to trying to come up with some holiday gift ideas for sisters, you need to make sure you're thinking about your sister and what the two (of if there's more sisters!) like the best. Sister gifts are always different than husband or parent or kid gifts. Sister gifts are gifts that come from the heart and are meant to make you smile.
These are the kinds of things I think about when thinking of holiday gifts for sisters:
1. Memorable – something that only the 2 of you know about
2. Funny – inside joke between th3 2 of you that you know will bring a laugh and a smile
3. Meaningful – many times I share with my sister what I truly want, so it's always a good surprise when she remembers
I'm going to share with you some of my favorite holiday gift ideas for sisters. When it comes to your sister, if you have a special relationship nothing is too big or too small. It's pretty amazing that when you have a sister, you know that there's another person on this planet who loves you and knows more about you than just about anyone! Remember that love during the holidays and share your true love with the sister in your life!
Gift Idea #1: Matching Pajamas: You may not live together anymore, but even as adult – it's so much fun to get some matching pajamas for each other. I know that my sister and I used to always wear matching pajamas, so as we've gotten older now – I love knowing that we're twinning even though we're not actually together! Special, cozy and soft pajamas!
These thermal pajamas from Nordstrom are adorable and festive for the HOLIDAY season!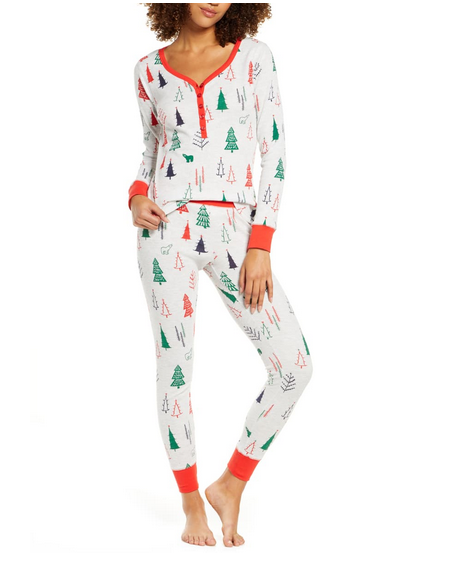 Gift Idea #2: Sisters Necklace – It's so special to have a piece of jewelry that speaks to the heart of a sister. It is true that sisters have a bond that is so special. Wear this special bond in a beautiful and meaningful way right on your neck! This stunning necklace is perfect!
Sometimes the girl who's always there for everyone else needs someone there for her. Celebrate your connection of love and friendship with these asymmetrical circles.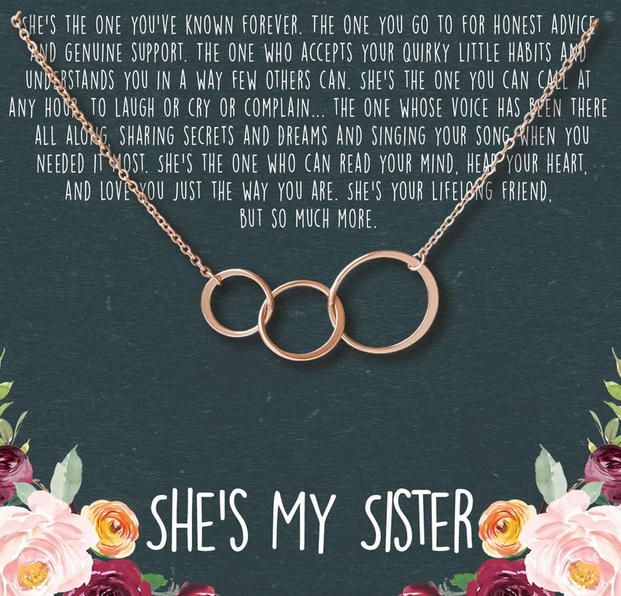 Gift Idea #3: Sister Print for your Wall – It's always special to have something in your house that when you look at it, you think of your sister. This gorgeous wall hanging makes me smile from ear to ear. It's so special and you can customize to make it your very own!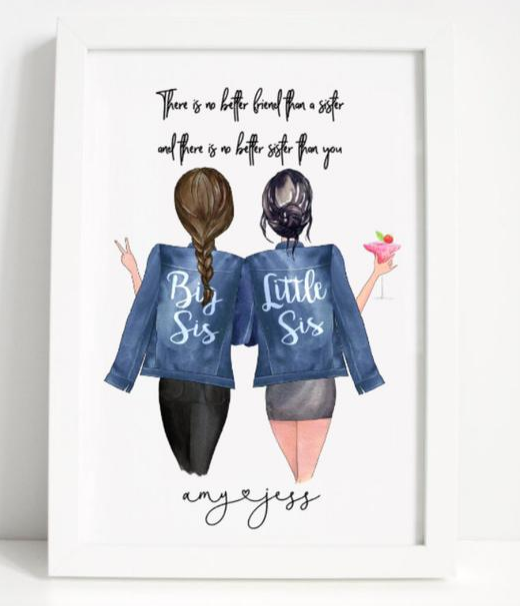 Gift Idea #4: UGG Slippers – Slippers are something we very rarely splurge on for ourselves! Slippers – good ones – fabulous ones – fashionable ones – are a perfect sister gift! I know I hardly pay a lot of money for my slippers, but these are so chic and fabulous! GREAt gift idea!
These UGG Dakota Pom Pom are just about the cutest slippers ever! They make me smile!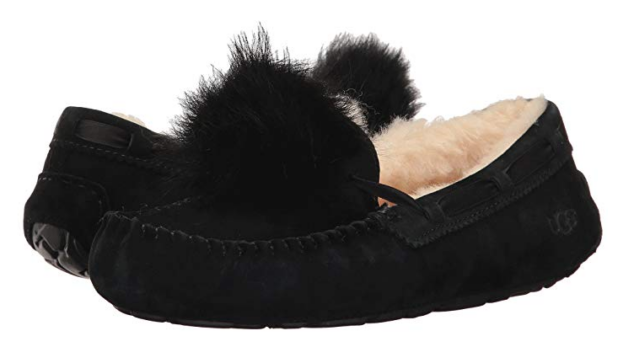 Gift Idea #5: Matching Bracelet – No Matter Where bracelets are so perfect because they embody the essence of what it's like being sisters – you might not live near each other anymore, but you're there for each other always. I love these because they really do show you the importance of the bond between sisters!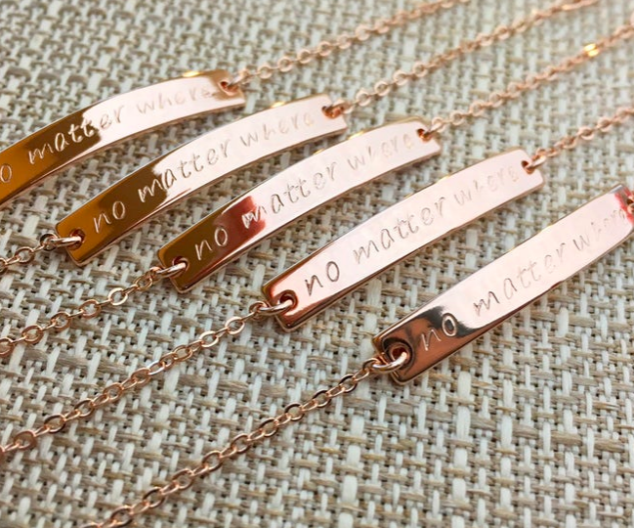 Gift Idea #6: Puzzle Piece Key Chain – This is a creative one and it's one that I think it's super cute and super fun for sisters. You will always be missing a puzzle piece when you're not together and this embodies what it's like to have that puzzle piece missing! I think this is just perfect for sisters out there to gift during the holidays!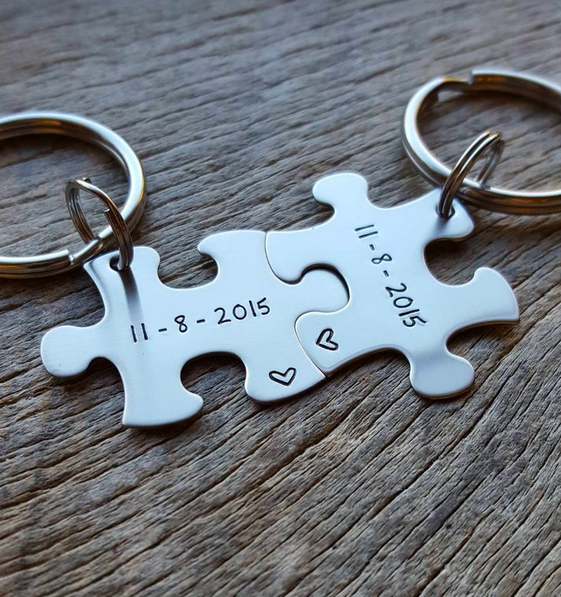 Gift Idea #7: Sister SQUAD Socks – Let's face it, when you have a sister – you have a built in squad. Someone messes with you? They mess with your sister. There's just an unspoken rule that you protect each other. I love these socks! They are so cute and fun for the holiday! You will always be smiling when you're wearing these around the house!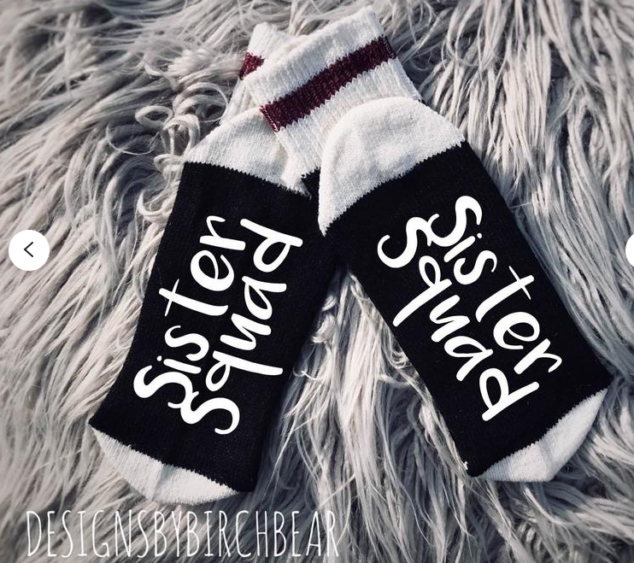 Gift Idea #8 – Matching Sister Tees – You know you're always part of a squad (see above!). I love these tees! They're cute and can be worn whenever you're missing your sister! I love these so much and they come in different colors!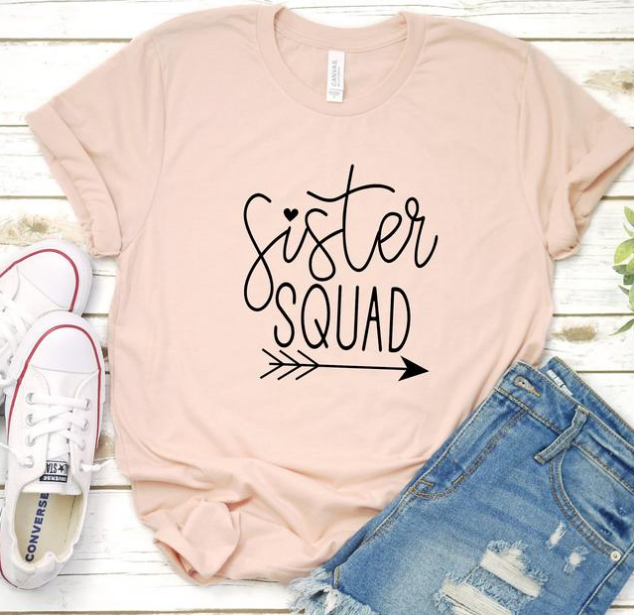 We know there are a lot of people on your holiday list to shop for, so we thought it would be helpful to give you even more great gift ideas!
Check out these great gift ideas for all the women in your life. There's something for everyone!