With 5 kids, I'm all about creating traditions for the holidays. I decided to go ahead and create a Holiday Tradition Checklist. This way everyone is on the same page and we're all on board! I'm someone who loves creating memories, but sometimes the holidays get so crazy for me – I don't take the time to stop and enjoy them. This year – I'm not letting that happen.
Holiday Tradition Checklist
True Story. I was watching my Hallmark movies last week and one of them was all about creating and making holiday traditions with your family. It made my heart ache because I just wish I was as organized and as "put together" as the Hallmark moms! I know it's a movie and I know it's all pretend, but it made me want to create traditions – fun ones and perfect ones – with my kids.
My kids are getting older, my oldest son is in high school – so I know the years are flying by! It's crazy to think that in 4 years he'll be off to college! That's just nuts to me. I want them to love and enjoy the holidays because they spark fun memories for them. I want them to remember traditions and pass them down to their families, too. I have so many of them that my mom and dad did with me as a child, I want that same love of holiday traditions for my kids, too.
In order to get myself ready for the holidays, I sat down and created a Holiday Tradition Checklist. I thought of traditions that I knew would be doable for us to do as a family. I wanted to think of things that I know they enjoy, but also things that I know I will enjoy doing with them, too. I want them to be excited about seeing certain things on the list! It's a crazy time of year with schedules and events and gatherings, but family is the most important. It's time to remember why the holidays mean so much and know that it's just about family and being together.
I wanted to put the HOLIDAYS front and center for YOU, too! Here is a list of Holiday Traditions for YOU to do with your family!! My kids love a checklist because they can go back and check off everything we've done! Love for you to see how many you can get through for the holidays!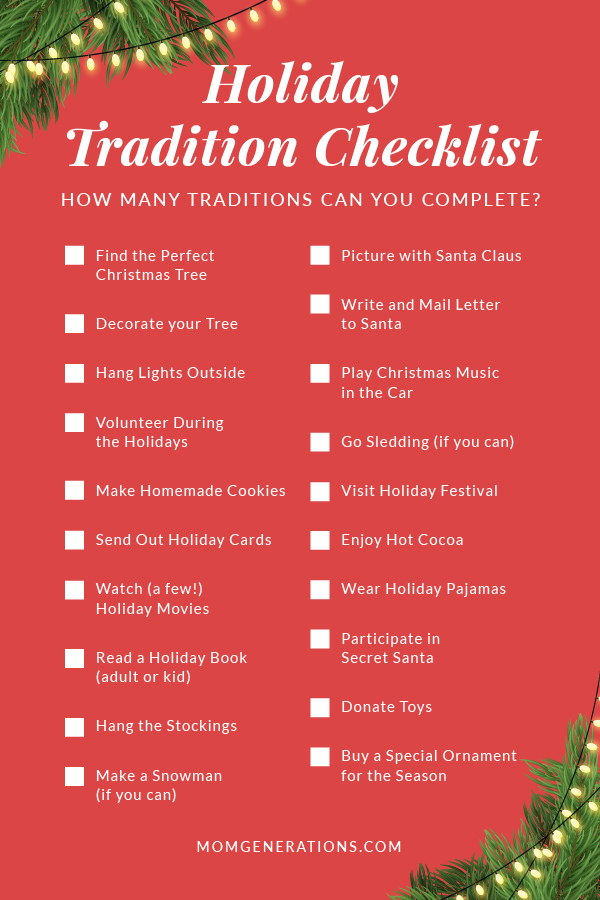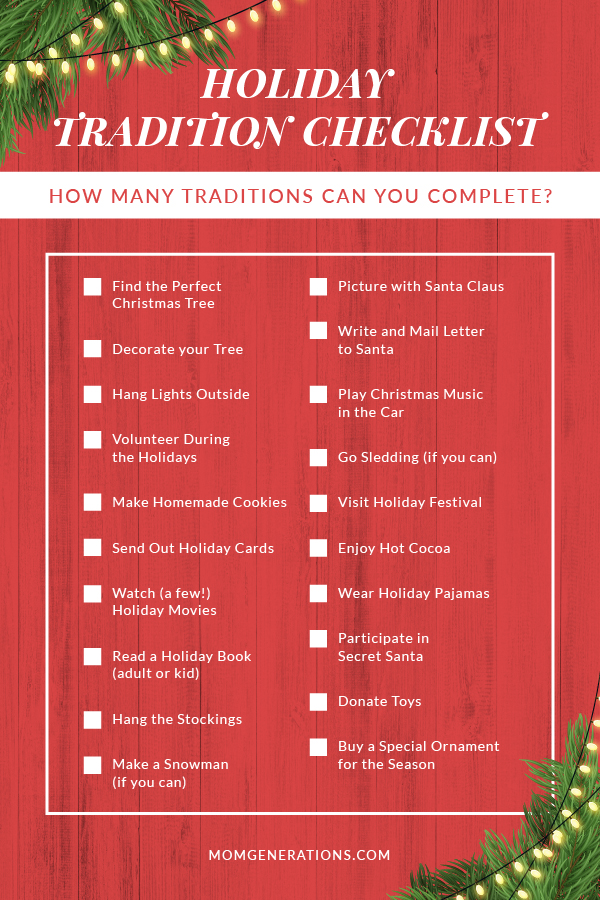 With the winter here and in full swing (almost), it's a good time for you to think about what to do in the winter, too! I've come up with a list of 101 Things To Do in the Winter with your Kids! It's a full list and it's also a great list to work off of when you're sitting at home and not sure what to do! Make sure you have some fun with your family. Take the time to smell the trees! Take the time to do something special! Take the time to drink some cider!