Everyone needs a leopard print sweater. Everyone! Leopard Print Sweaters are trending like crazy this fall and winter season! I feel like everywhere you go to shop, you see leopard print somewhere. I have to say, I'm all about it! I love it so much and really think that leopard print has turned into a neutral. It's just a fun and chic print that really does work in so many different ways. I just love it to pieces.
Leopard Print Sweater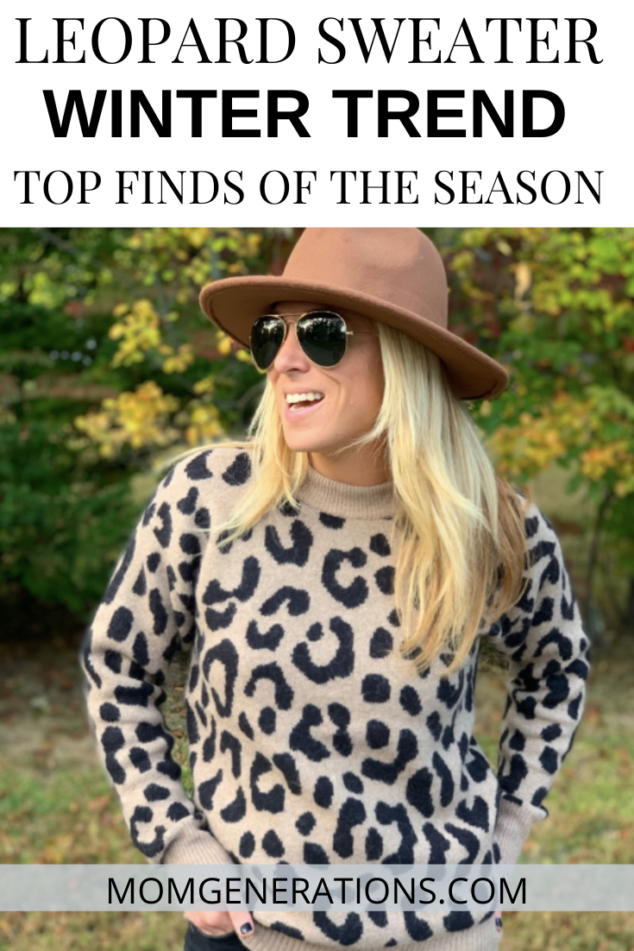 I bought a leopard print sweater this August and just let it sit in my closet until the weather started to turn a little chilly. I'm a BIG fan of leopard, so I knew that I would fall in love with the leopard trend this season. It's just a classic print and when I started to see so many different pieces go leopard – flats, heels, sweaters, hats, scarves, pants, blazers, jackets, etc. I knew I was hooked.
I wanted to showcase my fave leopard print sweater this season and also share a few more that I'm in love with, too! I feel like you can find them at so many different price points right now, too. The thing is that you want to make sure it's one that is good quality and will last. I've done some digging to showcase the best ones out there for you!
J.Crew was my go to late summer for some leopard pieces. The second I saw this Crewneck leopard print sweater in supersoft yarn, I knew I needed it! I knew it needed to be mine. It had my name written all over it. Ever have that fashion problem? You see something and know it just belongs with you? I seem to have it all the time! 🙂
Here's what this sweater is all about (and please take note about the amazing words below – MACHINE WASH!):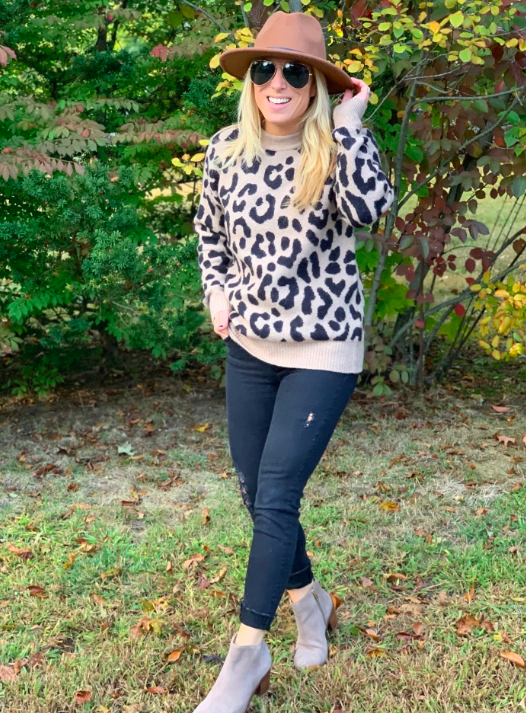 I've worn it so many ways, but my favorite way is to wear it with my skinny jeans and booties! I love that it's just an easy and go to look that works for me and my fashion sense. I love that it's also the kind of look that I can wear just about anywhere – I can wear to school meetings, work functions (sans hat), errands around the town, just about everywhere! It's a trendy look!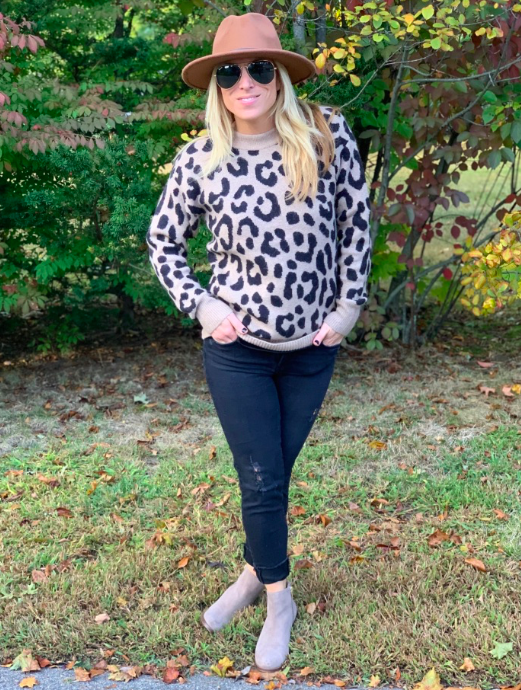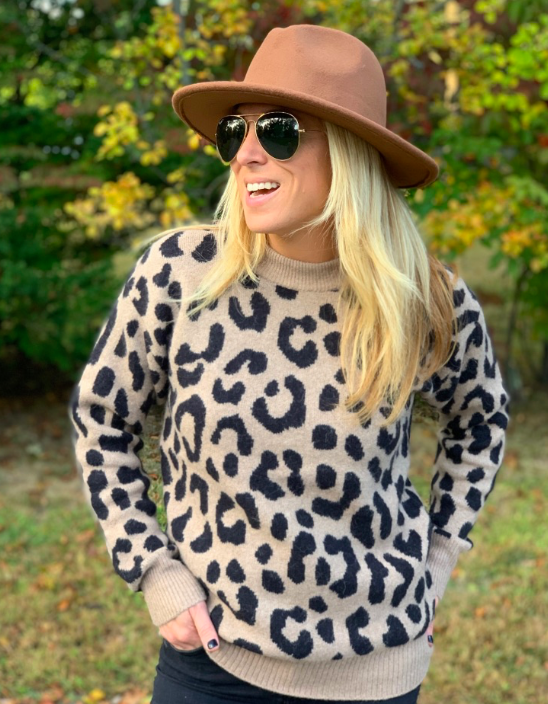 I had so much fun posing away with my leopard print sweater because it's the softest ever and it's just the coziest, too! I'm all about adding ANYTHING into my closet that is soft and cozy. I didn't want to go overboard with the leopard, but I was thinking about wearing my leopard print flats or even my leopard print heels with it to add to the trend factor! I decided my tan booties would work best!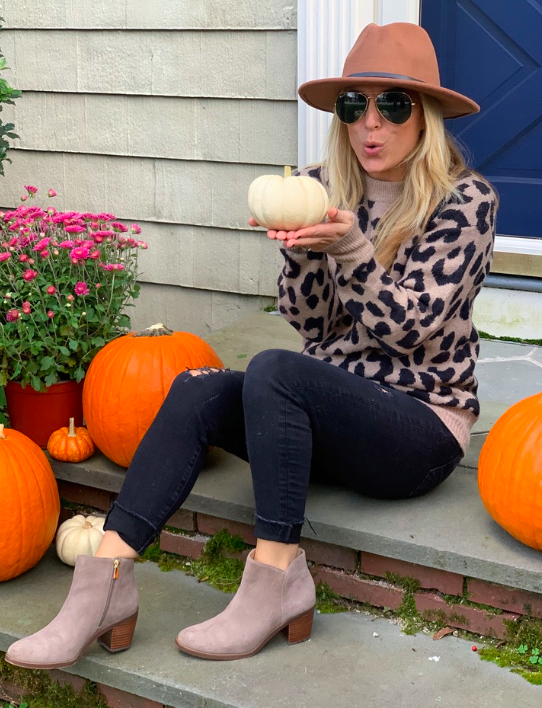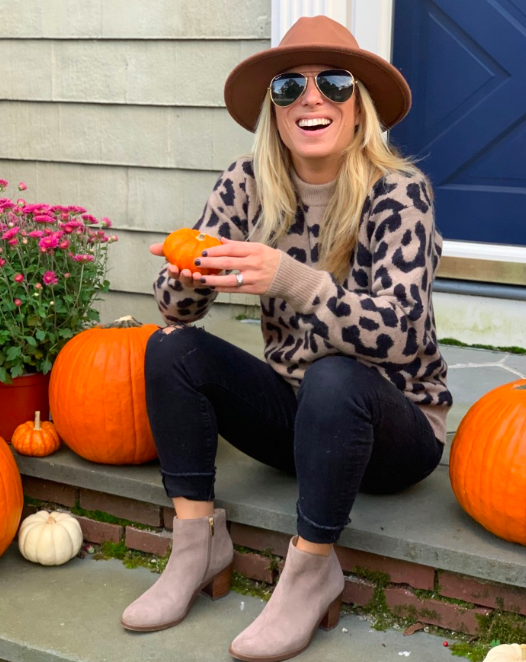 Here's my fashion advice when you're looking for the perfect leopard print sweater because it might not work for everyone, so you want to make sure you're actually shopping for what you need.
1. Make sure you find a sweater that fits you perfectly. When it comes to prints you do NOT want anything too bulky or too tight. You want it to fit you perfectly.
2. Have an idea as to how much leopard print you want to go. There are sweaters like this one above that give you a simple leopard print sweater, but there are others that are bolder and louder. Make sure you know what you want.
3. I truly suggest buying one that isn't too cheap. I've done this in the past and it's just not worth it, even if you're paying almost next to nothing. If you buy something that you want to wear, let it to be a good one. There are tons of items you could go crazy low – tees, tanks, socks – don't let sweaters be one of them.
I featured my TOP fave above, I'm also going to share 9 more of my leopard print sweater options below:
And for all of my mama friends! I also have a Fashion Over 40 group that I would LOVE for you to join! I share trends and styles every single day in there, along with the best sales online for fashion. I fully believe that you can and should be able to look your best without breaking the bank. You want to feel confident and beautiful and you CAN! I hope my info helps! We have a ton of fashion fun in there! And you don't need to be 40 years old!!!!!!!

HEAD ON OVER AND JOIN US HERE!!!