A moto jacket (otherwise known as a motorcycle jacket) is a chic and classic fashion essential that you can wear every season. A leather moto jacket (faux or not) truly does make for a trendy fashion item. There are many different styles when it comes to moto jackets, the best part is you can wear them cropped, oversized or perfectly fit.

10 Ways to Style a Moto Jacket
When it comes to styling a moto jacket, you want to make it easy for yourself as possible. I'm all about using my faux leather moto jacket as an easy top layer. I love that it really does just add a coolness factor to an outfit all on its own. There's no thought or planning with it, it just happens. I found this particular faux leather moto jacket on Amazon this summer and fell in love with it.
First off – this leather moto jacket was only $27. You can't beat that kind of price. I also loved the color, I felt like it was the kind of color that would go with just about everything! I'm also a big lover of my black moto jacket, too. But I wanted to try and mix it up a little bit with this color and I'm so glad I did because it really works!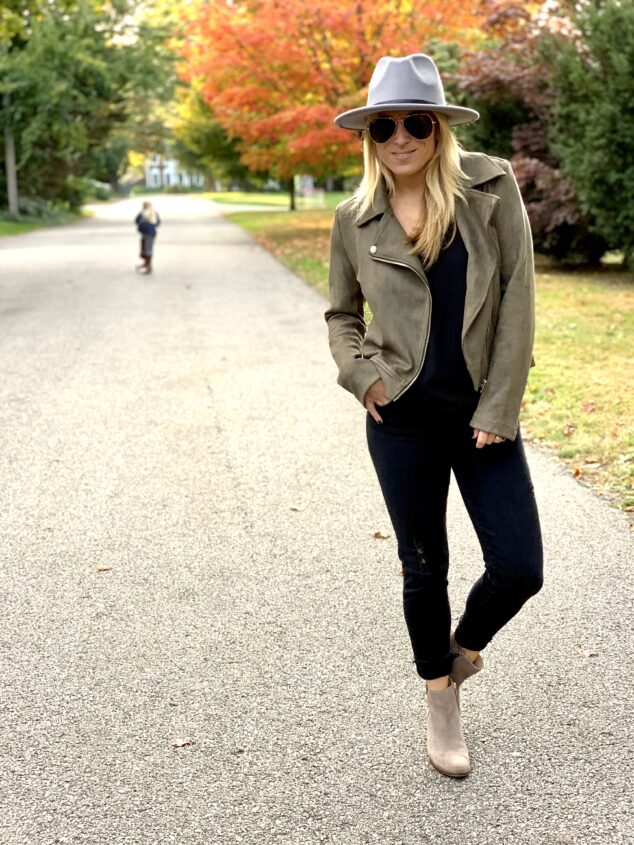 How did I style this moto? Since the color is a brown-ish color, I wanted to go all in with some black jeans and a black top. I knew that this would be an easy fashion pairing. I found these booties on Lands' End a couple of years ago and wear them all the time. They're my fave go to fall and winter boots this season. Since the colors work well together, it's an easy shoe to toss on with my outfit, too! Neutral colors ALWAYS work!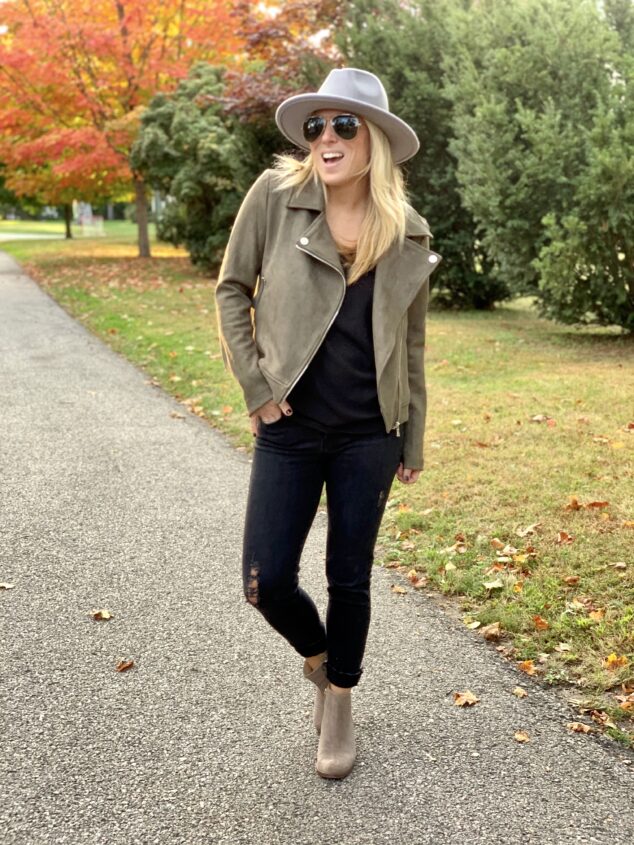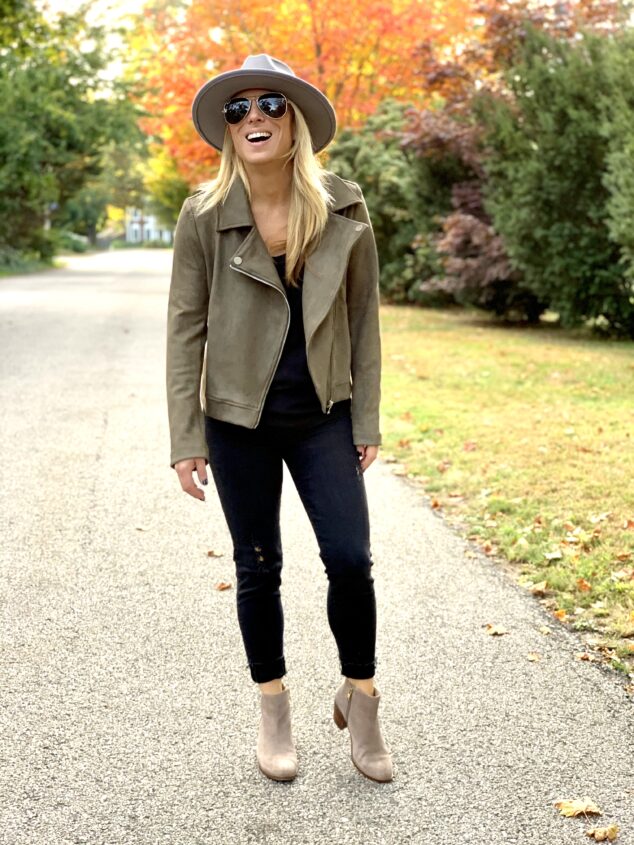 I'm also big on hats! I love me a good hat! I bought this fedora on amazon for $17! I've worn it a million times and I also have it in a light brown and a dark gray, too. Here's the thing with a moto jacket – as you'll see from this post – you really can wear it with just about anything and everything!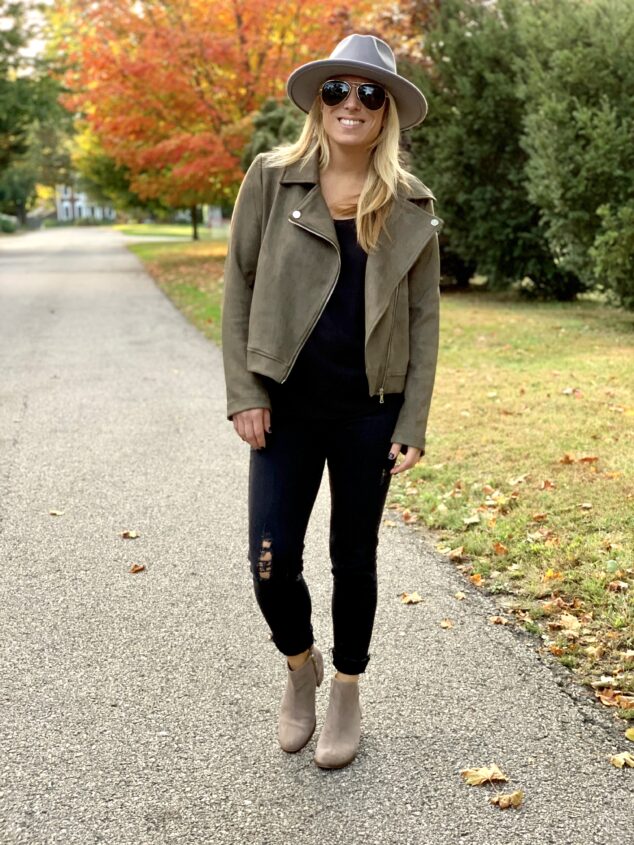 Are you ready for additional ways to style a moto jacket? Let me share with you a black option because I feel like that's what most people have when it comes to this chic and trendy jackets. I'll be honest with you, I wear my black moto all the time! It's a jacket that I actually hang in our family closet because I use it so much!
Look #1: Easy flannel shirt with jeans and booties. It doesn't get any easier than that, right? I love being able to just toss on my moto for fun and head out the door! This is an easy look for running out with the girls or heading out on some errands. It's a casual outfit that I kicked up a notch with my moto!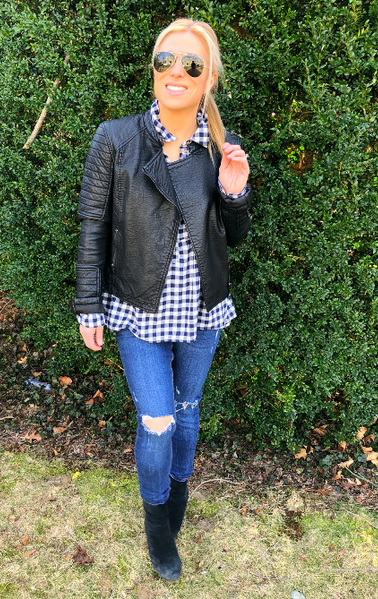 Look #2: Let's take a style that is completely casual and make it work with a moto! I love that I can toss on over a sweatshirt and pair with leggings and sneakers. This is a workout look, so just popping it on as you're heading to the gym is such a chic look. I love this one so much and it's so easy for anyone to do! These are my fave kinds of styles!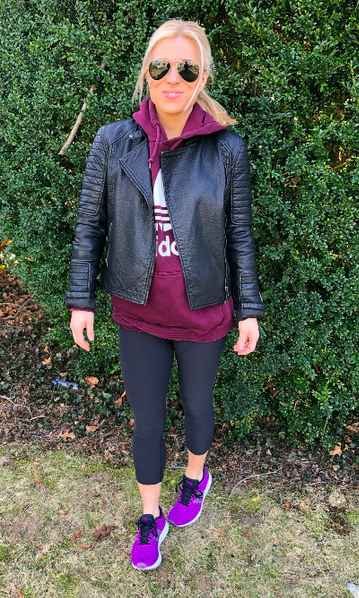 Look #3
Graphic tees are a great staple to wear under moto jackets! I have a million of them, so I love being able to wear them under moto jackets. When I wear graphic tees I love wearing them with pencil skirts and flats. It's a chic look for work.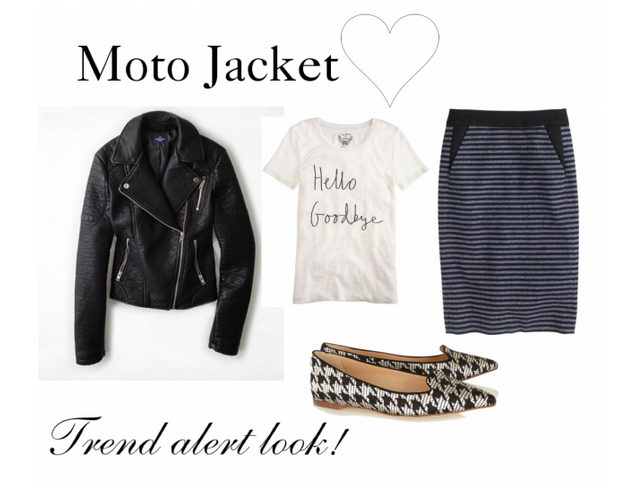 Look #4
This is my most fave look of all! It's super easy and super cute! I love this look because it's trendy and practical! Grab some jeans, a casual sneaker and black tee.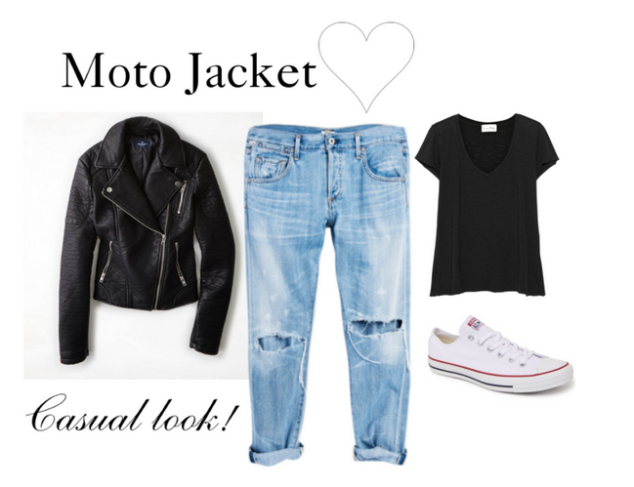 Look #5
I wanted to create a chic look because it's perfect for a party. I'm a lover of a camel pencil skirt and a perfectly fit turtleneck sweater. I also love a cute little bootie with it! I'm obsessed with this look so much!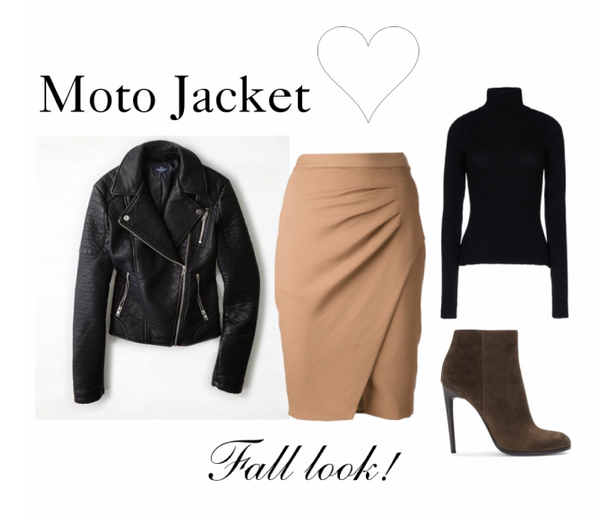 Look #6
I love me some leggings! They are so chic and fabulous! They're also the most comfy of all! I love adding a splash of color, too! I love this green!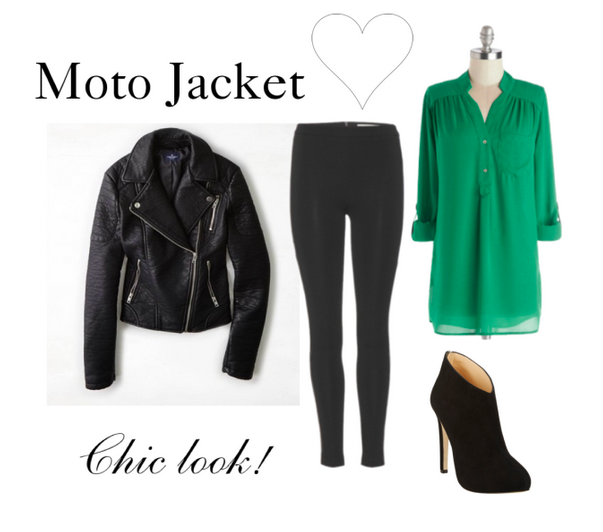 Look #7
How adorable is this striped pencil skirt? I love this option so much! It's such a fun way to enjoy some fashion! I'm obsessed with this look because it's great for work and also for play!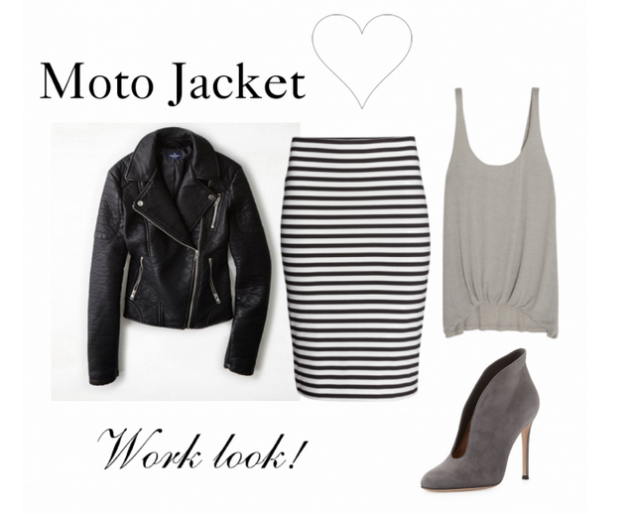 Look #8
This look is a fantastic option for people who don't know how to create a moto look. You can't get much easier than this one! Jeans, flats, white tank and moto jacket. I love this look because it's trendy and classic and just the kind of look ANYONE can pull off!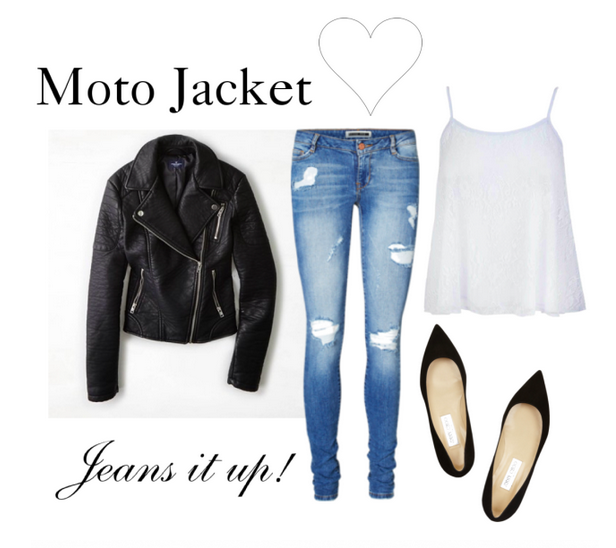 Look #9
Little black dress with a moto dress! This is such a cute look for the office! I adore this look because it's chic and professional. Add some accents to make it pop! I love finding ways to wear things to work or wear to a holiday function. I love this look because it's simple and sophisticated.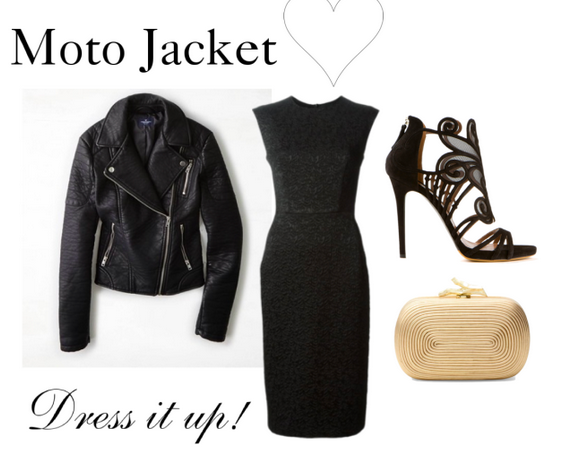 Here are 10 moto jacket options UNDER $150! You can't beat these prices and these styles are definitely chic and trendy!!
Please don't forget to join my Daily Dose of Style FACEBOOK GROUP!
And for all of my mama friends! I also have a Fashion Over 40 – Daily Does of Style Facebook Group that I would LOVE for you to join! I share trends and styles every single day in there, along with the best sales online for fashion. I fully believe that you can and should be able to look your best without breaking the bank. You want to feel confident and beautiful and you CAN! I hope my info helps! We have a ton of fashion fun in there! And you don't need to be 40 years old!!!!!!!

HEAD ON OVER AND JOIN US HERE!!!
*Affiliate links included