Looking for some dresses to add into your wardrobe for the New Year? You can never go wrong with a Black Faux Leather Dress! A Faux Leather dress is chic, stylish and never goes out of style. Sharing with you some of the best faux leather dresses ones out there in this post!
Black Faux Leather Dress
One thing is for sure – when you have timeless pieces in your closet – you have outfits for days! It's one of the best parts of finding these key pieces. You can wear them over and over – season to season. I've been a fan of faux leather pants, faux leather jackets and faux leather dresses forever. I feel like they are just the perfect kind of pieces to wear just about anywhere.
I wanted to find a black faux leather dress for the New Year that I could wear over and over and over again. The second I saw this particular black faux leather dress from Peach, I was hooked! It's the Danika Dress from Peach Clothing and it's my new fave! The second I put it on, I fell in love. It's the kind of dress that is flattering on everyone!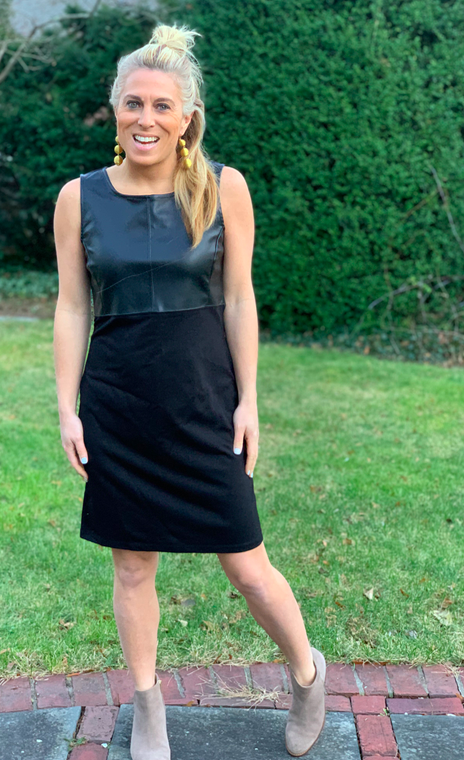 Here's the skinny on this Black Leather Faux Dress from Peach Clothing:
Yves Saint Laurent said "Fashions fade, style is eternal". Our simply chic Danika Dress is a classic you'll wear for years to come. This elegant silhouette features figure flattering Ponte and a faux leather front bodice. A versatile, elevated dress, you'll wear for work, festive gatherings and memorable dates. Great on all body types.
Features:
Sleeveless Ponte sheath dress
High scoop neckline
Long, stretch faux leather bodice to accentuate waistline
Center front seam
Princess seams for a figure flattering fit
Lightweight Ponte skirt
Invisible zipper along the back
Details:
Fabric: Traveler Ponte w/ faux leather
(65% Rayon, 30% Nylon, 5% Spandex)
Sizing: XXS-XXL
Fit: Semi-fitted – Skims the body comfortably
Body length (size medium): 37"
Care: Exclusive of decoration: Machine wash. Gentle cycle, cold water. Lay flat to dry or tumble dry low. Do not bleach. Do not iron.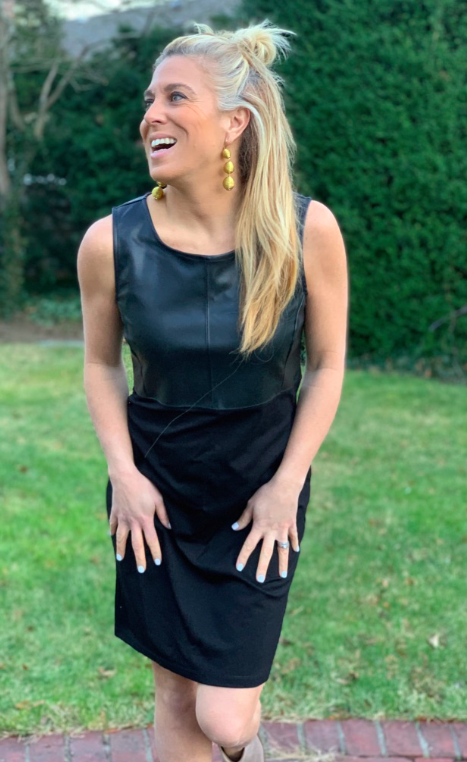 This fantastic dress is just one of the best options for a black faux leather dress! If you've been on the hunt, I want to help you out now! This is it. This is the best option. It's also very comfortable! I love that I can wear this year round – in the fall and winter, just toss on a blazer or jacket. In the spring and summer, just wear as is.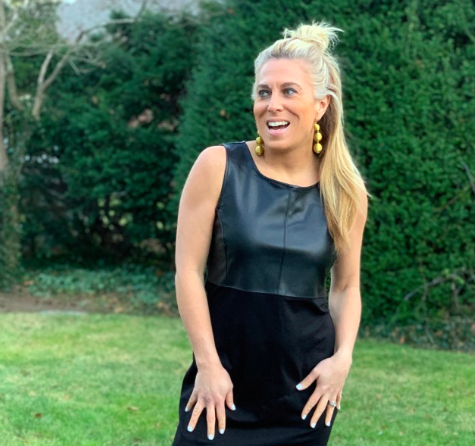 Black Faux Leather Dress options are out there. You need to just know what option works best for you and what you're looking for on  the dress front. I'm someone who loves dresses that have arms exposed because I love to layer. My sister on the other hand loves a dress with long sleeves. It's all in your preferences and what you know works best for you and your body.
Where to Buy Black Faux Leather Dress
I found a bunch of  options out there for you. I wanted to make sure none of them were crazy on the price front, so I searched for dresses that were $150 or less. I personally love these because they're all different styles and work for any body type, but they also are great dresses that would work season to season and year to year.
My BIG thing in fashion is finding clothing that works from year to year. I love trends, but I also love timeless and classic pieces. Take it from me – a black faux leather dress is definitely a timeless piece that you will love and wear season to season. It's that kind of dress. When it comes to timeless pieces I don't mind spending a little extra because I know it's worth it!
Here are my top picks:
Please don't forget to join my Daily Dose of Style FACEBOOK GROUP!
And for all of my mama friends! I also have a Fashion Over 40 – Daily Does of Style Facebook Group that I would LOVE for you to join! I share trends and styles every single day in there, along with the best sales online for fashion. I fully believe that you can and should be able to look your best without breaking the bank. You want to feel confident and beautiful and you CAN! I hope my info helps! We have a ton of fashion fun in there! And you don't need to be 40 years old!!!!!!!

HEAD ON OVER AND JOIN US HERE!!!
When you wear a black pleated skirt, too – it's also a timeless and classic, too. Make sure you keep sending me what kinds of fashion and styles you'd like to see me share! It makes it so much more fun to create content when I know people are looking for certain things. I've been getting lots of requests for winter holiday dresses and jackets! I love when people let me know! So keep them coming!