Find yourself looking for petite winter coats? It's not always easy shopping for petite clothing, especially Petite Jackets and Petite Coats. Sharing where to buy petite winter coats today for anyone that needs one!
Where to Buy Petite Winter Coats
Let's kick it off first with what constitutes petite fashion. In fashion and clothing, a petite size is a standard clothing size designed to fit women of shorter height than the average. I'm 5 feet – so I 110% – fall into the petite category. Size wise? I'm a size 4, so I truly know that whenever I buy ANYTHING it has to be on the petite side because I'm short.

I have a *slight* obsession with finding petite clothing that is chic, trendy and fits perfect. Believe it or not, mainstream stores just started carrying petite lines only within the last couple of years. I would buy petite jeans at the GAP in high school because they had the "short" option. It's great seeing petite clothing for women sold in so many stores now.
When it comes to finding perfect petite winter coats for women, I have 3 shopping destinations for you to check out. First – LOFT sells an incredible petite collection. Second – Old Navy sells amazing petite options. Third – Ann Taylor has a fantastic full petite section.
Rounding up my petite winter coats right now for you! I started with LOFT petite coats because I've always had the best luck with them. I just bought myself a new women's petite winter coat last week there and I LOVE IT! This Petite Faux Fur Lined Hooded Parka is the warmest and coziest jacket ever!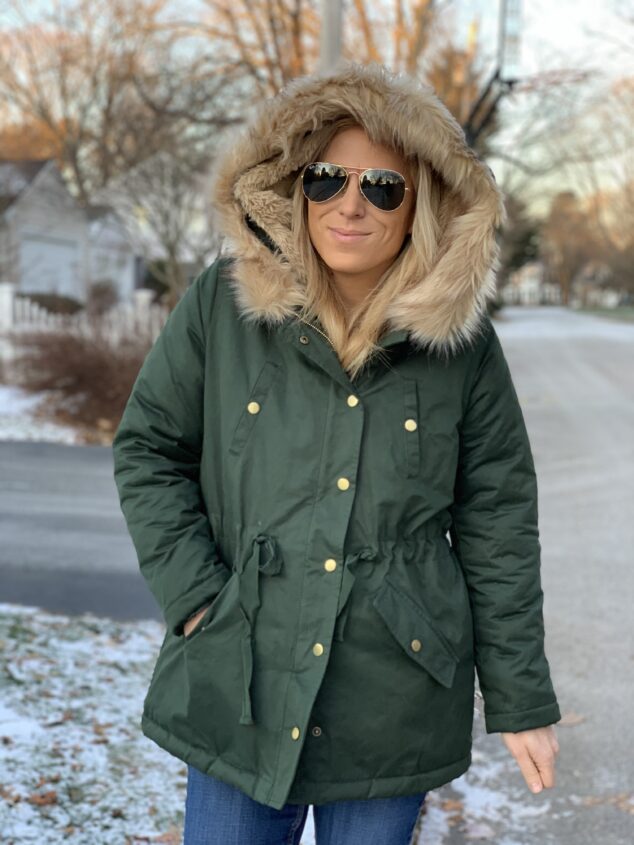 From its smooth sateen to its luxe faux fur trim hood and faux sherpa lining, this parka takes on the elements in effortlessly chic style. Bonus: it can be cinched at its drawstring waist or worn straight for two looks in one! Hooded. Long sleeves with elasticized cuffs. Welt chest pockets. Hidden zip and snap front. Drawstring waist. Snap flap welt pockets. Back vent. Lined. • Fitted throughout • Structured woven • Hits at thigh • 32 1/2″ long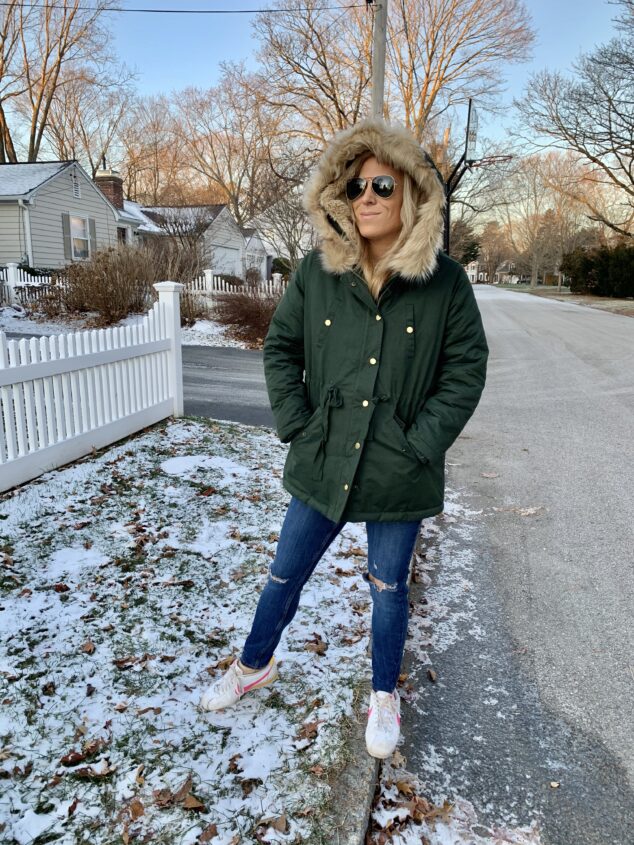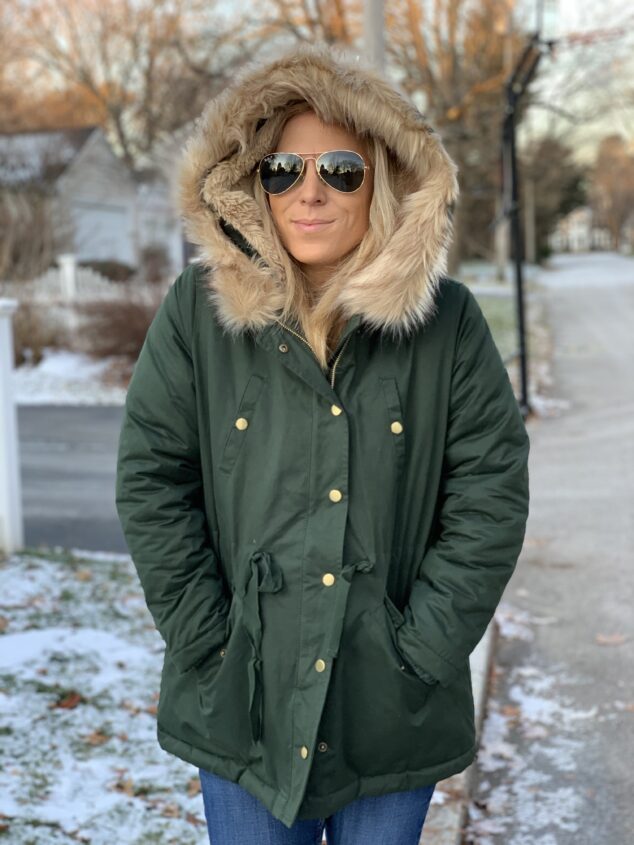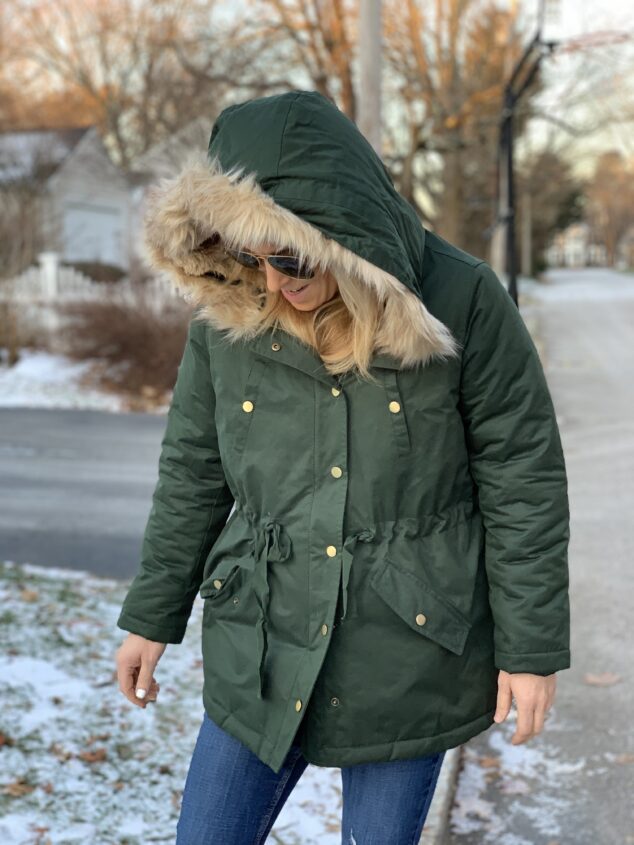 If you're wondering about the care and fabric of this particular petite winter coat: Shell: 62% Cotton, 38% Biconstituent Fiber (70% Polyester, 30% Nylon), Lining: 100% Polyester, Faux Fur Face: 81% Acrylic, 19% Modacrylic, Faux Fur Back: 100% Polyester • Machine Washable
Where are the Petite Coat Sales
Let me share with you 5 other styles I LOVE from LOFT when it comes to petite winter coats (and sales). Again – remember – the difference is in the measurements. This particular coat is 32 1/2″ long – the regular one is 34″ long. It's all in the measurements because when you're a petite size, it just means you're on the shorter size.  There are always petite coat sales, so I'm going to share with you coats that are ALL on sale right now.
Let me share with you 5 other styles I LOVE from Old Navy. They are really comfy and the price points are incredible. When it comes to petite sizes, Old Navy really does have a good collection.
Let me share with you 5 other styles I LOVE from Ann Taylor. The petite collection is just stunning here at Ann Taylor. If you're looking for professional clothing, this is the spot to go. When it comes to petite sizes, Ann Taylor really does have an extraordinary collection.
I hope these petite styles help! I'm all about petite fashion and will be sharing more options for people just like me! Love that stores have options for people that are on the short side!
Please don't forget to join my Daily Dose of Style FACEBOOK GROUP!
And for all of my mama friends! I also have a Fashion Over 40 – Daily Does of Style Facebook Group that I would LOVE for you to join! I share trends and styles every single day in there, along with the best sales online for fashion. I fully believe that you can and should be able to look your best without breaking the bank. You want to feel confident and beautiful and you CAN! I hope my info helps! We have a ton of fashion fun in there! And you don't need to be 40 years old!!!!!!!

HEAD ON OVER AND JOIN US HERE!!!
Make sure you keep sending me what kinds of fashion and styles you'd like to see me share! It makes it so much more fun to create content when I know people are looking for certain things. I've been getting lots of requests for winter holiday dresses and jackets! I love when people let me know! So keep them coming!