Looking for ways to organize your closet? You need to PURGE and PURGE big time! It's the only way to make sure you're getting the most streamlined and organized closet possible. But the big question I get from people is when I suggest this is – How to Purge Your Closet? There is a way to do it and you just need to make sure you do it correctly. I'm here to help!
How To Purge Your Closet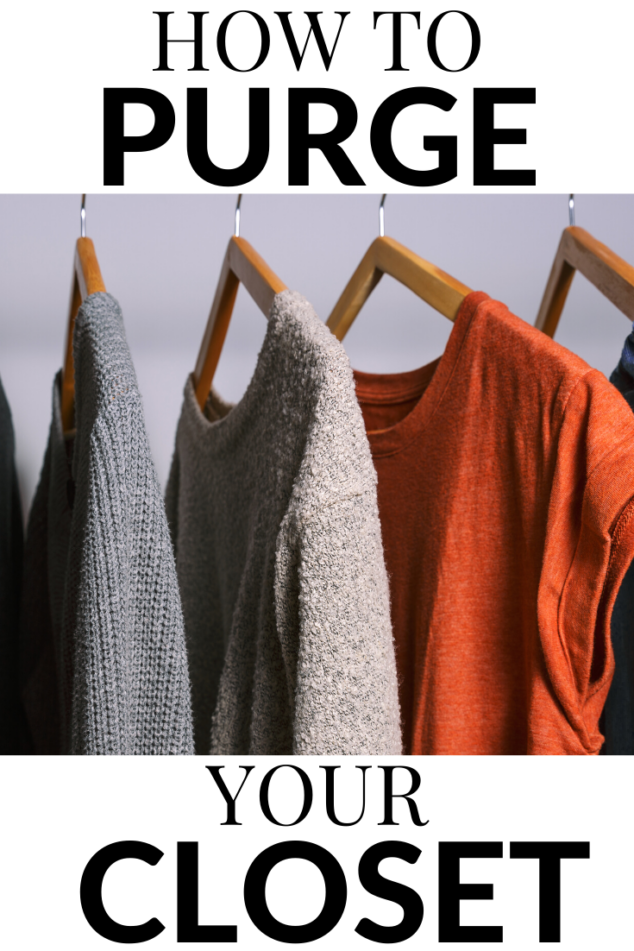 Let me start from the very beginning – your closet needs to be your temple. It's usually the first place you go in the morning to get yourself ready for the day. If your closet is chaotic and unorganized, that's usually how you start off your day. You're looking for that shirt that you want, but can't find it. You're digging for those pants you want to wear, but they're not to be found. Believe me, I've been there. The only way to get a handle is to organize it, but you need to start with a PURGE.
When you're looking for ways on how to purge your closet, you need to really take stock as to what you have in your closet. You don't want anything in there that you don't need or want or use. But here's the thing, usually we don't stop and take stock as to what we actually have in our closets. We buy, we hang, we stop thinking about it. My closet is like a deep hole – something goes in and then I forget about it. That's not good.
My first piece of advice on getting started? Take every single item out of your closet. Every. Single. One. It's not easy, I know this and it's also time consuming, but it's essential to get this done. It will take a long time, but it's something that will be so worth it once it's done. Just take everything out. One by one and put everything in piles around the room. Put all the skirts in one pile. Put all the blouses in one pile. Put all the sweaters in one pile, and so on.
Once everything is out, you'll have a good idea as to just how much stuff you actually have and own! When I did this this past weekend, I was SHOCKED. I couldn't believe it. I knew I had a ton of clothes, but I didn't know I had THAT many! It was eye opening to me to actually see everything out. This helped me really understand that a purging was necessary.
The next step is to actually go through each item one by one. I know it will take you some time to actually do this, but just know that going in.
When you're starting your "How to Purge Your Closet" journey, these are the questions I want you to ask yourself as you pick up each individual clothing item:
1. When was the last time I wore this?
2. When did I buy this?
3. How many times have I worn this?
4. Is this item still in style?
5. How many different ways could I wear this item? Is it versatile enough to get some good use out of it.
6. Will I wear this item again?
Now believe me, this won't be easy. I'm telling you – I'm someone who loves every single item in my closet. I really do love fashion and clothing and it's hard for me to part ways with items sometimes because I truly know that I will potentially want to wear them again. BUT! That doesn't matter, it's important to take the time to par down and really get set with a closet full of clothing that matters and not filled with items I "might wear" someday.
Here are some rules to try to go by when you're trying to go through the motions on how to purge your closet:
Depending upon how many clothes you have, use a gauge. I have a ton of clothes, so as I was going through I kept thinking to myself, "for every 5 items, I'm going to get rid of 1 item."
Have someone help you out when you're purging. My advice? Get a girlfriend or a sister because they will tell you the truth. I know if I had my husband with me, he'd just be saying… "Yup, let it go!" I don't need that! LOL!
Remember that styles change and trends come and go. Don't hang onto something simply because it's in style at the moment, make decisions based on what you actually feel about something.
Once you're gone through each item and slowly put everything back into your closet, and don't worry – I have you covered over here on the best way to organize your closet. I really want you to take a moment to read that post because I think it's super helpful for you once you've purged! But now you're staring at piles of clothes that you don't want back into your closet. The best thing now is to do 1 of 3 things:
1. Donate the items that you don't need/want anymore.
2. Sell some of the items on eBay or Poshmark, make a little extra money for items you don't wear anymore.
3. Take a moment to let some friends and/or family go through the items and see if they want anything. It's up to you if you want to charge them for anything, but I personally love being able to see my mom or sister excited about items that I don't use or wear any longer! It's like a garment getting a 2nd life! 🙂
I hope these tips and advice help you out! I think it's great to share and give ideas on how to best work through a closet. With the New Year being here, now is the best time to get it done!
Please don't forget to join my Daily Dose of Style FACEBOOK GROUP! This has turned into my favorite spot online and I love sharing there every single day! It's been an outlet for me to be open and honest about my fashion loves! It's a great place to learn new things, so I hope you come on over!
And for all of my mama friends! I also have a Fashion Over 40 – Daily Does of Style Facebook Group that I would LOVE for you to join! I share trends and styles every single day in there, along with the best sales online for fashion. I fully believe that you can and should be able to look your best without breaking the bank. You want to feel confident and beautiful and you CAN! I hope my info helps! We have a ton of fashion fun in there! And you don't need to be 40 years old!!!!!!!

HEAD ON OVER AND JOIN US HERE!!!