If you know me, you know I love Mommy and Me Clothes. I'm all about matching with my daughter. Finding the best matching mom and me styles has become a hobby for me. I'm sharing my fave mommy and me outfits today on the blog. Showcasing where to mommy and me clothes for you and your daughter.
Mommy and Me Clothes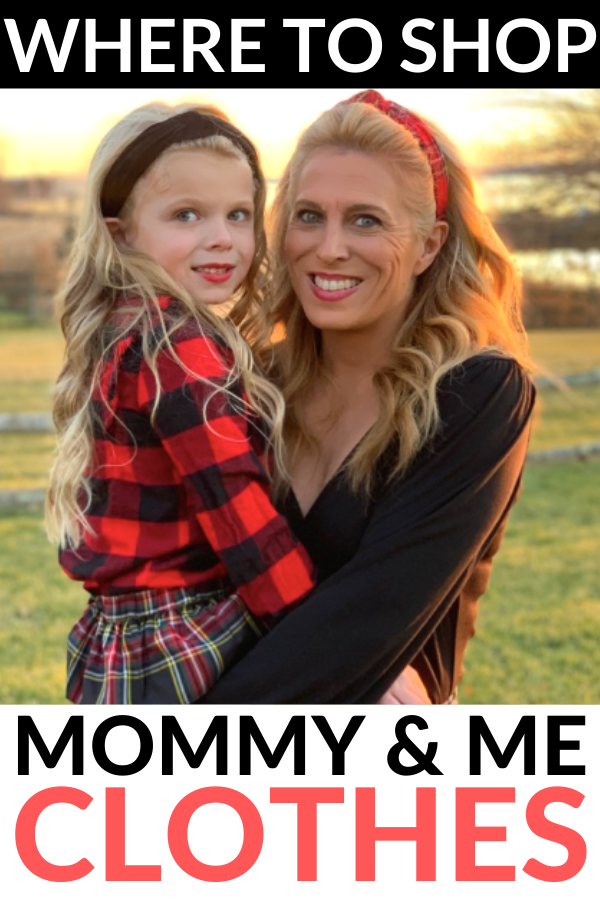 There's nothing like seeing my daughter's eyes light up when I buy us clothing that matches. She gets so excited when I do mommy and me clothes with her. It's something that has become our own special thing together. After having 4 sons, this is such a fashion treat that I get to do with my daughter. Knowing that she loves it, it makes it even sweeter for me, too.
On Christmas Eve I surprised my daughter with some matching outfits and it was somewhat of a crash and burn, except for the skirts. Those were the only thing that worked perfect! For the holiday I bought us matching headbands, skirts, tops and shoes! That's right – top to bottom with a matching out. We were so excited! Well… sometimes things don't always go as planned!
I wasn't able to find the black top that I bought Victoria, so that was a crash and burn right there! It was a cute little v-neck, just like mine. We couldn't find the matching plaid headband either. It was mysteriously gone in the house! It was sad because I knew she was excited to wear it with me. When I couldn't find it, she refused to wear it at all! I was able to convince her to wear the black satin one. And then the shoes! I bought her little brown booties that matched mine earlier this fall – well, guess what? NO WHERE TO BE FOUND!
She started crying on Christmas Eve because our Mommy and Me Clothes for Christmas Eve were exactly alike, but I showed her how they still matched and still worked! We each had these adorable plaid skirts on (which I love!). Her shirt matched my headband! And our shoes, though they didn't exactly match where both booties! Super cute with the skirts we were wearing! We might not be twinning to a T, but we were matching perfectly.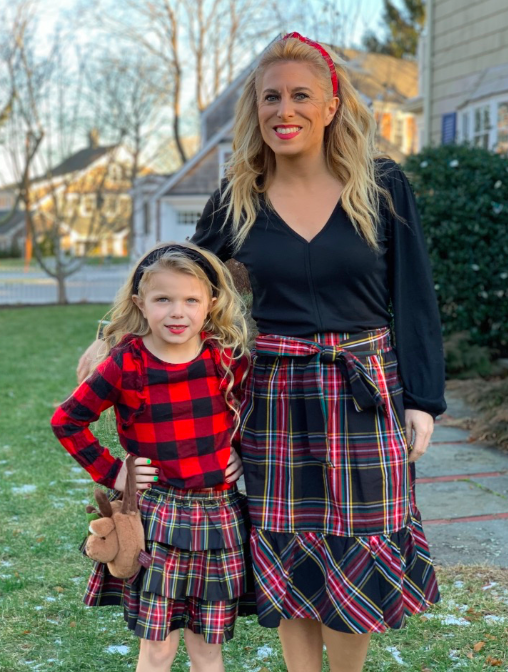 I'm going to break down our Mommy and Me Clothes for you! Everything we're wearing (except the shoes) is J.Crew. It's one store that I love for Mommy and Me Clothes and Outfits because usually there's something that works for the two of us there. Either a print we can both wear OR an actual twinning outfit that we can both wear. Either way, it works!
On Victoria:
Girls' square-neck top with keyhole in buffalo check plaid – We're mad for plaid, and this easy top in festive buffalo check plaid will become a go-to with all her favorite jeans.
Girls' ruffle tier skirt in Stewart tartan – This ruffled, machine washable (!) skirt is perfect for everything from a holiday dinner with Nana to twirling on a dance floor. (You can find a bunch of pieces in this particular plaid in our men's, women's and kids' collections. Why not deck the whole family out for way-cute holiday photos?)
Satin bow headband – The easiest way to up your hair game? This pretty satin headband with a dramatic bow.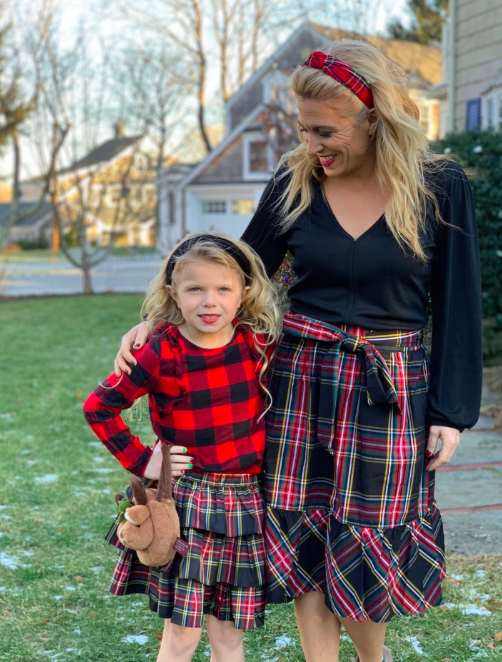 On Me:
Turban knot headband in red Stewart tartan – How to make a good hair day great? Add this of-the-moment knot headband. Fun fact: this red Stewart tartan pattern is the personal tartan of Queen Elizabeth II.
Big-bow midi skirt in plaid – Adorable big bow skirt for ladies! Such a classic print and the perfect skirt to wear through the winter months ahead!
Drapey ribbed V-neck top – Such a cute top to wear with just about anything! It's a flattering cut and works well with jeans, skirts, trousers, etc! It's the perfect top!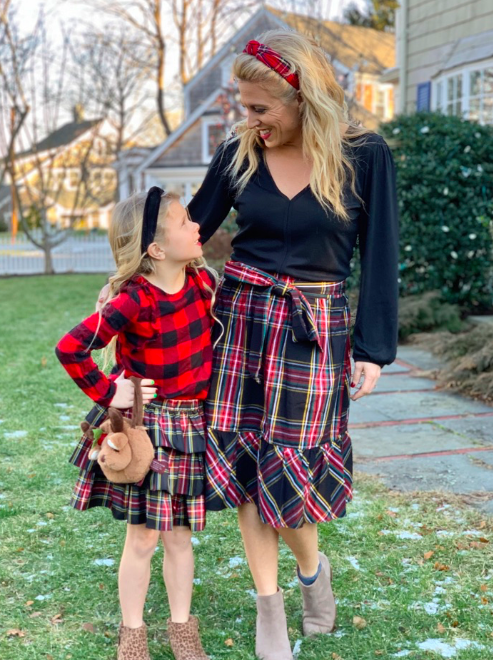 I have to say, there's just something special about being able to twin with your little one! Even mamas of boys! I used to do this all the time when the boys were young, too! I would find a pattern that we all could wear. The older they get, the more they want to stop – but I enjoyed it while I could! I'm still in the prime ages with my girl! I love it! It's just really fun to have those Mommy and Me Clothes moments!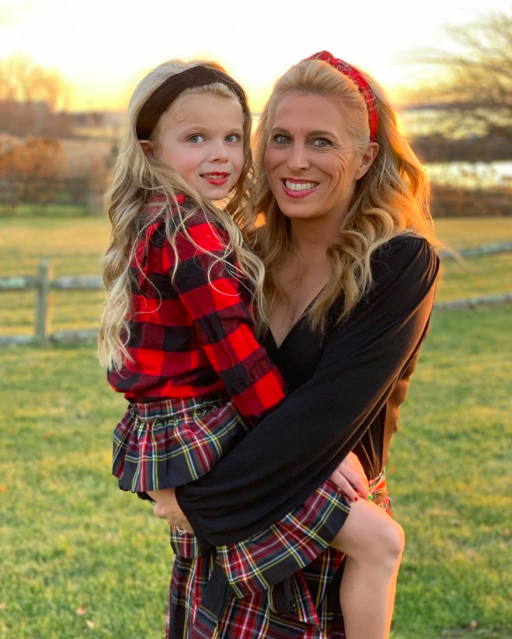 I've been doing this with Victoria since she was a little girl! You don't need to find outfits that are truly twinning, you just can be creative and find ways to make it work! I'll even buy girl sizes, too just so I can twin with her sometimes. It's just a fun way to have some bonding time with your little one!
We did some twinning with Faux Fur Jackets! This was a fun one because we both love faux fur! We still wear these!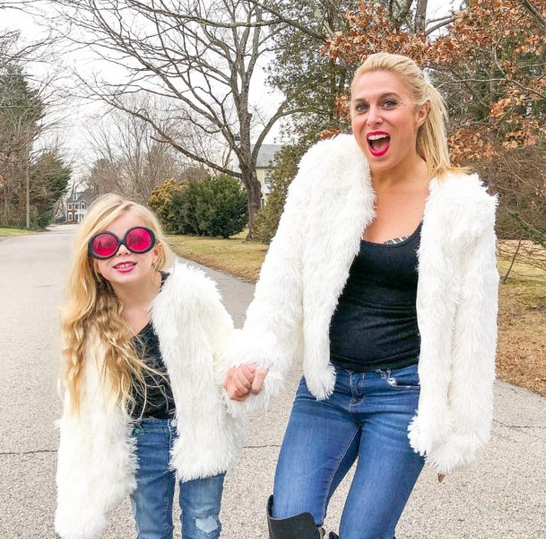 We had some fun with Mommy and Me Shoes! We had some matching shoes and we had so much fun with them! Sometimes all it comes down to is the shoes!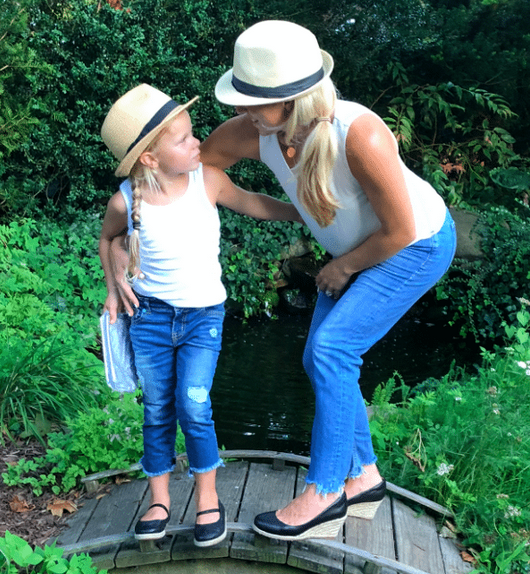 Please don't forget to join my Daily Dose of Style FACEBOOK GROUP! This has turned into my favorite spot online and I love sharing there every single day! It's been an outlet for me to be open and honest about my fashion loves! It's a great place to learn new things, so I hope you come on over! I'm also going to be starting a kid fashion one soon, too!
Loving this Fashion Over 40 – Daily Does of Style Facebook Group (that I would LOVE for you to join) and I share trends and styles every single day in there, along with the best sales online for fashion. I fully believe that you can and should be able to look your best without breaking the bank. You want to feel confident and beautiful and you CAN! I hope my info helps! We have a ton of fashion fun in there! And you don't need to be 40 years old!!!!!!!

HEAD ON OVER AND JOIN US HERE!!!