Everyone loves to find outfits that work for various occasions. A black wide leg jumpsuit is one of them. I'm all about having items in my closet that work for different events. This is one outfit that will work for many different occasions. I love being able to see how many times I can make an outfit work. It's something that I really get fashion excited about (sad, but true!).
Black Wide Leg Jumpsuit

I'm usually not a fan of jumpsuits, but I couldn't pass up this Black Wide Leg Jumpsuit when I saw it on Amazon. I had been hunting for one to see if I could make it work for myself. You see – I'm only 5 feet tall – so I wanted to make sure that if I bought one, it wouldn't look ridiculous on me. I'm someone who has always had to get items hemmed, so to be honest with you – I thought that was what I was going to have to do with this one.
I was wrong! The second I tried this Black Wide Leg Jumpsuit on, I loved it. I love the ruffle top and I love the form-fit to it without it being too tight! It's one of those pieces that I was referring to – I could wear this to work, but also wear it out on the town with my friends or a date night with my husband. This item is just adorable and by adding a little blazer OR moto jacket, the entire look would change, too.

This ROMWE Women's Sexy Casual Sleeveless Ruffle Trim Wide Leg High Waist Long Jumpsuit is only $23.99. This is a very cute piece and I promise you, even though the price is amazing – it's not super cheap. We all know it could go either way with Amazon items! I really think this one is a great score. Now believe me – it's not top of the time – but it's not going to fall apart after one wear.

Material: 97% Polyester, 3% Spandex, with a little stretchy, so please order ONE SIZE UP if you have a heavy size

Zipper closure
If you're interested in this one, the measurements are:
XS:Shoulder:12″, Bust:30.75″, Waist:25″, Hip:34.75″, Length:56.75″, Torso:13.6″, Pants Length:41.75″, Inseam:29.3″
S:Shoulder:12″, Bust:32.5″, Waist:27″, Hip:36″, Length:57″, Torso:13.8″, Pants Length:42″, Inseam:29.5″
M:Shoulder:12.75″, Bust:34″, Waist:28.5″, Hip:38″, Length:57.5″, Torso:14″, Pants Length:42.5″, Inseam:29.7″
L:Shoulder:13″, Bust:35.5″, Waist:30″, Hip:39.5″, Length:58″, Torso:14.2″, Pants Length:43″, Inseam:29.9″
XL:Shoulder:13.5″, Bust:37″, Waist:31.5″, Hip:41″, Length:58.5″, Torso:14.4″, Pants Length:43.5″, Inseam:30.1″

The best part about a black wide leg jumpsuit is that you can dress it up with some gorgeous heels! It's a wonderful way to make it work for a night out OR some classic heels for work. I also feel that (depending on your height) you could easily wear this with some sandals or espadrilles, too. I think it's perfect for an occasion that requires something classic and elegant.
I'm also excited to share some other black wide leg jumpsuit options. Since black is such a classic option and can easily work with just about any occasion, I'm just going to share the black wide leg jumpsuit options. I love these because they'll all under $250. Don't forget that on an amazing item like this, you can wear it so many times! I've worn this one a few times since I bought it this October! It really is a classic to have in your closet.
The only other jumpsuit I own is my PINK one! I bought this years ago and it's still one of my husband's favorite! This pink jumpsuit has been good to me in terms of wearing it to a wedding, a work event and out and about with my husband! It's a sexy style, plunging neckline (which I do like!)… but it's not something that I can wear to a local PTO meeting. I mean, I COULD… but it's not appropriate!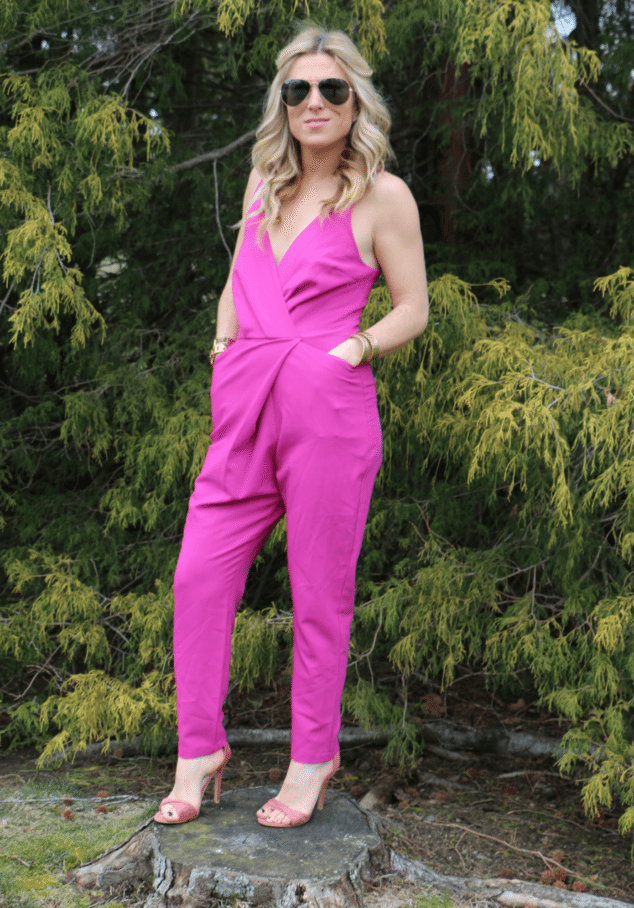 It's cute, right? I love this one because it also fit me length wise perfectly, too! I love that it's another go to item – just like a black wide leg jumpsuit. If you're thinking of getting one, I would go with a basic color before a loud one!
Some of the biggest questions when it comes to jumpsuits:
How do you go to the bathroom in a jumpsuit? Well – it's not super easy, but it's doable. You need to actually pull the entire jumpsuit down to go. Hey – I'm talking honest fashion here. If you're looking for an item that's easy on and easy off, I'm not sure this is the right choice. BUT! And here's the good news, it is an awesome item to have to deal with this little fashion snafu.
How do you know if a jumpsuit fits perfectly well? You need to try on a few to make sure you have the right one. Don't ever think that you can get a jumpsuit altered. I'm telling you right now – you can get it hemmed or pinned or tucked it need be. I'm all about making sure you have an item that fits you like a glove. You don't want anything too loose or too tight.
Want to know more about Jumpsuits?
Please don't forget to join my Daily Dose of Style FACEBOOK GROUP! This has turned into my favorite spot online and I love sharing there every single day!
It's been an outlet for me to be open and honest about my fashion loves! It's a great place to learn new things, so I hope you come on over! I'm also going to be starting a kid fashion one soon, too!
Loving this Fashion Over 40 – Daily Does of Style Facebook Group (that I would LOVE for you to join) and I share trends and styles every single day in there, along with the best sales online for fashion.
I fully believe that you can and should be able to look your best without breaking the bank. You want to feel confident and beautiful and you CAN! I hope my info helps! We have a ton of fashion fun in there! And you don't need to be 40 years old!!!!!!!

HEAD ON OVER AND JOIN US HERE!!!