Looking for easy fashion choices for moms? These are the best jumpsuits for moms for you to wear this spring and summer. These are my top 4 choices and styles when it comes to finding the perfect jumpsuit.
Best Jumpsuits for Moms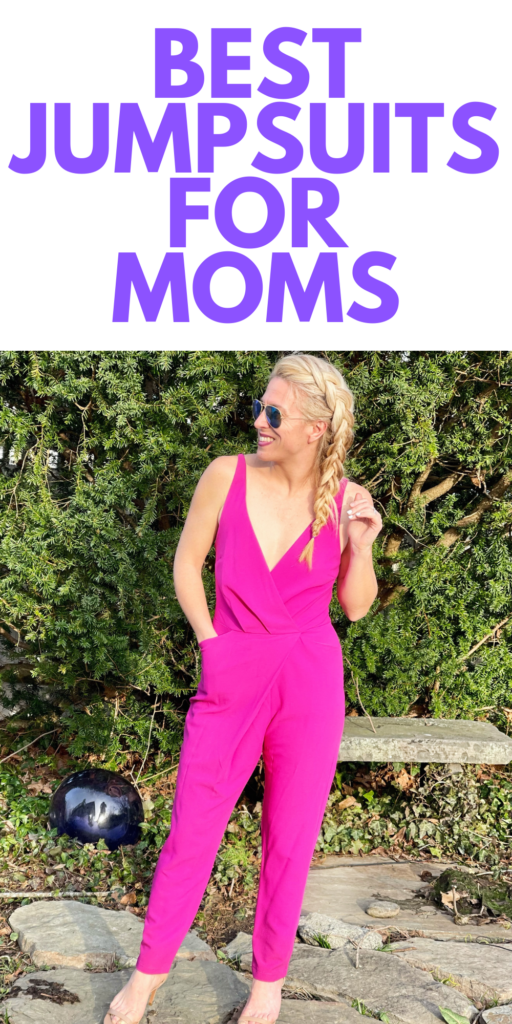 When it comes to finding a comfy jumpsuit, it's important to look for the kind of fabrics you like the best. I'm all about comfortable cotton blends. These are the best jumpsuits for moms to look for when searching high and low for some new spring fashion items.
A jumpsuit is a one-piece garment with or without sleeves, with pants. These are such easy garments to wear to work or just out and about. Jumpsuits are simple fashion items that are great to toss on when you're looking for something quick and easy.
Deep V-Neck Jumpsuit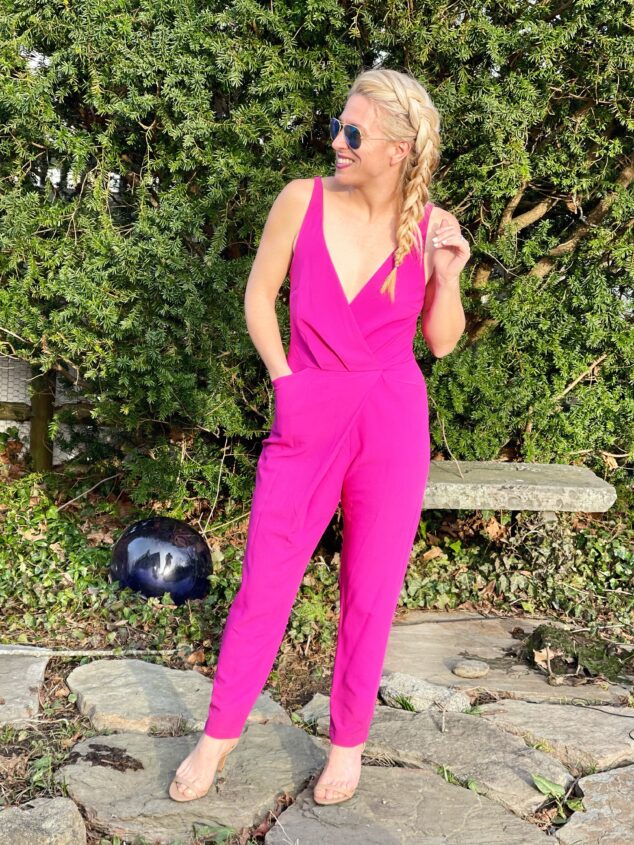 I love this deep v-neck jumpsuit because it's great for a night out and for work. It's a pretty deep pink color, which I personally love too. This is one of my best jumpsuits for moms because it's a pretty and elegant item to have on hand. I love that you could make this work for a wedding or even just a night out.
Here are some jumpsuits like this one:
Jersey Cotton Jumpsuit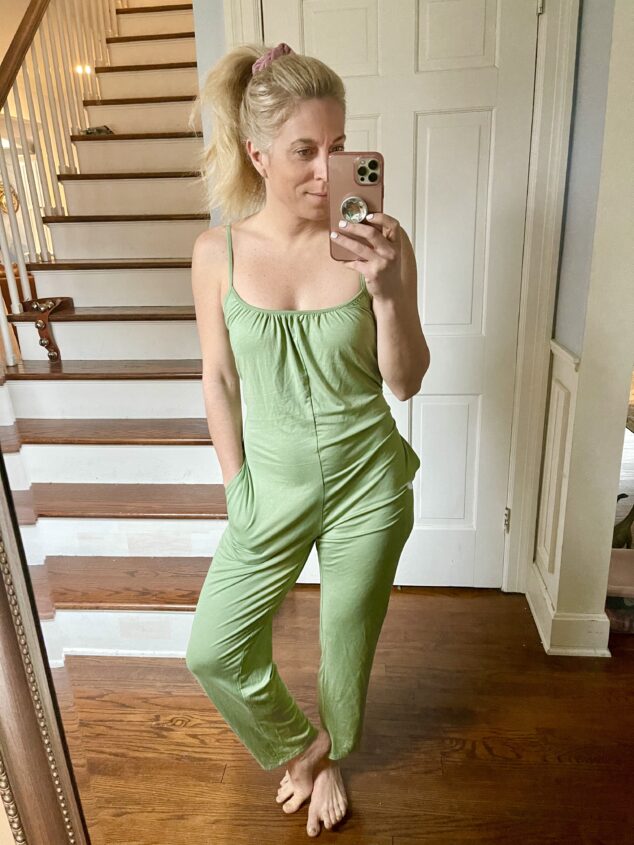 This is a great jumpsuit for moms when they're just looking to hang around the house. This is not a jumpsuit I would necessarily wear out and about. This one is strictly for a day at home. It's comfy. It's easy to toss on. It's a perfect item to lounge in for the day.
Here is where you can find a jumpsuit like this one:
Built-in Bra Jumpsuit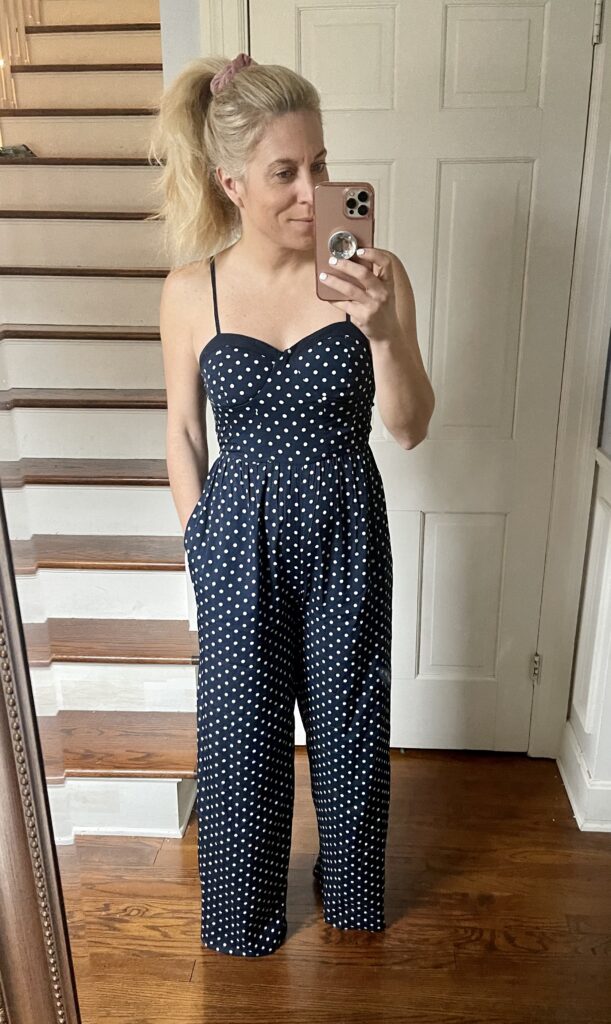 If you're looking for jumpsuits to wear to work, there are a bunch of options out there. I'm obsessed with polka dots right now, too. If you're looking for a perfect jumpsuit to wear to work, this kind of style is perfect. There's a built-in bra and it's beautifully appropriate.
Here are some options to buy jumpsuits like this:
Faux Dress Jumpsuit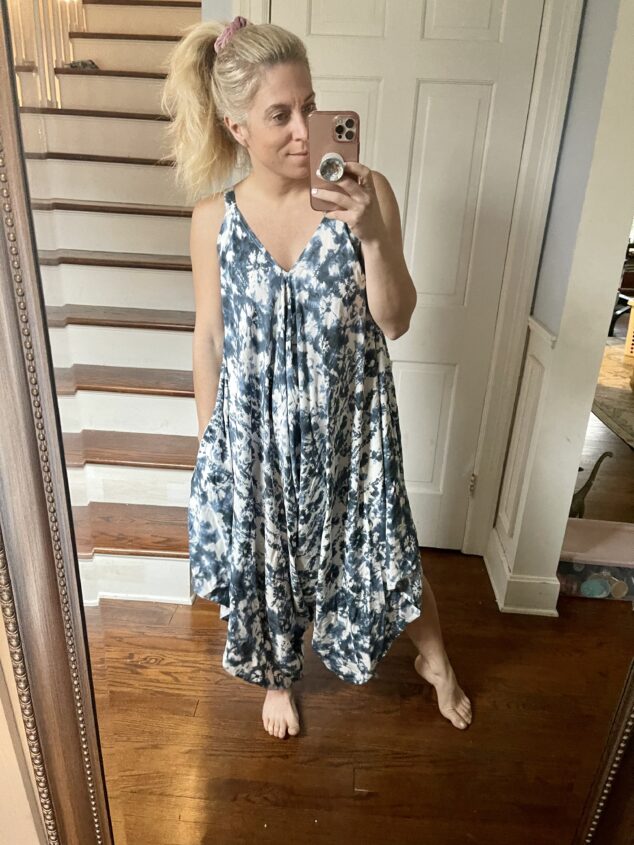 Looking for an easy jumpsuit that you can dress up? Try this "faux dress" jumpsuit. It looks like a dress, but it's a jumpsuit. I feel in love with this option. It's like a skort, but you're actually wearing shorts. This is such a fun one to wear and use. Keep these kinds of options in mind when looking for a jumpsuit.
Here are some jumpsuit options for you:
Hoping these jumpsuit options are perfect for your fashion life. There are 4 jumpsuit styles for you to bring into your life. These are so great for you to wear every day or just when you need a quick fashion fix.
If you love jumpsuits, you will love these other fashion items for moms, too:
Follow me on Instagram where I share new hairstyles every single day (especially if you love my braid).