Looking for ways to bring the COZY back into your life? Bring on the sherpa fleece jacket! I'm all about cozy and warm in the colder months. I don't like being too cold (who does, right?), so I love to layer up whenever I'm outside. I've never owned sherpa clothing items before, so this was the first season I went sherpa crazy with some must have items!
How to Wear Sherpa Fleece Jacket
When it comes to winter clothing items, you need to make sure you find items that are perfect for the weather at hand. Living in New England, I know that it gets super cold in December, January and February. I'm all about stocking up on items that will keep me toasty from top to bottom! I'm not a huge fan of always wearing the bulkiest coats, so this season I went all in on sherpa fleece items.
I'm someone who hates to spend a ton of money on items that truly are season and potentially a quick hot trend! When it comes to investing in pieces, I like to make sure they're items that I will wear every winter season. Sherpa fleece is one of those trends that I know will always (and forever) be hot! So how to wear a sherpa fleece jacket without feeling like the sherpa is owning you? Easy! You need to layer up.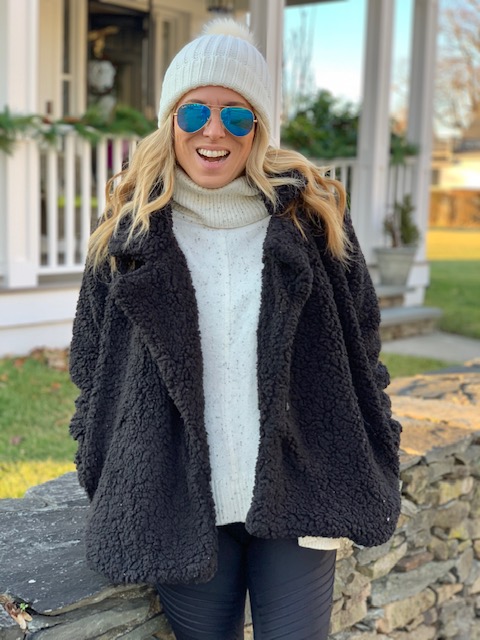 What to Wear with Sherpa
On New Year's Day we went to my parents house for a New Year's Day feast! I'm going to be honest with you, I dressed up with my daughter the day before with some Matching Mom and Me outfits, so I didn't feel like getting too fancy. There's one thing I love about going to my mom and dad's house, anything goes! You can relax and put your feet up and not worry about having to get dressed up!
I decided to plan my outfit around my sherpa fleece jacket because I love wearing it all the time. I feel like it's kind of like wearing a robe out and about! It's acceptable and nobody really cares you have it on! I kind of think of it as a sherpa blazer! It's a top layer over whatever it is that I'm wearing that particular day! I love it and I love feeling the cozy love in it!
Since I knew I'd be eating a ton, I wore my favorite New Balance leggings on the bottom. These New Balance WP83109 Captivate Tights are the most comfy ever! You can workout in them and also wear them as leggings! Nobody will ever know that they're actually workout pants. They're so cool looking, it's awesome to have these as a go to option!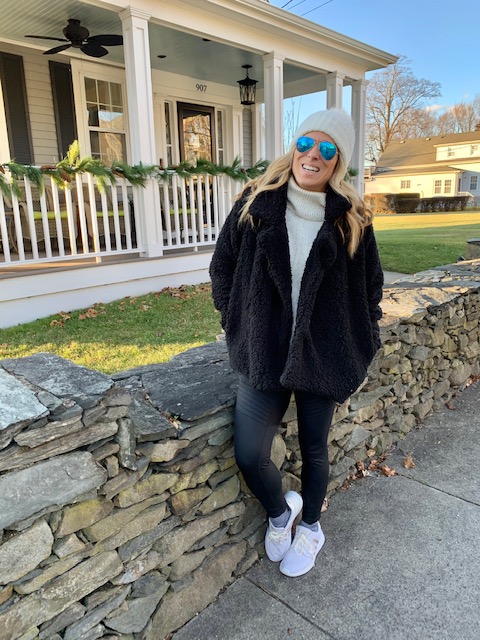 New Balance Captivate Tights: The stretchy poly/spandex knit fabric features moto-inspired detail on the front of the leg and shiny cire print detail that commands attention while adapting to your movements. The contour waist features interior mesh for breathability.
Looking pretty comfortable, right? Here's one thing I've learned about wearing a sherpa fleece jacket, it makes everything else you have on extra cozy! It's just an easy layer to toss on over any kind of bottom (jeans, skirts, leggings, trousers, etc).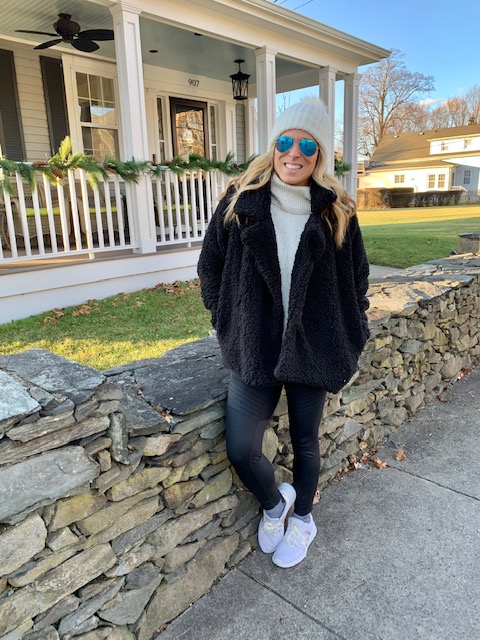 Are we ready for the layers that you should be wearing underneath your sherpa fleece jacket? I'm all about the coziest sweaters, too! I'm a lover of a poncho sweater. Basically a poncho sweater only differs from a poncho in the sense that it actually has sleeves for you to put your arms through and wear as an actual sweater. It's not too oversized or too bulky, it's flattering with just about anything on the bottom! The sherpa on top adds an extra flair of cozy!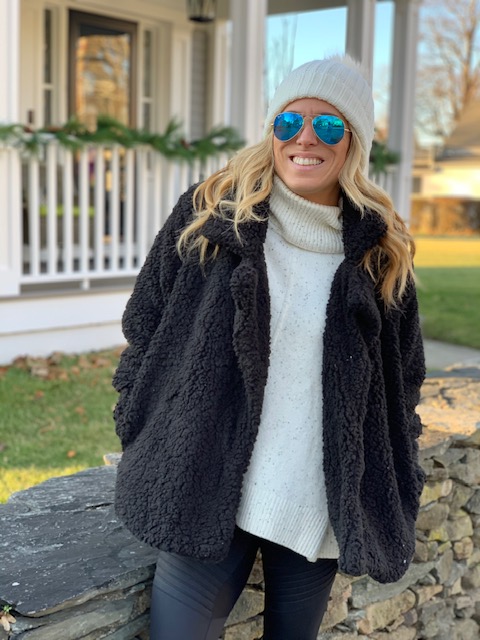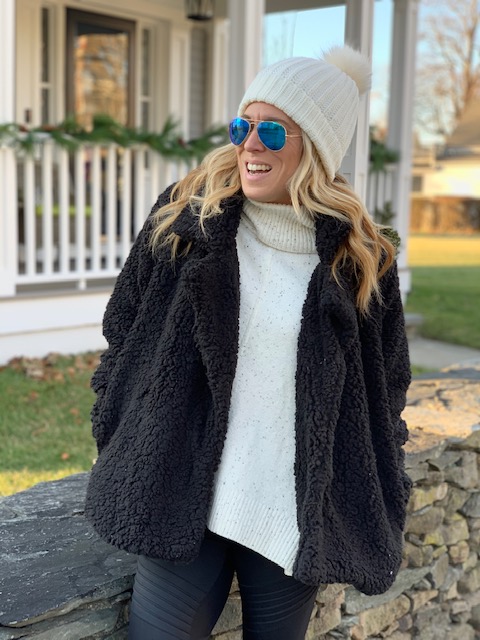 What to wear some on top of your sherpa fleece jacket? Oh, that's an easy one! It's cozy to the max on top, too! See this pom pom hat? You'll probably see this on me throughout the entire winter! It's the most comfortable hat of all! I love a pom pom hat, they're chic and trendy and just CUTE! They just make a look POP and I love that about them!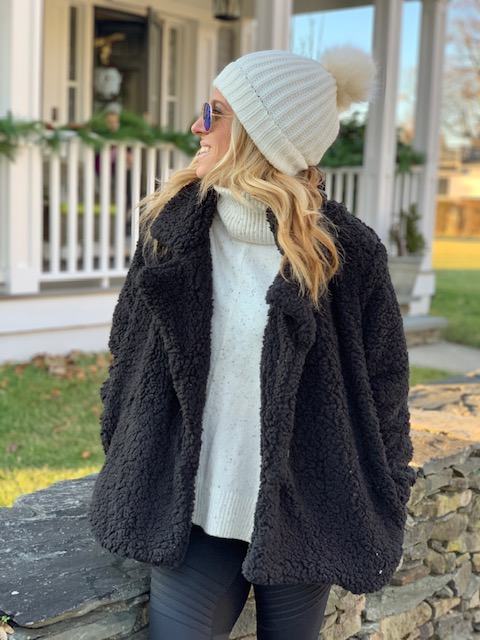 I knew that my outfit was complete with all of these pieces together! The extra layer on top just makes everything work. When you're thinking and looking about the best fleece to wear with your winter looks, you want to make sure you have a comfortable look. I'm going to be honest, I really do think you could dress up a sherpa fleece. I know not everyone would agree with me and (YES) I would gravitate towards more casual looks with it, but I think it's beautifully versatile!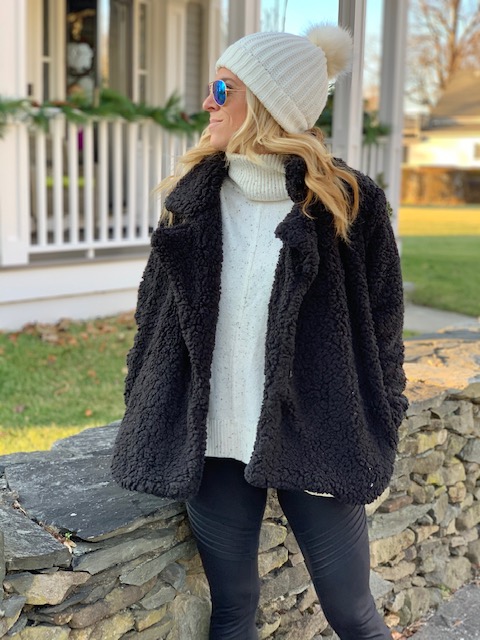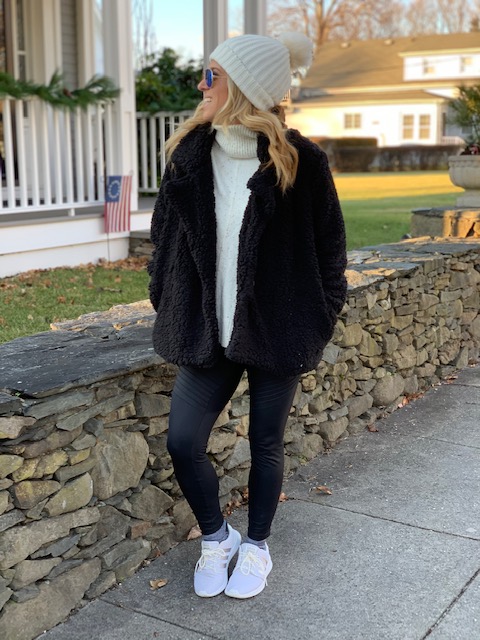 Hoping this look helps you! I would say that you could easily pair with some other things, too!
You could also go with a denim shirt, flannel blouse, crewneck sweater, v-neck sweater and a basic cotton tee! You could also pair it with skinny jeans, cords (which are always in chic!), joggers, pencil skirt, etc. I love that it really is the kind of layer you just need to find what works and go with it!
Here's where you can purchase this outfit. All links are below, if anything is out of stock – it will let you know! I tried to make sure I gave you some options, too! I think it's important to show what I'm wearing exactly – but also some other options, too!
Please don't forget to join my Daily Dose of Style FACEBOOK GROUP!
And for all of my mama friends! I also have a Fashion Over 40 – Daily Does of Style Facebook Group that I would LOVE for you to join! I share trends and styles every single day in there, along with the best sales online for fashion. I fully believe that you can and should be able to look your best without breaking the bank. You want to feel confident and beautiful and you CAN! I hope my info helps! We have a ton of fashion fun in there! And you don't need to be 40 years old!!!!!!!

HEAD ON OVER AND JOIN US HERE!!!