These are the cutest Minnie Mouse Cupcakes for Valentine's Day. If you're a Disney fan, you will fall in love with these easy-to-make, adorable cupcake options for Valentine's Day! These are a perfect treat for your kids for the big day of LOVE!
Minnie Mouse Cupcakes for Valentine's Day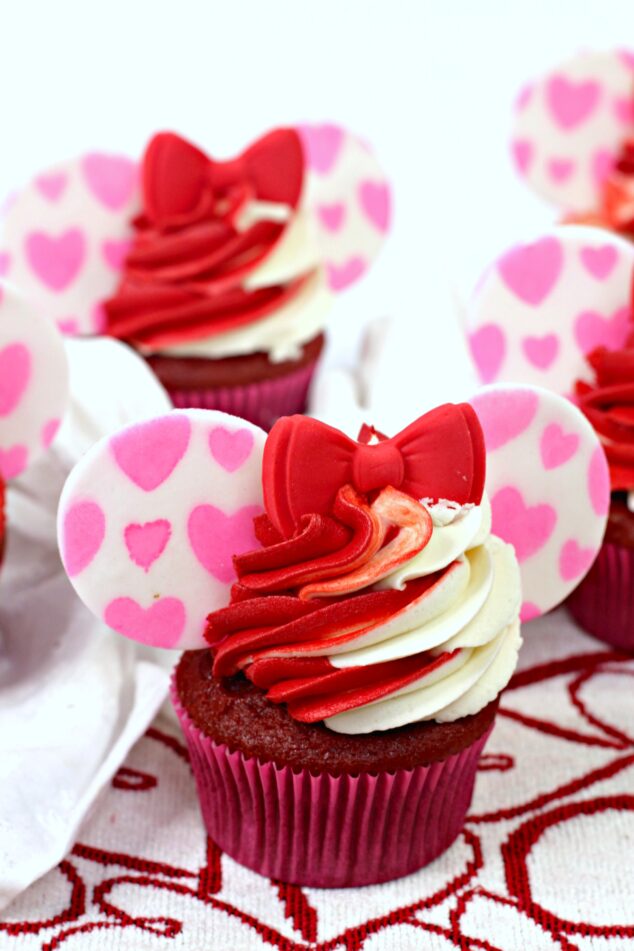 My daughter is a Minnie Mouse fan, a HUGE ONE! We just went to Disney On Ice here in Providence and loved it. Whenever she can bring Disney or Minnie or Mickey into her life, she does. She's also a big cupcake lover, which I think is adorable because I'm a big cupcake lover, too. Actually – if I could only bake one thing for the rest of my life it would be cupcakes!
These Minnie Mouse Cupcakes were like hitting the lottery the second I saw them. I knew they would be absolutely perfect for Victoria and Valentine's Day dessert time! If your someone who is looking for a fun Valentine's Day Cupcake recipe, this is it! And the best part is, too? That these Minnie Mouse Cupcakes would be perfect to make year round! You don't just need them for Valentine's Day!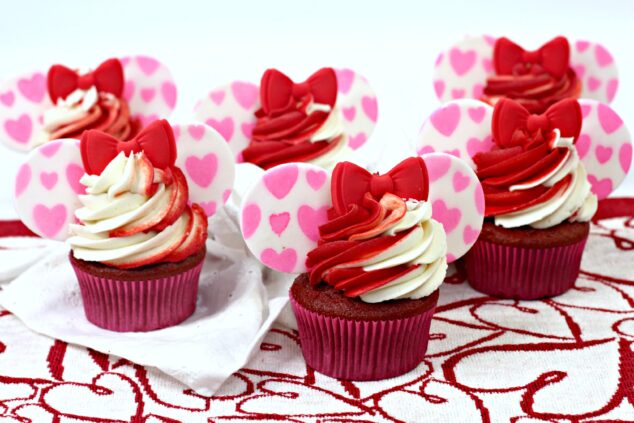 So the Disney magic to these Minnie Mouse Cupcakes are the ears! It's the ONE thing that you need to make for these cupcakes. I'm also sharing the yummy cupcake recipe here, too! It's the best and yummiest recipe of all! But the best part is when you get ready for the magical part, which is the actual EARS! They're made with Fondant! Let's start with the EARS first!
For full disclosure with this recipe, it makes 22 cupcakes. Just want to make sure you make enough cupcakes for the ears that you're about indulge with and make for this fun and magical recipe!!!
Fondant Ears
1 package of Wilton white fondant 
1package of Wilton red fondant
1 2inch round circle fondant cutter
1 edible pink spray
1 Wilton bow fondant mold
1 heart stencil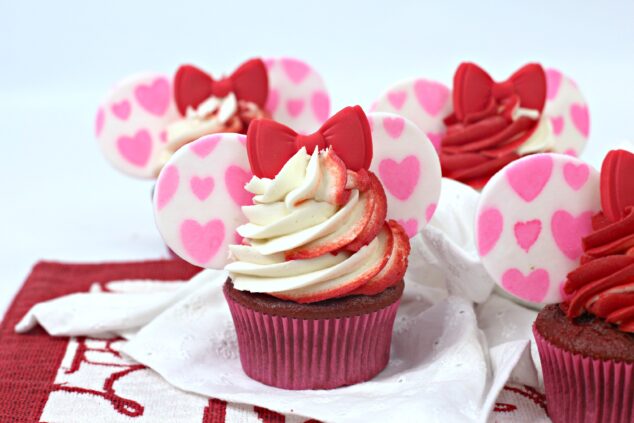 Directions for the Minnie Mouse Cupcake EARS: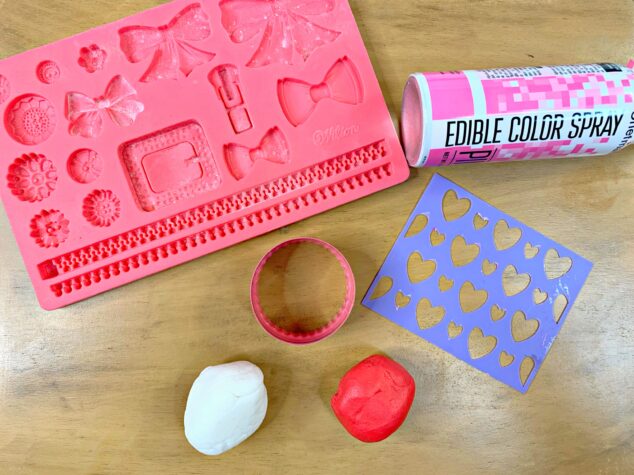 Lightly brush your bow mold with powder sugar 
Pinch off 1 tablespoon of red fondant and push into a bow mold of your choice 
Create 22 red bows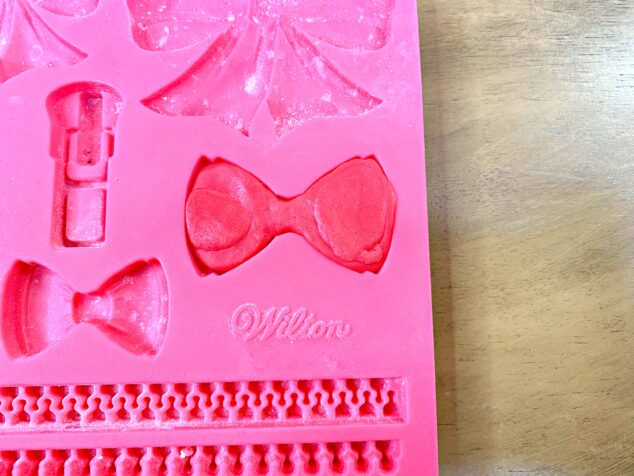 Set aside on a plate to allow to air dry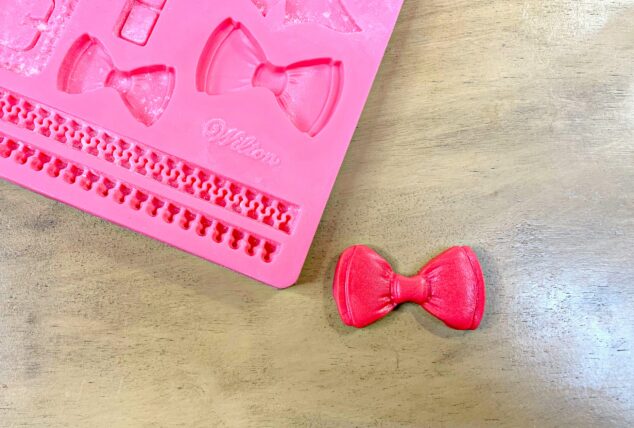 Lightly sprinkle powder sugar onto a cutting board and roll into a ¼ inch thickness 
Cut out 44 round circles for the ears and set aside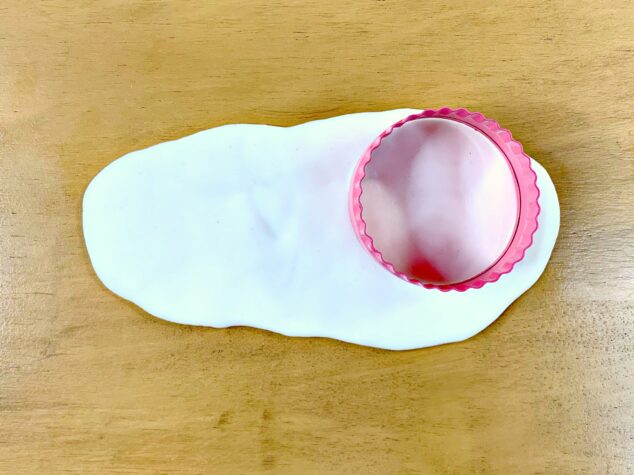 Allow to dry for a few hours
Lay out 4 sheets of paper towels or scrap paper to avoid painting your counters.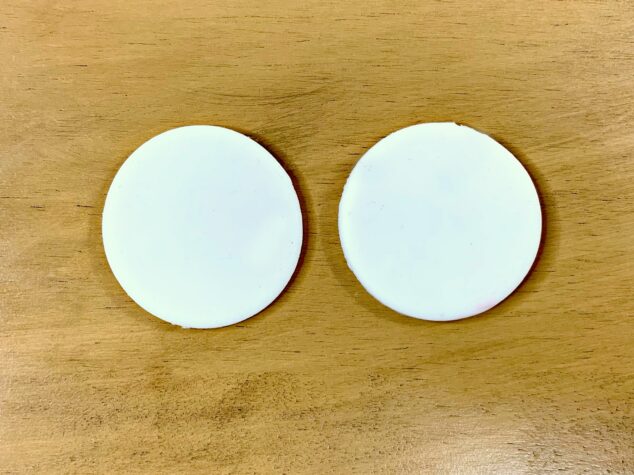 Place two ears at a time onto the paper
Place the heart stencil onto the two circles 
Lightly spray the circles with the pink spray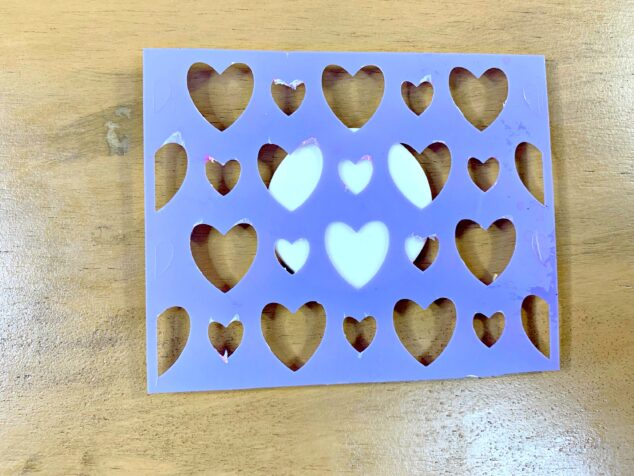 Carefully lift the stencil off the circles and move aside to dry
Repeat steps with remaining white circles 
Red Velvet Minnie Mouse Cupcakes Recipe:
INGREDIENTS:
2½ cups flour
1 tbsp. cocoa powder
1½ tsp. baking soda
½ tsp. salt
½ cup butter, soft, plus 4 tbsp.
¼ cup softened shortening
1 cup sugar
1 egg
1 tsp. vanilla
1 TBSP Red Velvet extract
1 cup milk
1 tbsp. Red gel food color
Cream Cheese Frosting:
1 C unsalted sweet cream butter, softened 
4 oz cream cheese, softened 
4 C powdered sugar 
1 tsp pure vanilla extract 
4-6 tbsp heavy whipping cream
red gel food coloring 
1 large piping bag fitted with large star tip
Cupcake Directions:
Preheat oven to 350 degrees and line cupcake pam with liners
In a large bowl, whisk together the flour, cocoa powder, baking soda and salt together
Using a standing mixer, beat together the butter, shortening, and sugar until light and fluffy
Mix in the egg, vanilla, red velvet extract and red gel food coloring until combined
Alternating between the dry ingredients and milk, Gradually mix in the both ingredients into the mixture until combined
Scoop batter into the cupcake pans, filling 3/4 of the way
Bake in the oven for 21 minutes
Allow to cool completely
Frosting Directions:
Using a standing mixer, beat together the butter, cream cheese, powdered sugar, vanilla extract and heavy whipping cream until smooth and stiff peaks form
Split the frosting into two bowls
Add a few drops of red food coloring into one bowl and mix until combined
Frosting and Decorating Directions:
Place the piping bag into a large cup and fold the sides over the edge
Scoop some red frosting in the piping bag in 4 lines
Scoop white frosting into the piping
Pipe the cooled cupcakes with the frosting
Place a red bow into the center of the frosting 
Place two ears on the side of the bow
How adorable are these cupcakes? You assemble them in the most perfect Minnie Mouse EARS! Aren't these great? I think what makes these cupcakes are the cute red bows! They are just CLASSIC MINNIE MOUSE and I'm loving every single second of them!! These are such showstoppers for a Valentine's Day party OR for a class party for your kids!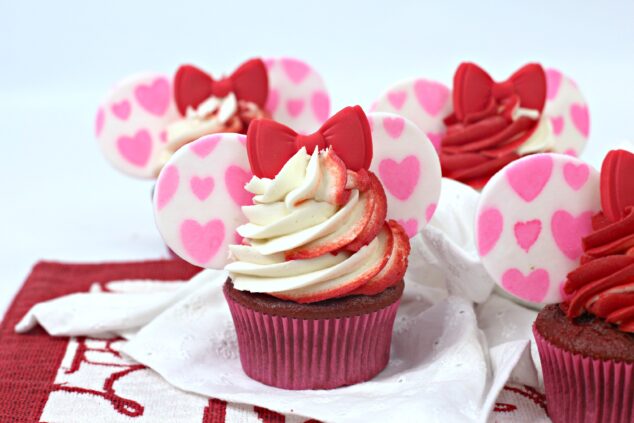 Love for you to try these cupcakes and tell me what you think! Share with me some of your other Disney ideas for Valentine's Day! I'm such a fan of making something super special for the big day of LOVE! Kids get so excited about Valentine's Day, at least my little one does! I love showcasing these show-stopping Disney Cupcakes for HER!
My daughter loves dressing up as Minnie Mouse, so I can see her wanting to go in full costume to her Valentine's Day PARTY! Here's a DIY Minnie Mouse Costume for you to have some fun with along your daughter! Love to see DISNEY MAGIC come alive! It's so much fun for little ones to have some DISNEY time throughout the year!
Here are some additional Valentine's Day Ideas:
101 Things to Do for Valentine's Day
If you're looking for a St. Patrick's Day Cupcakes, I've got these adorable ones, too! Make sure you keep on coming back for some more family fun on MomGenerations.com! I love sharing some of the best things we're doing in our family. I also love sharing fashion advice, too! It's something that I'm passionate about really love sharing with everyone!
Happy Valentine's Day EVERYONE!! Make it a day full of love with the ones you LOVE!