It's the perfect time of year to find some cute casual winter outfits. It's not cold everywhere in the world right now, but in New England it's very chilly during this time of year. It's important to make sure there are outfits that you have on hand as to what to wear in the winter.
Cute Casual Winter Outfits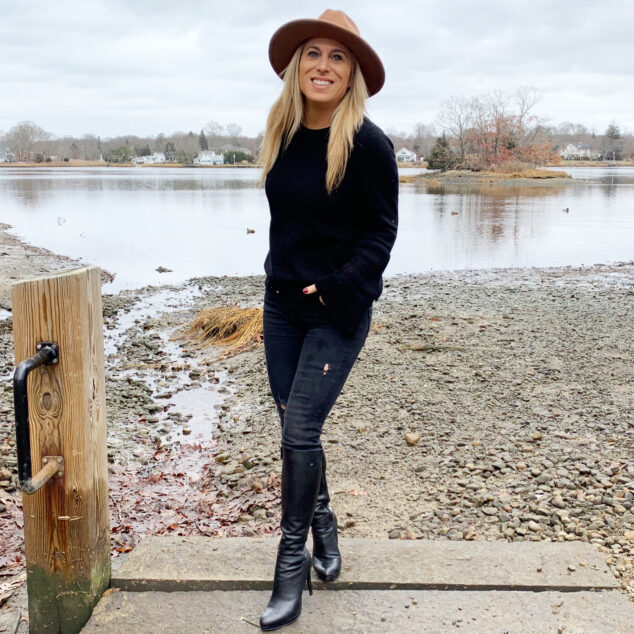 I'm all about having outfits on hand that are cute casual winter outfits. I'm not someone who has to dress up every single day for work, so I appreciate that I can wear casual styles throughout the week. Since it IS cold here right now, I can't be wearing tees and tanks so I have to rely on sweaters and jeans and boots. I love to find my go to looks because it just makes it easier in the mornings for me.
My mom used to always call them mom uniforms! You know what I mean? Uniforms that are just set for you and for your busy life. I feel like if you have some set "mom uniforms" on hand it will make your fashion mornings easier on YOU! Have a few of them that you know you can turn to in a quick moment. You know what you feel good in, so find those pieces and use them!
One of my favorite cute casual winter outfits is going monochromatic. If you're not familiar with monochromatic looks, it's when you wear the same color from head to toe. As you know – I'm a sucker for a fabulous wool fedora, so even though the fedora isn't black – the entire outfit is and it works easily and seamlessly. This is the easiest look for people because there isn't any worry about matching items together, they just go because they do.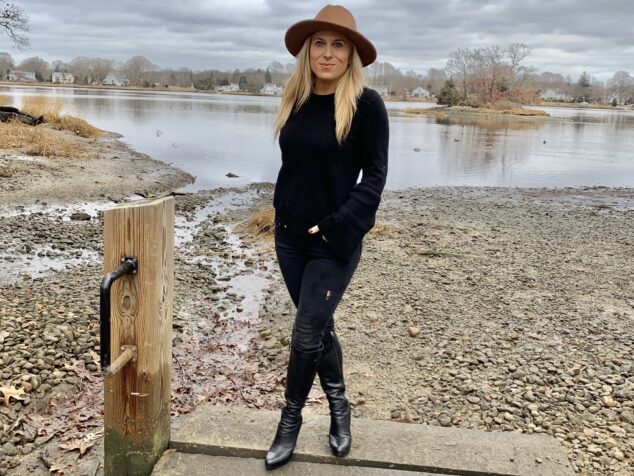 I love these cute casual winter outfits because I feel like most everyone has in their closet items that would work for this look. All you need to make this winter style work is black jeans, black sweater and black boots. It's just an easy style! I've had these black jeans for just about ever and this black sweater is something that's classic and essential. This is the kind of outfit that anyone and everyone looks the best in, so make sure you are set with this look!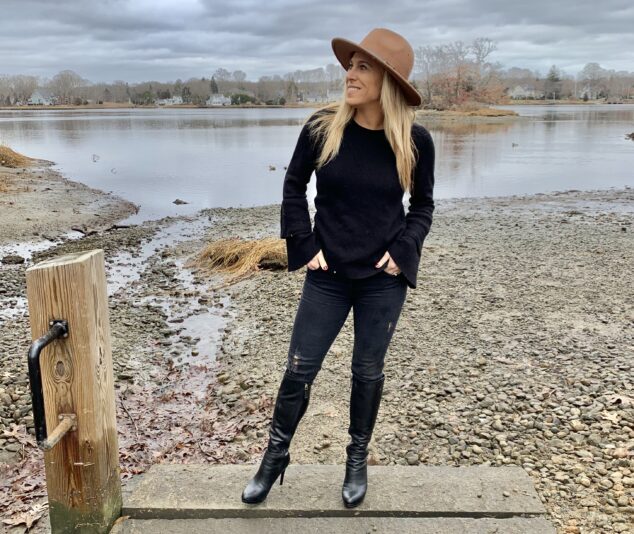 These specific black jeans are Old Navy jeans. I feel in love with these jeans when I first tried them on so many years ago, they're the Rockstar Style! If you haven't tried them, you need to try these on! They come in different lengths, too – short, regular and tall. This specific sweater is a basic crewneck sweater that I got at J.Crew years ago, but you can find ones like this everywhere. These tall leather black boots are my new favorite ones for the season! I just nabbed these on Black Friday for a crazy low price!
If you're looking for some additional cute casual winter outfits, I'm including 2 more along here, too! I'm wearing the same black jeans here, too because they're simply the best! I also love showing how you can wear the same item in a variety of ways. It's important to share the versatility of clothing items, too because it shows how it's extra worth the money.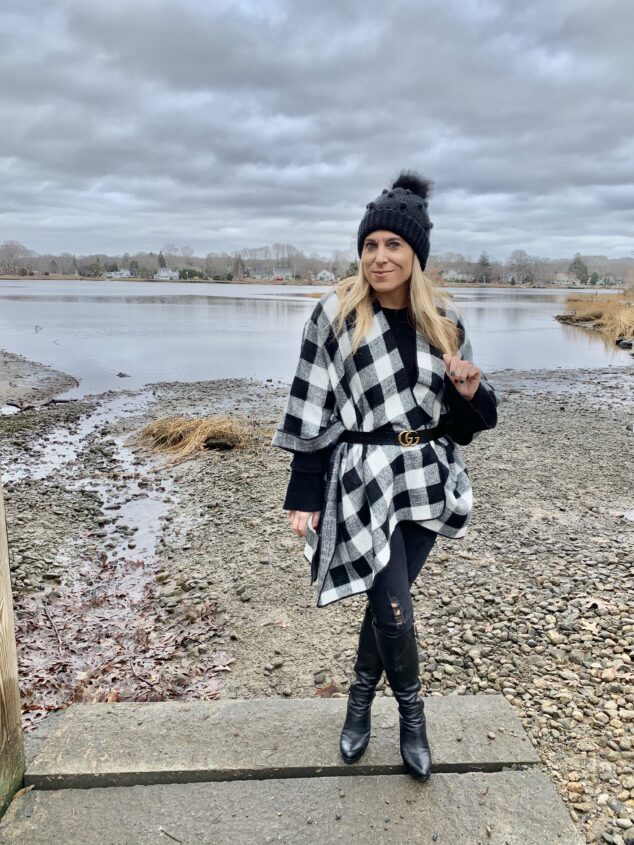 One of the best items to showcase with a pair of jeans is a cape scarf. You've probably heard me talk about cape scarves left and right on the blog, but I love them so much! I'm all about cinching them with a belt. Here's the trick (and I will show more of this trick in another post, too!) you want to make sure you're adjusting the belt directly over your belly button. This way it will hit directly at the right spot.
If you're not a fan of belts, the best way you can wear a cape scarf is just as is – a cape scarf! I love being able to have pieces like this that work as quick on-the-go pieces! They're just the kind of pieces that every woman needs in their closet because they know they work and they go with everything. The cool thing is that cape scarves go with any kind of jean – not just black! I'm telling you – buy one of these cape scarves now because they're on super duper sale!
Here's one of my faves over on LOFT right now! I love this one because it's reversible cape and you can get a couple different looks out of it! Head over to check it out: Reversible for an extra versatile twist, this houndstooth poncho does double style duty in pulling outfits together with polish.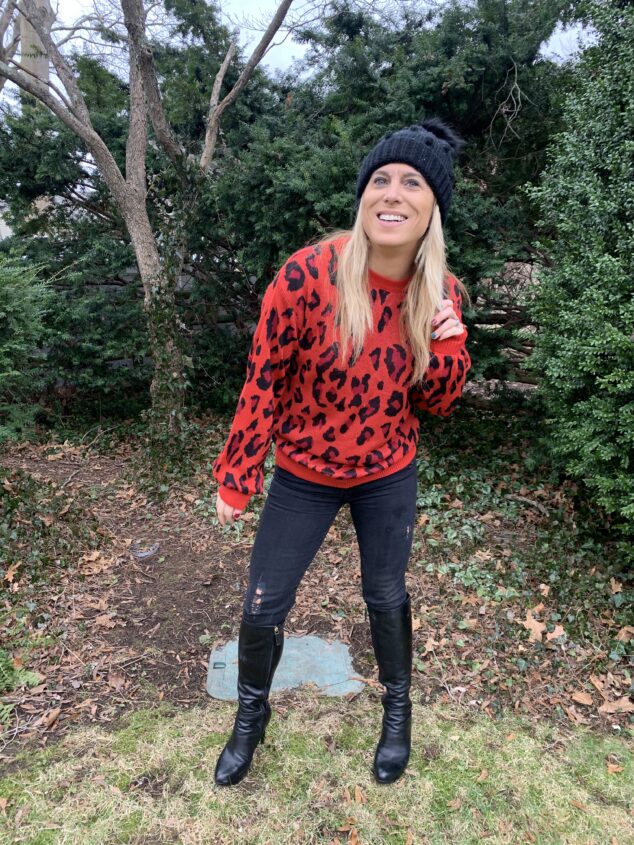 Another great cute casual winter outfits is this leopard sweater! I'm obsessed with leopard this season, it's everywhere and it's not going away. It's the kind of print that I feel will consistently be a classic print season to season. I haven't owned a leopard print that is red and bright before and I have to say, I love it so much! I think it's the kind of print that is fun and beautiful.
Don't be afraid to toss on some awesome pieces, too! I love me some sherpa fleece jacket fashion! Here's how to rock one for the future, too!
Please don't forget to join my Daily Dose of Style FACEBOOK GROUP! This has turned into my favorite spot online and I love sharing there every single day! It's been an outlet for me to be open and honest about my fashion loves! It's a great place to learn new things, so I hope you come on over!
And for all of my mama friends! I also have a Fashion Over 40 – Daily Does of Style Facebook Group that I would LOVE for you to join! I share trends and styles every single day in there, along with the best sales online for fashion. I fully believe that you can and should be able to look your best without breaking the bank. You want to feel confident and beautiful and you CAN! I hope my info helps! We have a ton of fashion fun in there! And you don't need to be 40 years old!!!!!!!

HEAD ON OVER AND JOIN US HERE!!!