I traveled to Salisbury, MD in September to visit the Perdue Farms headquarters to learn everything I could about the Perdue process. As someone who has grown up eating Perdue products, I was really interested to meet the team and the Perdue family to learn about their business. The one thing I will say is that when I left the trip, it really made me stop and think about my food. I got to see how a brand like Perdue cares immensely about their product and how they take each step in the process very seriously. There is love and passion at Perdue about bringing every consumer the best product possible. This is something they they've committed to and will always continue to provide.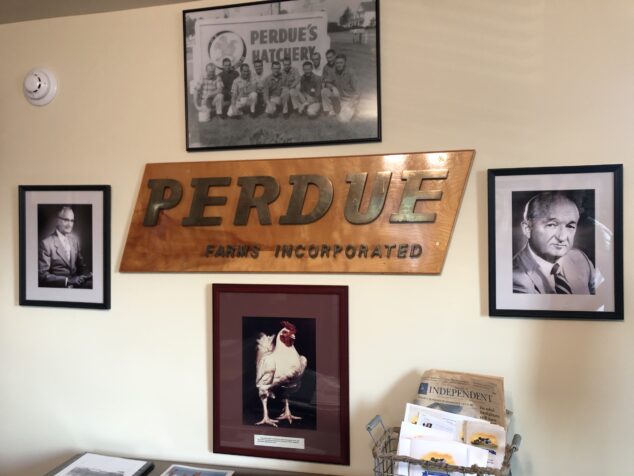 One thing about Perdue Farms that I love knowing is that they believe in responsible food and agriculture.®  While with the team in Salisbury, I really got to see this mission and responsibility up close and personal. It's not just something they say, it's something they believe and embody. Perdue Farms is more than just Perdue Chicken. Perdue has spent the last 10 years pursuing organic, pasture raised, grass fed and other premium attributes. I've continuously chosen Perdue Chicken throughout the years because I grew up on Perdue Chicken, but now being a mom of my own 5 kids… I've always loved seeing right on the package:
100% vegetarian fed
no animal by-products
raised cage free
no hormones or steroids
no antibiotics ever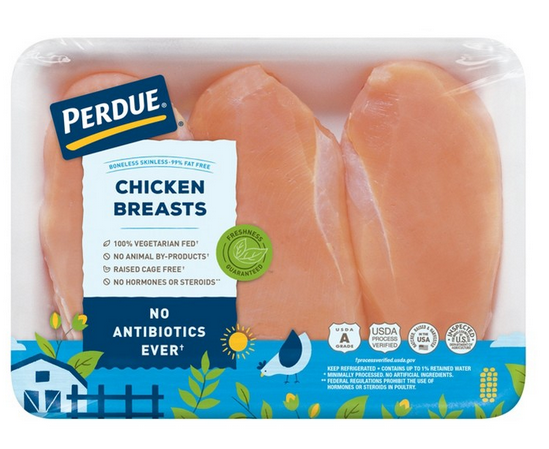 While visiting Perdue Farms, I had the opportunity to sit and chat with one of Perdue's Chicken Farmers. It was a mother and daughter team, whom I just personally loved. I didn't realize that Perdue raises 98% of its animals with small family farmers across the United States. When I learned this, the first thing I thought was that I love that small farms are able to partner with a big brand like Perdue to provide the best product for them. Perdue treats their farmers like family and this is something I really got to see and hear firsthand.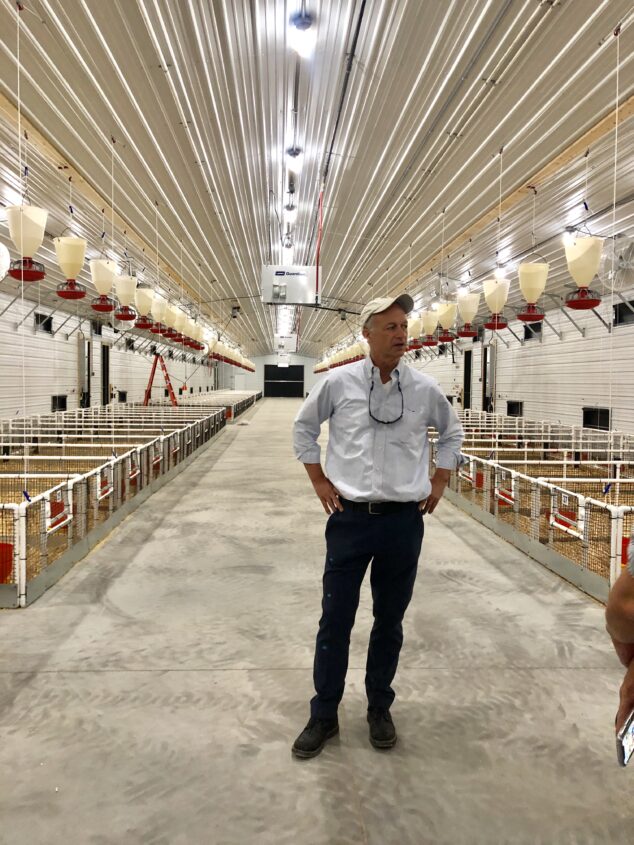 I was able to connect with Marylou by phone last week, the chicken farmer I had the opportunity to chat with while visiting Perdue Farms. I wanted to ask her a few questions for my blog and I was so appreciative that she took the time to chat with me on the phone. For me, it's all about the stories. I feel that I connect more with a brand and know more about a brand when I know the story. Marylou and her daughter have a passion for their farm and they are so determined and dedicated and devoted to doing everything they can to make sure they provide the best for Perdue. I remember seeing that passion in Marylou's eyes when I was with her and I heard it in her voice when we chatted.
I know I've said this before, but I'm a descendant of farmers. My great-grandparents in Michigan owned a farm, and I've loved all the recalling of stories from my Mom of both great passion and hard work. There's a great story at Perdue and I love that Perdue opened up the story for me and let me see it first-hand with Marylou.

When we first got on the phone, I thanked Marylou for her time and the first thing she said to me was, "I just want people to understand that we really care about what we do." I loved that because for her, it's personal. This is not only her passion, but her job and livelihood and it's very hard work. She's been doing this for 20 years, which is incredible. Actually – my first question to her was, "What made you get into this in the first place?"
"My husband," she said. "He directed his career in poultry science. He always wanted to work for Frank Perdue. And he did." Marylou's husband had to go back to work in the economic downturn in 2008, but as she told me, "He went to work and I stayed home to do the chickens. He helped on certain things when he could because he was the ventilation expert."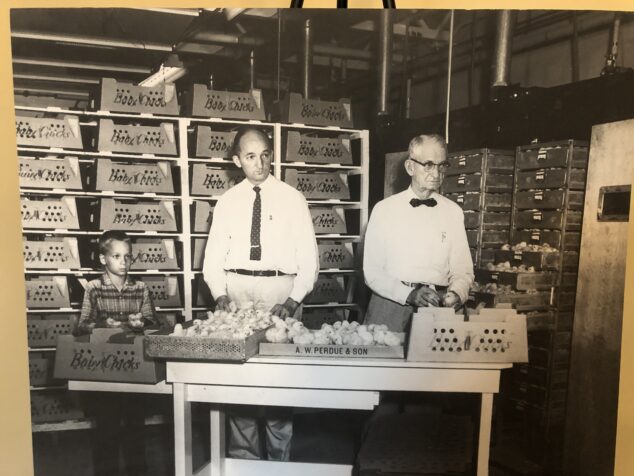 Marylou's husband passed away a few years ago and so it has been Marylou and Ashley running the family business on their own together. When I sat with them at a dinner while visiting Perdue Farms in September, I loved seeing their passion for working together. For me, this would be a true dream come true to work side by side with one of my children someday. It was incredibly amazing to see this.
I wanted Marylou to share with me what an "average" day is like for her when she and her daughter have chickens. She did let me know that every day does differ for various reasons, but in a nutshell an average day is a full day of work for her. Please note, too, that Marylou has 6 barns that she is walking through and checking:
6:30AM: Marylou is up checking to make sure the feed and the water is right. She expressed that it's an eyes on type of thing, so it's important for her to do this every morning. Marylou also takes this time in the morning to check the air quality, too. She expressed to me the importance of proper ventilation. After these rounds are complete, she will work on business bookkeeping until Ashley (her partner and daughter) arrives.
8AM-Evening: Marylou and her daughter go through each barn and check water consumption. She told me that water consumption should climb every day, so they need to make sure it's good. She said, "A healthy house of birds means good water consumption." They evaluate everything in the barns as they walk through and keep logs to make sure everything is recorded. They will also take this time to adjust water line height, look for any wear and tear on anything through the night, raise the feed pans and fix any issues. After the barns have had their walk-thru for the day, they will walk through their land and tend to anything that needs to be taken care of around the barns. Marylou also shared with me that with technology, she is able to do a great deal of checking on her phone, too… but that in-person checks are vital.
Marylou shared with me that she will be receiving her chickens this week and that she has them for about 54-56 days. She has 6 barns where each chicken gets 1.2 square feet of space. It's pretty amazing to see how much she is able to get done with her daughter, considering the amount of responsibility she has on her shoulders, but she loves hard work and isn't afraid of it.
I have so many takeaways from chatting with Marylou and listening to her talk through her business and partnership with Perdue Farms:
1. She loves Perdue and is just as committed as they are to making sure she is helping them product the best possible product for consumers. It's a true and utter passion. It's something that she is honored and feels privileged to do with Perdue Farms.
2. Perdue Farms truly does treat their farmers like family. I loved hearing that her husband always wanted to work for Frank Perdue. This is the kind of relationship Perdue has built with people. It's amazing to see this dream come true and how determined Marylou is to keep carrying it out for her family.
3. I love talking to business owners who just love hard work. Marylou didn't seem phased at all by the long hours or the hard work. It is what it is and that's just it. There's something pretty awesome about seeing this kind of work ethic from a Perdue Farms chicken farmer.
Perdue Farms is big on making sure that we all need to know where our food comes from. I can't thank Perdue Farms enough for the wonderful excursion to their offices and farms, but most important connecting me personally with Marylou. It really allowed me to see how dedicated everyone is to making sure you get the best possible Perdue products. It made me even prouder to have partnered with them as an ambassador.
Let me share with you my current fave from the Perdue Farms e-commerce site! They're making it easy for US to buy by offering products online!
Head to PERDUE FARMS:
Your guests may not agree on teams but they certainly will love this pack of party favorites. Our collection of heat-and-serve goodies features everything you'll need — from our boneless, glazed chicken chunks to shredded beef and zesty brats — to host a sports-themed gathering.
Bundle Includes (all frozen):