If you have gray hair, you need to be introduced to L'Oreal Magic Retouch. I'm telling you right now, it's so easy for you to use on your own. Hiding gray hair is something women have been doing for years and years. I love being able to share easy and quick ways to get it done!
L'Oreal Magic Retouch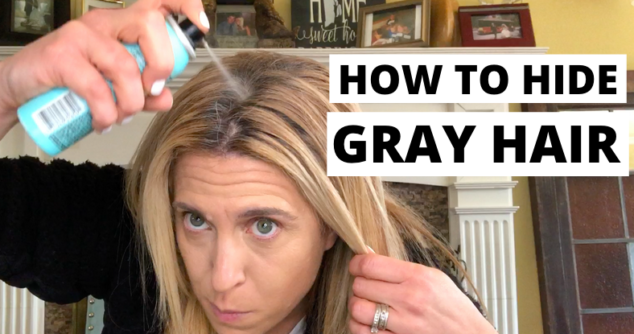 I started getting gray hair when I was in my late 20's. It's a genetic thing, so I wasn't really surprised. I'm going to be 100% honest with you – even though I wasn't surprised, it still didn't make it any easier for me. I actually hate that I have gray hairs popping up all the time. I'm not ready for salt and pepper hair. I'm still a blonde at heart and that's where I want my hair to stay.
I really don't have the time and/or the flexibility to get my hair done every 3-4 weeks, which is probably what I need. When I start to see the grays popping through, I usually just toss on a baseball hat or my fave fedora when it gets real bad. Another trick I have is that I can sometimes mask my grays when I curl or wave my hair. Every little hair tricks helps, so there's always that.
The worst part though – regardless of how hard I try, my root is ALWAYS there just staring back at me. Since I'm naturally dark, you can really see the grays coming in quick. I've been using my L'Oreal Magic Retouch on my hair for the last few months and it's been magical. There's no surprise the word MAGIC is in the name of the product!
L'Oreal Magic Root Cover Up is a great option when you're looking to hide our gray hair. It's funny – I don't really talk about using L'Oreal Magic Retouch a lot, so I love being able to share it here on the blog and over on YouTube, too! I thought it would be fun to create a video showing you firsthand how the L'Oreal Magic Retouch works!

Here are some of the quick highlights of L'Oreal Magic Retouch:
Temporary Root Cover Spray- conceals grays in seconds for flawless roots -Get seamless coverage with our lightweight formula that leaves no smudging or sticky residue when dry, and that's ammonia and peroxide free

Colored Hair Spray for Gray Roots- Perfect for in-between color or salon visits, Magic Root quickly gives coverage to grey roots within seconds and lasts until your next shampoo

Just a few pesky, scattered grays – Try our Precision Pen for more gray coverage, Magic Root Cover Up, the Number 1 root concealer in the world – For longer lasting gray coverage, use Root Rescue 10-minute permanent root kit

Match Your L'Oreal Paris Hair Color- Magic Root Cover Up shades are formulated to match your L'Oreal Excellence or Superior Preference shade, for an easy, quick fix between colorings

Get beautiful color from L'Oreal Paris hair color; permanent, semi-permanent, temporary hair color, and root cover up – Cover gray hair, highlight, go bold with bright color, or even try an ombre hair color
If you are thinking about getting L'Oreal Magic Retouch, here are the directions for how to use it (as you saw from the video above, too!)
1. Shake well.
2. Hold can 4-6 inches from hair.
3. Spray color onto new growth and partly through the length of the hair to blend in the color.
4. Take your fingers and then blend in the color if need be.
If you're wondering about color options for the L'Oreal Magic Retouch, you're in luck! There's one for just about every hair shade: –
Dark Blonde
Light Golden Brown
Light Brown
Medium Brown
Dark Brown
Red
Black
My advice is that don't be afraid to have a little fun with the colors. I don't mind experimenting with them. I'm a solid Light Brown, but I know that I can try the Dark Blonde, too. Make sure you find a color that you love and that will work with you and your coloring. At the price point of $10 and under, you can easily try and see what works. Don't be afraid to return your L'Oreal Magic Retouch if it's not working, too!
This is such a great option for you when you're looking to hide some gray hair. I wanted to show how you can easily use this at home and not worry about having to get to the salon every 3-4 weeks. I love that it's the kind of application you can do without tons of towels or (dare I say it) even help! I think it's just a great way for you to do your hair at home! I'm all about the seamless, practical beauty options.
Please don't forget to join my Daily Dose of Style FACEBOOK GROUP! This has turned into my favorite spot online and I love sharing there every single day! It's been an outlet for me to be open and honest about my fashion loves! It's a great place to learn new things, so I hope you come on over! I'm also going to be starting a kid fashion one soon, too!
Loving this Fashion Over 40 – Daily Does of Style Facebook Group (that I would LOVE for you to join) and I share trends and styles every single day in there, along with the best sales online for fashion. I fully believe that you can and should be able to look your best without breaking the bank. You want to feel confident and beautiful and you CAN! I hope my info helps! We have a ton of fashion fun in there! And you don't need to be 40 years old!!!!!!!

HEAD ON OVER AND JOIN US HERE!!! I also share beauty tips there, too. If you have anything that you want listed, let me know, too!
Make sure you share with me if there's something you love and I missed it on the blog! See my last post on tarte Shape Tape Concealer! I share something on the fashion and beauty front every single day and I love it.