With the spring coming soon, it's time to find some casual jackets for your closet. I just found the cutest white ladies jacket last week and it gave me the inspiration to blog more about it. I can't wait to share with you today 8 casual find I found on the white jacket front.
White Ladies Jacket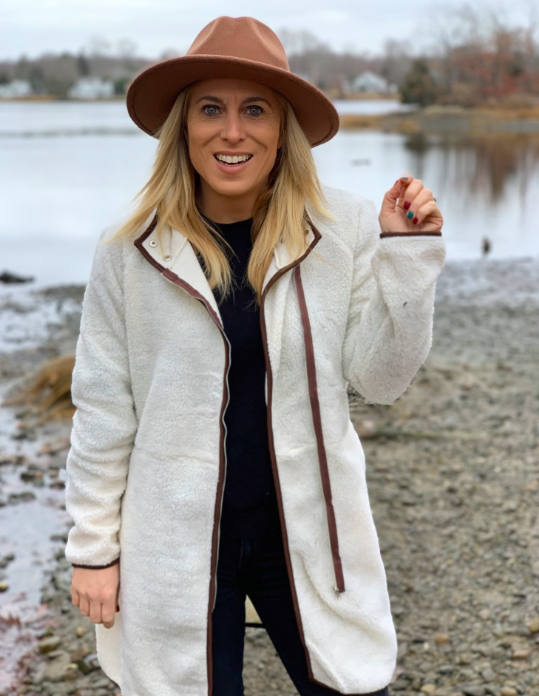 I did something that year that I haven't done before, I bought myself a dressy long white ladies jacket. I've eyed them for years, but never had the "fashion guts" to dive right on in. I knew that with 5 kids it would be tough to have a white coat (I mean, lets be real – right?), but I've always loved them from afar and really want to get one.
With sales being so incredible in January and February, I knew when I found my fave long white ladies jacket on sale that I needed to snag it. I was just head over heels for a particular coat I found at Nordstrom, so I watched it like a hawk – just waiting and waiting. When the white white coat went down to $90, I bought it!
All the time I was worried about having a white coat because of my kids and now I know how silly I was about it! Granted – yes, I can still stain it in seconds, but I just don't wear it around the house. I knew after falling in love with this dressy one that I wanted to find a casual white ladies jacket for the spring months ahead.
I found a super cute option at a ridiculously low price online.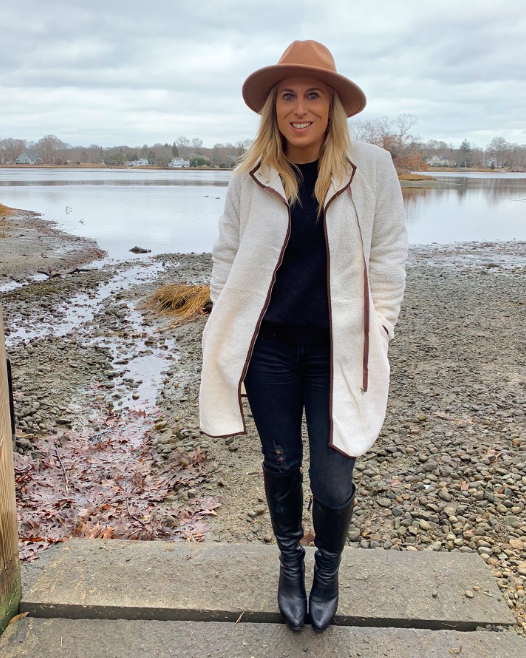 I was keen on finding a white ladies jacket that wasn't too heavy. I knew that I just needed a light layer for the spring months ahead. I wasn't looking for anything to bulky. I wanted to make sure I found a jacket that was simple, yet chic. I love that it's a bit longer, too. I usually have "short" coats that just go to my waist, but this one was adorable and I love that it hit just above the knee.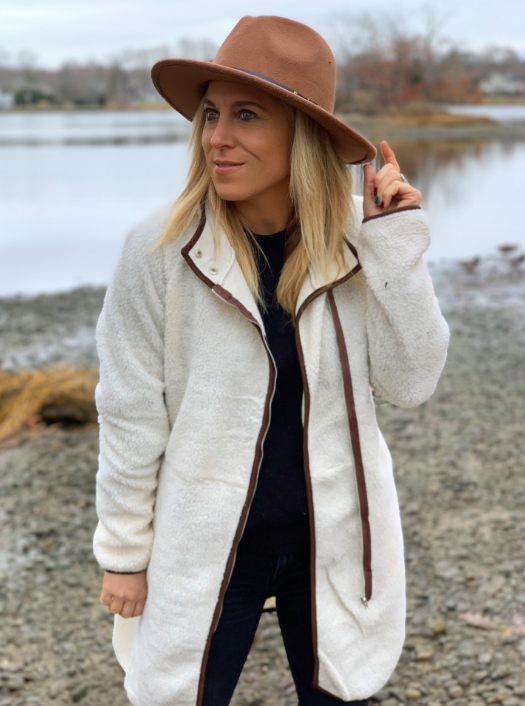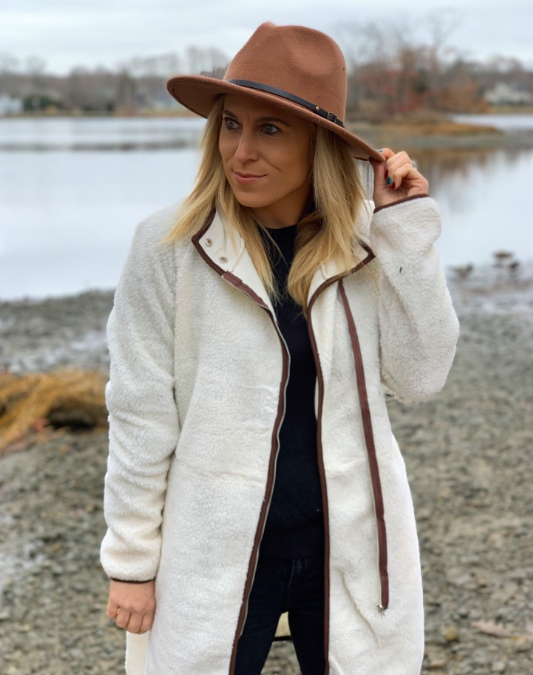 You know what I love about the color white? A white jacket or coat goes with EVERYTHING. It doesn't matter what you're wearing, it works. White and black jackets are just timeless and classic. This white ladies jacket works with jeans and tees and tanks for a casual day or evening. I love the fact that it's an easy toss on and go!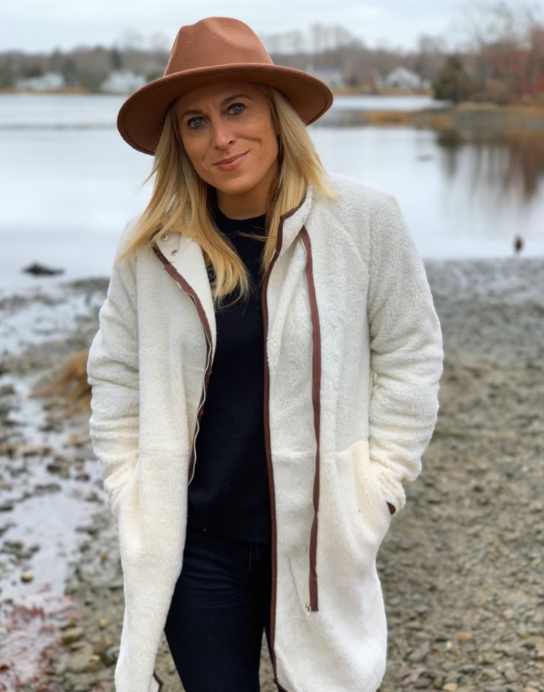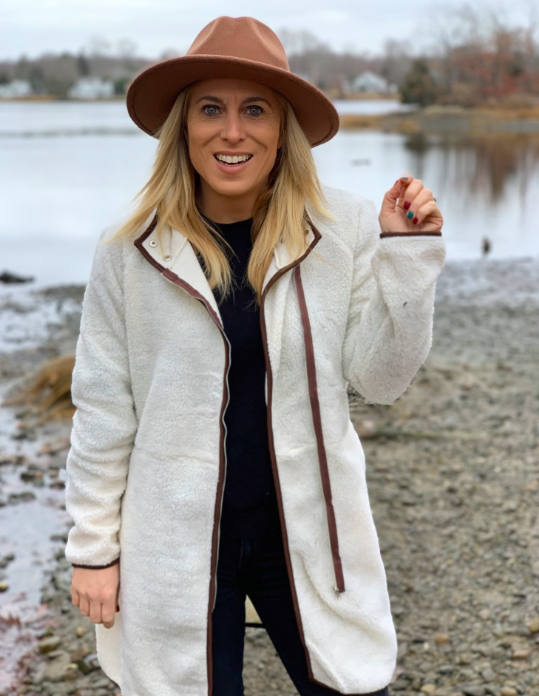 I decided to go with an easy look and style to pair with this jacket. But here's the thing when it comes to spring jackets, you don't really need to think so much about what you're wearing underneath! The "showpiece" is the jacket itself. I have always just really loved a light coat because it's an essential item for a spring season. This one in particular is great because it's almost just like wearing an additional shell.
My fedora is a staple on my head whenever I need it. I'm obsessed with wearing it and having it as a go to accessory. I think it works great with this jacket because it really makes the white in the jacket POP and not to mention, it makes the jacket look whiter, too! It really just works well together for the look I'm trying to go after and accomplish.
I'm sharing below 8 casual white ladies jacket options for you. I want to make sure I find some that aren't crazy expensive for you because it's not something that you need to spend a ton of money on.
As you can tell these light jackets would be perfect during the spring and summer and even fall months! If you're someone who lives in the south, these jackets might be what you actually use year round. I love see how easy it is to find the perfect kind of jacket. The thing is that you need to make sure you're finding one that works best for YOU and your NEEDS.
I hope you like these and I hope that one or two jump out at you!!
Please don't forget to join my Daily Dose of Style FACEBOOK GROUP! This has turned into my favorite spot online and I love sharing there every single day! It's been an outlet for me to be open and honest about my fashion loves! It's a great place to learn new things, so I hope you come on over! I'm also going to be starting a kid fashion one soon, too!
Loving this Fashion Over 40 – Daily Does of Style Facebook Group (that I would LOVE for you to join) and I share trends and styles every single day in there, along with the best sales online for fashion. I fully believe that you can and should be able to look your best without breaking the bank. You want to feel confident and beautiful and you CAN! I hope my info helps! We have a ton of fashion fun in there! And you don't need to be 40 years old!!!!!!!

HEAD ON OVER AND JOIN US HERE!!!
Make sure you share with me if there's something you love and I missed it on the blog! See my last post on Long Cardigan Outfit!
(Please note that there are some Affiliate links above.)