I've been an entrepreneur for over a decade. When I first because a mom in 2004 I quickly realized that wanted to stay at home with my kids. I was living in NYC at the time and my salary was literally canceled out with daycare. I just couldn't justify paying someone to watch my son all day. I knew that financially I needed to bring in an income, so I started thinking about all the ways that I could work from home. Believe it or not – back then in 2005 – I only knew a couple of women making money as bloggers, but it seemed promising so I took the "risk" and jumped right on in feet first!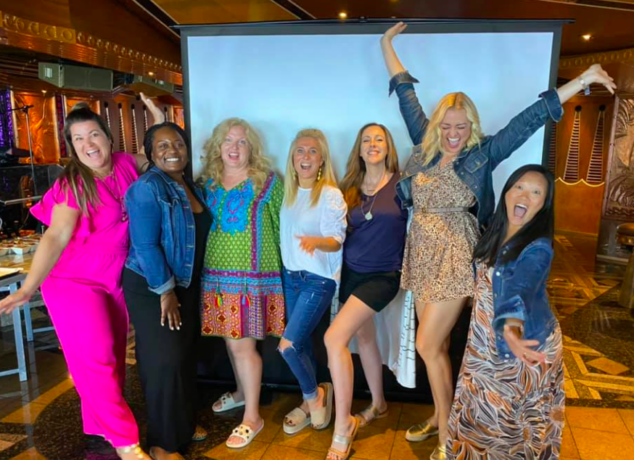 It was a good thing I did because being a blogger (or as we call it now – digital influencer) changed my life. I fell in love with social media and how I was able to connect with thousands and thousands of moms a day through my blog and social channels. It AMAZED me! The best part? I've been able to work from home, build my digital businesses AND support my family at the same time. That little baby boy who was the driving force in me staying home all those years ago? He's now a 15 year old freshman in high school!
Throughout the years I've had hundreds of women ask me how they can work from home.
My short answer to them has always been 2 things:
1. Make sure you have a good plan and/or passion in place for your business.
2. Utilize Staples.
Staples has always been my go-to source for my business. Always. Whether I need pens and pencils, notebooks, planners, folders, binders, organization products, printing needs, etc… they're there. I have a small home office that is completely decked out by Staples. I'm a lover of all things that inspire, too – and I love that Staples has products that do just that for me! I just know that I can rely on Staples to have everything I need to keep my business running. Not to mention, I'm also married to an entrepreneur (The Backyard Food Company) and he uses Staples weekly. He actually prints all of his signage at Staples, too!
I've always loved that Staples is always thinking about the entrepreneur or small business owners. We're all trying our hardest to grow and build our businesses and it's just so incredible to have a destination that we are able to go to that helps us do just that! With their reasonable prices, incredible selections, services and help… they've got it all and I appreciate and love that about them.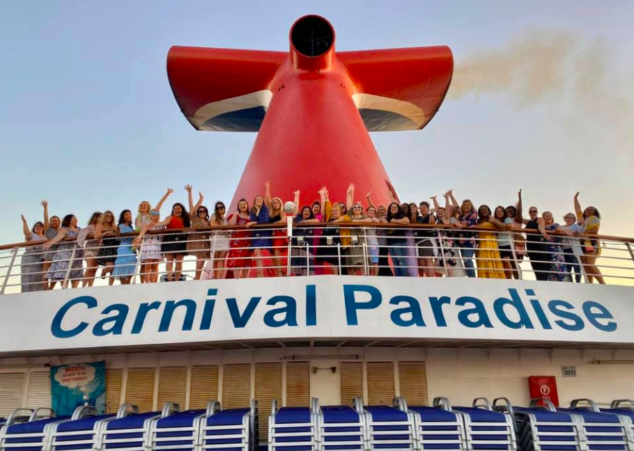 As many of you know, I started doing Permission to Hustle Retreats with my business partner Vera Sweeney 2 1/2 years ago. We wanted to create retreats for women who were looking to grow and build their digital businesses and also connect with other digital influencers, too. These retreats have become a passion of ours in being able to connect in person and truly mastermind out plans with other women who do what you do.
As we embarked on our 3rd one, we were thrilled to have Staples join us in gifting all of our attendees notebooks, pens and folders. This was so exciting for us for 3 reasons:
We know that Staples truly is a destination where all of us go to buy necessary and essentials items to run our businesses. It's a hub and it's amazing. I actually just went this morning to buy a ream of paper for my printer.
We know that Staples believes in entrepreneurs. I had the amazing opportunity to partner with them for the show Girl Starter and was so impressed by their commitment and dedication to helping entrepreneurs go after their dreams.
We are very passionate about partnering with companies and brands that believe in the power of social media. Thankful for Staples for looking at our Permission to Hustle Retreat and wanting to be part of it.
Staples gifted each one of our attendees a notebook, pen and folder – which were perfect because the ladies needed to take notes with all the speakers and keep their notes (we had print outs that we made at Staples!). It was amazing being able to gift each attendee with a Staples package.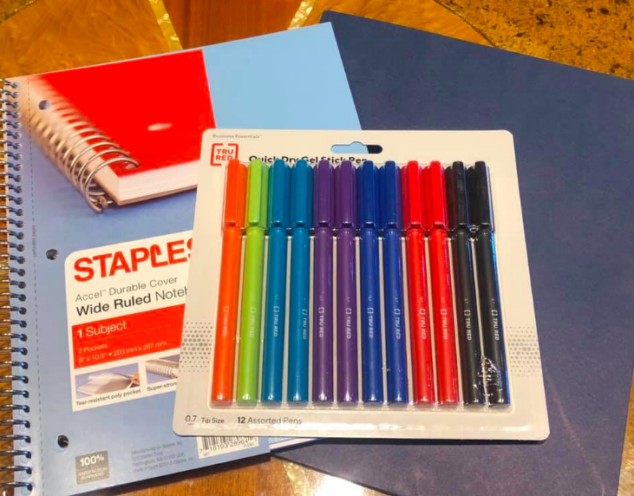 We've bought items from Staples for every Retreat, so this one was amazing having them part of it!
Staples Accel 1-Subject Notebook –
Record important details about projects, meetings and other presentations with this black durable poly cover one-subject notebook. Featuring a durable front cover, heavy-duty back and resilient coil, this notebook easily withstands regular use and everyday wear and tear. This Staples Accel black one-subject notebook contains 100 college-ruled sheets of 15-pound paper for a smooth and satisfying note-taking experience.
1-subject notebook is great for school, home, or work projects
This 8.5″W x 11″H notebook has 100 sheets
Durable polypropylene covers protect sheets from damage
Micro-perforated sheets for neat and easy clean sheet removal
Spiral-bound design for easy access of sheets inside
Staples brand 100% satisfaction guaranteed
TRU RED™ Quick Dry Gel Pens, Medium Point, 0.7mm, Assorted, 12/Pack –
Keep a stack of these gel stick pens in your desk so you always have something to write with. The 0.7mm tip evenly distributes ink for a smooth and controlled writing experience, while the assorted ink colors let you color-code paper work and correspondence. A convenient clip on these TRU RED™ 0.7mm gel stick pens attaches to notebooks and pockets, making the assorted pack a perfect travel companion.
Assorted color gel pens are ideal for precise writing and notetaking
Advanced ink dries fast for less smearing
0.7mm medium point spreads ink perfectly
Full rubberized barrel for extended use and comfort
Colored barrels indicate ink color
Convenient pocket clip to attach pen to notebooks, pockets, and more
Acid-Free
12 per pack
Black(2), Red(2), Blue(2), Purple(2), Teal(2), Orange (1), Lime Green (1)
Staples 2-Pocket Presentation Folders, Assorted –
Keep important documents and loose papers neatly tucked away in these Staples two-pocket folders. Each folder in this assorted color 10-pack opens to a pocket on each side, and the inner cutout makes it easy to add a business card. Made of durable leather-like material, these Staples two-pocket folders hold up to wear and tear and are perfect for use in meetings or classrooms.
Pocket folders are made of a durable leather-like paper stock material in assorted colors
Come with two pockets to easy and efficiently store documents, arts, crafts, or to-do lists
Holds standard letter-size paper
Contains 10 folders per pack
10% post-consumer recycled content
50-sheet capacity allows for convenient organization of loose papers
Convenient business card holder located on the inside front pocket adds an extra professional touch to each folder
Perfect for everyday report and presentation materials
Folders come in assorted colors: two each – light blue, dark blue, white, black, and red
A HUGE THANK YOU to Staples for being part of our Permission to Hustle Retreat! I utilize you ALL year long with back to school, too… so I love this even more!