Looking for the best ear piercing places? I've been researching them for weeks now for my 6 year old daughter. She's been begging us to get her ears pierced, so I wanted to make sure I found the best places to bring her to. I was focused on cleanliness, good reviews, fun factor (for her) and price. Excited to share with you my TOP finds!
Best Ear Piercing Places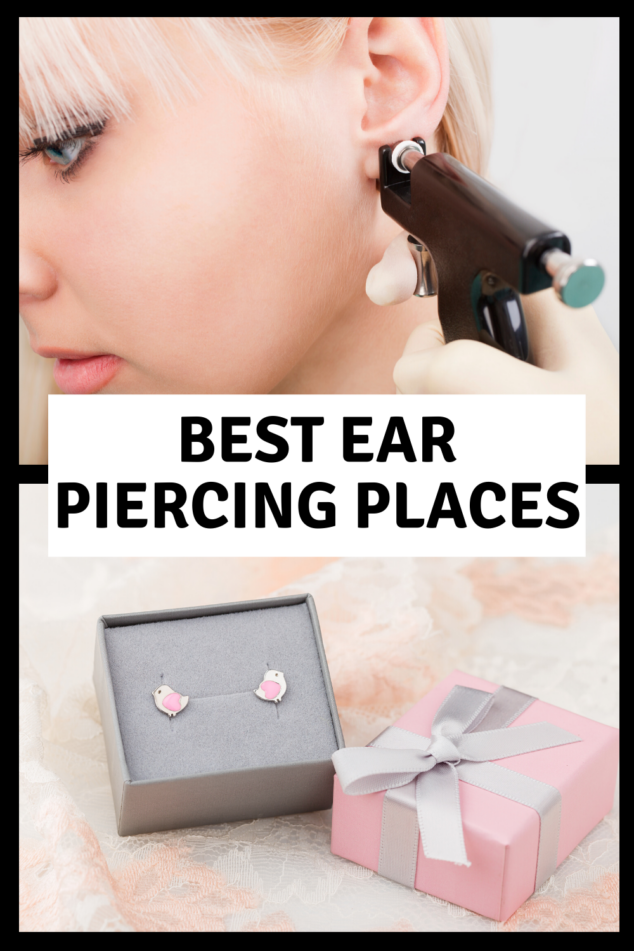 When I was a kid, I feel like there are 2 options when it comes to finding ear piercing places. Most of us (who are over 30) had our ears pierced from the mall bogotas. There would always be one in every mall and there would always be a line of girls and women lined up to get their ears pierced. It never ceased to amaze me how many people get their ears pierced in the course of a day!
When it came to my daughter, I knew she would be super nervous about getting her ears pierced. She's been begging to get them pierced for months now and all of her friends have them pierced, so I knew she was serious. I wasn't sure the appropriate age for getting your ears pierced, but after talking to a bunch of moms it seemed like 6 years old was a pretty average age.
My researching on the best ear piercing places started in the New Year. I've been in enough malls to know that there are various places to choose from, but I wanted to make sure I had a good list to choose from for her. It's not easy getting your ears pierced. I remember being terrified at the age of 15 to get them done! My little sister had hers pierced at 5, but I was too scared to do it for SO LONG!
Here's my LIST of the BEST Ear Piercing Places. These are NOT in any particular order, but I will start with who we went with simply because I knew my daughter wanted to go here, too!
Claire's: Claire's, formerly known as Claire's Accessories, is an American retailer of accessories, jewelry, and toys primarily aimed toward girls, tweens and teens. They've been around since 1961, so I loved the longevity piece to them. Not to mention, I've seen them in malls ever since I can remember and have always seen girls getting their ears pierced. They are the world's leading ear piercing specialists, so I felt VERY comfortable with the fact that Victoria was going there.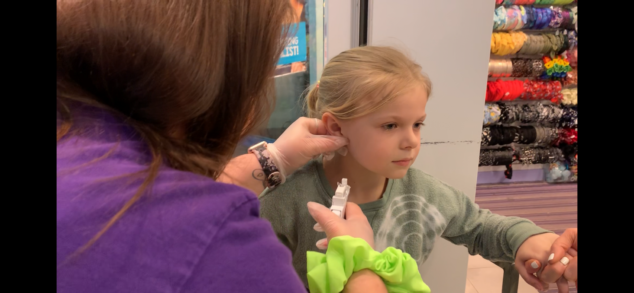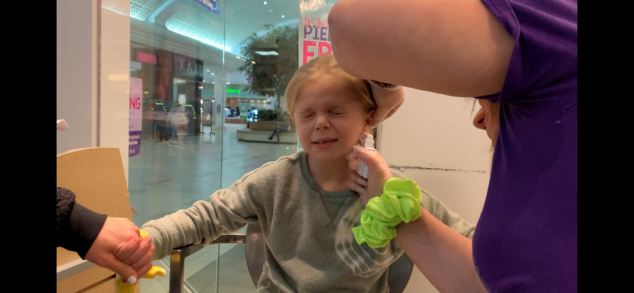 Some great things about Claire's in terms of ear piercing places:
You don't need to make an appointment
There are various price points when deciding how much you want to pay
All of their specialists are trained
You get FREE cleaner and a pair of earrings with the piercing
They make it FUN for your child! She walked Victoria through every step and not one tear was shed (I WAS SHOCKED!)
Piercing Pagoda: Another great spot for you when you're looking for the best ear piercing places is the PAGODA! They are also professional and great spots! They have over 45 years of piercing experience. This is where I personally got my ears pierced when I was a kid. It was a place that just seemed like the logical go-to for me. I had a great experience there!
Some great things about Piercing Pagoda in terms of ear piercing places:
All of their piercing professionals are re-certified annually.
Piercing earrings have never been more colorful or personal! With over 90 selections, you're certain to find that just-right pair for your piercing.
To ensure a safe and hygienic experience, Piercing Pagoda uses only specifically designed, high quality pre-sterilized, pre-packaged piercing earrings. They never use needles.
The prices are very reasonable.
Macy's: Not many people realize this, but Macy's is one of the best ear piercing places, too! You need to make sure a Macy's near you offers the ear piercing service, but if they do – this is a wonderful and easy option! Macy's has stylish piercing earrings that are available in every color of the rainbow, too.
Some great things about Macy's in terms of ear piercing places:
A full range of hypoallergenic metal choices including 14k gold, 24k gold plate, Medical Grade Stainless Steel and Medical Grade Titanium
Ultra-thin piercing posts for a more comfortable piercing
Exclusive Inverness Safety Back™ to shield the piercing tip and prevent the back from being overtightened during healing
Ear piercing is performed by their Fine Jewelry Department by a trained Macy's Ear Piercing Specialist.
Hope these (3) places help you when trying to decide where want to go when searching for the best ear piercing places. I'm all about making sure you have the best options when it comes to this milestone.
Please don't forget to join my Daily Dose of Style FACEBOOK GROUP! This has turned into my favorite spot online and I love sharing there every single day! It's been an outlet for me to be open and honest about my fashion loves! It's a great place to learn new things, so I hope you come on over! I'm also going to be starting a kid fashion one soon, too!
Loving this Fashion Over 40 – Daily Dose of Style Facebook Group (that I would LOVE for you to join) and I share trends and styles every single day in there, along with the best sales online for fashion. I fully believe that you can and should be able to look your best without breaking the bank. You want to feel confident and beautiful and you CAN! I hope my info helps! We have a ton of fashion fun in there! And you don't need to be 40 years old!!!!!!!

HEAD ON OVER AND JOIN US HERE!!! I also share beauty tips there, too. Love your support and let me know what it is you're looking for, too!
Make sure you share with me if there's something you love and I missed it on the blog! See my last post on my FREE Makeup Samples! I'm all about sharing everything I can when it comes to fashion and beauty! Hope these posts help you out!