Jogger pants have become my personal favorite item lately. If you need me out and about, most likely I have them on. I'm all about sharing How to Style Jogger Pants right now. I don't want to wear the same thing day in and day out. I want to make sure I'm mixing it up and really getting some cute styles out of my joggers.
How to Style Jogger Pants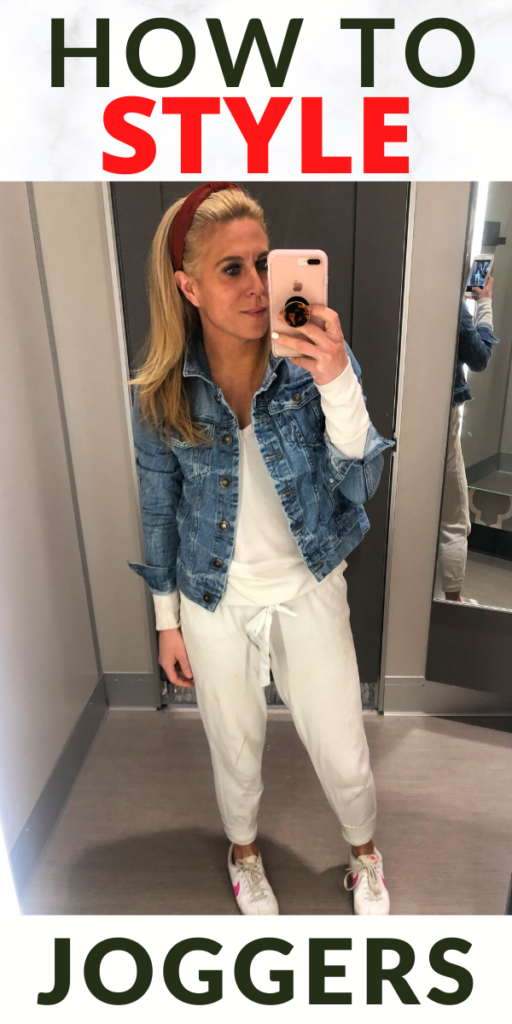 Jogger pants are my spring fave right now. I bought these white ones at Old Navy last week and fell in love with them instantly. I'm all about trying to figure out how to style jogger pants in the easiest ways possible, too. I don't want anyone to walk away from my blog posts feeling that what I share is unattainable. I want you to walk away feeling a sense of I could do that! So I wanted to start with the foundation of this post – the jogger.
I love joggers because they're comfortable and can double as hangout pants, but also as sleepwear, too. I'm obsessed with anything that super cozy because I work from home 1/2 the week and it's nice being able to relax in clothing, but also feel chic and stylish in it, too. These white joggers from Old Navy (they have other colors, too!) are great because they go with anything.
When wondering how to style jogger pants, you need to make sure you find a color that you know fashion wise you can work with. I knew I could work with these white ones easily, so it was an easy go-to color for me! I also love wearing white in the spring and summer more, so these were even more of a go-to for me!
Excited to share 5 how to style jogger pants with you! This is my fave first style! Grabbed my white joggers and paired with my this adorable V-neck Cozy Legging Tee (that's on SUPER SALE right now!). Also wanted to share my go-to denim jacket for spring. This style is very easy to create and very easy to rock. This is an easy look for anyone to wear out and about – grocery shopping, school events, out with the girls, date night!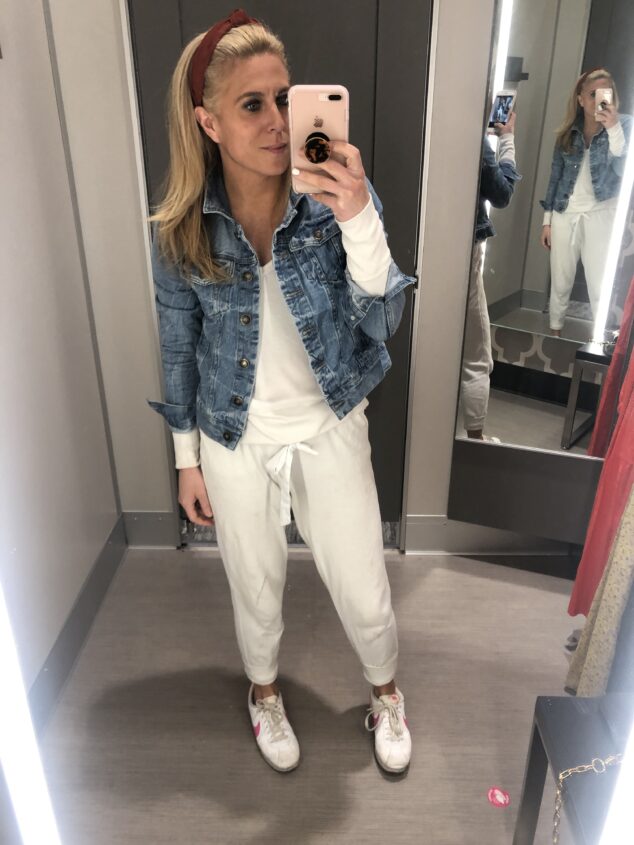 Here's another how to style jogger pants tip! Grab a denim shirt and tie it front! I love this look because it's a classic look. It's great for just about everything, too. I prefer the fitted look and it's a great and easy style to accomplish! I love this look, it's very spring!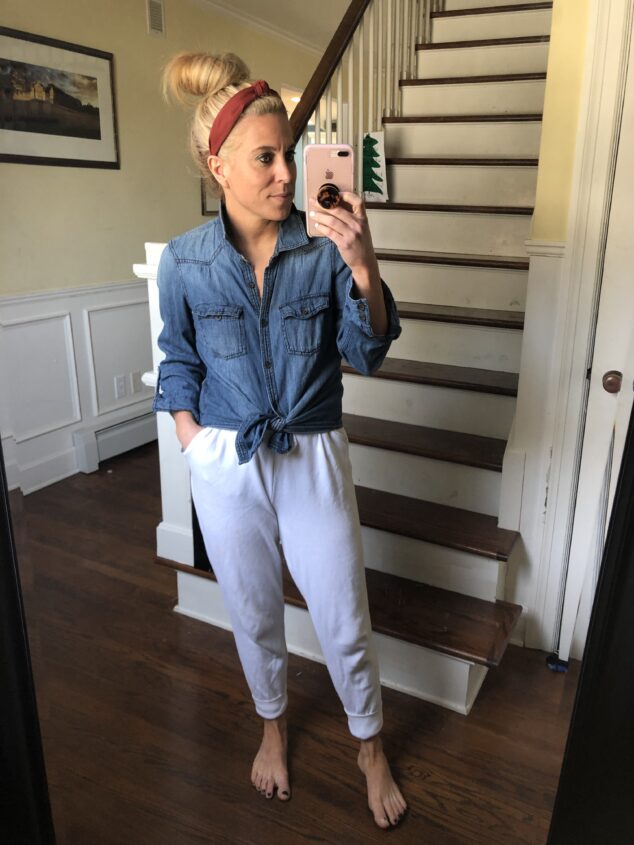 Looking for a layered look? Here's an easy option for you, too! I grabbed a tank top from American Eagle and then topped it off with an open cardigan. This look is super cozy and super comfy. I honestly feel like I am at a spa in this look! It's great and easy for anyone to toss on and go! I love that you could wear this for a weekend look or a chill evening style.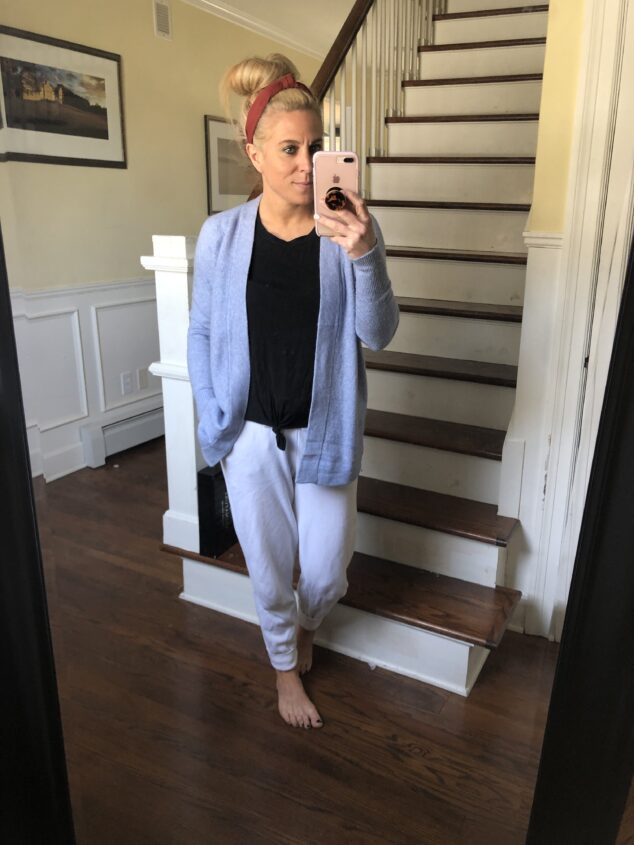 Find a fitted sweatshirt and add this look into your hot to style jogger pants fashion folder! Here's my fashion advice when it comes to layering with a hoodie. Make sure you find a hoodie that is more tight-fitted and not too loose. Jogger pants aren't as form fitting as leggings, so it's important to make sure you're styling appropriately. I love this New Balance hoodie for day to day use! Love this easy look!
Graphic tees! You know I love them! I'm all about wearing them as much as I can! I'm all showing some graphic love and joggers are the perfect way to show them off! I love this one because it's chic and fun! I also love that I'm doing the monochromatic look (to a degree) with this look. If you've got a ton of graphic tees that you're looking to wear, pair them up!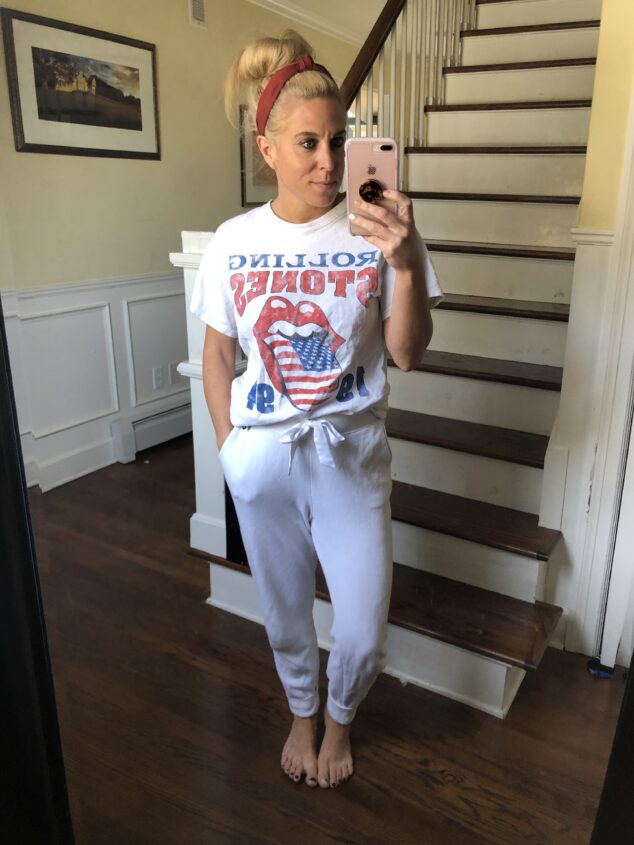 I hope these fashion styles work for you! Again – you need to make sure you have the best jogger pants for your body. These Old Navy ones are really a wonderful option, but there's tons more out there, too!  Here's a little more info on them:
Introducing Breathe ON, a soft, breathable stretch knit that feels great for all kinds of moves.
Elasticized waistband, with interior drawstring.
Slant welt pockets at front.
Banded leg cuffs.
Go-Dry: moisture-wicking technology keeps you dry & comfortable.
Super-soft, quick-drying jersey knit.
With super 4-way stretch for ultimate movement.
Relax, this isn't one of those bad dreams when you're walking around without any pants. It's just that our new Breathe ON fabric is so feather-soft and comfy, you'll feel like you've got nothing on at all. But don't worry, these joggers have got you covered.
Hope these helps!
Please don't forget to join my Daily Dose of Style FACEBOOK GROUP! This has turned into my favorite spot online and I love sharing there every single day! It's been an outlet for me to be open and honest about my fashion loves! It's a great place to learn new things, so I hope you come on over! I'm also going to be starting a kid fashion one soon, too!
Loving this Fashion Over 40 – Daily Dose of Style Facebook Group (that I would LOVE for you to join) and I share trends and styles every single day in there, along with the best sales online for fashion. I fully believe that you can and should be able to look your best without breaking the bank. You want to feel confident and beautiful and you CAN! I hope my info helps! We have a ton of fashion fun in there! And you don't need to be 40 years old!!!!!!!

HEAD ON OVER AND JOIN US HERE!!! I also share beauty tips there, too. Love your support and let me know what it is you're looking for, too!
Make sure you share with me if there's something you love and I missed it on the blog! See my last post on my Target Spring Style 2020! I'm all about sharing everything I can when it comes to fashion and beauty! Hope these posts help you out!
*Affiliates within this post.