With spring officially here, we're expecting lots of spring showers! With 5 kids – it's not always easy to manage a rainy day. I thought it would be fun to do a What To Do On a Rainy Day POST for everyone to (hopefully) enjoy. I want to make sure we're all armed with ideas to do for a planned or unexpected rainy day.
What To Do on a Rainy Day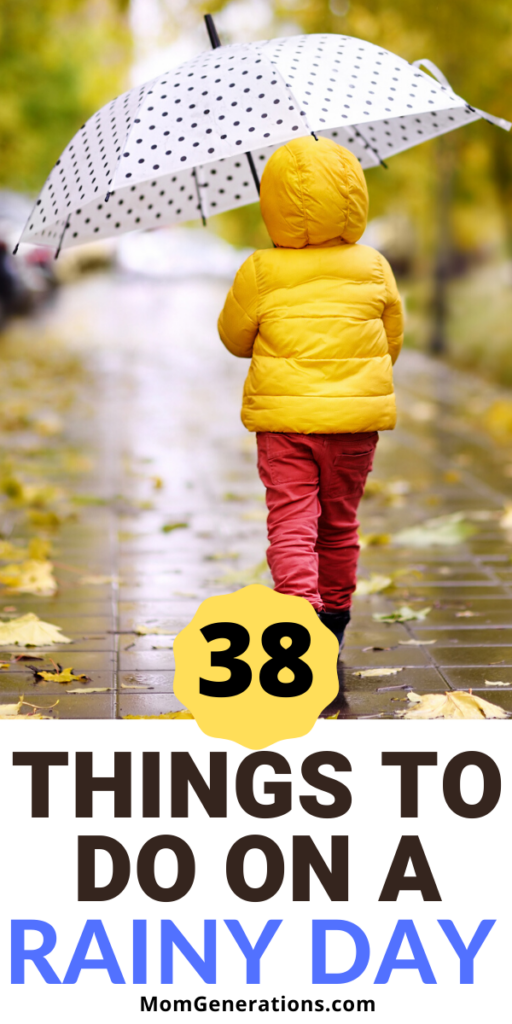 With 5 kids I can tell you firsthand without hesitation that rainy days stink! I hate having everyone "trapped' at home. I like to be out and be about with my family. It's not easy trying to come up with this to do with the kids when the weather is not super freezing (like the winters), but it's rainy and nobody can be outside. I'm always looking for ideas and things to do when thinking about what to do on a rainy day. Rainy day ideas aren't always the easiest to come up with for moms and dads!
When you have kids that range in age (we have kids that are 6 years old to 15 years old), you want to make sure you're coming up with things that everyone can do! Indoor things to do aren't always top of mind for everyone, but it IS possible to come up with some ideas. The most important thing is remembering that we all go through the question of what to do on a rainy day, even as adults!
There's nothing I love more than the beach or walking through the park or biking our local bike path. When these things are taken off the table, it gets tough. I'm an outdoor kind of girl (as are my kids) so it's important to always figure out answers to what to do on a rainy day!
These items aren't in ANY particular order! They're here just to serve as a guide to keep you ready and busy for a RAINY DAY! I want to make sure you have an idea as to what you can do during the rainy day. I think it's super important to have things on top of mind for you to do! I love being able to be prepped!
What To Do on a Rainy Day:
Bowling
Swimming (local indoor pool)
Make a Birdhouse
Roller Skating
Visit a Botanical Garden
Yoga
Build a Rock Wall
Children's Theater
BINGO Hall
Dance Party (at home)
Trampoline Park
Tye-Die Shirt
Movie Theater
Basketball
Bake Cupcakes, Cookies and Cake
Pizza Night
Indoor Treasure Hunt
Indoor Camping
Shopping at the Mall
Indoor WaterPark
Indoor Mini Golf
Start Podcast
Build an Indoor Obstacle Course
Hibachi Night
Hockey Night
Start Your Own Business
WWE
Movie Marathon
Manicure/Pedicure
Spa Day
Visit the Library
Write Letters/Note Cards
Harlem Globetrotters
Game Night
Indoor Picnic
Make Scrapbooks
Create Crafts
I hope this list helps you out! I want to make sure you have a go to list. I think it's one of those lists that will help mamas and papas! I feel like when it rains it's important to do things that are fun, right? I hope that these ideas make you smile and even inspire you to try on a nice day, too! One of the best things we love to do is have indoor picnics! So much FUN!
Let me know what you do when it rains! I love hearing the ideas of everyone else, too!
Please don't forget to join my Daily Dose of Style FACEBOOK GROUP! This has turned into my favorite spot online and I love sharing there every single day! It's been an outlet for me to be open and honest about my fashion loves! It's a great place to learn new things, so I hope you come on over! I'm also going to be starting a kid fashion one soon, too!
Loving this Fashion Over 40 – Daily Dose of Style Facebook Group (that I would LOVE for you to join) and I share trends and styles every single day in there, along with the best sales online for fashion. I fully believe that you can and should be able to look your best without breaking the bank. You want to feel confident and beautiful and you CAN! I hope my info helps! We have a ton of fashion fun in there! And you don't need to be 40 years old!!!!!!!

HEAD ON OVER AND JOIN US HERE!!! I also share beauty tips there, too. Love your support and let me know what it is you're looking for, too!
Make sure you share with me if there's something you love and I missed it on the blog! See my last post on my Target Spring Style 2020! I'm all about sharing everything I can when it comes to fashion and beauty! Hope these posts help you out!