Monogram jewelry is my personal jam. I've always been someone who loves to wear my initials, my kids' initials and/or my husband's initials in my accessories. Whether it be a necklace, bracelet, handbag or bow – I love wearing something that means something. If you know me well enough, you know that I wear monogram jewelry all the time.
Monogram Jewelry: Top Favorite Necklaces
When you're looking for monogram jewelry, it's important to make sure it's something that speaks to you. How does something "speak to you?" You want to make sure it's a necklace or a bracelet or something special that looks like you and something that reflects your personal style. I'm a GOLD loving girl, so for me – I'm all about the golds over the silvers.
I'm sharing with you today (5) of my FAVORITE Monogram Jewelry Necklaces. All of these are not only pretty, but the kind of necklace you could wear out anytime and anywhere. I think it's fun to add pieces like this into your jewelry collections. I'm a big lover of trying to add in as many special pieces as possible. I also know that these kinds of pieces are timeless and never (ever) go out of style.
These aren't in particular order, so hope you love these as much as I do! I love these pieces because they are so pretty and so beautiful. A HUGE fan and can't wait to wear mine!
Monogram Jewelry: 1st up, this Anthropologie Block Letter Monogram Necklace is my favorite and (woohoo!) on sale right now.  Coincidentally I lost mine a few weeks ago and was thrilled to see all the letters back in stock and at a lower cost. Around the holidays these were sold out like crazy, so I was so happy to see that they were not only restocked, but on sale for $28.50.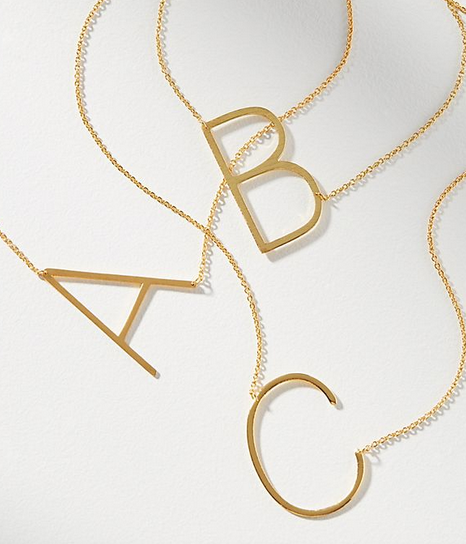 This year, gifting gets personal – choose a monogrammed necklace for a present she'll look forward to wearing for years to come.
Brass
Lobster clasp
Imported
Dimensions
16″L with 2″ extender chain
1.5 – 1.75″L pendant
Monogram Jewelry: Next up, Helen Ficalora jewelry. My husband first bought me a Helen Ficalora charm when I was pregnant with my oldest son 16 years ago. It said the word "MOM" on it. After that he gifted me each time we had a new baby a charm with their initial on it. I love that charm necklace because it's so special to me.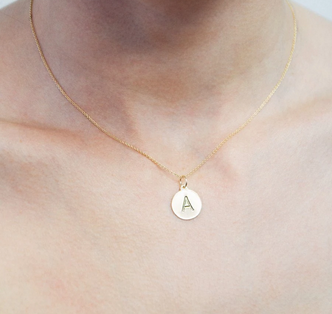 Helen's "A" Alphabet Charm lovingly crafted in New York. Made With Solid 14k Gold. Size 15.8mm X 13.5mm. Gift Wrapped. Free Express Shipping. Custom Engraving.
Next up, Tiny Tags. These are the most adorable and sweet pieces of jewelry! Love how simple and elegant these necklaces are for people. I'm all about wearing this necklace with tees and tanks with v-necks. I love this piece because it's so meaningful to me.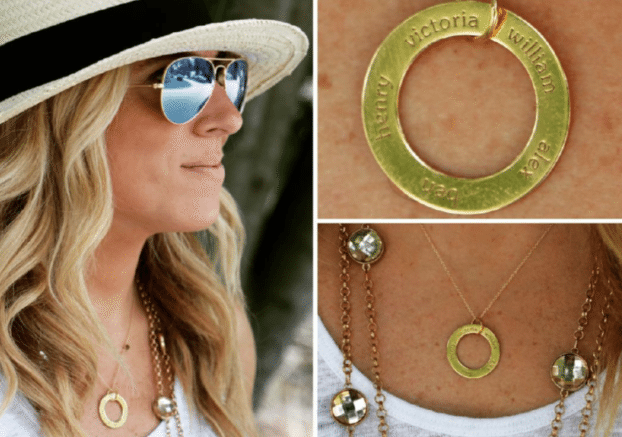 available in 14k yellow, 14k rose and 14k white gold
pendant is 1″ in diameter
hangs on 14k gold chain
all text is lowercase font only (15 characters max per text field)
back text is engraved directly behind front text
Alright – another one up? How adorable is this Free People Tai Stone Monogram Necklace. I love how beautiful these necklaces are, too. I love the stone colors that really make these necklaces pop. They are pure elegance and beauty. I love that these are available in EVERY letter right now, too. Make sure you stock up ASAP if you love this one, these will be out soon!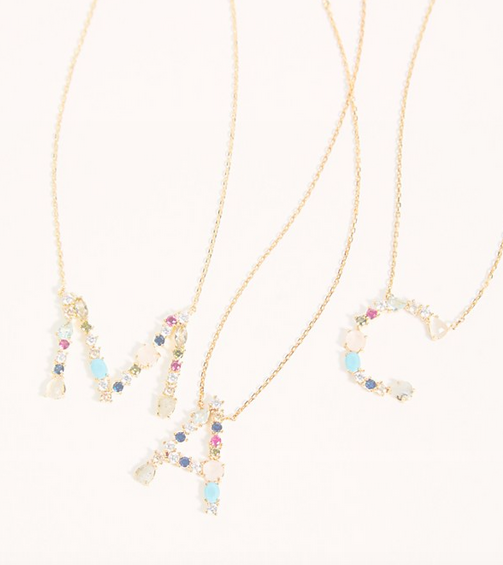 Beautiful gold plated necklace from Tai Jewelry featuring an embellished monogrammed pendant with stones of different shapes and colors.
Adjustable length
Clasp closure
Finally, J.Crew's Odette New York® Hex monogram necklace is a classic must have, too. I think the hex is a fun shape to share for this necklace. I feel like we're all so used to circles or letter shapes, so this was a fun one to see and find online. I think it's such a great piece for people. It actually gives a vintage feel for a modern piece.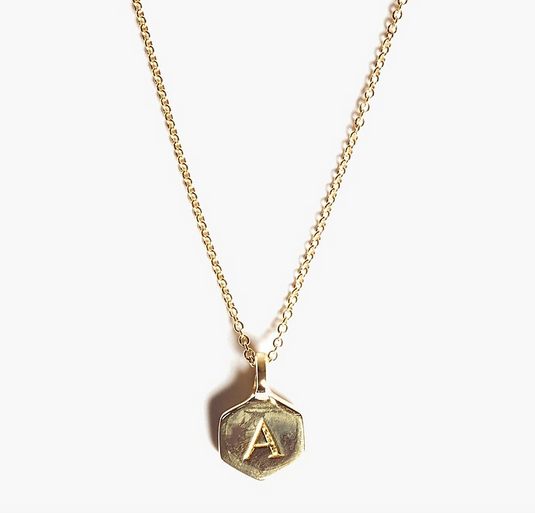 Hope these helps! I love these pieces because I think they're wonderful to add into your fashion wardrobe. I think it's great to bring these fashion and accessories into your life. I love these pieces because they are so elegant and so classic. I hope these accessories feast your fashion fancy!
Please don't forget to join my Daily Dose of Style FACEBOOK GROUP! This has turned into my favorite spot online and I love sharing there every single day! It's been an outlet for me to be open and honest about my fashion loves! It's a great place to learn new things, so I hope you come on over! I'm also going to be starting a kid fashion one soon, too!
Loving this Fashion Over 40 – Daily Dose of Style Facebook Group (that I would LOVE for you to join) and I share trends and styles every single day in there, along with the best sales online for fashion. I fully believe that you can and should be able to look your best without breaking the bank. You want to feel confident and beautiful and you CAN! I hope my info helps! We have a ton of fashion fun in there! And you don't need to be 40 years old!!!!!!!

HEAD ON OVER AND JOIN US HERE!!! I also share beauty tips there, too. Love your support and let me know what it is you're looking for, too!
Make sure you share with me if there's something you love and I missed it on the blog! See my last post on my How to Style Joggers! I'm all about sharing everything I can when it comes to fashion and beauty! Hope these posts help you out!
*Affiliates within this post.