We're all looking for the best ways to prep ourselves and our families during this trying time. As a family of 7, we're trying our best to stock our fridge, pantry and freezer with everything and anything we can. I want to make it as easy on us as possible, so I've been looking for ways to bring some of my favorite foods into my home.
We've already done a ton of food shopping and stocking up, but I personally LOVE seeing brands and companies that I love sharing some deals right now for families. Perdue Farms is a brand that I've been loyal to as a customer for years and years and years. When they launched their Perdue Farms e-commerce site, I was super excited because I knew I now had the opportunity to order my meats and have them delivered right to my front door!
Easy. As. Can. Be.
Excited to share with you some of the Perdue Farms BUNDLES that they have going on right now!
Whether you're trying to fuel muscle growth or cut back on carbs in the new year, this collection is for you! We've hand-selected an assortment of chicken products that offer you both options and quick and easy meal prep. Leaner cuts include breasts, strips and tenders, while thighs and a whole bird round out the full-flavor offerings. Free shipping and almost 70 servings for under $2.50 a serving are just two of many reasons to grab this bundle while it lasts!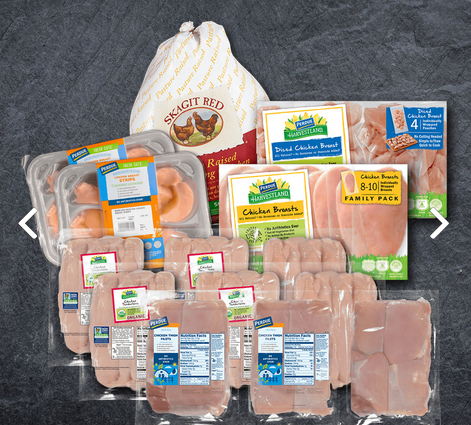 Organic Bundle – Large: $108.99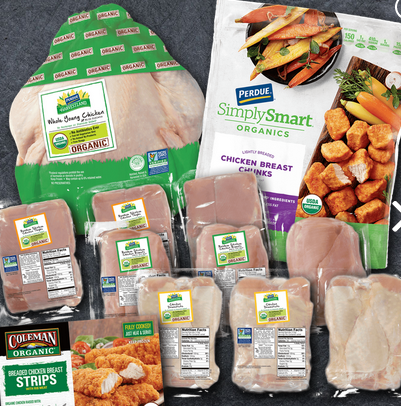 From heat and serve to items that require slow cooking, Perdue's organic chicken products come with our promise that animals are veggie fed and raised without use of antibiotics and ingredients are organic, non-GMO and recognizable. Our collection includes drumsticks, breasts, thighs and a whole bird that you can season and cook just the way you like and breaded chicken strips and chunks for all those days when a slow-cooked meal isn't in the cards.
Bundle Includes (all frozen):
Welcome to the Family Organic Chicken Bundle – $99.99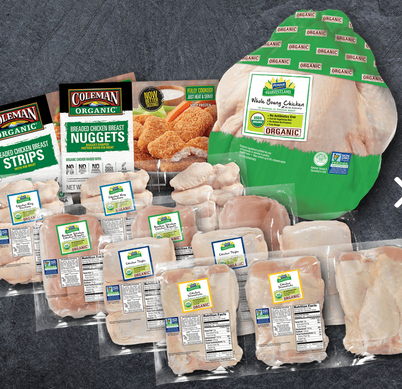 Curious about Perdue Farms home delivery? This is the perfect way to experience raised-on-a family-farm, no-antibiotics-no-exceptions, USDA certified organic goodness, frozen at the peak of freshness and delivered right to your doorstep.
Our collection offers a full assortment, from the classic whole bird and skinless, boneless chicken breast to wings, drumsticks and thighs. We hand-picked each product to offer home cooks variety, as we know some nights you need quick dinner options, while on the weekends you may prefer slow cooking a satisfying sit-down meal for the family. And with cost savings this significant (17 pounds of organic chicken for less than $6 per pound!), stocking your fridge with premium proteins and eating organic is a lifestyle change that's easy and affordable to make.
Last but not least, your order comes with Perdue Farms' promise that our chicken is sourced from USDA certified organic farms, where animals are raised in a free-range environment and fed a nutritious non-GMO diet that includes NO animal by-products or antibiotics EVER.
Bundle Includes (all frozen):
Best of Perdue Chicken Bundle – $99.99
If you're a fan of Perdue chicken (100 years in business, BTW!), you're going to love this value-packed bundle of our most beloved products. Over 80 servings for only $1.23 per serving! We hand-picked an assortment that offers variety: quick-and-easy treats (strips, Wyngz, popcorn) as well as premium proteins (boneless breast, drumsticks, wings, whole bird) you can bake, grill or slow cook as the centerpiece of a fabulous sit-down feast. This bundle comes with our promise that products are sourced from our network of U.S. family farmers, who raise poultry in accordance with Perdue Farms' high standards: no hormones, no steroids, No Antibiotics Ever® and no animal by-products.
Bundle Includes (all frozen):
A Cut Above Premium Proteins Bundle – $99.99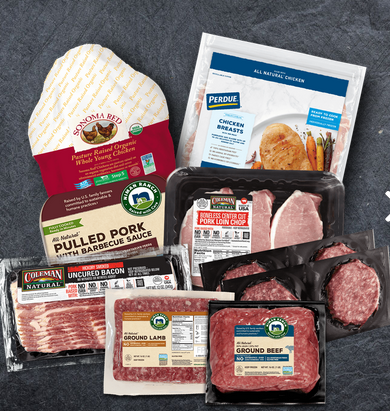 A sampling of what our family of brands do best! This bundle, available ONLY on PerdueFarms.com, is packed with our finest premium proteins, from Niman Ranch ground beef and Coleman Natural boneless chops to a Sonoma Red® pasture-raised organic whole bird and Perdue's boneless chicken breasts. You'll never run out of dinner ideas, and the savings is significant: over 46 servings for only $2.16 per serving! This bundle comes with our promise that products are sourced from our network of U.S. family farmers and ranchers, who raise animals in accordance with Perdue Farms' high standards: naturally and with no antibiotics ever.
Bundle Includes (all frozen):
I hope this helps when you're looking stock up right now and also for the spring and summer months ahead! We're BIG grillers starting right about now, so I love being able to have a full freezer with some yummy meats! Love Perdue Farms and their incredible, high-quality products.
Disclosure: Ambassador partnership with Perdue Farms.