Are you an optimistic person? I can say without a doubt that I am optimistic. I feel like if you know me in "real" life you would definitely describe me as optimistic.
I Am OPTIMISTIC T-SHIRT Giveaway
I'm definitely a glass is 1/2 full kinda person. I try to see the silver linings in everything. I believe that there's always tomorrow. I am optimistic about pretty much everything. I know it's not always easy, but I know it's a better way to live than the opposite.
My sister in law and her business partner own an incredible brand called 2021 Co. Whether they're selling a tee, a greeting card, or a tote— their products not only have inspirational/motivational messaging to foster human connection, but in way that is sustainable and gentle in the world.
They realize that though they may not be able to change the world, with 2021 Co., they aim to leave it a little better than they found it. All our products are 100% designed, printed and manufactured in the USA.
They just launched a brand new tee into their collection and as someone who declares "I Am Optimistic" to just about anyone and everyone in my life, I fell in love with it immediately!
Are you ready for the perfect tee for anyone who declares about themselves… I Am Optimistic!?
You need an OPTIMIST TEE!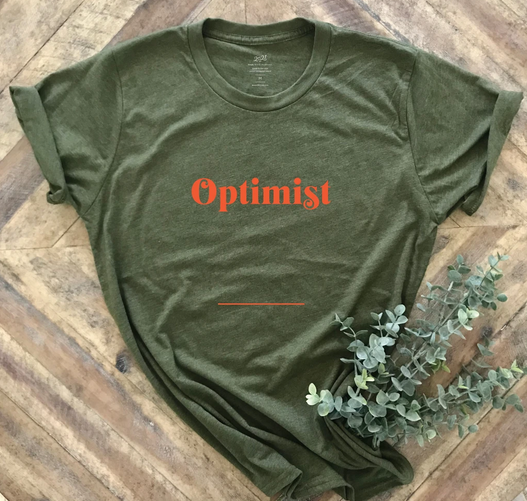 Calling all the glass half-full guys and gals. Show off you optimistic heart and spirit with this super chic, ultra comfy graphic tee. Unisex cut for a roomy fit.
Tagless, made in the USA and screen printed locally in Rhode Island. Your new favorite tee is here! Olive green with orange imprint. 50/50 cotton polyester blend.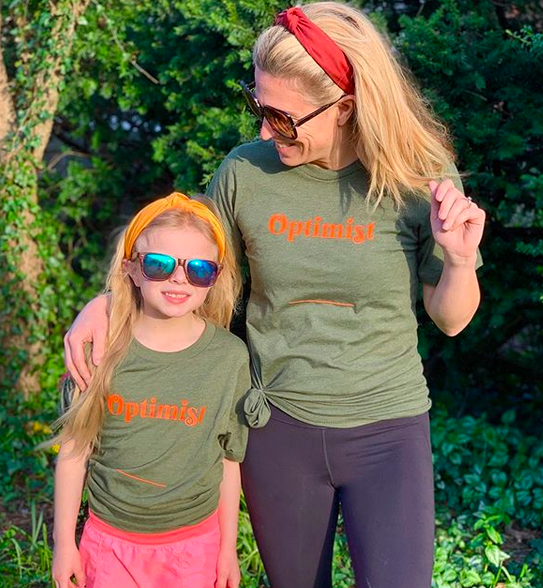 How cute is this tee, right? I'm telling you, even if you can't say about yourself – "I Am Optimistic" – you can always change your mindset and become an optimist.
I've got a great deal for you, too! If you buy one online and use the code: AUDREY you can get it for $24. 
GIVEAWAY
If you can say I AM OPTIMISTIC… I've got the best GIVEAWAY for you!
Drop me a comment below who is the most optimistic person you know! We all have that one person who is our go to when we need them for positive thoughts.
By dropping a comment below you will be entered to win one of these tees! You pick the size and share your shipping and you've got it!
If you share this post with someone else, too! EXTRA entry… just share in the comments that you shared it, too!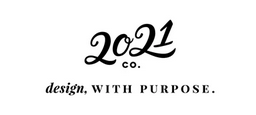 These 2 ladies are exceptional people and my sister in law is one of the most OPTIMISTIC people you will ever meet. It was no surprise to me to see that she launched this tee because it's her to a tee (pun intended).
If you too can say I AM OPTIMISTIC, you need this!!!
Make sure you also know something incredible, too. Mental Health awareness and suicide was at the foremost of their minds when they created 2021 Co. Both Emily and Nicole have experienced their worlds forever changed by mental illness and suicide. Emily lost her brother to suicide in 2004. Nicole lost her brother after a tragic run with drugs and violence.
When 2021 Co. came to be, it was with the intent to not only create items with positive messaging, but to give back and support those currently suffering. Because of this, 5% of all sales are donated to Herren Project.
Herren Project is national organization with local roots created by former basketball star Chris Herren. They provide support, counseling and services to the families and those suffering with mental health issues, and addiction. 
A huge thank you to all the people out there who can say I AM OPTIMISTIC!
*I will choose a winner on May 15th, 2020.