You need to make sure you protect your hair at the beach. Just as you protect your skin against the sun, it's important to make sure you protect your hair. I'm all about making sure I do what I can to keep my hair healthy during the summer.
Protect Your Hair at the Beach

Did you know that the sun can really damage your hair? It's something that not many people think about, but it's true. Your hair can get sun damage so you want to protect your hair at the beach.
If you're someone who takes a lot of time and energy worrying about sunscreen and sun block, I encourage you to add taking care of your hair into your summer time beauty routine, too. It's super important to make sure you're doing everything you can.
Many of us head to the beach and to the pool throughout the summer. Whether you're a bathing beauty at the beach or by a pool, wherever there's sun – your hair could get damaged in the hot summer heat.
The beach is a big spot because you're sitting for hours in the hot sun, so you want to make sure you're doing everything you can to protect your hair at the beach. I know that when I'm at the beach the sun is crazy hot and everything is hot to the touch. Your hair is the same, too!
What should you do? How can you protect your hair at the beach?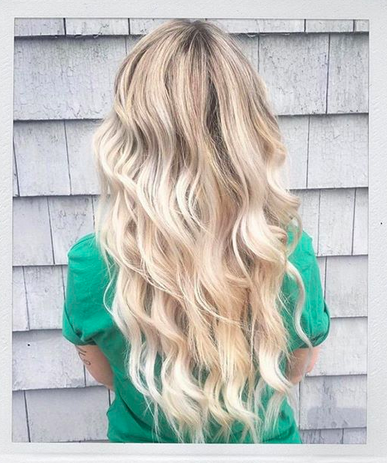 Simple. Utilize these 5 easy tips for your next beach visit.
1. Wear a hat – This seems like such simple advice, but it's true. The best way to protect your hair at the beach can be as simple as just wearing a hat. Your hair won't be on full display for the hot summer sun. It will be covered and stay under a protected base.
I love to wear straw fedoras at the beach. I feel like they're breathable, lightweight and super easy to toss on and go. You can also buy them super cheap at various retail locations, too. You don't have to spend a ton of money.
2. Invest in an Umbrella at the Beach – Another simple tip, but one that is true! If you're heading to the beach for the day you should grab an umbrella. I love being able to sit under an umbrella, and protect your hair and body from the hot summer sun. It's easy to do and a smart summer piece of advice you should be doing anyway!
3. AVEDA Sun Care Protective Hair Veil – You can always use some incredible products that you can find. AVEDA has their hair veil that works perfect on your hair. It's a great way to protect your hair at the beach.
This is so popular and sold out in many places right now, too! A lightweight, water-resistant UV defense mist that forms an invisible screen to help protect hair from sun exposure to minimize damage and dryness. For all hair types. It's $30!
4. Leave-in Conditioner – One trick you can do is leave your house with wet hair, along with conditioner in it for the day. It's almost like you're deep conditioning your hair for the day! It's an easy way to keep your hair moisturized. The best part is that any conditioner will do!
If you get the beach and find yourself with dry hair from the sun or go into the water and the conditioner washes out, bring some along with you! You can just head to one of the beach showers to rinse your hair and re-apply the conditioner. It's all about keeping it moist and moisturized for the day.
5. Sun Bum Sunscreen Scalp Spray SPF 30 – Another product to apply before you head into the hot summer sun. I think one of the best things to do is have a product on hand that you know will work and will protect you.

Sun Bum's Sunscreen Scalp Spray delivers a lightweight, nourishing mist to help protect your scalp from the sun while not weighing down your hair. Works with all hair types and for all occasions.
I personally love these 5 tips because they're a great way to keep your hair healthy and protected. I hope these strategies protect your hair at the beach in the best way possible. You will be happy to see how great your hair holds up!
Let me know if there are any other hair tips that you do to protect your hair at the beach. These are the big ones for that I do and continue doing. The easiest one for me is to just wear a hat! I also prefer to spray product in my hair, too! That's easy as can be!
While I have you! I started a fashion group and post there every single day. It's called (*you don't have to be 40 years old to be part of it!) Fashion Over 40 – Daily Dose of Style Facebook Group (that I would LOVE for you to join) where I share trends and styles every single day in there, along with the best sales online for fashion. I fully believe that you can and should be able to look your best without breaking the bank.
You want to feel confident and beautiful and you CAN! I hope my info helps! We have a ton of fashion fun in there! And you don't need to be 40 years old!!!!!!!

HEAD ON OVER AND JOIN US HERE!!! I also share beauty tips there, too. Love your support and let me know what it is you're looking for, too!
Make sure you share with me if there's something you love and I missed it on the blog! See my last post on the Best Mom Jean Shorts! I'm all about sharing everything I can when it comes to fashion and beauty! Hope these posts help you out!