Looking to cut your hair at home? It's going to be the new norm for so many mom and dads right now. The number one question I get from parents is, "What are the best tools to use when cutting hair at home?" I wanted to share the best hair cutting shears for you to buy for at home haircuts.
Best Hair Cutting Shears
When looking for the best hair tools and best hair cutting shears, the good news is that you don't have to spend a million bucks. There are plenty of reasonable and affordable options out there for families. I will say though, it's important to make sure you have professional tools.
One of the worst things we did years ago was use crafting "regular" scissors when cutting hair at home. They weren't good. They didn't give a good haircut. And in all honesty, they didn't cut hair well. You need to make sure you have the best hair scissors and tools that are meant for haircuts.
I wanted to create a round-up for you to check out and refer to when looking to invest and buy some hair tools. When buying the best hair cutting shears out there, I'm going to give you a few to chose from for your family. I know right now with everything going on people are hesitant on heading to the hairdresser or barber, but even after everything passes over it's still good to have these.
Here's the Best Hair Scissors Cutting Hair at Home:
#1 ARDA Hair Scissors Kit Haircut Scissors Professional Thinning Shears $19.90
Professional Hair Cutting Scissors, Nice Assortment Of Cutting Tools For Home Barber Salon Women Men Use Great DIY haircut set, design your hair style by desires. Convenient & easy to store by carrying case. Nicely ergonomic design hair shears, comfortable to hold. Good for trimming up, styling bands & split ends NEW HAIR STYLIST BEGINS HERE! Ideal for beginners, professional hairstylist & hobbyist.
#2 – CIICII Professional Hairdressing Scissors Set – $27.98

CIICII Hair scissors are made of Titanium Black Plated 440C Japan Stainless Steel, All steel manufacturing – Lasting quality & Comfortable touch. This hair cutting shears is hand-polished, the blade line is even and smooth to make the scissors sharp for men, women, kids and even pets!
WHAT You Can Get: 1 × Hair Cutting Shear, 1 × Hair Thinning Scissor, 1 × Hair Cutter Comb, 2 × Hair Clips, 1 × Gift Leather Bag, 1 × Cleaning Cloth, 1 × Scissors Adjuster, 365-DAYS Warranty for quality-related issues.
What you get when you order this one you get a whole package:
#3 – Sirabe 10 Pcs Hair Cutting Scissors Set – $28.99

EXTREMELY SHARP BLADES: Made of 100% Japanese (420) stainless steel with superior durability which will not damage or split hair ends. Convex edges for a smooth cutting action, perfect for slicing wet or dry hair. These are one of the best hair cutting shears you can get for at home use.

PROFESSIONAL COATING AND LATEST DESIGN: Professional Hair Cutting Shears Scissors is made with Latest Design for professional use as well as personal use. Its professional Coating prevents the steel from rust. Remove-able finger inserts.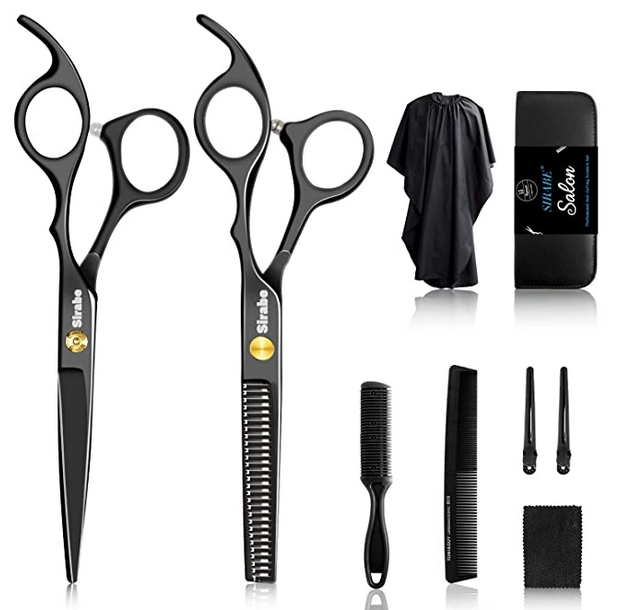 #4 – Professional Hair Cutting Shears – $13.98

You deserve a good quality and cheap Japanese stainless steel hairdressing scissors. No matter if you are a stylist or a family, you can't miss the tools.
Ergonomic design-comfortable curved handle: the cutting process is more labor-saving, so that each finger can work independently, and the role of the finger is more freely, and it is not tired after long-term use. Do every job efficiently and elegantly.
30 years Professional Quality: Our scissors be different with other poor quality hair cutting scissors on the market. Professional Hair Cutting Scissor is safe and easy to use on men, women, the elderly, children, and babies! With a sleek Japanese 440C Stainless steel texture, our scissor reduces messy hair clutters as no hair gets caught in between its blades.
#5 – Hair Cutting Scissors Set – 7 Pcs – $18.98

The hair scissors are made of stainless steel with fine polishing, which are sharp and wear-resistant. With the anti-corrosion, heat-resisting and unfading feature, ensuring to make you perfect cutting experience. Also can easily create the perfect trim, cut and avoid damage or split hair ends.
The hair cutting scissors set includes Hair Cutting Scissors x 1, Thinning Shears x 1, Hair Razor Comb x 1, Dressing Hair Comb x 1, Clips x 2 and Leather Bag x 1. Various accessories to meet your haircut needs!
*The hairdressing scissors are mainly used for adults. They are good for salon workers, hairdressers, barbers as well as for family or individual home use, a must have barber kits for both classic cutting and modern cutting techniques.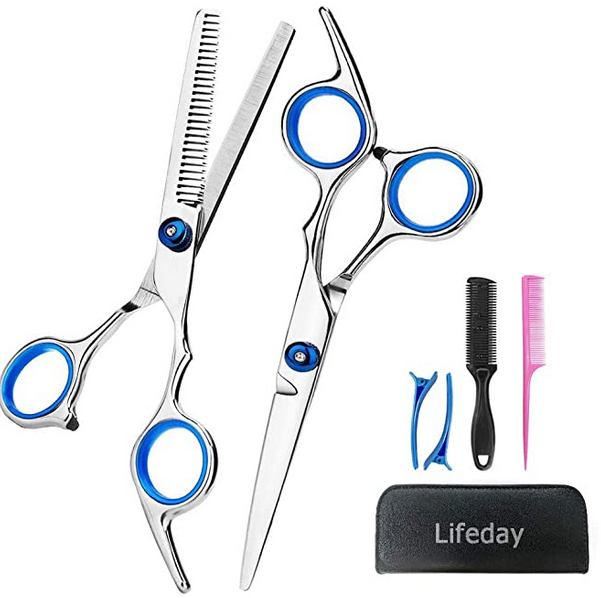 I'm hoping one of these will work for you and your family. I'm all about the budget here and in knowing that I'm working with hair tools that are professional and not just random scissors in my house. I also know that with everything going on in the world, I'm most likely going to be cutting hair at home for awhile.
I've also shared some tips on cutting hair at home. I share easy DIY tutorial videos showing you exactly how to do certain haircuts on men, kids and women. I know it's not easy and none of us are total professionals (yet), but we do need to help each other out right now.
I will say this, if you're thinking about doing a MAJOR hair change, you might want to head to a professional or expert. I'm hoping this post in intended for touch ups and clean ups on hair. If you're going to do something different, make sure you take the time to see exactly how to do it with some hair tutorials over on YouTube.
Check out my tips on how to cut your hair at home.
I've been sharing some hair styling videos with my kids over on Instagram and TikTok. I love being able to show how you can do super easy hairstyles with your daughter. I would love for you to head over and check out our fun videos! None of them are over 15 seconds!
Thanks everyone and let me know what you think about these options! If you happen to purchase, share what you got and how you like it!