I'm the mother of 3 teenagers right now and it's non-stop for me. As the kids have gotten older time with them one on one has become less and less because they have full lives, too. I'm always looking for things to do with teenagers because when I do get that time with them I want it to be fun and I want it to be special.
Things To Do with Teenagers
Everyone used to tell me that in the blink of an eye my kids would be teenagers and I never (ever) believed them. And then – of course – in the blink of an eye my William, Alex and Ben are TEENS!I honestly don't know where the time went. It was here and then gone! It's very bittersweet for me.
I miss the little boys who used to be my shadows. They always used to love being right there next to me and though they still don't mind being with their mom, I know it's important to find things to do with teenagers that we all will enjoy and love.
In this day and age teenagers are always connected to their devices. It's crazy to see that phones and texting have taken over actual conversation, but it's true. It's just important to find things to do with teenagers that will make them laugh and talk and feel included.
Are you ready for 101 things to do with teenagers?
I sat down and asked my sons what they'd want to do with me and then I thought about things I'd want to do with them, too! I'm all about finding FUN things to do with teenagers and making sure there's actually something that we're doing. I don't just want to sit and stare, I want to make sure there's some fun being had with each other!
I tried to make sure I stayed "current" with some of trends going on, too. I think it's important to keep in mind that kids are kids and there are things they love to do. It's important to make sure we bridge the gap and find things that we can all do together. When it comes to things to do with teenagers this is a laundry list, not everything will work for you and your teen.
Find what you feel will work and have some fun with them!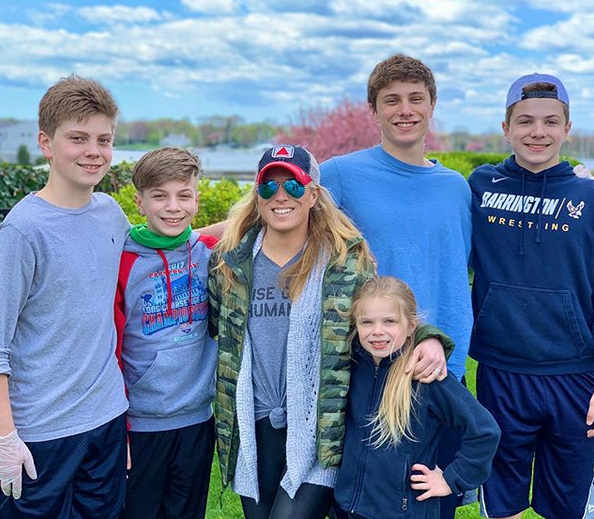 101 Things To Do with Teenagers
Head out on a bike ride
Head on a nature hike
Bake something yummy and delicious in the kitchen
Decorate a cake together
Head to the movies
Head to a drive-in movie theater
Train for a 5K together
Make dinner together in the kitchen
Go on a road trip together
Create a TikTok together
Camp outside together
Watch the the sunset
Wake up early and go on a morning walk
Plant a vegetable garden together
Join a reading club together
Play Spikeball together
Go a fishing trip
Head to the mall for a shopping spree
Volunteer together a local shelter
Head to a local sports game
Head out for ice cream sundaes
Visit a local museum
Visit a local zoo
Visit a local aquarium
Learn to skateboard
Create brinner for the family
Head to a local nursery and pick flowers
Do a yoga class together
Have a craft weekend
Paint a room in the house together
Head to a concert together
Learn a new language together
Head to a local spa
Get manicures together
Get pedicures together
Get massages together
Head to a local City for the day
Try mini golfing
Head to a pool for the day and enjoy swimming
Dance party in the kitchen
Learn how to play an instrument together
Take a walk on the beach at night together
Create a puzzle together
Have some fun with some board games
Watch a LIVE Band on the Internet
Try Dance Lessons on the Internet
Have them Teach YOU Something
Play Basketball Outside
Write A Letters to Someone you love
Organize Something in Your House
Create a Vision Board
Start a Scrapbook of this Time
Create a Special Lunch for the Family
Host a Virtual Family Get-Together
Host a Virtual Dinner Party
Learn how to knit
Learn how to sew
Work on a family tree
Have a fun fondue night
Obstacle course
Kayak time together
Head out on the water for tubing
Head out on a canoe together
Rope course together
Head to a waterpark
Watch a movie together at home
Have them teach you a video game
Roast marshmallows
Wash the car together
Head to a pumpkin patch
Sings songs together
Do each other's hair
Strawberry picking
Head to a local animal shelter
Head to a farmer's market
Head to an amusement park together
Apple picking
Make your own chocolate
Head to a planetarium
Fly a kite in the park
Enjoy a picnic together
Take a cooking class together
Take a painting class together
Join a local baseball league together
Join a local basketball league together
Take a ferry ride
Create a time capsule together
Join another parent and teen for a fun day together
Blueberry picking
Head out to dinner together
Make smoothies together
Paddleboarding together
Head to the theatre together
Visit come college campuses together
Visit an astrologer
Go to a psychic together
Meditate
Try roller skating
Head to a laser tag facility
Trampoline park
Arcade time with each other
I hope this list inspires you to get moving! I know there are tons more things you can do with teens, too. Make sure you let me know what I'm missing! I love to be able to share everything that I can and just see what works. I know my guys will find a ton of these things to do with teenagers fun. My hope is that everyone finds a few things that are fun for them to do.
If you're looking for some fun things to do with teens in the summer, here are some summer bucket list ideas for teens! it's summer, so have some fun!
Make sure you follow us on TikTok where I share more of my teens, too! They got me ON TikTok!