Every summer we make sure to visit Cape Cod and the beautiful Hyannis Beaches that is has to offer. We love the Cape, but have a true affinity for Hyannis because it's just a place we've brought the kids year after year after year. It's "our" little special spot on the Cape that we love to head to for the day or the weekend or the week.
Hyannis Beaches
Truthfully, you can't go wrong with any destination or beach on the Cape. It's just one of those gorgeous spots in the world that feels like heaven. It's classic New England and truly makes you stop and breath and take a break from the reality of life. I've always said to my husband that someday I will retire in Cape Cod because every time I'm there I feel peaceful.
Hyannis Beaches are beautiful and really family friendly, which has always been important to us. We found ourselves heading to Hyannis so often throughout the years because it's only about 1 hour and 20 minutes from our house. The deeper you head into the Cape, the more traffic you're bound to hit. Hyannis was our "ideal" spot for distance and beauty.
We're asked ALL the time by friends and family to share some of our favorite Hyannis Beaches, so I wanted to give you a quick beach round-up of where we love to go and why we love to head there with our family. I know that Cape Cod offers so much on the beach front, so I hope this helps narrow down the search for you as you head there in the fall (which is gorgeous) and into the spring and summer.
#1 Veterans Park Beach – 480 Ocean St, Hyannis, MA 02601
This is the first Hyannis Beach we ever went to as a family and we fell in love with it because it was so family friendly. I actually have a very special place in my heart for this beach because I feel like when my kids think of Hyannis Beaches, they think of this one first.
The beach isn't too big or long, which is great because you can let your kids explore. There's everything that you would want for your family – restrooms, playground, lifeguard, designated area for safe swimming, picnic tables and showers. There's even an area where you can go look for crabs and sea creatures. It's the one thing my kids love to do with my husband while we're there.
When we've gone, parking is $25 for the day. One cool extra bonus about this beach is that you can watch the ferries head out and come back from Martha's Vineyard and Nantucket. Always a fan favorite to watch the boats coming in and out for kids.
We just went to this beach last weekend with the kids. We hadn't been all summer due to everything going on in the world, but we wanted to make sure we got there before the end of the summer. It's funny, even as the kids get older, they still love acting like "little" kids at the beach. it really warms my heart.
#2 Kalmus Beach – 670 Ocean St, Hyannis, MA
We stumbled upon Kalmus Beach one year when we were trying to get the kids to fall asleep in the car! We had left Veterans Park Beach, took a left and came across signs for this gorgeous beach. Kalmus is a large beach right off of Nantucket Sound with spectacular views.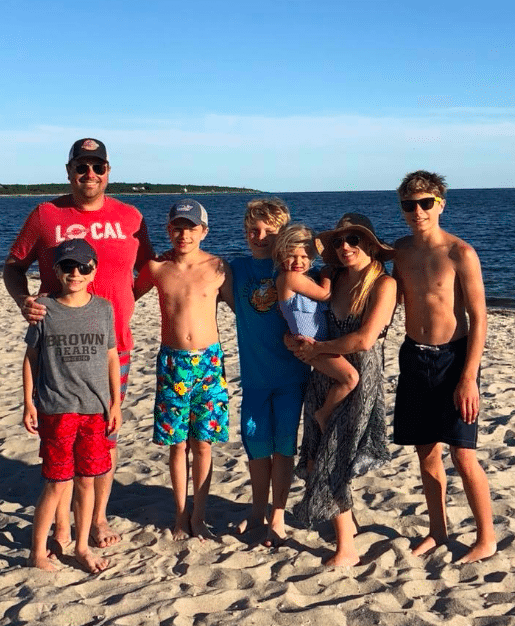 We loved this beach when we went with the kids because the sand is SUPER soft and the beach is large enough for the kids to run around and explore. It's just a gorgeous, beautiful beach that you can relax at with your family. The water has some great waves, so my kids always loved to boogie board at Kalmus.
There are restrooms and a snack bar at Kalmus, so that makes it easy for families, too. There is a fee for parking, $25.
#3 Keyes Memorial Beach – 175 Ocean Ave, Hyannis, MA
Keyes Memorial Beach is right along the Hyannis Harbor and it's just as beautiful as the others. We have always loved this beach because it's on the smaller side and it's another great family friendly beach to explore.
Just like the other Hyannis Beaches, there are restrooms and picnic tables for families. When we went last year there was a functioning snack bar, which was wonderful for us to be able to buy some snacks for the kids.
Just like Veterans Park Beach, this is surrounded by a park. It makes it just that extra easy for families because there's other things to explore rather than just sitting on the beach all day long. You will love knowing you can get up and walk around with your kids.
#4 East Beach – Hyannis Ave., Hyannis, MA
This is one of my husband's favorite beaches to walk and explore, not so much sit and hang out with the kids for the day. I would say this about East Beach, we've gone there to walk and collect and look for cool shells. What we usually do is head to one of the other Hyannis Beaches for the day, go have an early dinner and then walk East Beach.
If you're curious about other Cape Cod Beaches, I've got you covered. I love to make sure we're seeing as many as we can, but again – Hyannis Beaches are the ones we gravitate towards first. We just love being able to drive to the Cape and enjoy a full day at one of the beaches and head home. The beauty of Cape Cod and its beaches never loses it's magic for me.
If you have the chance in your life to head to Cape Cod to see it, make sure you do it. Add this destination to your bucket list because you will remember it forever.
While I'm talking Hyannis Beaches, I want to give a shout out to our favorite restaurant that we go to every single time we're in Hyannis – Spanky's Clam Shack! It's a super casual seafood restaurant with beautiful views of the Hyannis Harbor for you to enjoy as you eat. This is a spot we go every single year, too!
As you can tell, we love Cape Cod. It has captured our hearts and we love to be able to bring our kids there year after year. Make sure you check out some of these Hyannis Beaches and let me know what you think about them, too. Cape Cod Beaches are beautiful as can be, so you can't go wrong anywhere. You will fall in love with New England instantly!