Heading out to grab some pumpkins this autumn? I've got you covered with Pumpkin Patch Outfit Ideas that you will love. Fall activities are so much fun to do because the weather isn't too cold yet, but it's also crazy hot. It's such a great (and fun) time of year to grab your yummy sweaters, cozy scarves, cool hats and chic accessories to wear out and about!
Pumpkin Patch Outfit Ideas
When heading out with your family to a pumpkin patch it's the PERFECT time to take photos. You want to make sure you're picture perfect! I've put together a bunch of different looks for inspiration for you. My hope is that when you read this post you'll get some fashion ideas when it comes to pumpkin patch outfit ideas.
I'm all about 3 things:
Comfy
Chic
Fun
I'm going to dive right into my pumpkin patch outfit ideas for you because I have a bunch! I've worn all of these out and about and love each look and style. They're all perfect for pumpkin patch picking. I hope you love these fashion picks, I had a ton of fun putting them together!
Style #1: Buffalo check for the fall win! This gorgeous buffalo check poncho, paired with black jeans and black fedora hat is a fall win. I love the fact that it's just easy and goes with anything. My daughter is also the cutest accessory here, too! This look is just chic, comfy and fashionable. I feel like it just exudes the fall season!
Buffalo Check Poncho– $34.00
Black Jeans – $78
Black Fedora – $19
Style #2: Easy poncho with jeans. I'm all about solid colors, too in the fall. I feel like the beauty around us is so pretty that by having creams and grays and blues and reds in the fall without patterns is perfect enough. Let the scenery be bold for you! I love this look because it's as simple and classic as can be and work for ANY woman.
Cream poncho – (Today 10/1) $25
Distressed jeans – $35
Style #3: It's all about the PLAID. I love flannel and plaid and when it goes together, it's a win win for me. I love bringing out touches of plaid in the fall because it's makes me breathe in the new season. I don't tough plaid in the summer months. Love this easy, go to look with plaid for pumpkin patch outfit ideas!
Plaid Flannel Top – $34
Distressed bottom jeans – $89
Style #4: Turtleneck sweaters! I'm all about bringing out the sweaters right now. Anything oversized and cozy? I'm all in. This turtleneck sweater is one of my absolute faves of all in the fall. It goes with just about anything and everything!
Turtleneck sweater – $35
Style #5 – I love a tie front shirt. It's such a delicate and easy way to look stylish, but also feel chic. This top is one of my faves because it's just a great one to wear with jeans and leggings and even joggers! I topped it off with this fedora and leopard flats. Quick, easy look for a pumpkin patch clothing options.
Fedora – $19.99
Tie front top – $22.99
Leopard flats – $22.99
Jeans – $30-47
Style #6 – Long Sweaters and Plaid. This is a look for the chillier of days when you're looking for pumpkin patch outfit ideas. I love the mix of flannel with a heavier long sweater. It's just an easy fall outfit look and it's chic as can be!
Plaid Flannel Top – $34
Long black sweater (coatigan) – $33.99
Black Jeans – $78
Black Fedora – $19
Style #7 – Printed Fair Isle Sweaters! I love these looks because they're super chic and fall inspired. There's nothing like a fair isle sweater for the fall and winter. This is a go to one for me that I've worn hundred times. They never (ever) go out of style. And have some fun with TALL boots for the patch!
Fair Isle Sweater – $39
Jeans – $30-47
Tall Boots – $49.95
Style #8 – Wrap it UP! Take that same look from above and just add a wrap. Find a beautiful color that makes your fashion eyes POP! I'm in love with this easy and chic look for a day of pumpkin picking.
Scarf Wrap – $19.99
Style #9 – LEOPARD PRINT! This is one of the most classic looks for the fall. Grab a leopard sweater and jeans anf grab it. This is my fave outfit to wear to a pumpkin patch. These kinds of pumpkin patch clothing is what fall is made of for me!
Leopard Sweater – $19.99
Fedora – $19.99
Black Jeans – $78
Booties – $50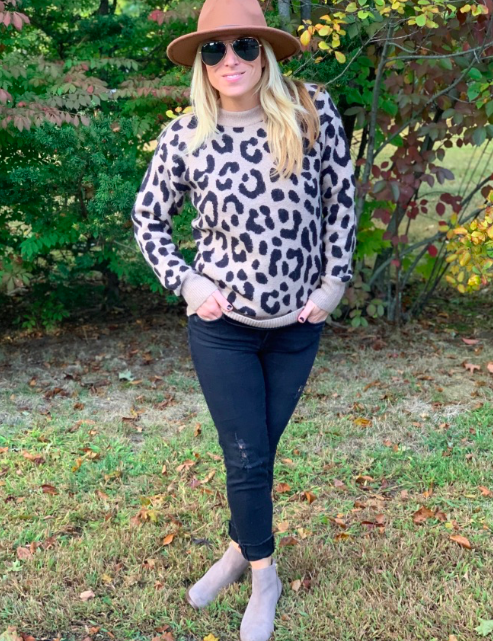 Style #10 – Pink sweater and graphic tees! I'm all about some chic styles for pumpkin patch outfit ideas. You can mix it up and have some fun with graphic tees! I'm obsessed with pairing my graphic tees with sweaters and cardigans. This is an easy look for me to pop together and hoping it will be the same for you, too!
Graphic tee – $15-25
Pink cardigan – $32.99
Style #11 – Camo Camo Camo! Looking for some camo sweaters? This is the best cardigan sweater ever! It's an easy cardigan to wear for the pumpkin patch. It's chic and comfy and fashionable. If it's a nice day out, pair it with some shorts and a tee.
Camo cardigan – $33
White tee – $10
Jeans shorts – $20
Style #12 – Monochromatic Looks. I'm all about monochromatic looks, which means it's the same color from head to toe. It's an easy way to wear just about any color. I love being able to make sure each style is perfect and works well with whatever occasion or event I'm heading to. This cream color is great for fall!
Cream Sweater – $30
White Jeans – $25-40
I hope these pumpkin patch outfit ideas help you out! There's nothing like fall activities with your family (check out these 101 ideas for you to do!). It's all about being outside and doing everything you can with the ones you love. It's a great opportunity to be able to take advantage of the beauty of FALL!
Let me know what outfit you like the best! If you're up for it, share it with me on social media and tag me! I'm at @AudreyMcClellan. I'd love to see how you're styling your clothes for the pumpkin patch and fall activities!